5 Reasons Hillary Clinton's 2016 Presidential Campaign Is Extraordinary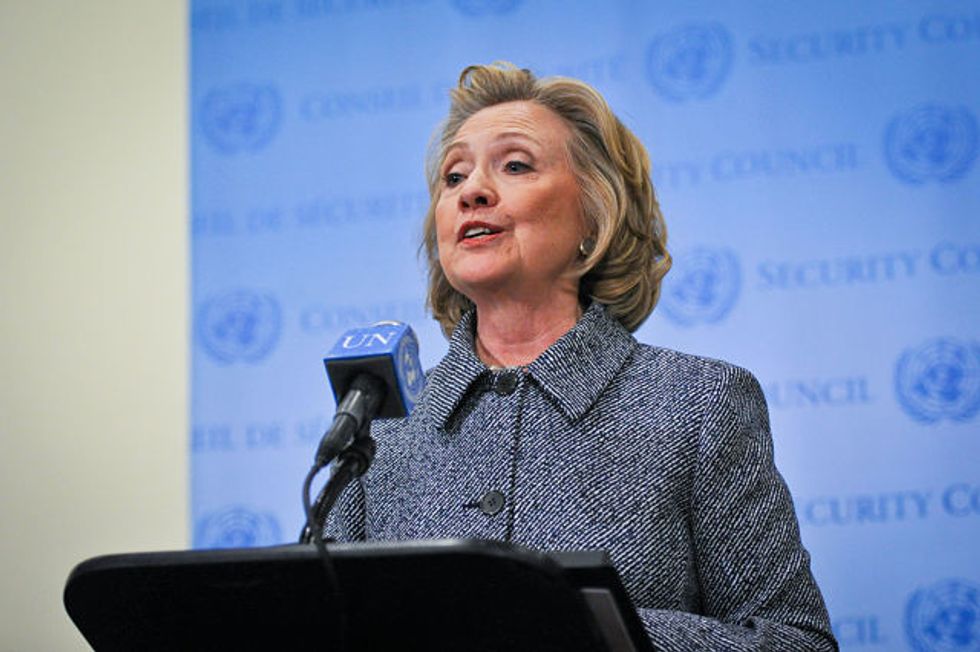 During the first term of the next president of the United States, on August 18, 2020, we'll mark the 100th anniversary of women gaining the right to vote. If the 2016 election is anything like 2012, women will be the majority of voters, and will — fittingly — decide the winner.
And if the gender gap remains as wide as it was in 2012, Republicans will have almost no chance of winning and reaping the extraordinary spoils of that victory, which could include the chance to appoint up to four members of the Supreme Court.
Needless to say, the prospect of facing Hillary Clinton, given these enormous obstacles and opportunities, gives Republicans fits as disturbing as Ted Cruz's Winston Churchill impression.
The GOP isn't running against Clinton as much as they are pre-impeaching her.
As with President Obama, there are many legitimate critiques to be made of Hillary Clinton — but Republicans aren't making any of them. Using tactics they mastered in the '90s, which mostly involve inventing crimes to investigate, and probing until the investigation manifests some wrongdoing, they are in search of some scandal without any ethical concern for how or why they find it.
Led by former House Oversight Committee chairman Darrell Issa (R-CA), the GOP has unsuccessfully deployed this tactic on President Obama for years. As soon as Obama was re-elected, Clinton became the focus of a series of never-ending Benghazi investigations that uncovered serious errors, but no wrongdoing. The GOP blames the pointlessness of these inquiries on Issa's incompetence, and now hopes that Rep. Trey Gowdy (R-SC) will embarrass the party less.
The recent flap over Secretary Clinton's emails poses some serious questions — but given Congress' exemption from email laws, massive problems with lost emails during two Bush administrations, and Clinton's likely opponents' similar email problems, the larger issue seems to be that we need better retention and sunlight laws all around.
The GOP will do its best to prop up this scandal until it finds a juicier one. But they will likely not be able to obscure that Mrs. Clinton's campaign is historic in numerous ways.
1. She's a woman and the "strongest non-incumbent" candidate since at least Eisenhower.
It's rare for American voters to give a political party a third consecutive term in the White House. Since Franklin Roosevelt's death it's only happened twice, in 1988 and 2000 (although the Supreme Court decided not to let the winner of the popular vote and likely victor of the 2000 election take office).
Republicans should be the favorites, but none of their likely nominees leads "the strongest non-incumbent" in the polls—Clinton has polled more like an incumbent in recent surveys of a possible Democratic primary field. And she's much stronger now than she was in 2008.
Republicans like William Kristol and Karl Rove aren't pining for Clinton to have a primary opponent for the virtuous reasons that liberals would like to see one. They're just praying that there's some escape hatch that will give them their advantage back.
Democrats have every right to demand that Clinton continue the progressive advances of President Obama while leaving the foolhardiness of preemptive military aggression and the drug war behind. But Clinton has thus far "won" the primary by being strong and talented enough to dominate her semi-declared competitors and keep even stronger ones out of the running.
Arguments that Hillary benefits from a weak Democratic bench are ridiculous, notes Bloomberg's Jonathan Bernstein. "There's Martin O'Malley, the former Maryland governor, who is actually running," he writes. "And Elizabeth Warren. And Andrew Cuomo, Al Franken, Tim Kaine, Amy Klobuchar and Mark Warner. Oh, and Michael Bennet, Mike Beebe, Christine Gregoire, Maggie Hassan, Jeanne Shaheen, Sherrod Brown, Kirsten Gillibrand, John Hickenlooper and Deval Patrick."
And all of these candidates are at least as strong as the GOP frontrunners. Two of them are leading Scott Walker — in Wisconsin.
2. She's the most vetted candidate in living memory.
Only Thomas Jefferson — who became president after stints in the Continental Congress, as governor of Virginia, Secretary of State, and vice president — comes close to having spent as much time at the top rungs of American politics as Hillary Clinton. And that was during the birth of political parties.
After a decade serving as Arkansas' First Lady — reportedly threatening to run for the office when her husband considered not seeking re-election — Clinton entered the national spotlight in 1992. And though the Clinton administration is now remembered for peace and prosperity, it was also the birthplace of the modern conservative scandal machine.
"If you think the endless Benghazi investigations are ridiculous, you should have been around then; if Bill Clinton wore the same tie two days in a row, Republicans would hold a week's worth of hearings to investigate what he was covering up," Paul Waldman wrote in The Week.
Whitewater, Travelgate, the tragic death of Vince Foster. All were "scandals" that only raised conservatives' ire and wasted taxpayer money.
After her two terms as First Lady, she was elected to the U.S. Senate twice, then ran in one of the most competitive primaries ever. She was then appointed Secretary of State, and that's when the investigations really began.
3. Republicans have been trying to destroy her for decades — and will never stop trying.
Washington Monthly's Ed Kilgore notes, "[T]here's not much question Republicans are driven like candle-moths to the possibility the emails will give them fresh justification to pursue their precious: the shimmering fool's gold of Benghazi!"
It should be noted that the GOP's attempt to make a scandal out of Benghazi — given their reluctance to investigate 9/11 and absolute unwillingness to even admit that 220 Marines and 21 others were killed in Beirut during the Reagan administration — is the real scandal. It also makes little sense. Clinton and the Obama administration have admitted security lapses. The GOP's fictionalized "stand down" orders make no sense. Yes, we want Americans killed months before an election!
It's offensive to any adult's intelligence and would never be tolerated in a nation that didn't have ample conservative propaganda-spewing networks that need to prop it up.
4. The press is her fiercest primary opponent.
Voters want change, and many members of the media seem to share that opinion. Reporters keep writing about "Clinton Fatigue" because they may be the worst (and possibly only) victims of this obviously debilitating condition, as The Daily Kos' Greg Dworkin has suggested.
The New York Timesshut down its race beat this year, but it still hosts Maureen Dowd's smearing invective against the Clintons. And with numerous "insiders" willing to give comments to the press that validate animosity toward the Clintons — "Look, she hates you. Period. That's never going to change," a Clinton "veteran" told Politico's Glenn Thrush — get ready for endless stories about how people are tired of Hillary, because that's how much of the press obviously feels.
Somehow, though, it seems the public — which hasn't had to cover the Clintons for decades — has built up an immunity to the GOP's scurrilous scandalmongering.
Hopefully the press will actually consider the facts and the polls, which show her approval rating is higher than any Republican candidate's. It's also still above water, which is extremely rare in our polarized political environment. But her approval is nowhere as high as that of America's most popular living politician.
5. She's considered part of a dynasty, though she helped build her husband's legacy.
Jeb Bush is a plutocrat who was born to a plutocrat. Does anyone believe the first political office he sought would have been governor if his name wasn't Bush? As "Dynasty's Son," his ability to provide access to his father helped build his business and political career.
It's easy to see Hillary Clinton benefiting from similar advantages, though she wasn't born rich or powerful. But arguing that she's in the tradition of dynastic politics is belied by the historic nature of her career. Her husband was assailed for suggesting that he considered his wife a "two for the price of one" asset in 1992, and she took a historic drubbing for championing health care reform. After she became the woman who came closest to winning her party's nomination for the presidency, she and her husband then devoted themselves to electing her opponent twice, as she joined his cabinet.
How can you say her campaign is politics as usual when no other First Lady has ever entered political life?
Jeb Bush's last name is his worst asset in a general election — though I'd bet his unbreakable bond to his brother will save him in his primary. Jeb's net approval rating in a recent NBC News/Wall Street Journal poll was -11, more than twice as bad as George W.'s -4, because conservatives still worship him for keeping us safe (if you don't count 9/11 or Hurricane Katrina).
Mrs. Clinton's rating is currently +8, and the man she's been married to since 1975 is +30. That's the incredible two-for-one deal that these two groundbreaking Americans have created for themselves.
Former U.S. Secretary of State Hillary Clinton addresses the press after attending the annual Women's Empowerment Principles event at UN headquarters in New York on Tuesday, March 10, 2015. The potential 2016 U.S. presidential contender defended her use of a personal email account for official communications, saying it was "for convenience." (Niu Xiaolei/Xinhua/Sipa USA/TNS)