Are Far Right 'Free Speech' Rallies Breeding Terrorism?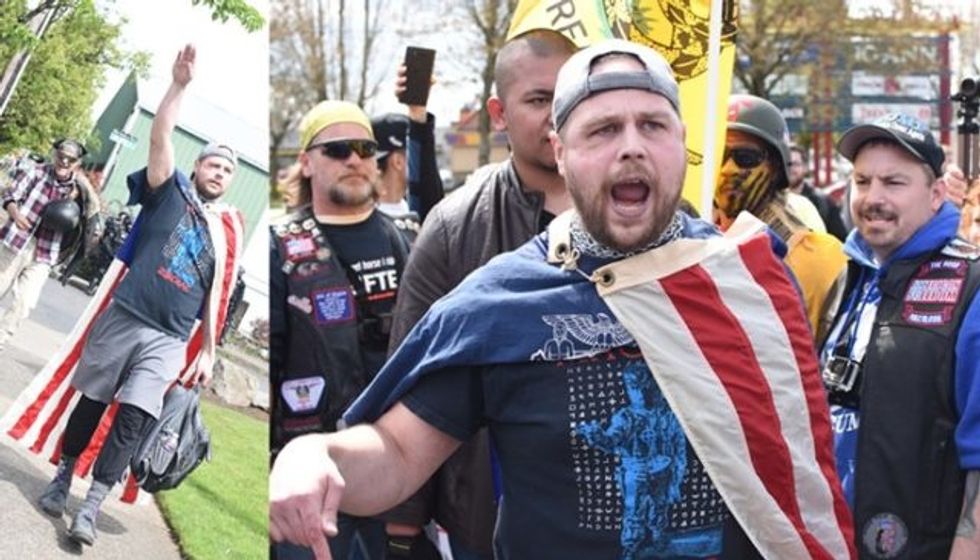 Reprinted with permission from Alternet.
The disturbing ramblings uttered by Jeremy Joseph Christian as he entered the courtroom May 27 drew on a horrifying trend in America: Rallying behind the right to so-called free speech, both figuratively and literally, to justify white supremacy and its violent acts.
"Get out if you don't like free speech," Christian said. "You call it terrorism, I call it patriotism. You hear me? Die."
Christian, 35, was arraigned on charges of aggravated murder of Ricky John Best, 53, and Taliesin Myrddin Namkai-Meche, 23. Both men were stabbed and killed by Christian on a Portland light-rail train when they tried to defend two young women Christian was harrasing with anti-Muslim slurs. Christian was charged with the attempted murder of a third stabbing victim, Micah Fletcher, 21, who survived and was present in the courtroom.
"If there is a central theme to Christian's ravings leading up to the attack, it's his tendency to articulate a volatile synthesis of xenophobia, Islamophobia, and white supremacy," Jack Jenkins, a senior religion reporter at ThinkProgress, reported the day after Christian's first court appearance.
"In addition to calling for violence against Muslims on his Facebook page," Jenkins added, "Christian reportedly attended a 'free speech' rally in April, where he shouted the n-word at protesters and offered up Nazi salutes."
According to Willamette Week, "Christian arrived at an April 29 'free speech' march in Southeast Portland wearing a Revolutionary War flag as a cape. He carried a baseball bat. He threw Nazi salutes and shouted racial slurs in a Burger King parking lot. Twice, left-wing demonstrators grew so infuriated with his antics that Portland police officers formed a barrier to shield him."
Even the "alt-right" marchers were divided on Christian's behavior.
"Some of them, leather-clad bikers, told him to shut up and tried to kick him out of the rally," added Willamette Week reporter Corey Pein. "Others seemed fine with him expressing himself: Unpopular speech was the point of the event."
Eight days after the Portland murders, another "free speech" rally took place in the City of Roses, where 14 were arrested. Similar right-wing free speech rallies have been popping up in other blue-state cities from Berkeley to Boston, while a Washington D.C. version is planned for late June.
In addressing President Trump's overwhelming prioritization of fighting Islamic extremism, Dan Coats, director of national intelligence, announced at a Senate Intelligence hearing on May 11, "Homegrown violent extremists remain the most frequent and unpredictable terrorist threat to the United States."
Alexandra Rosenmann is an AlterNet associate editor. Follow her @alexpreditor.
This article was made possible by the readers and supporters of AlterNet.