GOP Health Care Plan Crushes Working Families, Not Affluent Trump Voters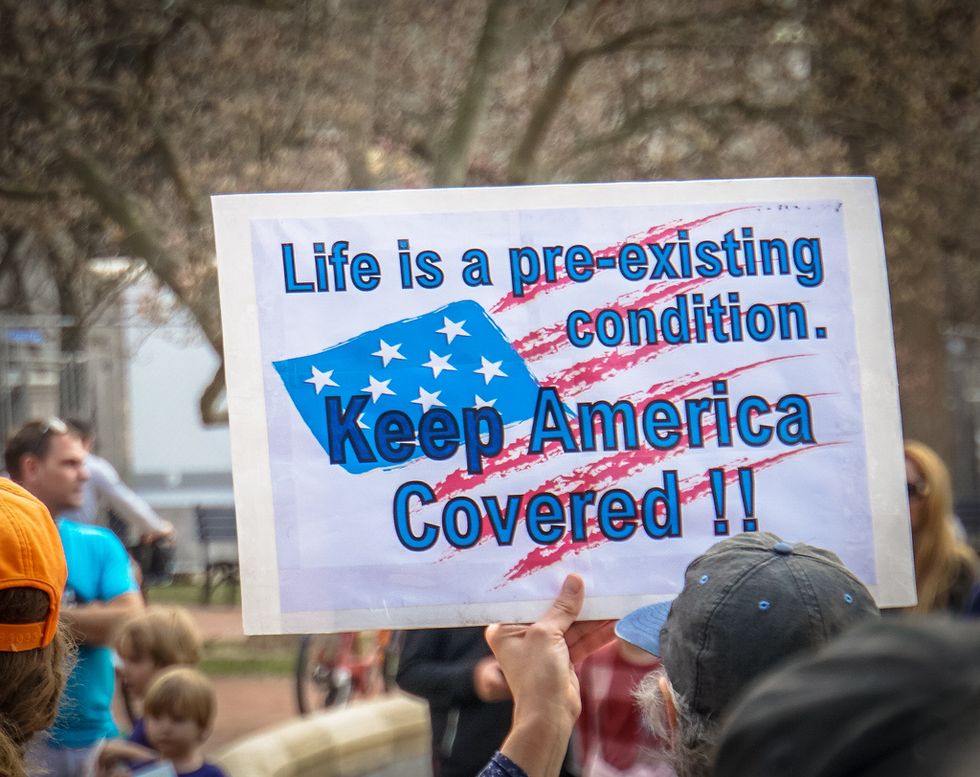 Reprinted with permission from Alternet.

As the drama crests this week surrounding possible Senate passage of an extraordinarily punitive health care bill, we should ask, why is the GOP so heartless? Why are Republicans bent on cutting access to care for the most vulnerable people, especially the poor—including the white working-class voters who were said to be a pillar of Trump's base?
After the election, many in mainstream and progressive media said that Trump's base, and indeed the wave that lifted the GOP into its congressional majority today, were white working-class voters who abandoned Democrats en masse. The Atlantic heralded Trump's "blue-collar" rise on "class, not ideology." The AP pointed to "both parties' working-class whites." Thomas Frank—whose 2004 book, What's the Matter With Kansas, traced the rise of white conservatives—described Trump's base as mostly "working-class whites" worried about the economy.
It turns out that most of the Americans who helped elect Trump and the GOP are white, but they are not poor. In his crusade to dismantle Obamacare and cut Medicaid's future appropriations by a quarter, Senate Majority Leader Mitch McConnell is not turning on his voters; according to recently released national survey data, those who voted for Trump and the GOP in 2016 are overwhelmingly white, yes; but the majority of them are not poor and not working class.
"A few weeks ago, the American National Election Study—the longest-running election survey in the United States—released its 2016 survey data. And it showed that in November 2016, the Trump coalition looked a lot like it did during the primaries," blogged Duke University's Nicholas Carnes and Vanderbilt University's Noam Lupu for the Washington Post. "Trump's voters weren't overwhelmingly poor. In the general election, like the primary, about two-thirds of Trump supporters came from the better-off half of the economy."
"In short, the narrative that attributes Trump's victory to a 'coalition of mostly blue-collar white and working-class voters' just doesn't square with the 2016 election data," they said, explaining that most pollsters incorrectly assumed that the 70 percent of Americans who don't have college degrees were working class and poorer—and many are not.
"Many analysts have argued that the partisan divide between more and less educated people is bigger than ever. During the general election, 69 percent of Trump voters in the election study didn't have college degrees. Isn't that evidence that the working class made up most of Trump's base? The truth is more complicated: many of the voters without college educations who supported Trump were relatively affluent," they wrote.
In the survival-of-the-fittest world of American capitalism and GOP politics, there's no shortage of right-wingers bashing the poor, whether they are white or not. That mindset clearly has spilled over into those promoting the GOP's health care bills, where a schism is emerging between the voters in the GOP's 2016 base and those McConnell's bill is targeting.
A typical example emerged this weekend on CBS-TV's Face the Nation, where Ben Domenech, the Federalist's founder and publisher, smeared Ohio's Medicaid disability recipients as unworthy of public benefits.
"When Governor Kasich, you know, pushed for the Medicaid expansion in Ohio, he ended up having to throw 34,000 disabled people off of the program because it incentivized adding these working, able-bodied adults over people who actually were in the system who had disabilities or had other dependence," he said, repeating the GOP's old trope of deadbeats on welfare.
There's nothing new about this undercurrent in the GOP. Last year, writing in the National Review, Kevin D. Williamson went after poor whites (drawn to Trump) as people who could do the nation a favor by dying.
"The truth about these dysfunctional, downscale communities is that they deserve to die," he wrote. "Economically, they are negative assets. Morally, they are indefensible. Forget all your cheap theatrical Bruce Springsteen crap. Forget your sanctimony about struggling Rust Belt factory towns and your conspiracy theories about the wily Orientals stealing our jobs….The white American underclass is in thrall to a vicious, selfish culture whose main products are misery and used heroin needles."
How much of this attitude is reflected in the Republicans' health care bills? The answer is plenty. The House-passed bill takes $820 billion out of future Medicaid appropriations over the next decade, rapidly phases out government subsidies for insurance premiums bought by individuals on government exchanges and deregulates insurance without any coverage requirements or price controls. While those policies will cause chaos across the economic spectrum, including the middle class, the poor are the hardest hit.
The Senate bill has even harsher elements than the House bill. It would cut Medicaid more by turning it into a rationed-care system where states receive grants, and adopt a stingy new formula for annual increases. Health policy experts have noted McConnell's plan wants "lower-income people to pay more." Its use of tax credits to offset premium increases and deductibles will be of little use to the working-class poor and lower-income seniors, a new analysis from the Center for Budget and Policy Priorities found.
Just as mainstream media mischaracterized those who elected Trump and the GOP, it's likely they are missing the same ingredient in who would be hurt most by the GOP's health care proposals: non-GOP voters. It's not just blue states that would see the largest rollbacks—as they are the states that most aggressively embraced Obamacare and its expansion of Medicaid. It's also poorer people, working-class whites and non-whites, who, as the American National Election Study notes, didn't elect Trump and the GOP.
Where McConnell's plan is likely to fall off the rails is from the chaos it would bring to more middle-class and affluent whites—or red rural states like Alaska and Maine with high health care costs. That is, if his efforts to please corporate health care interests are seen as backfiring on Tea Partiers who infamously yelled, "Hands off my Medicare." (Late Monday's release Congressional Budget Office analysis may provide that catalyst, projecting the Senate bill will leave 22 million Americans uninsured by 2026.)
But as policy experts dug into the Senate bill on Monday, their analyses seemed to confirm that McConnell's bill wasn't targeting his party's better-off base. One newly discovered provision would lock out anyone who missed an insurance payment from buying a new policy for six months. One-third of those with pre-existing conditions had this coverage gap in the past two years, but they tend to be poorer. Another report found the bill could push seniors out of nursing homes paid by Medicaid, as a subsidy of Medicare.
Those likely to be hardest hit include working-class whites, but they were not Trump's voters, the analysis by Duke University's Nicholas Carnes and Vanderbilt University's Noam Lupu underscored. "According to the [American National] Election study, white non-Hispanic voters without college degrees making below the median household income made up only 25 percent of Trump voters. That's a far cry from the working class-fueled victory many journalists have imagined."
No one ever accused McConnell of not knowing what he is doing.
This article was made possible by the readers and supporters of AlterNet.