How Tucker Carlson Sanitizes The Extreme Right For Fox Viewers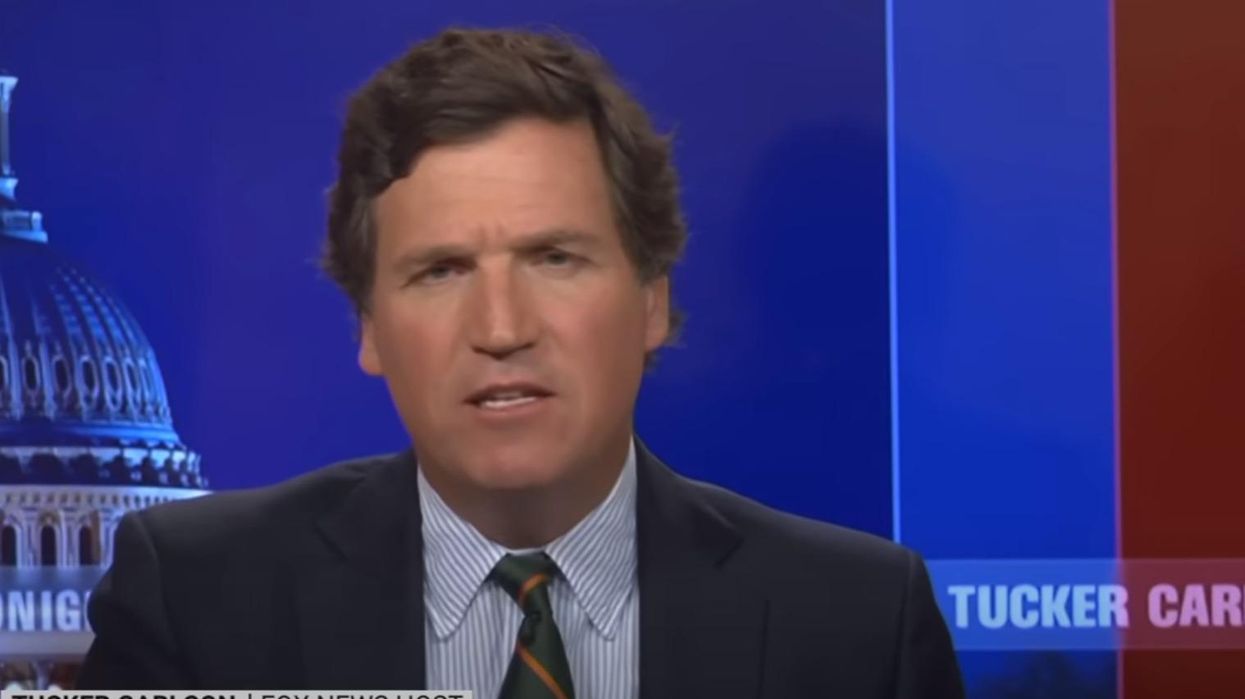 Youtube Screenshot
Tucker Carlson kicked off Tuesday's interview with Doug Mastriano, the GOP nominee for governor in Pennsylvania, by declaring the candidate "one of those guys you're not allowed to talk about or like because he is absolutely beyond the pale somehow." The Fox News host spent the next several minutes trying to convince his audience that his guest, a full-blown insurrectionist and the toast of Christian nationalists and virulent antisemites, is nothing of the sort.
Carlson has emerged as Fox's primary sanitizer of elements of the GOP like Mastriano, Arizona gubernatorial nominee Kari Lake, and Rep. Marjorie Taylor Greene (R-GA). His role is to elevate these once-fringe elements by sneering at their critics and giving them a platform to stress their common ground with the party's base. (In a similar vein, his colleague Sean Hannity parachutes in to help Republican politicians by allowing them to stave off political scandals with a softball interview.) In allowing for "no enemies to the right," Carlson's work seems aimed at making it impossible for the Republican Party to banish, abandon, or punish its extremists.
In Mastriano's case, Carlson glossed over quite a lot. The Republican gubernatorial nominee is a Trumpist insurrectionist who tried to use his power as state senator to overturn the 2020 presidential election, led busloads of protestors to Washington, D.C., on January 6, 2021, breached the grounds of the U.S. Capitol, and all but promised to subvert the 2024 election in the event the GOP nominee loses Pennsylvania. He has ties to Christian nationalism and a fondness for the Confederacy, and he has trafficked in anti-Muslim bigotry. His political associates include campaign consultant Andrew Torba, the virulent antisemite who owns the white-nationalist-friendly social media site Gab; campaign "prophet" Julie Green, who promotes particularly deranged conspiracy theories, including that House Speaker Nancy Pelosi drinks "children's blood"; and campaign surrogate Jack Posobiec, a conspiracy theorist who has collaborated with white nationalists and neo-Nazis and targeted Jewish people with antisemitic hate.
That's at least a sampling of what Carlson is alluding to when he claims Mastriano has been unfairly branded "beyond the pale" — the sorts of things that have kept Mastriano from being fully embraced by the national party.
But Carlson detailed none of it. Instead, he described Mastriano as "pretty impressive," touted his military service, said he was "honored" to host him, and told him that that an undefined but sinister "they" had "identified you early as someone who was a threat and tried to make you completely unacceptable even to talk about."
After giving Mastriano the opportunity to talk up his credentials, run through his talking points, and attack his opponent, Pennsylvania Attorney General Josh Shapiro, using Carlson's favored issue of crime, the Fox host wished him well.
"You don't seem radical to me," he concluded, suggesting that it would be ludicrous for anyone to think otherwise.
Carlson wants Republicans to support the Pennsylvanian but doesn't want to actually have to defend any of his conduct. So he simply conceals the details from his viewers, suggests Mastriano has been unfairly attacked, and lets the candidate connect with his viewers on a shared reverence for the military and distaste for violent crime. This encourages Republican leaders to similarly look past Mastriano's conduct and get more firmly behind his candidacy.
Carlson's promotion of Mastriano is not an anomaly. He regularly champions Republican politicians others might view as having disqualified themselves.
As the Fox host pointed out during his interview, Arizona GOP gubernatorial nominee "Kari Lake was" treated the same way as Mastriano until recently. As Media Matters has noted:
Lake is a prominent election denier linked to Nazi sympathizers and QAnon figures. The former local news anchor is a regular on far-right propaganda outlets like Steve Bannon's War Room and One America News Network. She has aggressively promoted the debunked "Sharpiegate" conspiracy theory, called to replicate the bogus, QAnon-linked Maricopa County audit "in every county in Arizona," and repeatedly called to "decertify" the 2020 election. Lake maintains she would not have certified Arizona's presidential election results had she been Arizona's governor at the time due to debunked conspiracy theories. (There is no legal pathway to decertify or change the results of a presidential election.)
Lake's extreme views explain why the state and national GOP establishment had supported her primary opponent "in an attempt to push their party past the chaotic Trump era," as The Associated Press put it. But when Carlson hosted Lake for the first time a month ago, he promoted her laughable claim that election denial is about free speech and claimed she had been smeared as "a big lie adherent."
"Do you believe the media uses that slur to make certain people won't hear what you're saying about the issues?" he asked her.
Lake used the interview to hit on issues Carlson commonly focuses on, like immigration, fentanyl, and the perfidious mainstream media. After she commented that "we're not going to let Joe Biden drag the state of Arizona down while he is trying to destroy this country," the host replied, "Amen. Boy, I can see where they're trying to stop you."
Soon after, major Republican politicians flew to Arizona to appear alongside the would-be governor, while other Fox hosts gave her access to their viewers for the first time.
Then there's Greene. She was a pariah within her party when she entered Congress in 2021 because she is a conspiracy theorist who has also promoted racist, anti-Muslim, antisemitic, and violent rhetoric. She had been exposed as an adherent to the violent Pizzagate and QAnon conspiracy theories, as well as numerous others. She had suggested that the U.S. government perpetrated the 9/11 attacks, that the Sandy Hook school shooting was staged, and that the Stoneman Douglas school shooting was a false flag. She suggested the Rothschild banking family controls a space laser used to start the deadly 2018 Camp Fire in California and that Ruth Bader Ginsburg had been replaced by a body double. She endorsed the wild notion that Hillary Clinton was implicated in the death of John F. Kennedy, Jr., and that the former secretary of state and her former aide Huma Abedin had sexually assaulted a child, filleted the child's face, wore her face like a mask, and then drank her blood as part of a satanic ritual.
None of this gave Carlson the slightest pause. He has been her greatest champion, downplaying her extremism as merely unapproved opinions and "unauthorized questions," praising her as a "Washington outsider," promoting her in an hourlong soft-focus interview on his streaming podcast, making her a fixture on his Fox prime-time program, and even donating to her campaign. His support didn't falter after revelations that she had given a speech to a convention of white nationalists and suggested following the January 6 insurrection that Trump be informed that other Republican members were urging him to implement martial law in order to "save our Republic."
With Carlson firmly in her corner, Greene built a sizable power base within the Republican Party and was embraced by its leaders. A strong midterm showing will increase her stature, according to the AP: "If Republicans win the House majority in the November election, Greene is poised to become an influential player shaping the GOP agenda, an agitator with clout."
Carlson's support and eagerness to provide access to his platform was also crucial for J.D. Vance and Blake Masters as they sought the GOP nominations for U.S. Senate in Ohio and Arizona. Both are henchmen for the fascist tech billionaire Peter Thiel and have long records of toxic rhetoric and election denial.
Carlson's treatment of once-fringe GOP politicians is of a piece with his dedication to mainstreaming extremist ideas. He has defended the QAnon movement, January 6 insurrectionists, the white nationalist "great replacement" conspiracy theory, and Russian propaganda about its invasion of Ukraine. He is eager to collapse any and all distinctions between right-wing extremists and mainstream Republicans, urging his viewers to treat policies targeting violent white supremacists and rhetoric warning of rising "semi-fascism" as attacks on themselves.
The Republican Party is walking through the door Carlson opens, cleaving toward the most extremist elements as they seek to subvert democracy, oppose the rule of law, and embrace political violence.
Reprinted with permission from Media Matters.