Obama Reasserts That The Use Of Chemical Weapons In Syria Would Be A 'Game Changer'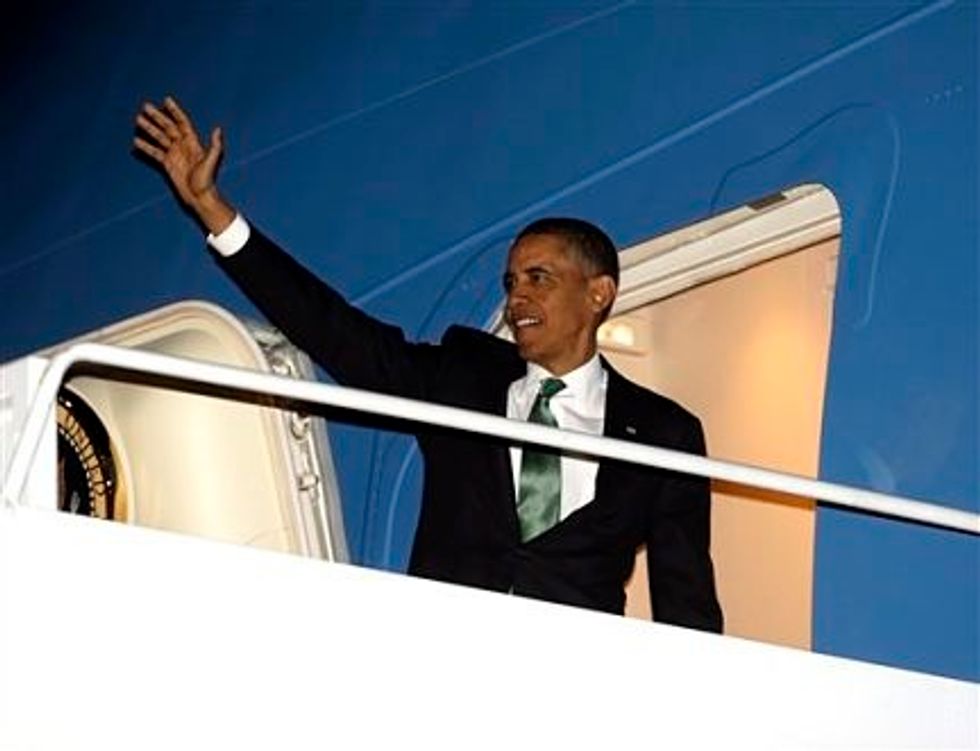 President Obama began his first visit to Israel as president by reaffirming the commitment to the security of the Jewish state. He also restated that the U.S. could intervene in Syria's civil war if it turns out chemical weapons were used against the Syrian people.
At a press conference with Israeli prime minister Benjamin Netanyahu, Obama said the alliance between the leaders' two countries has never been stronger, especially militarily. He noted that the United States will send $200 million to Israel this year, bolstering the Iron Dome defense system which protects the nation from rockets from the Gaza Strip.
The president also noted that the Assad regime in Syria has "lost all legitimacy." In response to a question about the potential use of chemical weapons in Syria, Obama said that these claims are being investigated, and if true, they would be a "game changer." He said he is deeply skeptical of the regime's assertion that the rebels used chemical weapons.
In his statement, Netanyahu again stated that he's willing to do anything necessary to prevent Iran from attaining a nuclear weapon. "Israel can never cede the right to defend itself, even to its greatest friend," he noted.
The Israeli prime minister praised Obama's assertion that Israel must be the "master of its own fate." He thanked the president for meeting with him 10 times as president, and making Israel the first foreign trip of his second term.
Twice, the president said "all options are on the table" when it comes to dealing with Iran.
"Iran hasn't yet reached the red line I described at my UN speech," Netanyahu said. "But they are getting closer."
Israeli president Shimon Peres praised President Obama's commitment to Israel's security and expressed their shared wish for peace in the Middle East. "This is not only a wish but a possibility — there is no other way to make the future better and no other leader to make this possible," said Peres, who has been serving his country continuously — except for a three-month hiatus in 2006 — since its war for independence ended in 1949.
Obama was greeted at Ben Gurion Airport by Peres and Netanyahu. Tensions between the Israeli prime minister and the American president have been evident since Netanyahu all but endorsed Mitt Romney in the 2012 election. However, he had nothing but praise for the president during his remarks to the more than 1,000 people gathered to greet Obama.
"We deeply appreciate your friendship and we share your hope that the Middle East will enjoy a future of freedom, prosperity and peace," he said.
President Obama impressed his hosts by saying "tov l'he'ot shuv b'aretz," which means "good to be in Israel again" in Hebrew, before going on to say that he was there to affirm the "unbreakable bond" between the two countries.
"I am confident in declaring that our alliance is l'netzach,eternal, is forever," he added, again using Hebrew.
The president will be in Israel for three days. He'll visit the Holocaust memorial Yad Vashem, Mount Herzl and the Israel Museum, and meet with Netanyahu and Palestinian Authority president Mahmoud Abbas before heading to Jordan to meet with King Abdullah II. Critics note that the president's trip will not force him to confront many of the harsh realities that non-Jews face in the state.
Notably, the song playing as Obama arrived was "Jerusalem of Gold," an ode to Israel's connection to the Jewish people that was updated after the Six-Day War to celebrate the unification of the holy city. The status of Jerusalem, along with the continued development of Israeli settlements in occupied lands, have been major issues of contention in now completely stalled peace negotiations between Palestinians and the Israelis.
President Obama noted that the peace process has not progressed as much as he'd hoped. He said he was there to "listen" and find out how the United States could be helpful. He said his visit will be a success if he has a better understanding of the possibilities for and constraints to peace.
"This is a really hard problem," the president said. "It's been going on for six decades."
Both Peres and Netanyahu affirmed their support for a "two-state solution."
AP Photo/Pablo Martinez Monsivais