Running In 2024? Tucker Carlson Delivers Bizarre, Banal Speech In Iowa
@johnknefel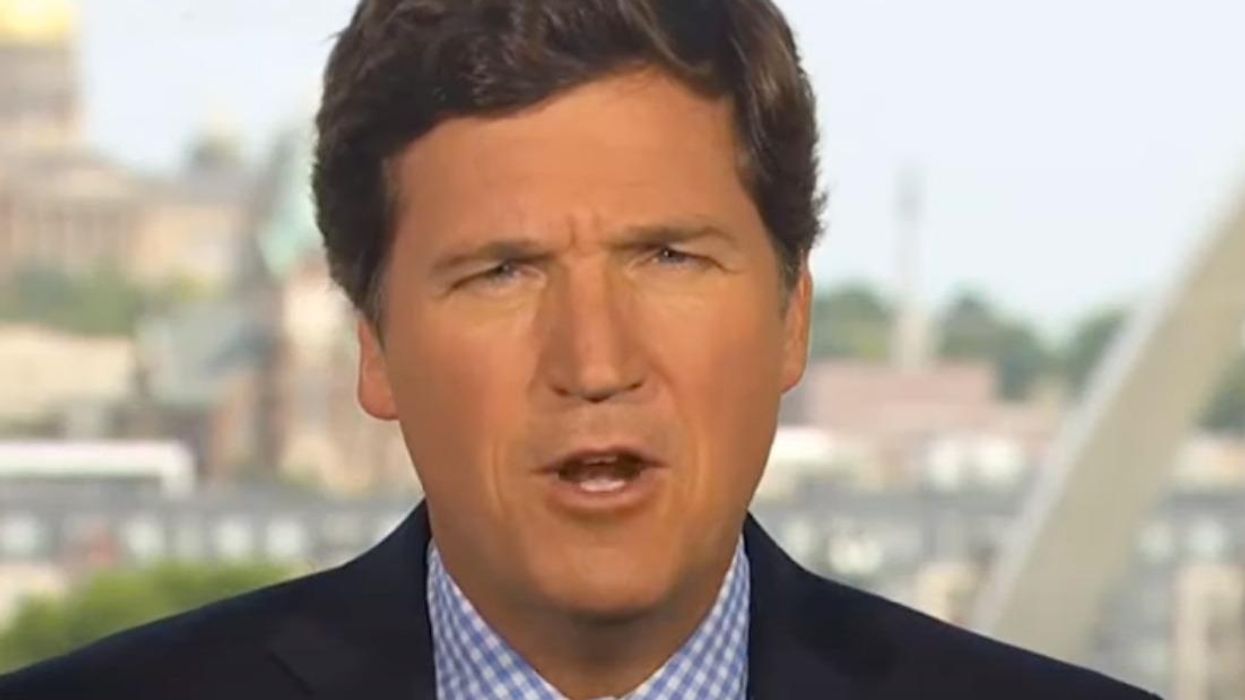 Youtube Screenshot
As the media speculates whether Carlson is mulling a 2024 presidential run, he's milking his audience for all they're worth and enriching the corporate overlords he pretends to hate
The Tucker Carlson merch booth at the Family Leadership Summit in downtown Des Moines, Iowa, sits between a recumbent bicycle vendor and a table with a suitcase full of plastic fetuses. It's obvious why the anti-abortion activists at fetus-table are here, even if the bike company's decision to attend the conference is more opaque. Carlson's presence, like his stand full of cheap hats and water bottles branded with his name, similarly splits the difference.
This annual event, organized by the conservative religious organization known as The FAMiLY Leadership Council, has played host to the biggest names in conservative politics and media, including former Secretary of State Mike Pompeo, South Dakota Gov. Kristi Noem, and former Vice President Mike Pence. It was at the Family Leadership Summit in 2015 that Donald Trump famously took a shot at the late Sen. John McCain (R-AZ), saying he preferred war heroes who didn't get captured.
So when The FAMiLY Leader announced Carlson would be its keynote speaker this year, it predictably triggered a wave of speculation about whether the cable news host was contemplating a presidential run in 2024 – rumors he has consistently denied. If Carlson is considering a run, this is exactly the type of event he would attend. If he's not, then maybe he's just here to stoke his already substantial ego.
His keynote address on Friday didn't offer any clues one way or the other. Instead, it was mostly a rehash of a stump speech he's given before: a lazy, phoned-in polemic about the importance of the family and the moral bankruptcy of the political establishment in both parties. Even as he trained his ire against Republican leaders – he singled out former South Carolina Gov. and Trump cabinet member Nikki Haley for comments she made after the police killing of George Floyd – he made it clear that, despite the summit's pretenses to be nonpartisan for tax avoidance's sake, everyone there was a Republican voter.
"The other side is so menacing, so scary at this point, a combination of fully embraced delusion and extremely high levels of aggression," Carlson said. "That, you know, sometimes I think to myself, if this person – I don't want to single anyone out or attack anyone – but if this person had absolute power, what would happen? You know, people would get hurt."
"If you can look directly into a camera and claim not simply that a man is a woman, but that anyone who won't follow you in saying something obviously untrue must be hurt – if you're capable of doing that, like what aren't you capable of?" Carlson asked.
Carlson's speech was hateful in predictable ways. Like many of the speakers, he made repeated anti-trans statements under the guise of protecting "girls sports," the favored euphemism of the moment. He referred to George Floyd as a "convicted felon." Then he made more anti-trans comments, arguing that gender-affirming health care was "sterilizing children."
But in front of this audience, he eschewed some of the open racism and xenophobia that he indulges in on his prime-time Fox show. Rather than ranting about the "great replacement" conspiracy theory or other white nationalist ideas, his speech was more abstract and philosophical.
"America is a physical place. No, it's not an idea," he said, his voice dripping with incredulity that anyone would think otherwise. "I get out of bed and there's like a ground underneath me. There's, like, soil and trees."
As is always the case with Carlson, there's more going on here than is immediately apparent. Rejecting the common liberal claim that America is an idea is a not-so-subtle rejection of what that implicit idea is, at least in theory: namely a pluralistic, multiracial democracy. And although close readings and searching for dog whistles can sometimes go too far, Carlson's history of advancing eco-fascistic ideas makes any mention of "soil" uncomfortably reminiscent of the fascist slogan "blood and soil."
Carlson is also obsessed with what he claims is the God-given natural order of things.
"The positive, the good, the calm, the placid, the orderly, the natural – that's what needs to be affirmed," Carlson told the crowd.
After attacking the environmentalist movement for its supposed hypocrisy, Carlson indulged in a riff on the nature of beauty, a bizarre but telling tangent.
"Is a wind turbine beautiful? No," Carlson said. "Rivers are beautiful. Gardenias are beautiful. Springer spaniel faces are beautiful. Children are beautiful. The sky is beautiful. These are not things that people make. These are things that God made, and the Republican Party must defend them."
These statements are banal on their own, and from almost anyone else wouldn't deserve a second thought. But Carlson is doing something here that shouldn't be ignored. In speaking about beauty and nature, God and the family, he's putting forward a politics that's facially uncontroversial but inherently oppressive. And even if Carlson isn't planning to run for office, he's almost certainly providing a template and set of talking points for far-right candidates who are.
To Carlson and the other speakers and attendees here, God's order has no room for LGBTQ people – and especially trans people. They simply cannot exist if society is to be beautiful.
"The Republican Party should be about nature in human relationships" the Fox host thundered, pivoting off his rant about how wind turbines are, to him, similarly against nature. "The most basic desire of most people – not every single person, but of most people, the overwhelming majority of people – is to mate and have children and perpetuate the species."
"'I'm not really sure if I'm a boy or a girl.' OK, that's kind of the last thing that needs positive affirmation," Carlson said. The same is true for gay and bi people.
Order, for Carlson, also means that the mass movement to fight racist oppression at the hands of the police in the summer of 2020 must be demonized.
"Our cities burned down," Carlson said. "A lot of people died. And I thought, 'Why should what happened between a cop and George Floyd outside a convenience store in Minneapolis be personal and painful to anyone else?'"
When Carlson talks about the importance of family, it's not some feel-good truism. He's talking about a particular type of family, based on patriarchal dominance, that will be forced on people who can get pregnant and are forced to carry the pregnancy to term. In this way, he transforms his anti-abortion views, which are designed to harm women economically and socially, into a vision of liberation.
To Carlson, companies like Citibank and Nike, which are supposedly "paying their female employees to have abortions," have tricked people into believing that economic autonomy is a prerequisite to happiness, rather than raising a family.
"They're really saying it is more important to serve us than to have a family," he said. "You'll be happier as you rise within our company than you would be if you had your own children."
It's worth noting that roughly a quarter of the display booths at this event were for "crisis pregnancy centers," anti-abortion spaces that masquerade as health care providers.
That evening, Carlson taped a live episode of his prime-time show from Iowa. He directed his viewers to watch footage of his speech on Fox News' streaming platform, Fox Nation, twice. Selling cheap hats is one thing, but convincing his viewers to give Lachlan Murdoch $5.99 per month is much more lucrative. By Murdoch's own admission, Fox Nation helps to insulate Carlson from the typical pressures of selling ads because he can point to subscription revenue as his value to the network. (Blue-chip advertisers have long since abandoned Carlson's Fox News show for his lengthy history of bigoted remarks.)
Carlson is 53. Let's say he wants to work for another 12 years, maybe more, maybe less. Whenever he quits broadcasting, he definitely doesn't want to get fired, and his best protection against that – against any external pressure from boycotts at all – is Fox Nation. So after spending 41 minutes that afternoon preaching the word of God to the true believers, he ended his day as he ends all days: As a company man, singing for his supper, dancing for the corporate overlords he pretends to detest.
Reprinted with permission from Media Matters.