Teachers' Unions Stand In The Way Of School Reform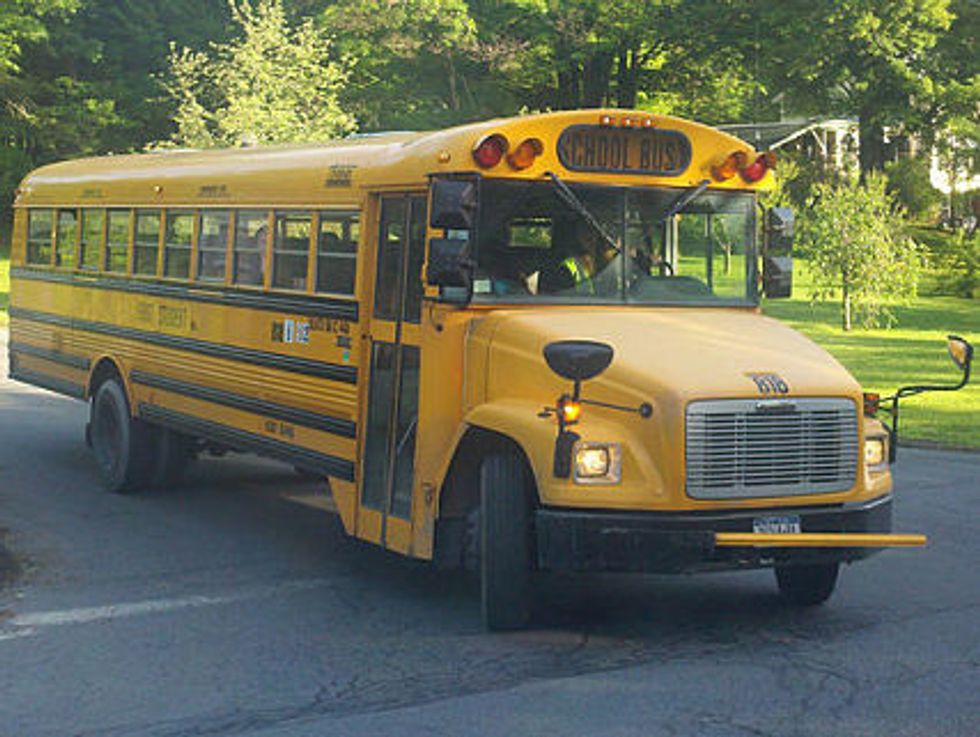 In much of the country, parents are already buying school supplies for the start of the academic year — a departure from days of yore. Many of us remember a school year that started after Labor Day, with summer a carefree stretch of about three months. This earlier start suggests a radical departure from the old ways.
It isn't. The school year may start sooner than it used to in many places, but it remains anchored at around 180 days of classroom work, a holdover from an agrarian age when children were needed to help with the crops.
The American system of public education is in dire need of comprehensive change if it is to prepare students for global competition. While the United States was a pioneer in universal public education, we've fallen behind. You've seen the statistics that show American kids outpaced by those in China and South Korea, among other countries.
But improving our public schools is a very tough business, much harder than it ought to be. Reform efforts meet resistance from nearly every sector, starting with teachers and administrators. It pains me to say this since I hail from a long line of educators, but schoolteachers have become a huge stumbling block to classroom reform.
Don't get me wrong. I retain enormous respect for the profession of educating the young, and I know there is still a dedicated core of teachers who give their all, day in and day out. I also know that those who work in poorer neighborhoods face daunting challenges as they deal with children whose homes lack books, computers and, sometimes, regular meals.
But the professional organizations that represent educators are dominated by resistant and retrograde voices, so-called leaders whose interests don't seem to lie in improving the lives of their charges. They have begun to remind me of the United Auto Workers in the 1990s, an ornery and backward-looking group who cannot fathom how much the world has changed. And their worldview is more dangerous than a similar stance from autoworkers because teachers handle a much more precious product. When Detroit faltered, Americans started to buy cars from other countries. But there is no such fix for poorly educated American schoolchildren.
Consider various reactions to proposals for a longer school day, which studies have shown improves performance, especially among poorer kids. In Washington, D.C., where Chancellor Kaya Henderson has made extending the school day a priority, the teachers' union has fought it vociferously even though teachers would get paid more. What kind of crazy is that? Even the UAW didn't fight overtime.
If a longer school day has been greeted with resistance, you can imagine the reaction to proposals for greater teacher accountability. For more than a decade, plans to curb teacher tenure — to make it easier to fire incompetent teachers — have been beaten back, met with an angry backlash that damaged the careers of any politicians brave enough to support the idea. Just ask Roy Barnes, the last Democratic governor of Georgia. After he proposed limiting tenure for new teachers — not those already in the classroom — his 2002 re-election campaign was doomed by furious educators, a reliable voting bloc.
The latest shots in that ongoing battle were fired last month by a California court, which struck down that state's teacher tenure rules as unconstitutional. "Evidence has been elicited in this trial of the specific effect of grossly ineffective teachers on students. The evidence is compelling. Indeed, it shocks the conscience," the judge wrote, noting that many of those teachers are working in poor neighborhoods.
That sounds right. Affluent and educated parents won't tolerate incompetent teachers; they pressure school administrators to get rid of them. But those teachers aren't fired; they are sent to poor neighborhoods, where parents don't have the social standing or the sophistication to protest. And where students are most vulnerable to the deficits of a less-effective education.
Good teachers deserve our wholehearted support — higher salaries, better working conditions, more respect. But they ought to stop defending their weaker colleagues. Bad teachers need to be forced into another line of work.
(Cynthia Tucker, winner of the 2007 Pulitzer Prize for commentary, is a visiting professor at the University of Georgia. She can be reached at cynthia@cynthiatucker.com.)
Photo via Wikimedia Commons