How Big Medicine Plays Us All For Suckers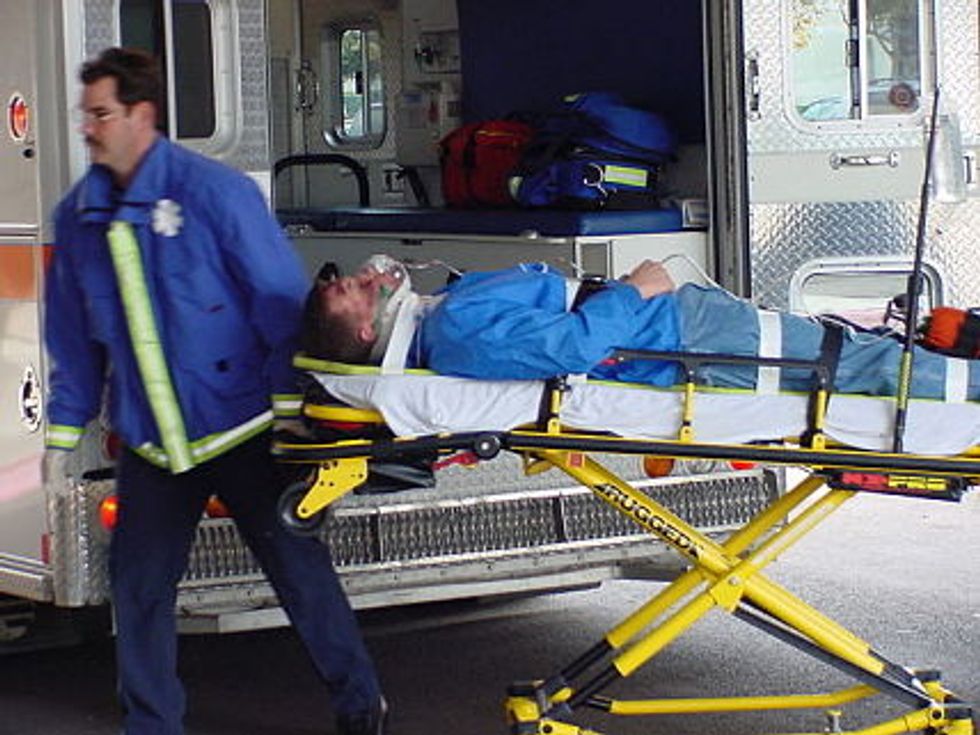 Sometimes the best journalism explains what's right under our noses. In Steven Brill's exhaustive Timemagazine cover article "Bitter Pill: Why Medical Bills Are Killing Us," it's the staggeringly expensive, grotesquely inefficient and inhumane way Americans pay for medical care.
"In the U.S.," Brill reminds us, "people spend almost 20 percent of the gross domestic product on health care, compared with about half that in most developed countries. Yet in every measurable way, the results our health care system produces are no better and often worse than the outcomes in those countries."
Obamacare or no Obamacare, ever-increasing prices show few signs of abating. For all the fear and uncertainty the president's health insurance reform will eliminate from people's lives, it's almost incidental to the overall question of costs.
Moreover, had the law attempted to seriously restrain profiteering hospital chains, pharmaceutical companies and medical equipment manufacturers that Brill depicts as largely responsible for the current morass, there's no way it could have passed.
Yes, it's a fiscal issue. If Medicaid and Medicare paid the same amounts for health care as, say, Switzerland or France—the economist Dean Baker has repeatedly pointed out—the Federal budget deficit would virtually disappear. (Although the two federal programs are infinitely more frugal and efficient than the rest of the system.)
But it's an economic and moral issue as well. Brill was inspired to research the article after noticing the gleaming spires of the Texas Medical Center in Houston, of which M.D. Anderson is the brand name. It's a great hospital, dispensing world-class care (at world-class prices). But how exactly, Brill wondered, had hospitals become five of Houston's 10 largest employers? It's a pattern repeated nationwide, as hospital chains have come to dominate local economies.
Essentially, he found, by gaming what the article describes as "the ultimate seller's market"—an economic realm where buyers (i.e. hospital patients) are normally ignorant, often frightened and sometimes literally helpless. And who often think they've got adequate insurance, until they examine the fine print.
Granted, nobody bargains over a cancer diagnosis or heart attack. Even so, Brill wondered "why should a trip to the emergency room for chest pains that turn out to be indigestion bring a bill that can exceed the cost of a semester of college? What makes a single dose of even the most wonderful wonder drug cost thousands of dollars? Why does simple lab work done during a few days in a hospital cost more than a car?"
Good questions, all. Brill answers them by taking readers on a guided tour of the Alice-in-Wonderland world of medical billing as experienced by ordinary patients for whom getting the bill became an ordeal equal to and sometimes surpassing the illness itself.
Such as "Steve H.," who never asked the cost of outpatient treatment for his ailing back because his union-sponsored health insurance plan had $45,000 remaining on its annual $60,000 spending limit. "He figured, how much could a day at Mercy [hospital] cost?…Five thousand? Maybe 10?"
The bill came to $89,000—including $45,000 for an electronic stimulator Brill learns that Mercy Hospital bought from the manufacturer for $19,000, which spent roughly 25% of that amount making and shipping it. (An arbitrator persuaded the hospital to settle for $10,000 of the $44,000 it said Steve H. owed.)
Moreover, as medical markups go, Steve H. got off relatively easy. The "chargemaster" computerized system hospitals use to prepare bills routinely assesses patients 10 times and more what commonly used items like gauze pads and surgical gowns actually cost. If baseball teams treated their captive audiences like that, they'd be selling $40 beers.
At times, Brill's mordant deconstruction of hospital bills can be grimly funny—even if Alice D., left facing a $900,000 bill for her dead husband's futile cancer treatment, can be pardoned for not laughing. In the end "her losses from the fixed poker game that she was forced to play in the worst of times with the worst of cards," persuaded Alice she could never afford to remarry.
Even chemotherapy patients who survive can be staggered to learn that a miracle drug cost Genentech roughly "$300 to make, test, package and ship to M.D. Anderson for $3,000 to $3,500, whereupon the hospital sold it to [patient Steve] Recchi for $13,702.33."
Ultimately, many of these humongous bills are never collected; the industry average is around 35 percent, although prestigious hospitals like M.D. Anderson collect 50 percent of what they charge. Most are "non-profits" only in the sense of having no stockholders; instead, administrators are paid princely multi-million-dollar salaries. They occupy themselves with building empires.
In the end, Brill concludes that Americans pay an enormous price for refusing to admit that "because the health care market deals in a life-or-death product, it cannot be left to its own devices."
He and Time have done a great public service.
Photo: Wikimedia Commons