Threats Against Texas Sheriff Who Launched Probe Of DeSantis Trafficking Stunt
@alexvhenderson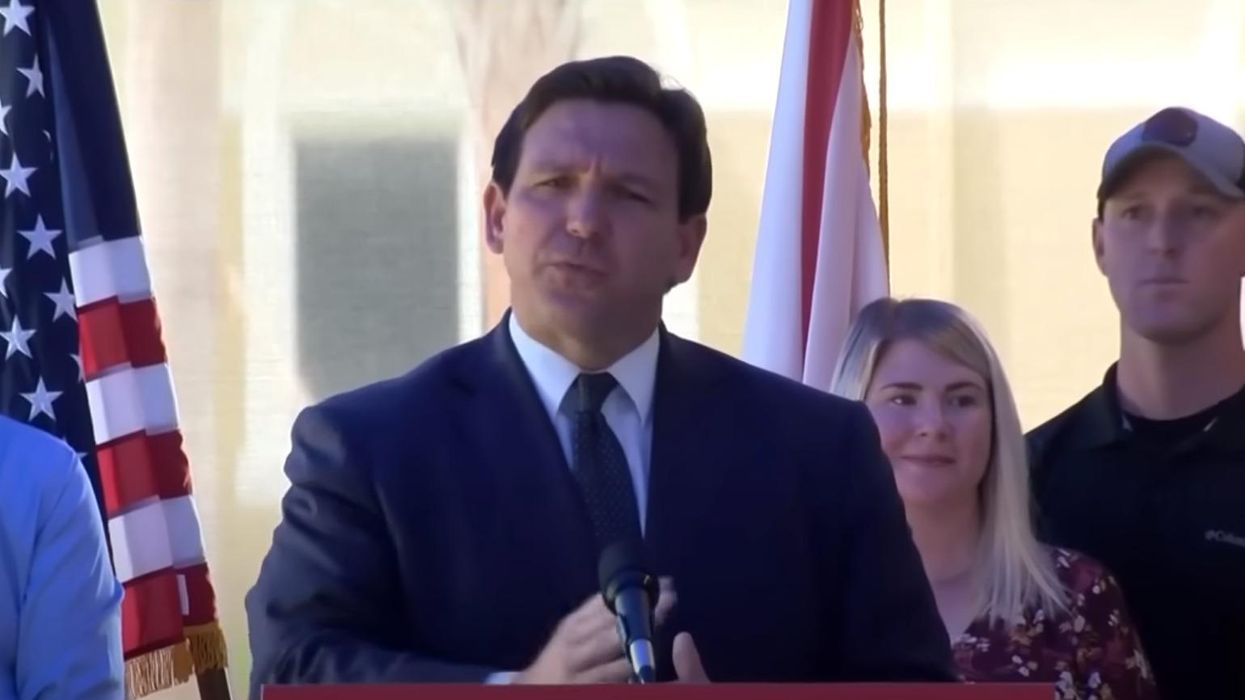 Youtube Screenshot
Far-right Florida Gov. Ron DeSantis has been drawing a great deal of criticism from Democrats — as well as some Never Trump conservatives — for sending two planes of migrants, many of them from Venezuela, to Martha's Vineyard, Massachusetts. DeSantis critics have been saying that it wasn't hard to figure out why he chose Martha's Vineyard for his political stunt: Massachusetts, home of Sen. Elizabeth Warren, is a deep blue state — and DeSantis, during an election year, wanted to show off his ability to "own the liberals."
On Monday, September 19 in Bexar County, Texas — where the flight of migrants originated before going to Florida and later, Martha's Vineyard — Sheriff Javier Salazar announced that he would be opening a criminal investigation of DeSantis. And since then, according to Vice's Paul Blest, Salazar's office has been inundated with "threats."
Salazar, at a press conference, told reporters he believes the migrants were "lured" to Martha's Vineyard under "false pretenses" in violation of both county and federal law. In a brochure that Popular Information posted on September 19, migrants were promised "eight months cash assistance" as well as "food," "housing" and "job placements."
On September 20, the day after Salazar's announcement, a spokesperson for his office told Vice, "There have been numerous threats, an influx of calls to our dispatch and administrative offices, along with hateful e-mails received…. Additionally, as in any instance when our office receives threats, precautionary measures will be made for safety of all personnel."
One of the Massachusetts Democrats who has been calling DeSantis out is State Rep. Dylan Fernandes, who described DeSantis' actions as "f****** depraved." On September 18, Fernandes — whose district includes the Martha's Vineyard area — tweeted, "We are requesting that the Department of Justice open an investigation to hold DeSantis & others accountable for these inhumane acts. Not only is it morally criminal, there are legal implications around fraud, kidnapping, deprivation of liberty, and human trafficking."
DeSantis has been an incredibly polarizing figure in Florida and U.S. politics. Although Democrats as well as some moderate Republicans hold him in very low regard, DeSantis is wildly popular with the MAGA base — and polls indicate that he appears to be headed for reelection in Florida's 2022 gubernatorial race. Polls have shown DeSantis with single-digit leads over the Democratic nominee, Rep. Charlie Crist, a former Republican and ex-governor of Florida.
Blest notes, "DeSantis, who is up for reelection this year, has become one of the most popular figures in the Republican Party due to his relentless hostility towards his perceived political enemies and the media, and has been rumored as a potential candidate in 2024. DeSantis' campaign and PAC have raised a combined $178 million this year, a gubernatorial fundraising record, according to OpenSecrets."
Reprinted with permission from Alternet.