Walmart Faces Black Friday Strikes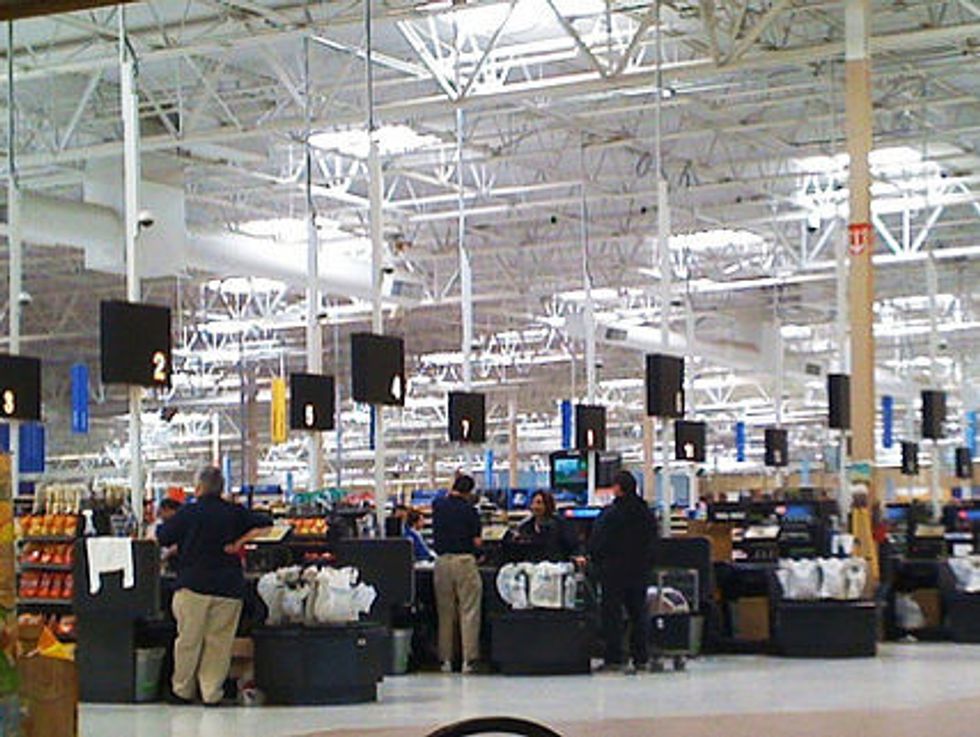 Thousands of Walmart workers around the country are planning to strike on Black Friday, hoping to end retaliation they claim the massive retail chain's workers receive when they speak out for better working conditions.
Workers complain that the retaliation may include a loss of shifts, schedule uncertainty and reassignment within the store.
Last week, Walmart asked the National Labor Relations Board to stop the United Food and Commercial Workers Union and its subsidiary OURWalmart to stop organizing protests it claims have been going on for six months. The National Labor Relations Act prohibits picketing for any period over 30 days without filing a petition to form a union.
The Bentonville, Arkansas-based retail giant employs more than 1.4 million workers. How many workers will participate in the action remains unclear.
The Nation's Josh Eidelson says that the walkout will test the power of online organizing. Many workers who plan to participate in the walkout have only been in contact with organizers online. Not only are the workers organizing through Facebook and other online platforms, progressives are using the Internet to offer support to the workers.
"No one knows just how many Walmart workers will walk off the job on Friday—organizers included," Eidelson wrote.
Wednesday at a Walmart Supercenter in St. Cloud, Florida just one employee, Vanessa Ferreira, age 59, went on strike and was threatened with a trespassing violation.
Ferreira, who has decorated cakes at Walmart for eight years and never received any formal discipline or "coaching" from Walmart until she joined OURWalmart, complains that the wage she receives is too low to live on.
"They pay low wages, then the taxpayers pick up the tab for food stamps and Medicaid," Ferreira said. "They need to take care of their people. They need to be responsible to their workers."
One study suggests that as many as 80 percent of Walmart's employees receive food stamps.
Former Secretary of Labor during the Clinton Administration, Robert Reich, is advocating for the strike. He believes that a large-scale strike against Walmart would be good for the economy, pointing out that the average Walmart employee takes in only $8.81 an hour while a third of its workers do not even qualify for health benefits.
"A new study by the think tank Demos reports that raising the salary of all full-time workers at large retailers to $25,000 per year would lift more than 700,000 people out of poverty, at a cost of only a 1 percent price increase for customers," he wrote.
The courts are not open Black Friday to issue an injunction and shoppers are already lining up for Walmart's doorbuster offers that begin in many states on Thanksgiving evening.
Can the weak bonds of social media overcome the high-pressure intimidation workers face if they speak out for better pay and benefits? And can any of it break through the media's fixation on televising consumers' rampaging pursuit of Black Friday values? We'll find out tomorrow.
Photo credit: Patrick Hosely