Warren Warns Of 'Stain' On Senators Who Vote To Confirm CFPB Nominee
@alexvhenderson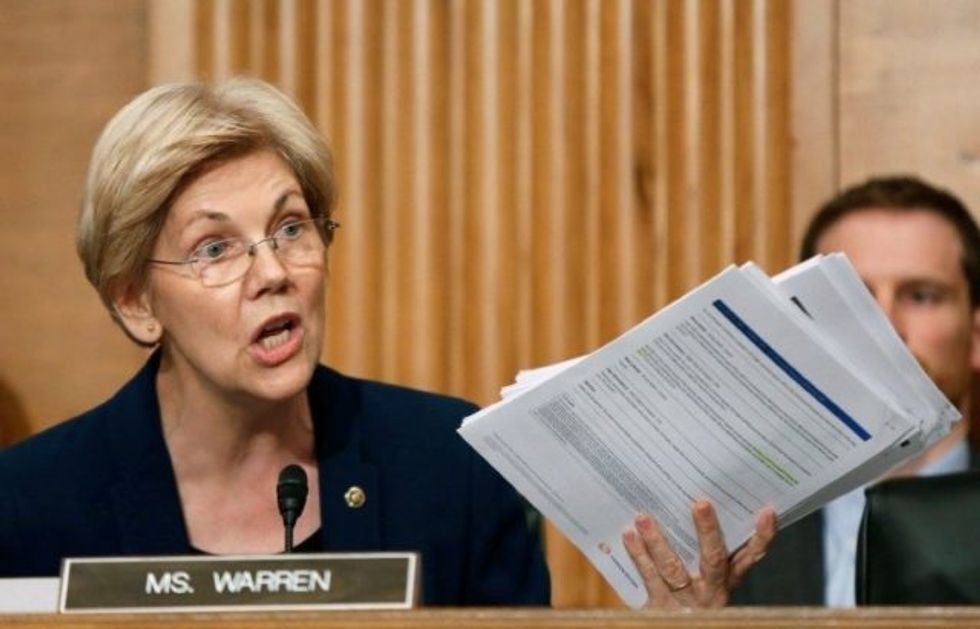 Reprinted with permission from AlterNet.
President Donald Trump is not only great at appointing Environmental Protection Agency heads who are terrible for the environment (Scott Pruitt) and secretaries of education who terrible for public education (Betsy DeVos)—he is also great at making certain that the Consumer Financial Protection Bureau (CFPB) offers as little protection as possible to U.S. consumers. And this week, Trump officially named his nominee to replace Mick Mulvaney as head of the CFPB: Kathy L. Kraninger. Sen. Elizabeth Warren of Massachusetts—who was instrumental in the CFPB's creation seven years ago—and other Democrats have been critical of Trump's pick, and they have plenty of reason to be.
Kraninger presently serves as associate director of the Office of Management and Budget (OMB), where she reports to OMB Director Mulvaney. In November, Trump appointed Mulvaney as CFPB's acting director—a temporary appointment—after Democrat Richard Cordray, appointed by President Barack Obama in 2011, stepped down to run for governor of Ohio (an important swing state in the 2018 midterms). But Mulvaney's appointment to the CFPB was only meant to be temporary, while Kraninger's would be long-term—despite the fact that, as Senate Democrats have been pointing out, she has no real background or expertise in consumer or financial protection.
In addition to her work at the OMB, Kraninger has worked as a deputy assistant secretary for policy in the Department of Homeland Security. But consumer protection and financial services has not been her area of expertise, and Sen. Warren—who has a wealth of knowledge and expertise in those areas—is not happy about the nomination.
Warren, however, was not only critical of Kraninger for her lack of experience in financial regulation, but also, for her role in some of the Trump administration's worst blunders—including its botched response to Hurricane Maria and the separation of families at the U.S./Mexico border.
Warren, grilling Kraninger, said of the separation of families, "These are innocent children who may be scarred forever by this policy. It is fundamentally immoral of you, and you were part of it, Ms. Kraninger. It is a moral stain that will follow you for the rest of your life. And if the Senate votes to give a big promotion to you after this, it is a stain on the senators who do."
According to New Jersey Sen. Bob Menendez, Kraninger failed miserably when it came to helping Puerto Rico after Hurricane Maria devasted the island. Menendez asserted that when Puerto Ricans were facing "their darkest hour" after the hurricane, Kraninger "pinched pennies" instead of helping them and "treated them as second-class citizens."
Menendez told Kraninger, "That does not give me the faith that when you have to stand up for seniors, service members, students, homeowners against some of the biggest financial institutions in this country, that you'll do that. If you couldn't do it for the people of Puerto Rico, I don't know how you're going to do it for anybody else."
The CFPB did not exist prior to 2011, when Warren proposed and helped establish the agency with the support of the Obama administration. In light of the Wall Street crash of September 2008 and all the misery caused by the Great Recession—the worst financial crisis in the U.S. since the Great Depression of the 1930s—Warren recognized the need for a new agency that would address the regulation of banks and the financial industry. And in July 2011, Obama announced that Cordray—who had served as attorney general and state treasurer in Ohio—would be its first director.
Alex Henderson is a news writer at AlterNet and veteran political journalist. His work has also appeared in Salon, Raw Story, Truthdig, National Memo, Philadelphia Weekly, Democratic Underground, L.A. Weekly, MintPress News and many other publications. Follow him on Twitter @alexvhenderson.