This Time, Let's Honor The True Heroes For Saving Democracy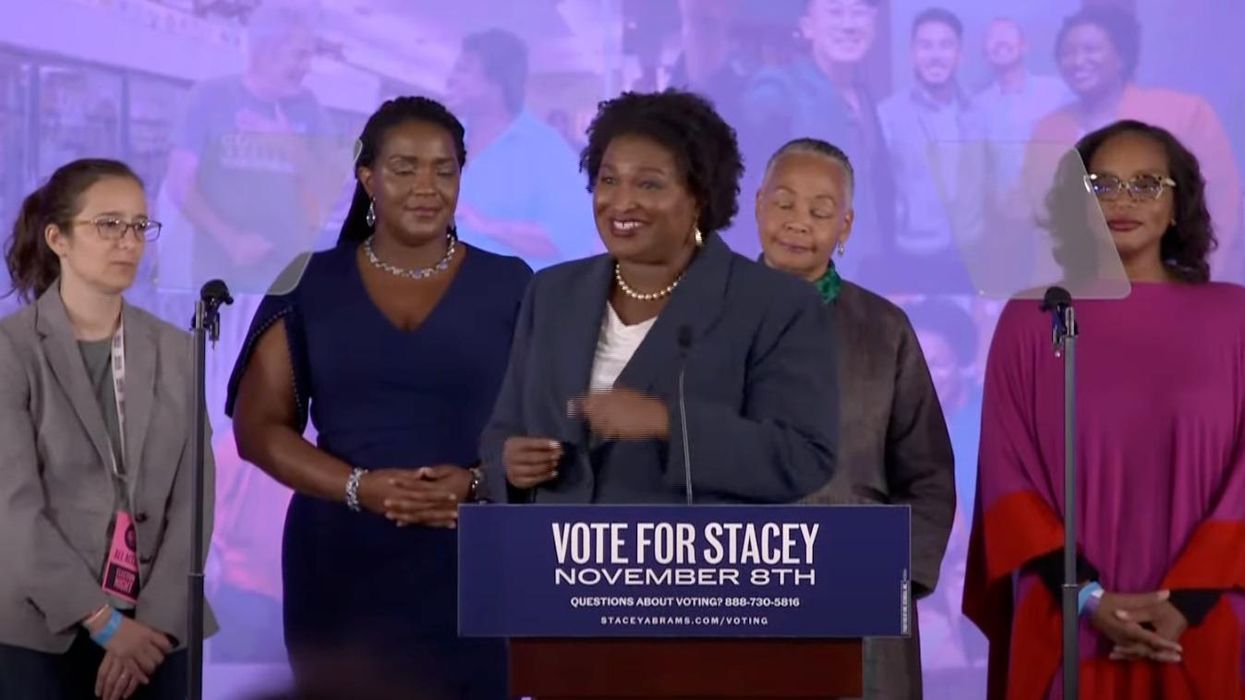 Youtube Screenshot
In Georgia, Gov. Brian Kemp was rewarded Tuesday night with a win by voters, who approved of his policies and appreciated his stand against former President Donald Trump, who tried and failed to get Kemp to toss out ballots that contributed to Trump's narrow 2020 defeat in the state.
But it always bothered me that Kemp and the similarly Trump-resistant secretary of state, Brad Raffensperger, earned kudos and votes for simply doing their jobs, and that both, flush in the praise for standing up to Trump, went on to support more restrictive voting rules that were not needed in the first place, rules that disadvantaged voters like Jennifer Jones.
The Guardianrecounted the arduous odyssey of Jones, a Ph.D. student at Morehouse School of Medicine in Georgia, who, like any good American citizen, showed up to cast her early vote in her Fulton County precinct for the midterm elections.
She hit a roadblock.
Despite dotting every "i" and crossing every "t," she was told she could not cast a ballot for the candidates of her choice — Stacey Abrams for governor and incumbent Sen. Raphael Warnock. Why? Someone she didn't know and had never met had challenged her right to do the right thing.
The culprit was her state's ironically named Election Integrity Act, supported by Kemp and Raffensperger, which allowed such a scenario and, in fact, invited it. Those who denied the results of the 2020 election of President Joe Biden, who were none too happy about the close election of two Democratic senators, Warnock and Jon Ossoff, enthusiastically used the law to cast doubt on the kinds of voters who made those results a reality.
Her mystery challenger might not have known her but probably knew a few things about her by following the clues and determining that Jones, a Black woman, was not quite "right" in some way.
It's annoying, but not surprising, considering the history of Georgia and the country — white men of privilege taking two steps back for every step forward, when others doing the hard work don't get much credit.
Remember, Georgia is the state where Black poll workers in that 2020 election were falsely accused of election mischief by Trump and friends, and hounded from their homes and patriotic duty. Mother and daughter Ruby Freeman and Wandrea "Shaye" Moss were still clearly shaken when they testified about their ordeal before the House Select Committee investigating the events of January 6, 2021.
They were the true heroes of democracy in Georgia.
The results of Tuesday's 2022 midterm elections are still uncertain. While the "red wave" predicted by Republicans, prognosticators and pollsters whose profession is becoming increasingly suspect did not emerge, control of the House and Senate is still up in the air.
One thing is certain, though. When results are this close, there will inevitably be rumblings about how Black voters could have done more to help Democrats, especially Black candidates who fell short. That was clear in preview stories that wondered if Democrats were doing enough, if Black voters expected too much, and whether or not Abrams was doing enough to appeal to Black men, in particular.
A Washington Post headline stated it pretty clearly: "Democrats count on huge Black turnout, but has the party delivered in return?" "Politicians need to mobilize Black male voters ahead of the midterms, experts say," warned a story on NPR. Abrams spent an inordinate amount of time swatting down the narrative that Black men didn't much like her.
I am already hearing whispers about the Senate race in North Carolina, which saw GOP Rep. Ted Budd defeat former state Supreme Court Chief Justice Cheri Beasley, an African American woman who campaigned across the state — one a Democratic Senate candidate had not won since 2008, and one once defined in the Senate by Jesse Helms and his opposition to civil rights.
I don't think Black voters are the major problem for any of these candidates.
Missing has been much in-depth examination of white voters, and there are still more of them in this country than any other group, throwing support behind election deniers, reproductive rights hard-liners and those, like Budd, who refused to certify the free and fair election of President Biden.
How does that work? Give a pass to those who vote for those who like or look past the most un-American of actions, and place the blame on Black voters whenever Democrats or Black candidates fall short?
That's asking African Americans to save democracy, a request we are used to, despite obstacles like the efforts of reelected Gov. Ron DeSantis of Florida, hailed as the new face of the Republican Party. His administration's public arrests of formerly incarcerated Floridians, many of them Black, for breaking intentionally complicated election laws they had no idea they were violating, struck fear in prospective voters, even beyond his state's borders, reported The Marshall Project, achieving the desired effect — voter hesitation and intimidation.
Certainly, those who choose not to vote earn my criticism. Any of today's challenges, from voter ID laws to last-minute changes in the proper polling location, pale in comparison to the violence visited upon voting rights icons from Medgar Evers to John Lewis.
But I understand the exhaustion and occasional despair when, election cycle after election cycle, only some Americans are blamed for not doing the thing a lot of your fellow citizens don't want you to do and construct barriers to stop you from doing.
In Abrams' second loss to Kemp this week, it wasn't Black voters who let her down.
In important ways, though, Stacey Abrams counted. When Jennifer Jones needed the information to correct misinformed poll workers, she knew who to call for help — Fair Fight, a national voting rights organization based in Georgia, founded by Abrams.
She is a winner, whether or not she gets credit.
Mary C. Curtis has worked at The New York Times, The Baltimore Sun, The Charlotte Observer, as national correspondent for Politics Daily, and is a senior facilitator with The OpEd Project. She is host of the CQ Roll Call "Equal Time with Mary C. Curtis" podcast. Follow her on Twitter @mcurtisnc3.
Reprinted with permission from Roll Call.