Will The GOP Shut Down The Government To Spite Karl Rove?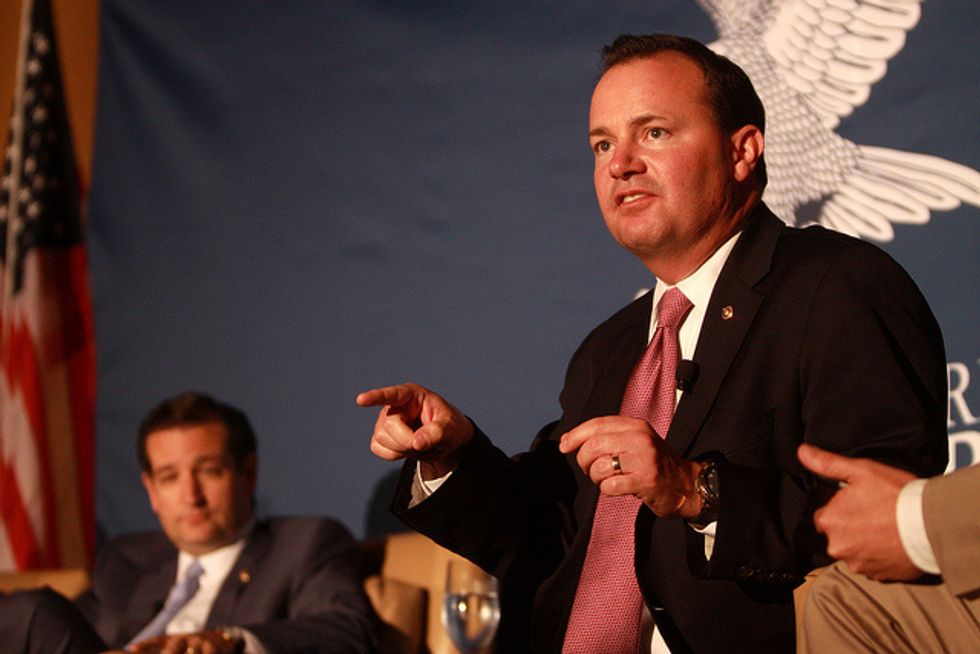 Most Republicans in Congress agree on one thing: Obamacare needs to go. How to get rid of the health care law, however, is a bit more complicated.
The GOP is split between those who believe the sole way to combat The Affordable Care Act is by opposing all fall spending bills that contain funding for the law—resulting in a government shutdown – and those who believe in any strategy that will not involve such extreme action.
Leading the government shutdown movement is Senator Mike Lee (R-UT), arguing: "If you fund this thing, you own it." In Lee's world, Republicans who do not believe closing the government is the appropriate measure to combat the Affordable Care Act are automatic backers of the law.
Lee's intricate plan involves the GOP-controlled House passing a bill funding the government, which would contain a rider from Rep. Tom Graves (R-GA) that would defund the Affordable Care Act — and leaving the ultimate decision to shut down the government or pass the bill with that rider included up to Senate Democrats.
"Would they choose to shut down government? Or do the right thing?" Lee asked of Senate Democrats.
This is a plan that Republican political consultant Karl Rove quickly rejected. According to Politico, Rove "concluded Lee's effort would backfire and be a replay of 1995, a government shutdown often blamed on the GOP."
Still, Lee and other Tea Party lawmakers, including Senators Ted Cruz (R-TX) and Marco Rubio (R-FL), believe a government shutdown is the only option. Lee referred to any strategy besides his as an example of Republicans "caving."
Rove warned, "This is the one strategy, the one tactic that might be able to guarantee that the Democrats pick up seats in the Congress in 2014."
Rove's comment echoed a similar thought from Senator Bob Corker (R-TN), who called the effort "self-defeating." Other Republican leaders have termed it "silly" and "stupid."
According to the Washington Post, several GOP leaders have realized that Rove's approach may not be an effective way to prevent the government shutdown. Publicly condemning the strategy can easily backfire; tackling it openly, as Rove did, has already resulted in those in favor of the shutdown painting its opponents as scared and weak Obamacare backers, not willing to "defeat Obama tyranny."
The Rove-Lee debate on Sean Hannity's radio show proved that even with Rove pointing out just how ineffective, counterproductive and unnecessary a government shutdown would be, Lee's position won't change; instead, it grows more steadfast. Rove's words serve as Lee's evidence that the Republican Party is too "weak-kneed" to make a move against the president, and the only way to prove to Rove and other GOP leaders that they are actually impeding the Republican Party, rather than strengthening it, is, perhaps, to call for a government shutdown.
As long as Republican leaders fight publicly, they provide those in favor of the shutdown their greatest argument: Republican leadership is weak, and it's time to take a stronger and more combative stance against Obamacare, even if it means closing down the government. Suddenly, a shutdown is seen as the ultimate measure of GOP loyalty and leadership.
The government shutdown has become more than just a position on Obamacare; it is a symbol of defiance between GOP lawmakers.
If Rove — or any Republican, for that matter — keeps  publicly calling out the strategy's obvious idiocy, he is just pushing his more conservative counterparts in Congress to go through with the effort.
Because of this, several GOP leaders have begun to lobby House Republicans privately, rather than openly bash their strategy.
National Review's Robert Costa reported that, "House insiders say Boehner and Cantor had talked much of their conference away from the edge," and Republicans are "now confident that House Republicans will not tread into a shutdown battle with the Obama White House."
Just a week ago, Rubio argued that the government shutdown was "no longer an ideological thing," and he's right. Now it is a deeper split in the already divided GOP.
Photo:Gage Skidmore via Flickr.com