With Migrant Trafficking Stunts, GOP Governors Mimic Segregationist 'Uptown Klan'
@LauraClawson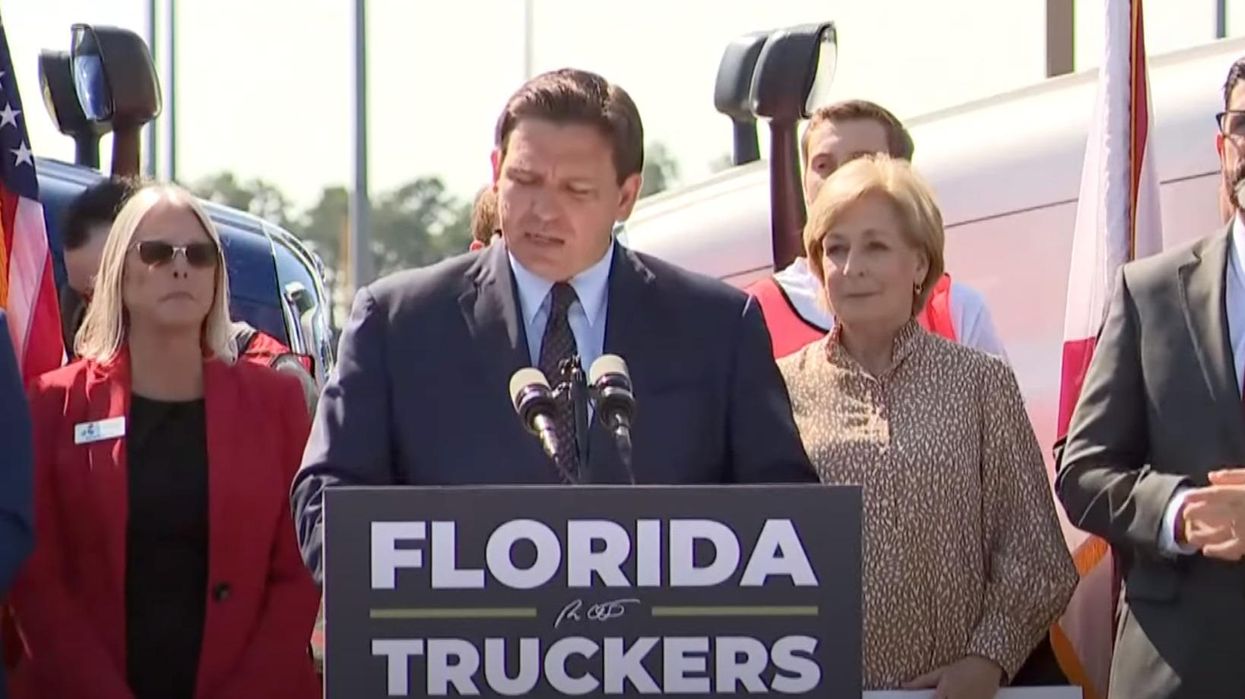 Youtube Screenshot
When Florida Gov. Ron DeSantis lured migrants onto a plane in Texas with promises that they would find jobs and work papers in Boston, then dropped them in Martha's Vineyard , he was echoing an earlier history that shows exactly who he is. Massachusetts state Sen. Julian Cyr immediately identified the similarities to the "reverse freedom rides" of the early 1960s, when segregationist politicians in Arkansas and other southern states bused Black families north to make a political point. That ugly history is very much at play as Republican politicians today bus and fly migrants to Illinois, New York, Washington, D.C., and now Martha's Vineyard.
"For many years, certain politicians, educators, and certain religious leaders have used the white people of the South as a whipping boy, to put it mildly, to further their own ends and their political campaigns," Amis Guthridge, one of the architects of the reverse freedom rides, is quoted in an in-depth 2019 piece by Gabrielle Emanuel at GBH News . "We're going to find out if people like Ted Kennedy … and the Kennedys, all of them, really do have an interest in the Negro people, really do have a love for the Negro."
Hundreds of Black people, mostly from Arkansas and Louisiana, were misled or, in some cases, coerced onto buses north, ending up in states from California to New Hampshire. But the largest number, nearly 100, were sent to Hyannis, Massachusetts. Because when Amis Guthridge said, "We're going to find out if people like Ted Kennedy … and the Kennedys, all of them, really do have an interest in the Negro people, really do have a love for the Negro," he was intending to send people literally to the Kennedys' doorstep, or anyway to the bus stop closest to where the Kennedys spent their summers, telling them they would meet President John F. Kennedy when they arrived.
Now, we've got Ron DeSantis lying to migrants and sending them to where former President Barack Obama vacations in the summer. It's eerie how the racists of today are replaying a largely forgotten campaign by the racists of the past.
Compare that quote from Guthridge decades ago with this one from DeSantis on Thursday: "Every community in America should be sharing in the burdens. It shouldn't all fall on a handful of red states," he told reporters. Other states "don't like it as much when you get just a small, small, small amount compared to what these folks have dealt with in Texas and in other states."
The racists of the 1960s had reporters waiting to meet Black southerners at the bus stop in Hyannis. The racists of the 2020s are taking advantage of technology: DeSantis sent a videographer on the plane to Martha's Vineyard.
The racists of the 1960s threatened to take people off welfare rolls and promised that housing and jobs would be waiting for them. DeSantis had people told they would get work papers and jobs, and had the charter plane pilot tell them mid-flight that they were not going to Boston as promised.
Watching Texas Gov. Greg Abbott turn this project into major far-right street cred, DeSantis was so desperate to get the headlines from treating vulnerable migrants as political pawns that he used Florida taxpayer money to get migrants out of Texas. After the Martha's Vineyard flight on Wednesday, Abbott had buses drop migrants off in front of the vice president's residence in Washington, D.C., on Thursday.
Rep. Joaquin Castro, who represents San Antonio, where the migrants started their day before being flown to Martha's Vineyard, tweeted , "The Department of Justice needs to investigate Governor DeSantis for using fraud and deception to lure people out of state only to abandon them without fulfilling his false promises. Same for Greg Abbott. They're engaging in human trafficking."
DeSantis and Abbott are also probably grasping at a way to get attention that distracts from abortion, since it's become clear that punitive abortion policies are not an electoral boost for Republicans overall right now—as much as it might help in a Republican primary. But, as is the case with virtually every Republican policy these days, the cruelty is the point . Lying to people with nothing and dropping them on an island with scarce and expensive housing and no access to the promised resources is simply cruel. It's the kind of thing you do if you enjoy other people's suffering. As DeSantis and Abbott clearly do.
"They reported to me that these people got off the plane, men, women, and children from Venezuela, as they told me," Rep. Bill Keating told CNN. "And they had a map or instructions in their hand where they would get housing and jobs. And it was a vacant parking lot, the destination." It's a juvenile prank mindset taken to a life-shattering, heavily resourced level.
Lisa Belcastro, head of the single homeless shelter on Martha's Vineyard, echoed Keating's point that these people were looking for jobs. "None of them wanted to come to Martha's Vineyard. They've never heard of Martha's Vineyard. This was a political move," she said. "Not one person has asked for a handout; they have asked to work."
"Exploiting vulnerable people for political stunts is repulsive and cruel. Massachusetts is fully capable of handling asylum seekers, and I'll keep working with local, state, and federal partners to ensure we have the necessary resources to care for people with dignity," Sen. Elizabeth Warren tweeted .
According to state Rep. Dylan Fernandes, the state attorney general's office is helping local officials find immigration attorneys for the migrants.
Reprinted with permission from Daily Kos .