Why People Are Turning To Women's Magazines For Quality Political Coverage
@pamela_vogel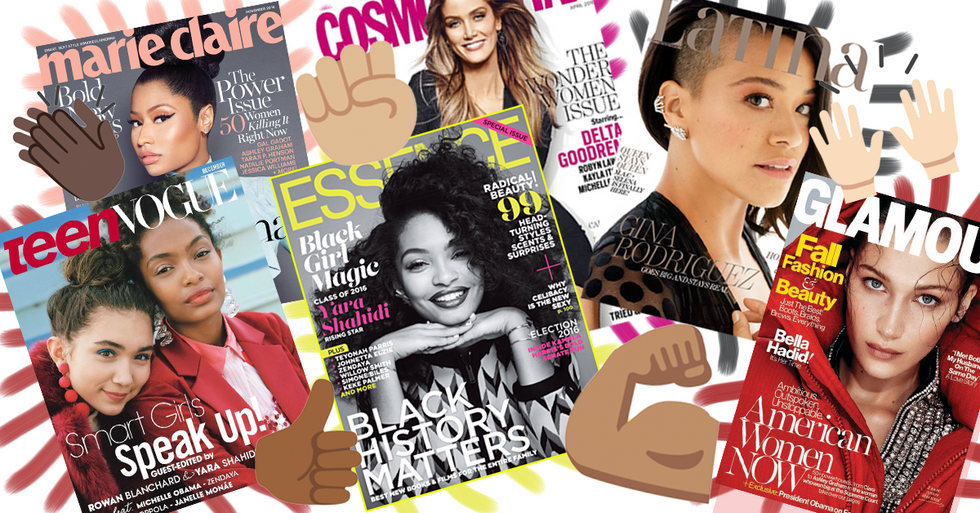 Reprinted with permission from Media Matters for America.
In the small world of politics and media Twitter, one of a few tropes emerged this year: astonishment — isolated and seemingly brand-new each time — when woman-centered outlets published high-quality political reporting and opinion pieces.
When Teen Vogue ran a December 10 op-ed from weekend editor Lauren Duca headlined "Donald Trump Is Gaslighting America," this small, homogenous media world seemed shocked that a young woman could aptly write about both makeup and the psychological tactics of a dangerously deceptive political figure. It was as though young women and the stories they crave, or the whole of American life for that matter, cannot contain multitudes.
As many women writers — and especially women of color — quickly pointed out, the Teen Vogue piece shouldn't surprise anyone. Neither should it be shocking that, in September, Cosmopolitanset the standard for Ivanka Trump interviews when reporter Prachi Gupta asked Ivanka, who ostensibly spearheaded Donald Trump's child care proposal, substantive questions about that policy and in the process revealed its many weaknesses. The "real" media figures who were surprised by the Teen Vogue opinion piece also might not have known that President Obama and first lady Michelle Obama have given multiple exclusive interviews to Essence, Ebony, Latina, and Teen Vogue over the years.
What (mostly male) critics fail to recognize is that their reasons for dismissing women's magazines actually form the foundation of those publications' success. Magazines created by and for women audiences — not to mention exclusively online outlets like Broadly, Refinery 29, The Establishment, and Jezebel — inherently do things differently, and that's their strength. They're helmed by people who wouldn't normally see their experiences depicted on the pages of papers of record. They're also answering to an audience of women, especially young women and women of color, by finding ways to inject otherwise untold perspectives into the political discourse.
This emphasis on giving platforms to those commonly excluded by dominant media narratives explains why Teen Vogue — run by Editor-in-Chief Elaine Welteroth, a millennial black woman, and digital editorial director Phillip Picardi, a 25-year-old gay man — produces consistently dynamic reporting on the realities of the white supremacist and misogynist movement that calls itself the "alt-right." It also explains why it reaches millions with personal stories of transgender teens affected by North Carolina's discriminatory HB 2 law, a young woman who got an abortion in Ohio, girls from the Standing Rock Sioux tribe in North Dakota, and young female Muslim activists. (Teen Vogue also owes much to Rookie magazine, founded and edited by the 20-year-old Tavi Gevinson, which regularly publishes political stories focused on personal narrative, and earlier this year ran an exclusive reader Q&A with Hillary Clinton.)
It explains why Latina magazine's politics and culture editor, Raquel Reichard, has curated a strikingly personal collection of first-hand, narrative-driven accounts explaining how this year's threats to abortion rights uniquely harm Latina communities.
Essence and Ebony have been doing this work for decades, no doubt serving as critical models for the more recently developed political voices of traditionally whiter magazines like Cosmopolitan or Marie Claire. In the weeks since Trump's election, Essence has consistently called out his cabinet picks for their connections to the racist "alt-right" movement and their histories of racist remarks. An Ebony opinion piece labeled the "alt-right" "white supremacy by any other name" and examined what Trump has said — or refused to say — about racial intimidation.
Essence has also challenged mainstream praise of female conservative media figures who have benefited from white feminism, describing right-wing pundit Tomi Lahren as a "white supremacist fave" and warning of the media's uncritical embrace of "repugnant and unapologetic racists" like Lahren and Fox's Megyn Kelly, who the magazine says are "dangerous for black women." What's more, women's magazine writers are not afraid to correctly identify rape culture, white supremacy, or outright lies when they see them. And Elle unequivocally stated that Ivanka Trump, who has been touted as the champion of women in her father's administration, "will not fix 'women's issues'" and called out her "exceptionalist white womanhood."
In a year when women have been repeatedly attacked through legislation, on social media, and even by the president-elect of the United States, Cosmopolitan was unafraid to call the Twitter harassment of black actress Leslie Jones — organized by bigoted, misogynist Breitbart editor Milo Yiannopoulos — a hate crime. Gupta's October take-down of Donald Trump's history of sexual harassment concluded, "Trump doesn't seem to understand what harassment is or how it works."
This is the essential difference between women's magazines and what are seen as more traditional outlets for political reporting: Women's magazines are designed to speak — directly and above all — to women, particularly young women and women of color.
As a collective group that frequently feels the impact of new state and federal policies before others and in highly magnified form, these women are craving the truth about how such policies come to be. And by and large, they aren't finding it in mainstream political press outlets largely helmed by and written for white men, who forcibly construct a "both sides" argument where often one, frankly, does not exist.
The success of women's magazines underscores the fact that newsroom diversity — in its most intersectional meaning — is, in the words of CNN's Tanzina Vega, "imperative to make sure your coverage is better, more nuanced and more accurate." As Washington Post deputy general assignment editor Swati Sharma explained recently for Neiman Journalism Lab:
A new administration is at foot, and with it nascent movements are growing across the country. How will those sentiments be accurately covered with empathy, nuance, and authenticity? We need people in those communities to capture the messages, the angst, the people who make up the groups.
As we prepare for a new presidential administration that promises to be infinitely more hostile to both members of the press and the women who make up these magazines' newsrooms and audience, the media figures who have expressed shock over high-quality political reporting by such publications might consider instead turning to them for a lesson in telling the full story.