175 Rebels Killed Near Damascus, Syrian Government Says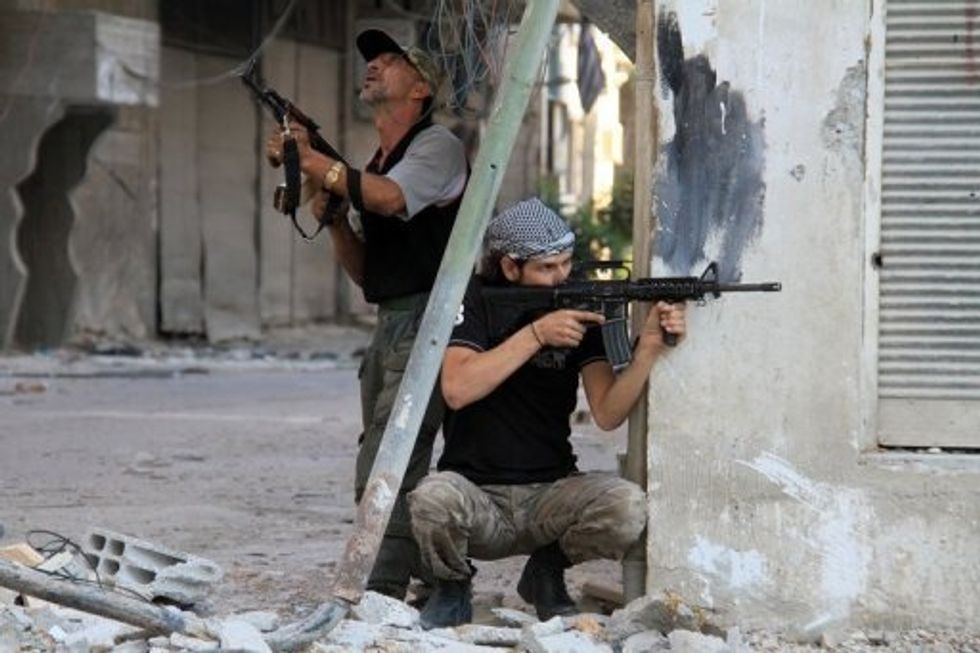 By Weedah Hamzah
BEIRUT — The Syrian military killed more than 175 rebel fighters Wednesday in an ambush near Damascus, state news agency SANA reported.
Syrian television showed pictures of rows of bodies that it claimed were the remains of rebels killed at Otaiba Lake in the eastern Ghouta area.
"An army unit eliminated scores of terrorists of the al-Nusra Front and the so-called Islam Battalion in the eastern Ghouta in rural Damascus," SANA reported, quoting an unidentified military official.
Most of the dead were Saudis, Qataris and Chechens, according to the report.
Rami Abdel-Rahman of the pro-opposition Syrian Observatory for Human Rights said he was able to confirm reports that 152 had been killed and seven captured by government troops.
The rebels were leaving Ghouta when they were caught in an ambush set up by fighters from the Lebanese Shiite movement Hezbollah, which is fighting alongside forces of Syrian President Bashar Assad, Abdel Rahman said.
State television quoted a government field commander as saying the operation hit rebels coming to the aid of comrades in the rebel-controlled Qalamoun area, near the Lebanese border.
In December, rebel forces in the eastern Ghouta stormed areas to the northeast in an apparent attempt to ease pressure on rebel-held areas in Qalamoun, where Assad's forces have been scoring slow but steady advances.
Regime forces, reportedly backed by Hezbollah fighters, this month started a major assault on Yabroud, the last major rebel-held town in the strategic region.
Eastern Ghouta was the target of a chemical attack in August that killed hundreds of people and prompted the government to agree to dismantle its chemical weapons arsenal under pressure from Western countries.
The Organization for the prohibition of Chemical Weapons (OPCW), which is due to brief the United Nations on Thursday, said Wednesday that a fourth shipment of sulfur mustard, commonly known as "mustard gas," had now left Syria.
Syria has missed several deadlines for shipping its stockpile. Under a U.N. resolution backed by Russia and the United States, Syria is to hand over all of its 1,300 tons of declared chemical weapons for destruction by mid-2014.
On Feb. 10, a third shipment of chemical weapons materials left Syria aboard a Norwegian cargo vessel, accompanied by a fleet from China, Denmark, Norway and Russia.
According to latest estimates from the Britain-based Syrian Observatory for Human Rights, as many as 3,300 people have been killed in clashes among rival rebel groups in Syria since January.
Syria's three-year conflict has seen several radical groups impose strict Islamic rule in areas under their control, triggering fears that the country is turning into a hotbed of Islamist militancy.
AFP Photo/Ward al-Keswani