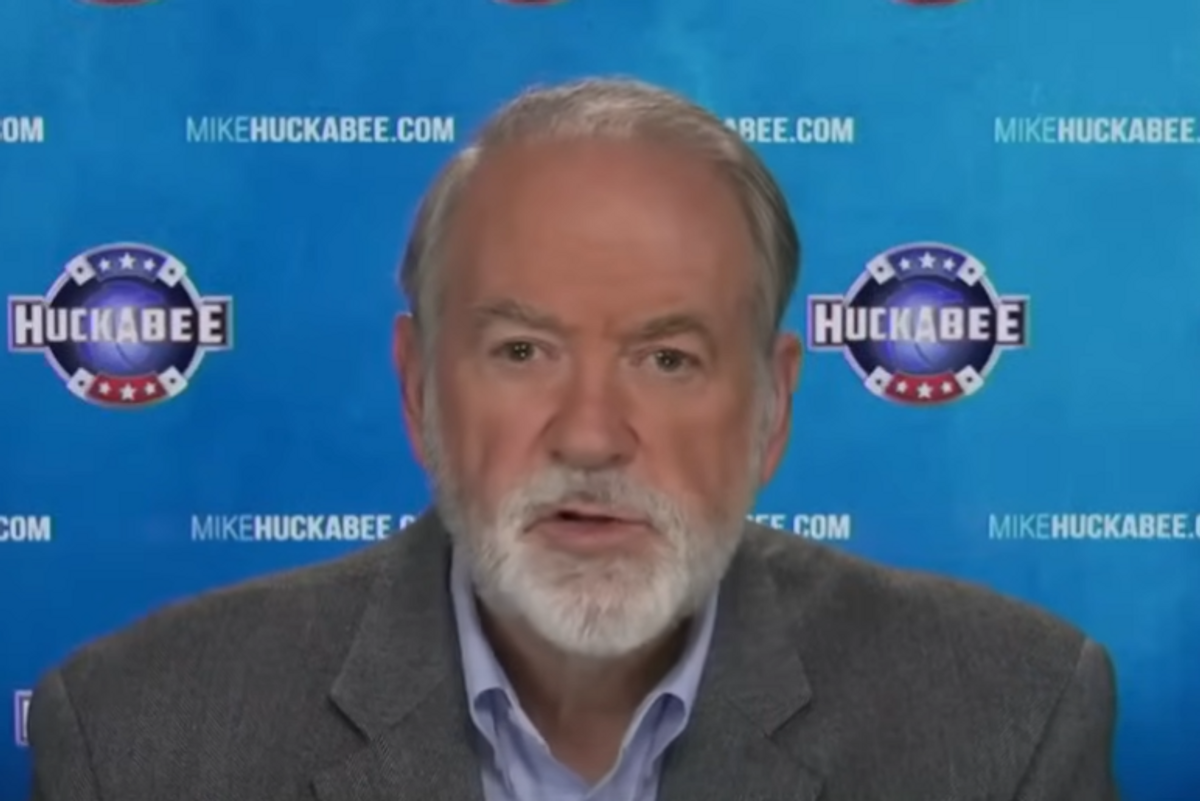 Maybe I'm losing my mojo. For all the chatter about political violence out there, this column hasn't drawn a death threat in months. Maybe not even this calendar year.
They used to come in fairly regularly. One time, a junior high gym teacher in Pennsylvania said he was coming to get me over a smart-aleck joke about the baleful effects of civics education by football coaches. Another guy used to send handwritten letters threatening to rape and mutilate my wife.
Then there was the Special Forces veteran who imagined I'd written something disrespectful about Irish Catholics. (There are a lot more war heroes among angry emailers than the public at large, I've noticed.) Perhaps intemperately, I advised him to get lost.
"Your basically a coward," he responded.
What is it about right-wing soreheads and apostrophes, I wonder? MANY ALSO PREFER TO EXPRESS THEMSELVES IN ALL CAPS. Another mystery. I see something written that way, I press delete. Doesn't everybody?
But let's get serious. Out in the real world, there's growing evidence that threats of violence are playing an increasing role in political decision-making. No less an eminence than Mike Huckabee — onetime Baptist preacher, former Arkansas governor, current TV quack-remedy peddler — has warned that unless Donald Trump is declared the winner of the 2024 presidential contest, the nation will turn from "ballots to bullets" to settle the issue.
TV preachers just love alliterative wordplay, which rarely fails to arouse the influential Moron-American community.
In Little Rock, the Huckster's daughter, Gov. Sarah Huckabee Sanders, recently failed to overhaul the state's Freedom of Information Act, which was supposedly necessary to protect her family from threats from "the radical left." (In Arkansas, the radical left is anybody that believes in speed limits and stop signs.) Cynics thought Sanders was more aggravated by the Blue Hog Report, a blog that used the law to show that she'd commandeered a state police airplane to travel from Fayetteville to Rogers — adjoining cities. Documented flight time: 11 minutes. Queen Sarah, some call her.
Anyway, the GOP-dominated state legislature denied Sanders her FOIA overhaul, passing a significantly scaled-down version instead.
More seriously, though, Sen. Mitt Romney says that his recently announced retirement from politics results, in part, from an increasing barrage of death threats. Romney told biographer McKay Coppins that he'd recently been forced to spend $5,000 a day on private security for his family.
According to Coppins, as quoted in The Atlantic: "One Republican congressman confided to Romney that he wanted to vote for Trump's second impeachment, but chose not to out of fear for his family's safety. The congressman reasoned that Trump would be impeached by House Democrats with or without him — why put his wife and children at risk if it wouldn't change the outcome?"
Put that way, it's hard not to sympathize. It's one thing to be an obscure newspaper columnist who goes unrecognized at the dog park, and another to be a Washington politician whose face appears on national TV.
Almost needless to say, these threats emanate almost entirely from the spiritual descendants of Oklahoma City truck bomber Timothy McVeigh: racially obsessed white nationalists. Former Wyoming Rep. Liz Cheney has spoken of similar fears, as has former Michigan Rep. Peter Meijer. Both aroused right-wing ire by speaking out against the Trump-inspired MAGA rioting at the U.S. Capitol on Jan. 6, 2021.
No need to kid ourselves about where it's coming from. Pretty much all mass shooters turn out to be infected with right-wing dogma. According to Philip Bump in the Washington Post, "Analysis from the Anti-Defamation League published this year found that, in the past five years, there have been more than 170 deaths linked to right-wing extremism. Three have been linked to extremism on the left."
Last year, Sen. Lindsey Graham predicted that there would be "riots in the streets" if Trump was indicted for willfully and deliberately storing top-secret nuclear weapons documents in a publicly accessible country club bathroom. Trump himself, of course, was only too happy to amplify the remark. He continues to hint that outrage about his upcoming criminal trials will spark violence.
And yet nothing has happened. Why? Well, at the expense of sounding like a pre-Trump conservative, because the authorities have been ready. In the aftermath of the Jan. 6 riot, two things have become clear: First, you'll lose the battle; second, you'll end up doing serious time in a federal prison.
All the plotting and posing by Proud Boys chieftain Enrique Tarrio got him 22 years in the slammer.
Boo-hoo-hoo.
Look, this is America. Of course, there will be violence. Shocking, sickening violence. But the Trump/McVeigh faction is still going to lose.
Reprinted with permission from Sun Times.

Advertising
Start your day with National Memo Newsletter
Know first.
The opinions that matter. Delivered to your inbox every morning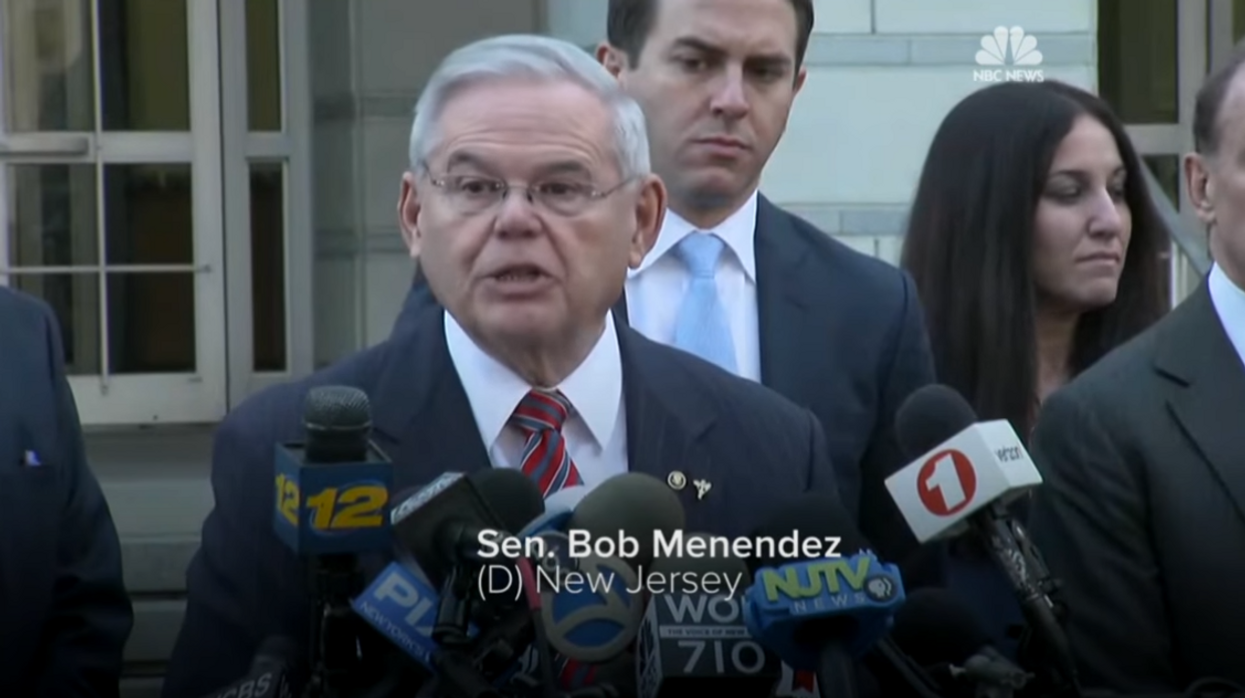 Sen. Bob Menendez (D-NJ) is losing support as more of his Senate Democratic colleagues formally call on him to resign after he was indicted again, this time on federal bribery charges that included allegations of receiving hundreds of thousands of dollars in cash and gold bars.
As of Tuesday morning, at least ten Democratic U.S. Senators have now called on the twice-indicted senior Democratic Senator from New Jersey to resign, as they cite the gravity of the charges against him.
Sen. John Fetterman (D-PA) was the first to call on Menendez to resign, on Monday. Senators Sherrod Brown (D-OH) and Peter Welch (D-VT) followed later that day.
On Tuesday morning, Senators Tammy Baldwin (D-WI), John Tester (D-MT), and Bob Casey (D-PA) all called on Sen. Menendez to resign. By 11 AM, Senators Martin Heinrich (D-NM), Jacky Rosen (D-NV), and Elizabeth Warren (D-MA) also called for him to resign.
Minutes later, Sen. Cory Booker, Menendez's Democratic New Jersey colleague, also called for him to resign. The New York Times reported Booker's decision "to condemn Senator Robert Menendez underscores the deepening crisis Mr. Menendez faces after his indictment."
According to the Department of Justice, Menendez, along with his wife Nadine Menendez, not only are alleged to have received bribes, he is charged with doing so in a scheme "to use his official position to protect and enrich" those he allegedly accepted funds from, and "to benefit the Government of Egypt."
"Among other things," the DOJ alleged, Senator Menendez "agreed and sought to pressure a senior official at the U.S. Department of Agriculture in an effort to protect a business monopoly granted to" a New Jersey businessman "by Egypt, disrupt a criminal case undertaken by the New Jersey Attorney General's Office related to associates of" another New Jersey businessman, "and disrupt a federal criminal prosecution brought by the U.S. Attorney's Office for the District of New Jersey against" a third New Jersey businessman.
Former DOD Special Counsel Ryan Goodman on Sunday called Menendez "a walking national security threat."
"Imagine US official charged with selling US secrets, embassy security, US defense policy – and showing up for work the next day," he added.
"From a purely legal perspective, Menendez appears to be a dead man walking," Goodman continued. "The kind of forensic and documentary evidence in the Indictment is exceptionally strong for these types of cases. It looks inevitable that he will be going to prison."
Reprinted with permission from Alternet.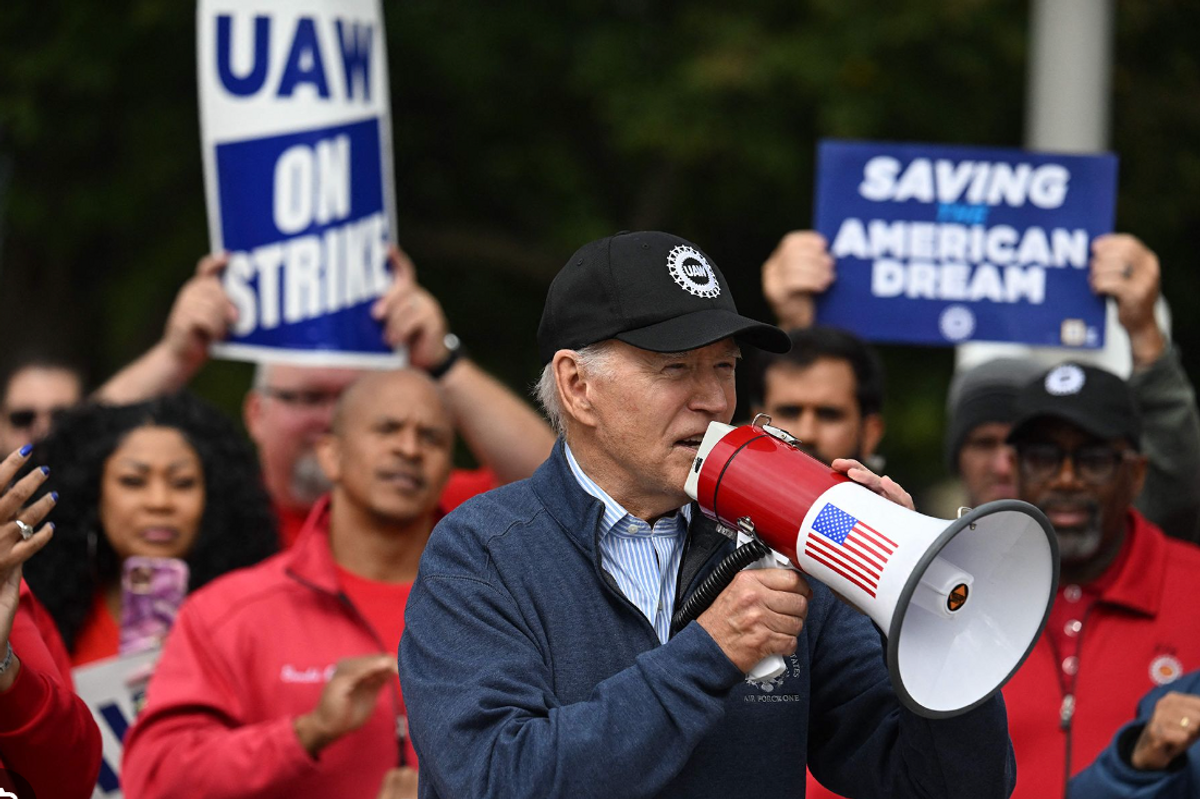 Joe Biden
When President Joe Biden arrived at a Michigan picket line Tuesday, it was the first time a sitting U.S. president is known to have done so, historians say. Biden made the trip at the invitation of United Auto Workers President Shawn Fain, who accompanied him as he spoke to striking workers.
"You guys, UAW, you saved the automobile industry back in 2008 and before. You made a lot of sacrifices, gave a lot when the companies were in trouble, and now they're doing incredibly well. And guess what, you should be doing incredibly well too," Biden said, who was at times drowned out by applause. "You deserve a significant raise you need, and other benefits. Let's get back what we lost, okay? We saved them, it's about time for them to step up for us."
Biden's visit to Michigan came a day ahead of a Donald Trump speech that was initially billed as outreach to union workers but is being held at a nonunion auto parts manufacturer. Trump is trying to play the populist and the stronger job-creator, but it rings false on both fronts:
While the UAW has not yet endorsed Biden for reelection, Fain strongly rebuffed Trump's efforts to portray himself as an ally of union workers.
"Every fiber of our union is being poured into fighting the billionaire class and an economy that enriches people like Donald Trump at the expense of workers," Fain said in a statement shared with news organizations when Trump announced his Michigan speech. "We can't keep electing billionaires and millionaires that don't have any understanding what it is like to live paycheck to paycheck and struggle to get by and expecting them to solve the problems of the working class."
During Trump's time in the White House, his record was one of hostility to workers and unions, even as he occasionally claimed to be on the side of workers for political advantage. Trump's administration, the Economic Policy Institute summarized, "rolled back worker protections, proposed budgets that slash funding for agencies that safeguard workers' rights, wages, and safety, and consistently attacked workers' ability to organize and collectively bargain."
Reprinted with permission from Daily Kos.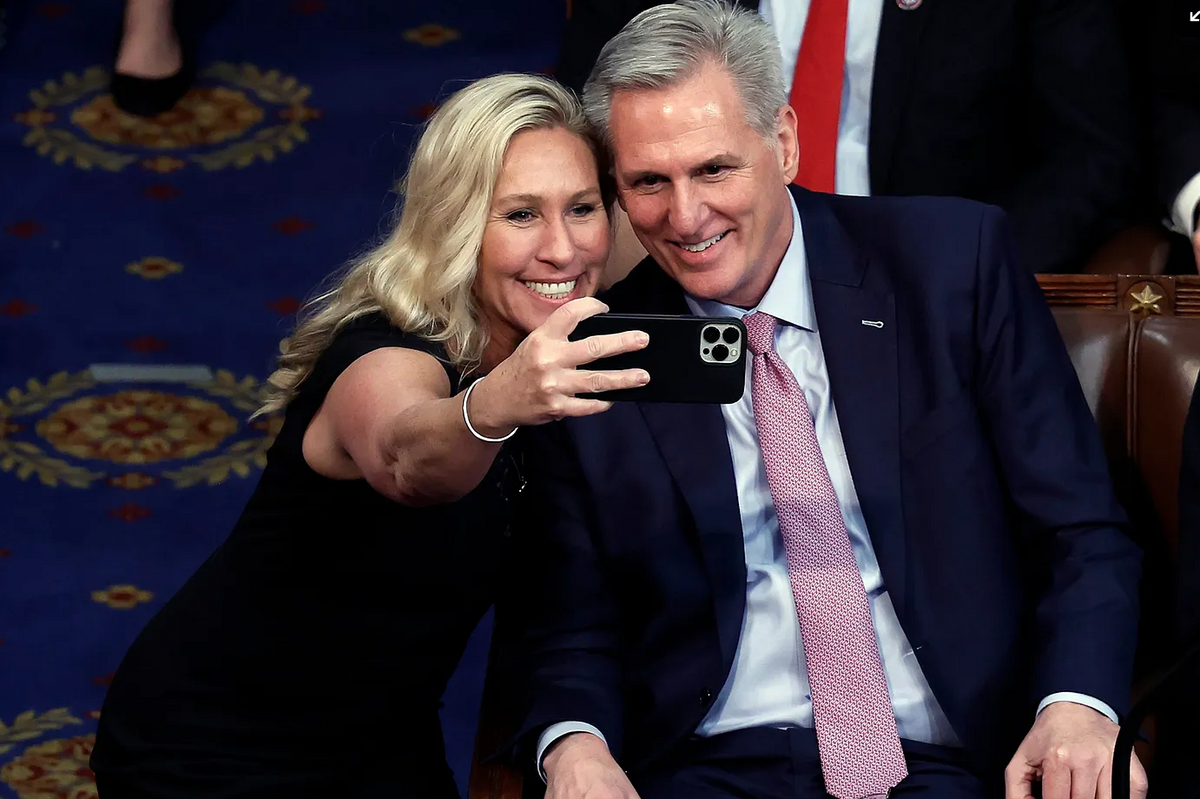 As the looming shutdown goes, it's a minor thing, especially when you factor in how many members of today's Congress are millionaires, but of course their paychecks are protected. The Constitution does it for both the Congress and the President. Article I, Section 6 states, "The Senators and Representatives shall receive a compensation for their services, to be ascertained by law, and paid out of the treasury of the United States." Article II, Section 1, similarly guarantees that the President will be paid: "The President shall, at stated Times, receive for his Services, a Compensation, which shall neither be increased nor diminished during the Period for which he shall have been elected."
Everybody else who gets a federal paycheck is shit out of luck.
That means that the approximately 150,000 Virginians who work for the federal government will lose their paychecks, too, and you have to wonder why Congressional Republicans, especially Speaker Kevin McCarthy, don't appear to have factored that into their calculations over whether to turn off the federal spigot at the end of this week. Every elective state office in Virginia comes up for election next month, and if past is prologue, that does not auger well for Republicans. After the shutdown in 2013, Governor Terry McAuliffe and other Democrats won their races when Republicans were blamed for that debacle. The current Virginia governor, Glenn "Check Out My Monogrammed Fleece Vest" Youngkin, has promised to pass limitations on abortion if he is reelected and Republicans take the state house and senate. That promise alone is going to hurt Republicans next month, and a government shutdown might just bury them.
But Virginia politics isn't all that's on the chopping block for Republicans if the radical Freedom Caucus goes through with its threat to close down the government over spending demands that include cutting out U.S. funding for Ukraine's war of survival against Vladimir Putin's Russia. Goldman Sachs has said that a shutdown of the government similar to the 35-day shutdown under Trump that ran from late 2018 into 2019 would take a full percentage point off Gross Domestic Product. That may sound like a technical detail, but it would have dire effects on the national economy and lives of citizens, driving up costs of lending, forcing some small businesses to close, and once again, rattling credit markets around the world.
House conservatives have already blocked the defense spending bill twice. Now they have their hero, Donald Trump, egging them on. Trump has several things in mind in his backing of Republicans' shut down fever, and as ever, his own future is among them. Last week on Truth Social, Trump reminded them that "This is the last chance to defund these political prosecutions against me and other Patriots" (capitalization provided by himself).
On Sunday, Trump all-capped "UNLESS YOU GET EVERYTHING, SHUT IT DOWN!" Then he all-capped Mitch McConnell: "Close the border, stop the weaponization of 'Justice," and End Election Interference – WE MUST HAVE HONEST ELECTIONS. Are you listening, Mitch McConnell, the weakest, dumbest, and most conflicted "Leader" in U.S. Senate history? HE'S ALREADY GIVEN THE DEMOCRATS EVERYTHING, THEY CAN'T BELIEVE HOW LUCKY THEY GOT. WE NEED NEW, & REAL, REPUBLICAN LEADERSHIP IN THE UNITED STATES SENATE, NOT A CLONE OF MITCH, & WE NEED IT NOW!!!"
The Atlantic reports that Democrats and Republicans in Congress agree that the chances of a shutdown are 90 percent, and with Kevin McCarthy holding all the cards, I'd say they're off by 10 percent. The House is scheduled to hold votes on rules to advance four spending bills involving the Departments of State, Homeland Security, Defense, and Agriculture – funding the Republican Party has rubber stamped a zillion times over the years. Passage of these rules bills would open the door to a continuing resolution that would fund the government for a period of time, a month has been mentioned, for negotiations on the overall budget. But several far-right Republicans in the House have said they will vote against a continuing resolution, including Marjorie Taylor Greene, mentioned as something of a lieutenant in what's left of McCarthy's rule, because of funding in the continuing resolution for $300 million to help Ukraine.
Ukraine is fighting the first land war in Europe since World War II against an enemy that has announced aims to expand its sphere of influence back into countries it controlled as the Soviet Union. The war has cost Ukraine more than 100,000 of its citizens so far. Just to put that in perspective, it is more than this country lost in Vietnam, Iraq, and Afghanistan together. This fact seems to mean nothing to Greene and her buddies on the right.
All McCarthy would have to do to keep the government open is to strike a deal with Democrats, but passage of a bipartisan bill of any kind would spell the end of McCarthy's time as Speaker of the House.
They used to call this kind of thing brinksmanship. That's not what it is. It's insurrection-by-vote, and nobody knows this better than the man who fomented the insurrection at the Capitol on January 6, 2021, in an attempt to keep himself in the White House. Trump made it clear back then that he would take the whole thing down if he had to, and he's doing it again with the entire Republican Party behind him. Every single vote in the House and Senate, every single vote in Virginia in November, and every single vote in November of 2024 is a vote to defend our democracy. That's how we have to think about these elections. Every. Vote. Counts.
Lucian K. Truscott IV, a graduate of West Point, has had a 50-year career as a journalist, novelist, and screenwriter. He has covered Watergate, the Stonewall riots, and wars in Lebanon, Iraq, and Afghanistan. He is also the author of five bestselling novels. You can subscribe to his daily columns at luciantruscott.substack.com and follow him on Twitter @LucianKTruscott and on Facebook at Lucian K. Truscott IV.
Please consider subscribing to Lucian Truscott Newsletter, from which this is reprinted with permission.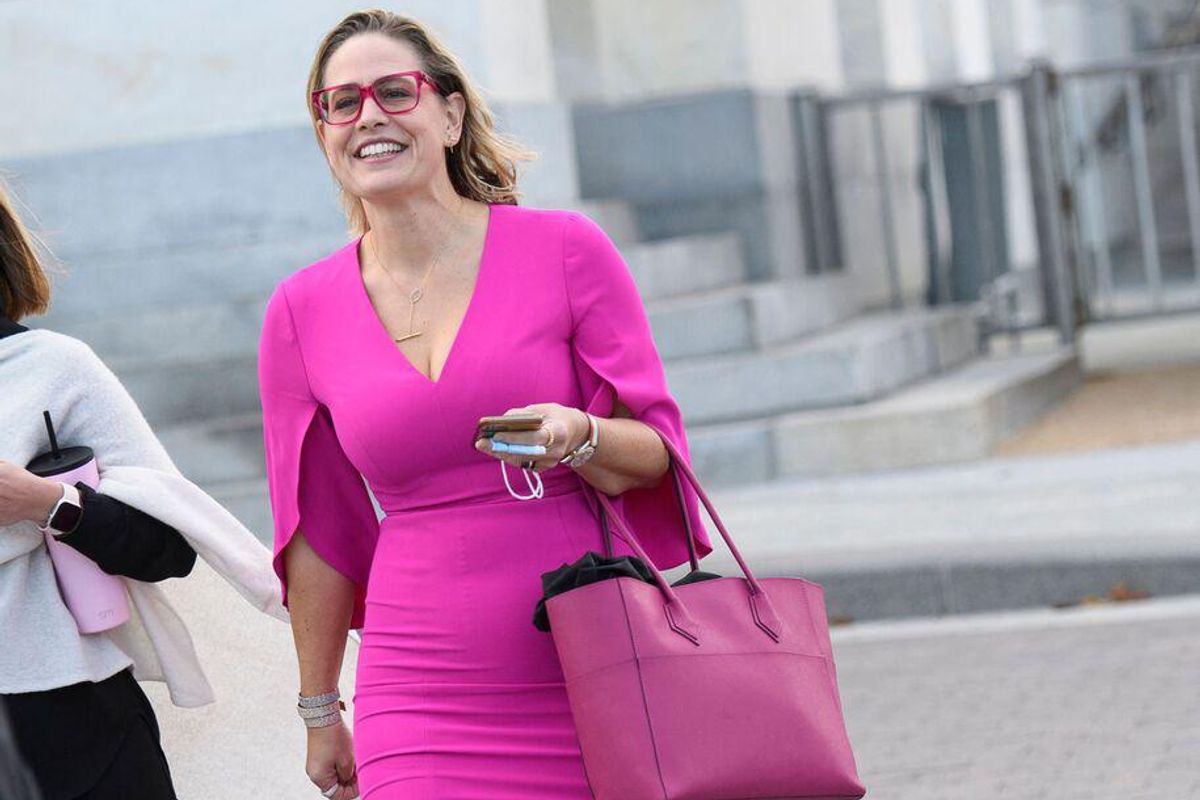 Kyrsten Sinema
Sen. Kyrsten Sinema (I-AZ), who left the Democratic Party last December, has yet to announce if she'll run for re-election next year. But, according to a document obtained by NBC News, if she does run, she sees her "path to victory" through "a third of the state's Republican voters" and "anywhere from 15 to 20 percent of the state's Democrats."

NBC News published the "two-page prospectus" on Monday, which purports to explain how "Kyrsten Will Win Arizona" in 2024.

"She receives significant crossover support from Republicans and current polling shows her favorability as high as 34 percent with Republican voters," the document declares, noting Sinema — if she runs — will focus on courting "a significant number of the state's independent voters and soft Republicans turned off by their party's rightward swing."
Under the banner "Kyrsten's Path to Victory," the document says Sinema can win by attracting 10% to 20% of Democrats, 60% to 70% of independents and 25% to 35% of Republicans.
Indeed, while Sinema's campaign notes she'll need "a majority of" independent voters and "at least a third" of Republican voters, she only plans to go after an untold "percentage of Democratic voters" to win, according to the document.

"Notably, the document suggests Sinema will attract more votes from Arizona Republicans than Democrats, despite having been a Democrat for a decade in Congress and continuing to get her committee assignments through the Democratic Senate majority," NBC News reports.
Reprinted with permission from Alternet.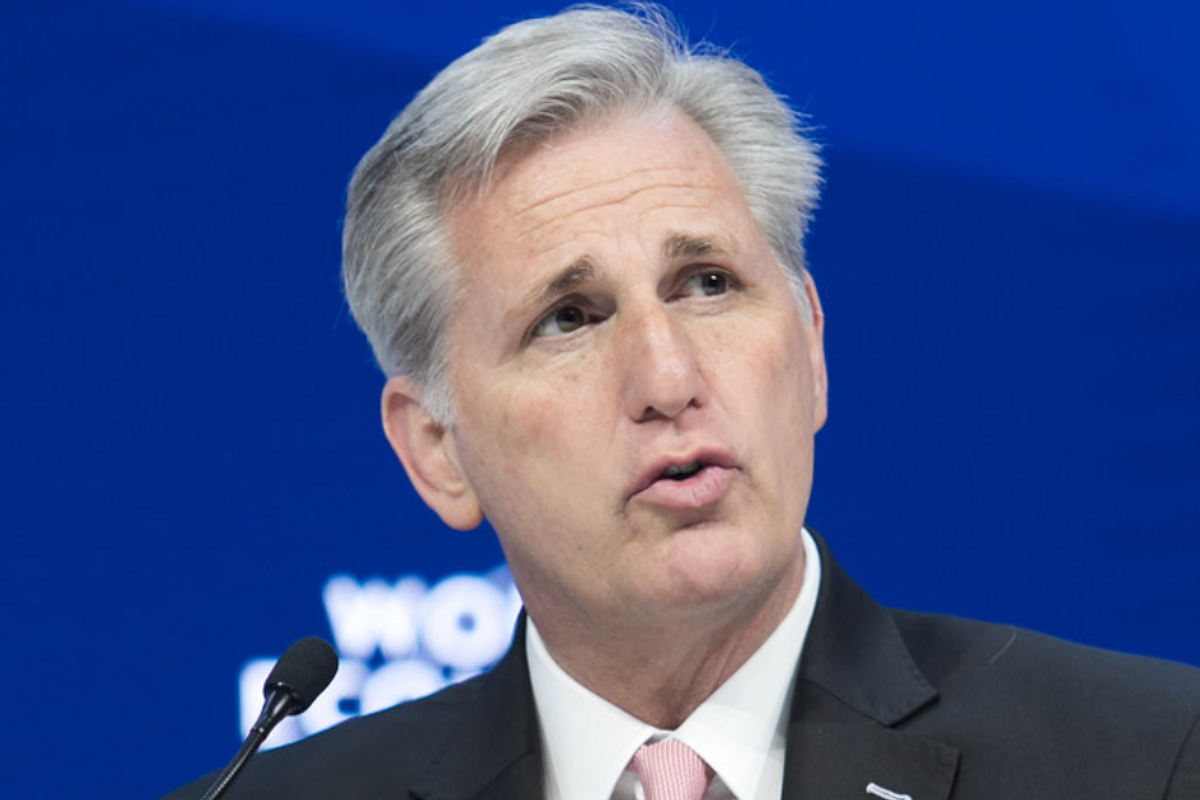 As House Republicans fail to advance spending bills needed to fund the federal government and avert a government shutdown, right-wing media are at odds with one another over whether to cheer on the possibility of a shutdown or ridicule those Republicans leading the charge toward it.
The federal government will enter a partial shutdown by the end of this week unless Republicans can agree to funding extensions, which would mark the sixth consecutive shutdown brought on by a Republican-controlled House of Representatives.
Reprinted with permission from Media Matters.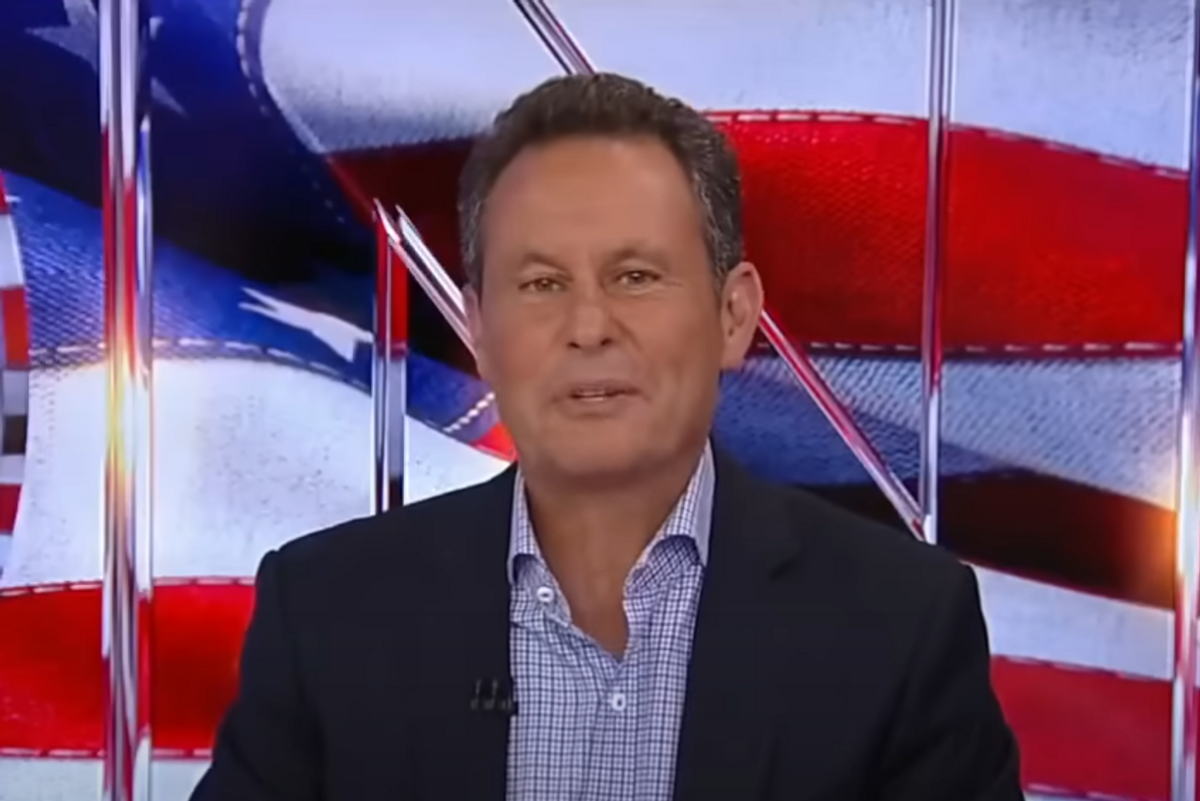 The White House is mocking a Fox News host who appeared stunned as the former president of Ukraine destroyed House Republicans' impeachment case against President Joe Biden on live-air in real time.
Fox News host Brian Kilmeade, a supporter of Donald Trump, on Monday interviewed former president of Ukraine, Petro Poroshenko, who served from 2014 to 2019. Kilmeade previously had interviewed Viktor Shokin, the former prosecutor general of Ukraine, who was fired in 2016 for not prosecuting corruption cases.
"I had a chance to talk to Viktor Shokin, a man who says he was friends of yours, who you asked to come back and help out during the transition after the previous regime," Kilmeade told Poroshenko. "Here's what he said on why he was fired by you. Listen."
Reprinted with permission from Alternet.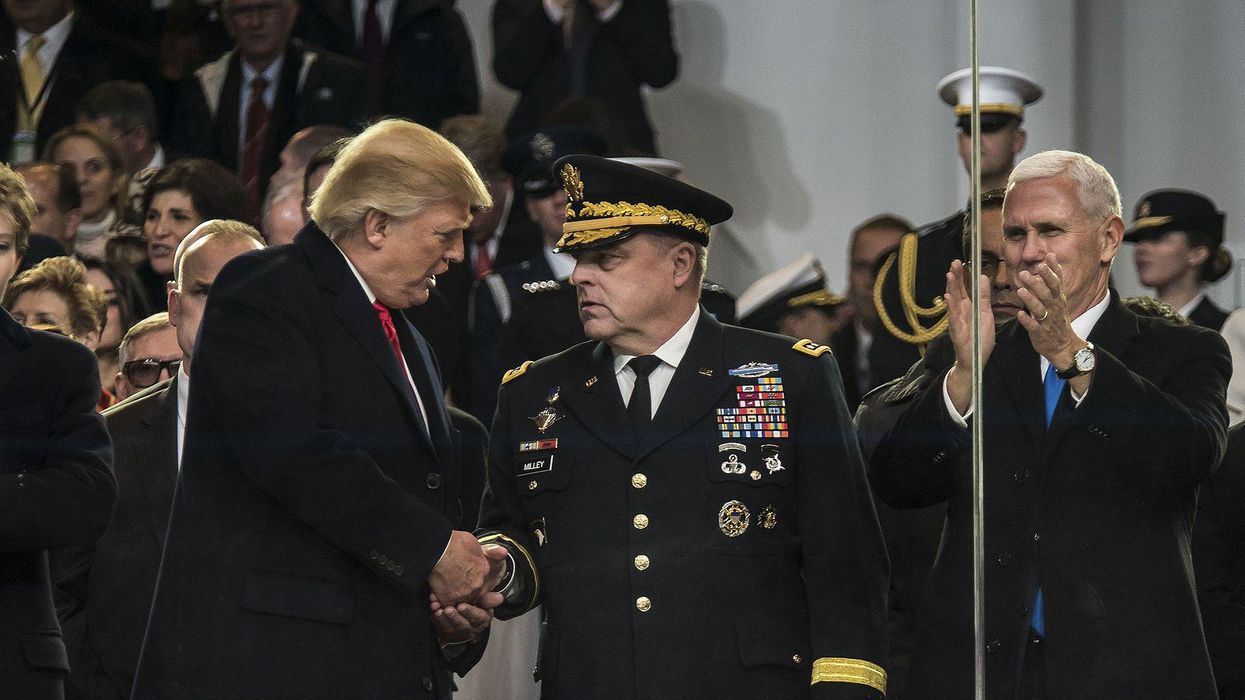 We've long known who Donald Trump is: narcissistic, impressed with authoritarian displays, contemptuous of anyone he sees as low status, a man for whom the highest principle is his own self-interest. It's still shocking to read new accounts of the moments where he's most willing to come out and show all that, to not even pretend to be anything but what he is—and holy crap, does The Atlantic's Jeffrey Goldberg have the goods in his new profile of outgoing Joint Chiefs of Staff Chair Mark Milley, which focuses on Milley's efforts to protect the military as a nonpartisan institution under Trump.
Two moments stand out for Trump's casual cruelty. In one, a severely wounded Army captain had sung "God Bless America" at the welcome ceremony for Milley as the new Joint Chiefs of Staff chair:
After Avila's performance, Trump walked over to congratulate him, but then said to Milley, within earshot of several witnesses, "Why do you bring people like that here? No one wants to see that, the wounded." Never let Avila appear in public again, Trump told Milley.
It's a moment that echoed Trump mocking a disabled reporter, or reportedly refusing to visit a cemetery for World War II dead in France, saying "Why should I go to that cemetery? It's filled with losers" and calling dead Marines "suckers." That cruelty was not how Trump's reaction to Capt. Mark Avila was reported at the time.
It's too much to hope that the media will learn its lesson here, of course.
While Trump sees members of the military who are injured or killed as "losers," "suckers," and people "no one wants to see," he is a big fan of those who commit war crimes in a macho way. Goldberg also recounts Milley's efforts to keep Trump from returning a Navy SEAL pin to Eddie Gallagher, a SEAL found guilty of posing with the corpse of a prisoner who, witnesses testified, Gallagher had stabbed in the neck. Milley argued to Trump that it was up to the SEALs to decide whether Gallagher would keep his pin.
Trump called Gallagher a hero and said he didn't understand why he was being punished."Because he slit the throat of a wounded prisoner," Milley said.
"The guy was going to die anyway," Trump said.
Milley answered, "Mr. President, we have military ethics and laws about what happens in battle. We can't do that kind of thing. It's a war crime." Trump answered that he didn't understand "the big deal." He went on, "You guys"—meaning combat soldiers—"are all just killers. What's the difference?"
"You guys are all just killers" is a statement breathtaking in its simultaneous characterization of what service members are supposed to do and its dismissal of "war crime" as a meaningful category.
Soldiers are supposed to kill indiscriminately, as far as Trump is concerned. That's what he wants to see from them. Goldberg also describes how Trump elevated both Milley and former Defense Secretary James Mattis because they fit his mental model of a general. "Trump picked [Milley] as chief because he looks like what Trump thinks a general should look like," Sen. Angus King told Goldberg. Trump wanted burly old white men who seemed like they'd killed a lot of people and would be happy to do it again, in part because he thought they'd be more likely to go along with whatever he wanted to do.
"The president couldn't fathom people who served their nation honorably," John Kelly, a retired Marine general who served as Trump's White House chief of staff told Goldberg of Milley, but it applies to Trump's blank response to the concept of a war crime, as well. And, Goldberg reports, Milley more than once had to steer Trump away from committing his own war crimes.
The anecdotes as reported by Goldberg are stunning in their embrace of military violence and disdain for anyone who has been left disabled by it. The picture that emerges of Trump—a picture consistent with everything we've seen from him—is of a child playing with toy soldiers, an unquestionable dictator over his little inanimate figures, whose every decision is righteous and who throws the broken soldiers away, angered by their very existence. The problem, of course, is that here we are talking about actual people, and very real war crimes.
Reprinted with permission from Daily Kos.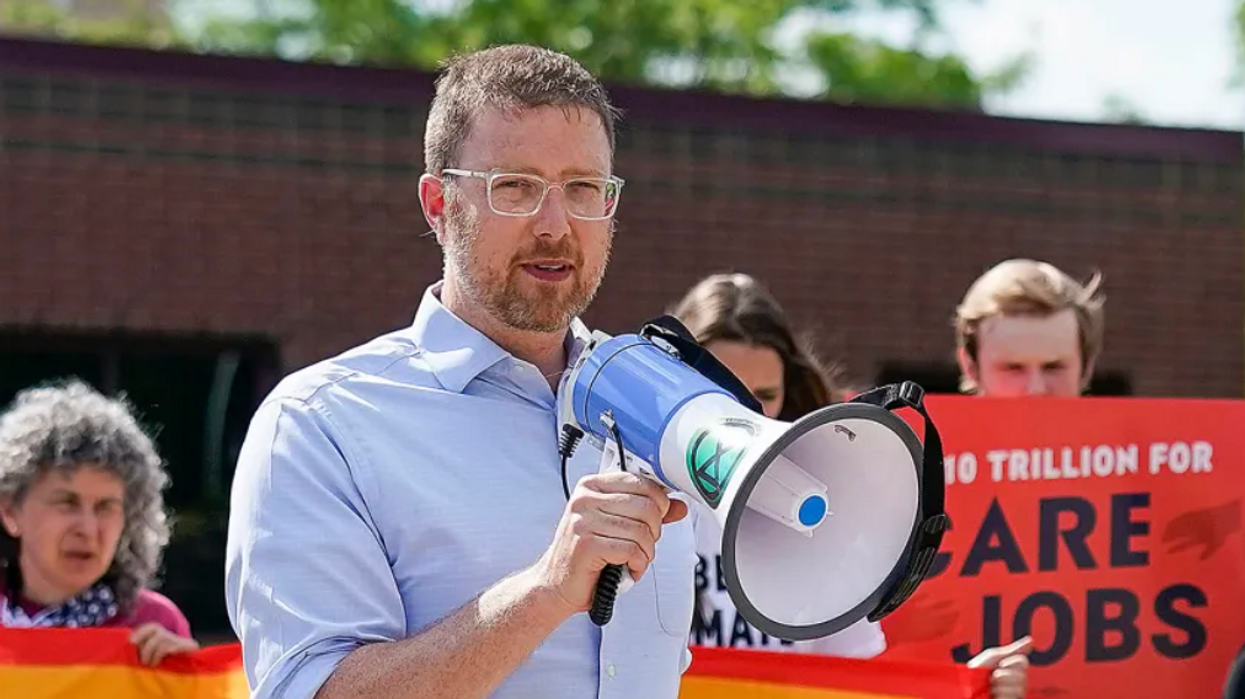 White House
From Alabama Republicans' blatantly discriminatory congressional map, to the Wisconsin GOP's ousting of a the states' top election official and attempt to impeach a liberal Supreme Court justice, to North Carolina's decision to allow the majority-Republican legislature to appoint state and local election board members, News from the States reports these anti-democratic moves have all recently "generated national headlines" and stoked fears ahead of the 2024 presidential election.

"If they can impeach someone successfully to stop them from ruling in a way they don't like, what will they do after the 2024 election?" Ben Wikler, the chair of the Wisconsin Democratic Party told the news outlet, referring to state Republicans' "threat to impeach" state Supreme Court Justice Janet Protasiewicz. "It was one vote in our state Supreme Court that prevented the 2020 election from being overturned in Wisconsin. And they know who the justices were, so they could just suspend them. This would open the door to monsters that I don't think they'd be able to control."
News from the States points out other states like Ohio and Florida, which are also pushing anti-democratic legislation, have "flown further under the radar."
According to the report, "In Ohio, the Supreme Court has ruled five times that the state's current legislative maps are unconstitutional gerrymanders favoring Republicans. But the bipartisan commission that's supposed to draw fair maps hasn't met since May 2022."
Furthermore, "Lawmakers' goal appears to be to run out the clock and ram through skewed maps with little public scrutiny. Because the Supreme Court now has a conservative majority, it's expected to green-light whatever lawmakers come up with."
In the Sunshine State, "Acting on a request from the speaker of the House, the state Supreme Court last month created a commission to study changing the way prosecutors and judges are elected," the news outlet notes, which one advocate warned "would almost certainly be a near-fatal blow against the reform prosecutor movement in the state."
The report notes while these types of "power grabs" within state legislatures are not new, "advocates say, these efforts are even more dangerous for democracy. That's because, by giving lawmakers more power over elections or over their state's judicial system, many of these schemes strengthen and reinforce the ultimate threat of outright election subversion."
Joanna Lydgate, Chief Executive Officer of pro-democracy group States United Action emphasized, "We should call this what it is: an effort to lay the groundwork to subvert the will of the voters in future elections. While the focus is often on the national picture, our elections are run by the states. That means we need to keep shining a light on state-level efforts that undermine our democracy. It's the only way to shut it down."
Reprinted with permission from Alternet.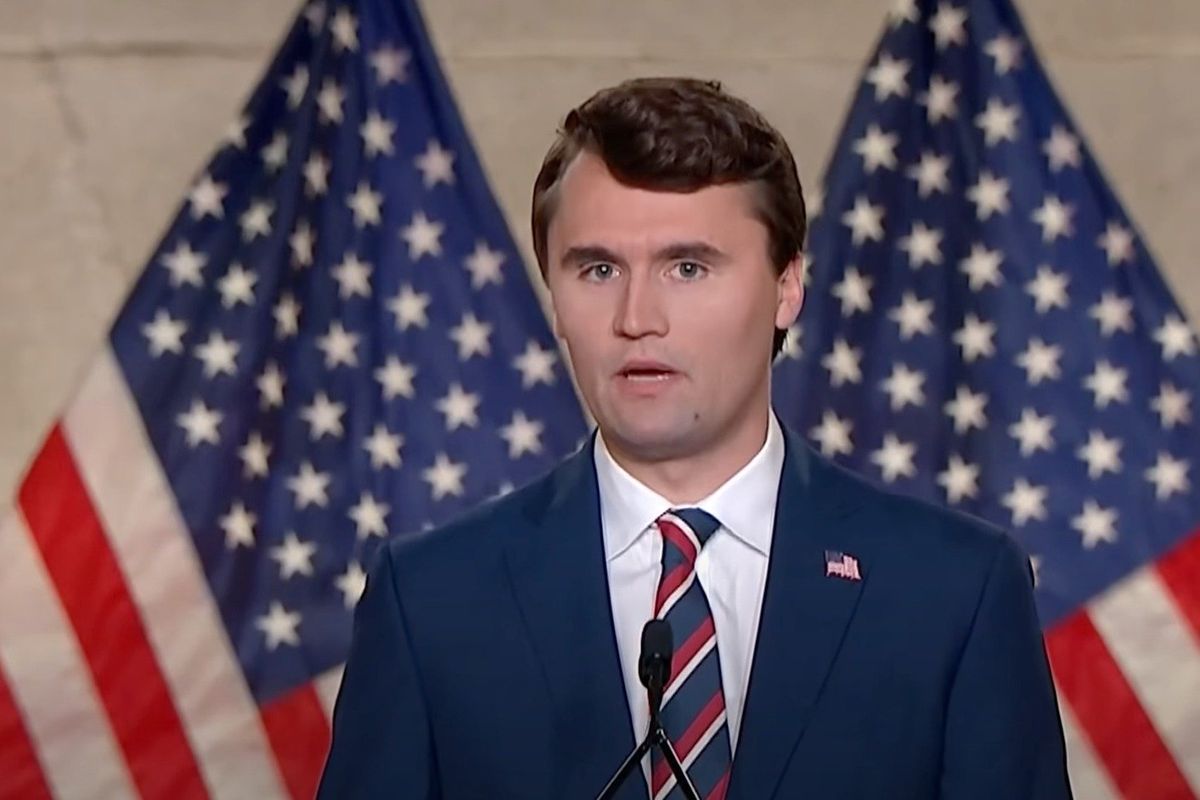 Rupert Murdoch announced on September 21 that he will be stepping down as chairman of Fox Corp. and News Corp. after a 70-year career poisoning global media with right-wing lies and hate. Fox is now in the hands of Lachlan Murdoch, whose track record at the company indicates he is even more grimly ideological than his father, serving as the main force backing Tucker Carlson's on-air white supremacy and pushing the network to support Donald Trump's 2020 election lies despite their financial consequences.
While Rupert Murdoch repeatedly made clear in his announcement that he does not intend to take his thumb entirely off the scale of his outlets, the question of who will now rise to prominence in the right-wing media ecosystem lingers. In just the last few years, the movement's founding fathers, including Roger Ailes, Rupert Murdoch, and Rush Limbaugh, have died or stepped away, leaving conservative media without a center of gravity. Lachlan Murdoch and other rising right-wing media figures are jockeying to lead the hate and misinformation machine into the next generation.
One of these figures is Turning Point USA's Charlie Kirk.
Since first appearing on the scene in 2012, when he had just barely graduated from high school, Kirk has built TPUSA into a reported $80 million media empire. The organization hosts numerous shows and has millions of followers across multiple social media platforms. Kirk himself is a Salem Radio host whose nationally syndicated program is broadcast in Limbaugh's old time slot.
TPUSA is purportedly an organization representing the next generation of conservative activists, with Kirk as their leading voice. But there is scant evidence that the group has a genuine connection with Gen Z, whose social and political attitudes are overwhelmingly liberal. An October 2021 internal presentation obtained by The Verge stated that only 15 percent of Turning Point's Instagram audience is actually student-aged. As the organization's own documentation states: "The content that is going out right now is completely missing our target audience." (TPUSA told The Verge that "the presentations in question contain multiple inaccuracies and erroneous data.")
As the original shapers of right-wing media fade into history, Kirk seemingly hopes to capture the attention of the next generation and raise his own profile in the conservative movement by leaning into increasingly hardcore far-right positions. On the very same day that Murdoch announced he was stepping down, Kirk took to his radio show and launched into a vile, racist attack on migrants on the southern border, declaring that a "foreign invasion" of "fighting-age young males who will end up raping many of your daughters."
Reprinted with permission from Media Matters.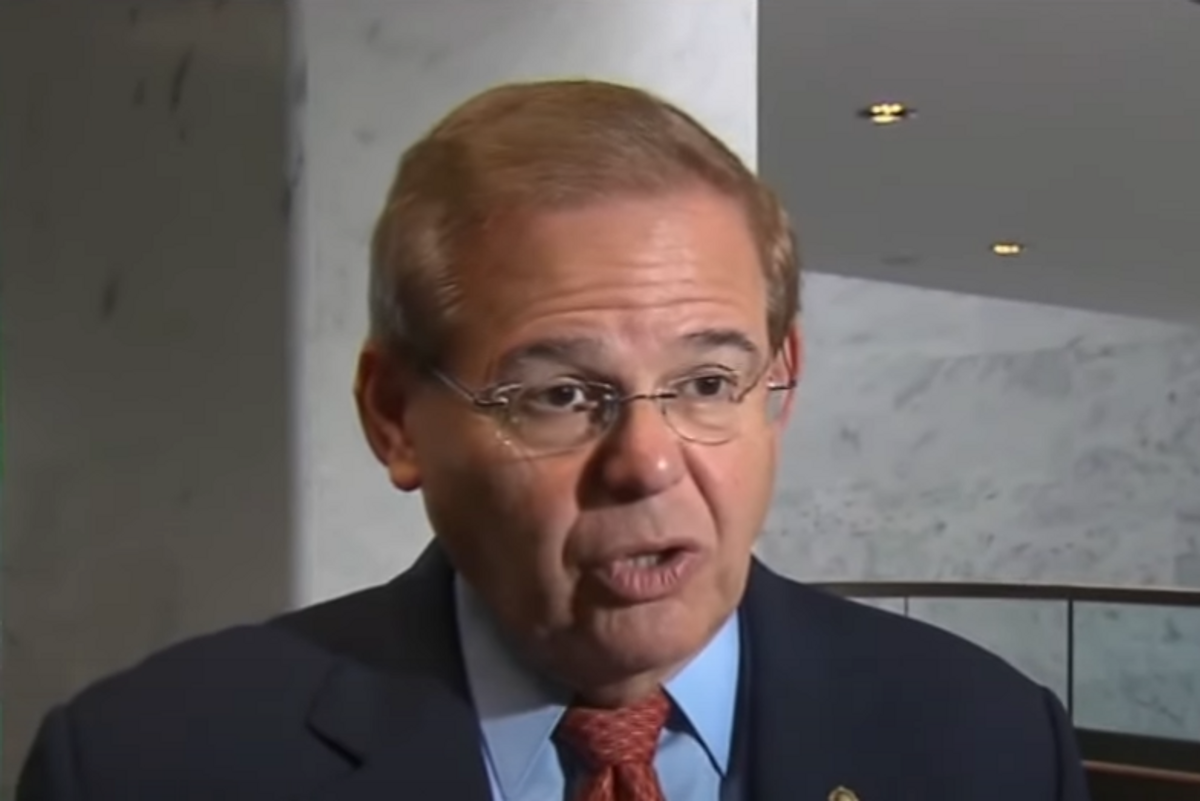 Even with silence from Senate Democrats thus far, the difference between the Democratic response to Menendez's indictment and the Republican response to Donald Trump's indictments—or, for that matter, to Supreme Court Justice Clarence Thomas' raging corruption—is not hard to see.
For one thing, few high-ranking Democratic officials are rushing to call on Menendez to resign, but neither are they in front of cameras swearing to investigate the prosecutors who indicted him or ranting about political prosecutions. And as the hours passed, a few Democrats began to speak out. Rep. Dean Phillips (D-MN) was the first member of Congress to call for Menendez to resign. (Then again, Phillips has called for a primary challenge to President Joe Biden, so whatever.)
"As both a leader in the Democratic Party & the former Attorney General and given the nature of the charges, I call upon Senator Menendez to resign," tweeted former U.S. Attorney General Eric Holder. "The nation will be better served if he steps aside and allows a transition to occur that will best serve the people of New Jersey."
But a bigger difference is visible if you compare the responses of liberal commentators to the immediate Republican rush to defend Trump:
Republican voters have largely shrugged off Trump's indictments, except for the loyalists who've made posturing threats of violence in response. Republican commentators have largely defended him, as have Republican lawmakers. It's important that Democrats do better. So far, the signs are good, but we need more from our leaders.
Reprinted with permission from Daily Kos.