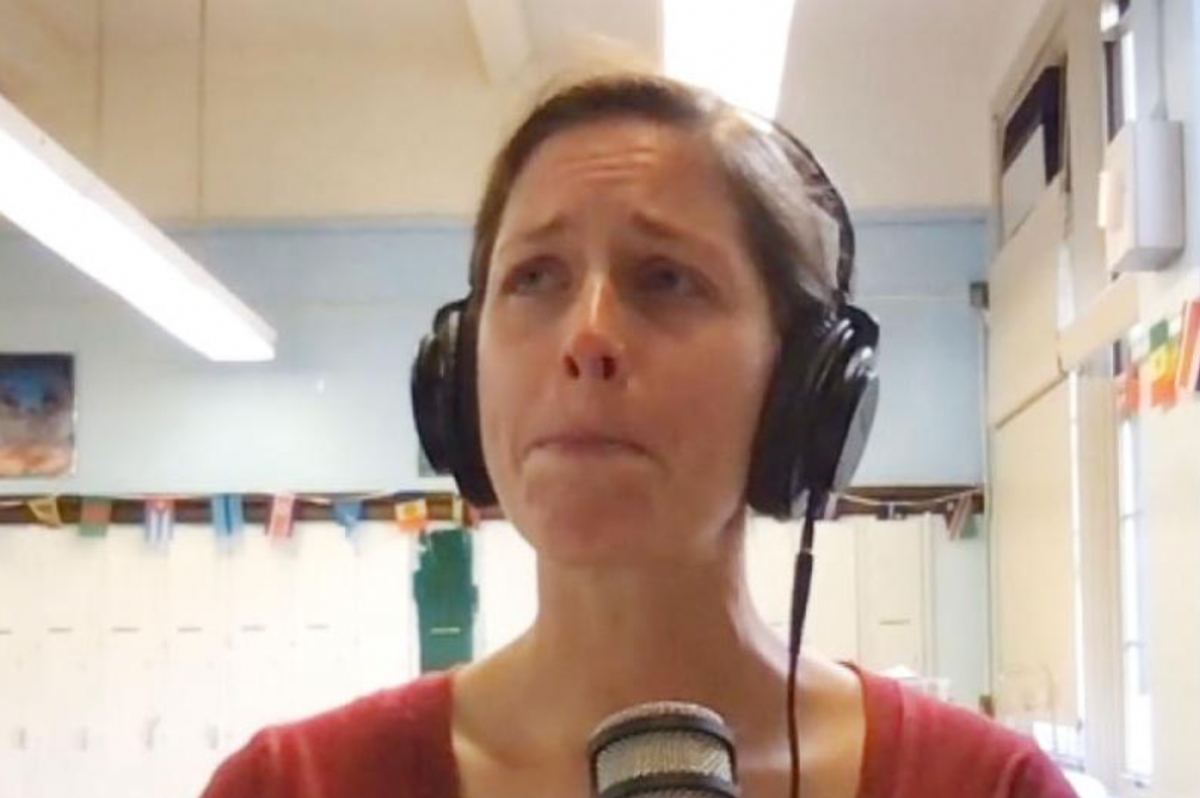 Fox News
Fox News has a long history of hosting conservative activists while presenting them as everyday American voters. The network has also been presenting an anti-vaccine activist as a "Democrat voter" — despite her past public comments declaring that she actually votes Libertarian for president and for Republicans in other races, and that Democratic candidates are "an automatic no-no."
Stephanie Edmonds became an anti-vaccine political activist after she lost her job in the New York City school system for refusing to get a COVID-19 vaccine. She has an extensive media footprint, with interviews and appearances on outlets ranging from the mainstream CNN and CBS News to the right-wing Post Millennial.
On the Wednesday morning edition of Fox & Friends, a panel of voters gathered to discuss the previous evening's town hall event with former President Donald Trump and Fox host Sean Hannity. Co-host Ainsley Earhardt introduced Edmonds, saying, "I know you're a Democrat," while Fox's on-screen chyron identified her as a "Democrat voter." Edmonds then criticized Trump on the grounds that he had "teed up a socialist vaccination program that then led to mandates" and promoted her work on an upcoming documentary about the pandemic shutdowns. She further added, "Democrats like me are fleeing from the Democratic Party."
Edmonds has every right to voice her own opinions, of course. But for Fox to present her as a "Democrat voter" whose pronouncements generally reflect Democratic voters seems disingenuous. Edmonds has in fact described herself as "politically homeless," and she seems to have registered with the Democratic Party simply in order to vote in local primary elections in a heavily Democratic area.
Earhardt should have known all this information about Edmonds — after all, the two of them had previously discussed this very matter. Edmonds had appeared on the September 28 edition of Fox & Friends as part of a voter panel gathered to respond to the second Republican primary debate. Earhardt explained, "You live in Stamford, Connecticut, very Democratic area, so you're registered as a Democrat, but you say you're politically homeless."
In another segment an hour later, Edmonds further explained to co-host Steve Doocy, "I'm actually politically homeless. I'm Democrat because I live in a Democrat town, so it allows me to participate more effectively in the process."
Doocy jokingly responded, "You want to be one of the cool kids — is that what you're saying?"
Reprinted with permission from Media Matters.
Advertising
Start your day with National Memo Newsletter
Know first.
The opinions that matter. Delivered to your inbox every morning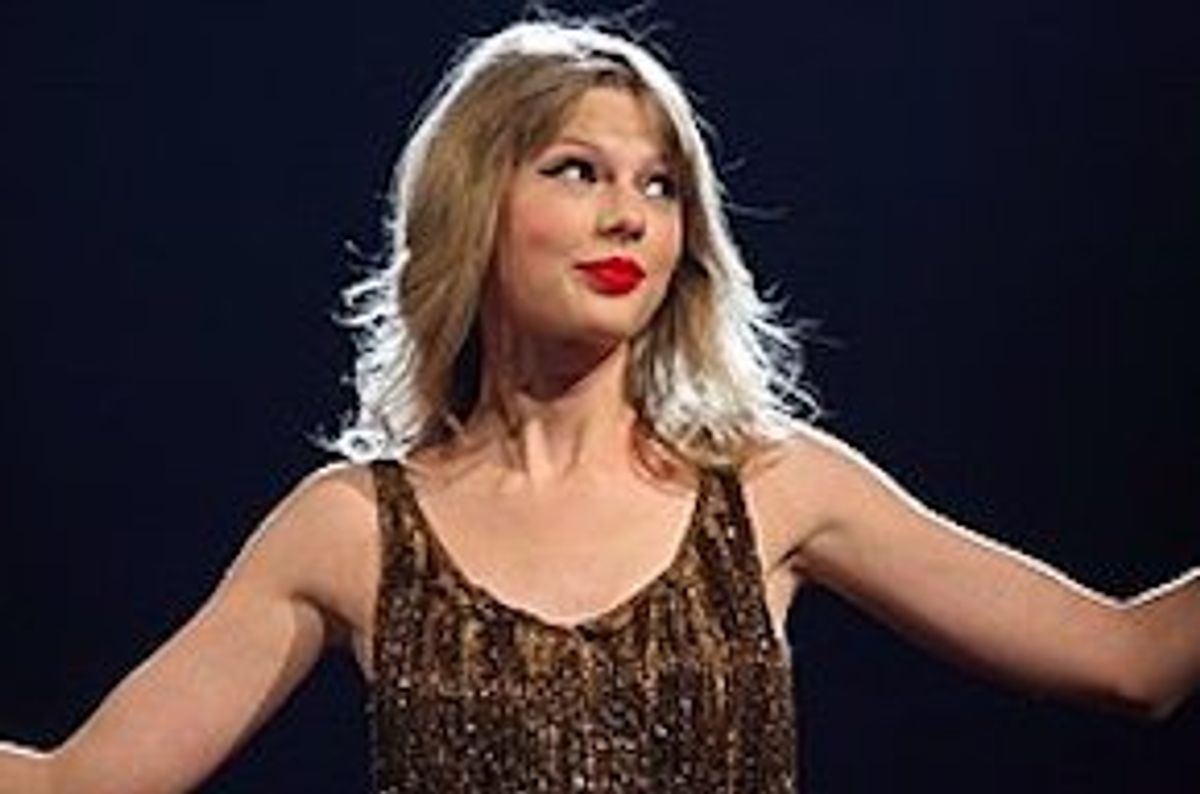 Prominent far-right influencers are very unhappy. "And just like clockwork, @taylorswift13 (as I warned you all about) is being further activated by the media and the Democrats to interfere in the 2024 election," Laura Loomer tweeted, tying it back to her earlier just-asking-questions conspiracy theory: "Has @taylorswift13 made a deal with George Soros and Alex Soros to get the rights to her music back in exchange for getting Zoomers registered to vote Democrat against President Trump ahead of the 2024 Presidential election?" (This is a particularly odd theory given that Swift has spent years rerecording her early albums to reclaim ownership.)
Pizzagate conspiracy theorist Jack Posobiec also weighed in. "The Taylor Swift girlboss psyop has been fully activated. From her hand-selected vaccine shill boyfriend to her DINK lifestyle to her upcoming 2024 voter operation for Democrats on abortion rights," he tweeted. "It's all coming."
Posobiec also offered up the Soros conspiracy theory: "Thinking about when Taylor Swift called out the Soros family in 2019 for buying the rights to her music and then how she came out a super liberal in 2020."
Time's person of the year interview with Swift makes clear just how ridiculous this idea is of her as a Soros puppet—or anyone's puppet. Swift is forceful and direct. She is very much a person who knows her own mind and is charting her own course. Again, this is someone who responded to the loss of control of her artistic product by rerecording it over a period of years while continuing to put out new music and then launching one of the biggest, if not the biggest, tours of all time.
In the interview, Swift models support for other highly successful women in entertainment, refusing to be drawn into competition. She described her tour, Beyoncé's tour, and Greta Gerwig's "Barbie" movie as "a three-part summer of feminine extravaganza." She praises both Gerwig and Beyoncé, in particular the latter:
"She's the most precious gem of a person—warm and open and funny," Swift says. "And she's such a great disrupter of music-industry norms. She taught every artist how to flip the table and challenge archaic business practices." That her tour and Beyoncé's were frequently juxtaposed is vexing. "There were so many stadium tours this summer, but the only ones that were compared were me and Beyoncé," she says. "Clearly it's very lucrative for the media and stan culture to pit two women against each other, even when those two artists in question refuse to participate in that discussion."
Swift even offered an analysis of how gender is at play in the economics of popular culture. This is not some blank slate being "activated" by the media/Democrats/Soros. She's not just a singer and performer: She's a songwriter and a major entrepreneur. At just 33 years old, she's been navigating fame for more than 15 years. In that time has she learned an enormous amount about how the public responds to what she says and does.
Take her relationship with Kelce, another target of right-wing rage. Before the relationship went public, she told Time, "we actually had a significant amount of time that no one knew, which I'm grateful for, because we got to get to know each other. By the time I went to that first game, we were a couple. I think some people think that they saw our first date at that game? We would never be psychotic enough to hard launch a first date." This is someone who has from a very early age had to see every detail of her life through the filter of how it might be reported and how her fans and haters might react. If she didn't have an enormous amount of self-knowledge, she would not be the star she is, because she would have crashed and burned.
People like Posobiec and Loomer, who see everything as a conspiracy, look at Swift and see only a conventionally attractive young woman and pop star and simply cannot wrap their heads around any of that. But even if you're not especially a Swift fan (here I raise my hand), any assessment of her that's grounded in reality has to acknowledge her intelligence and independence.
Reprinted with permission from Daily Kos.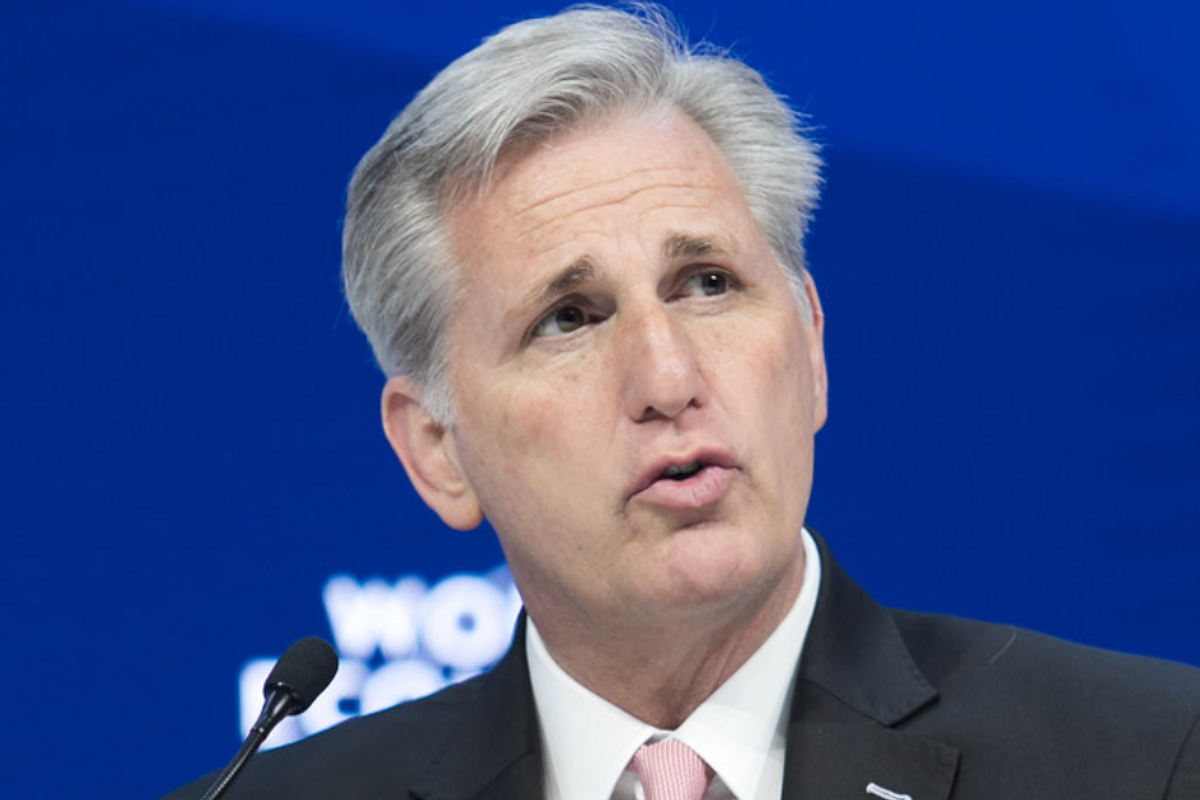 Kevin McCarthy
The American voters sent 222 Republicans and 213 Democrats to the House of Representatives in the 2022 elections, the exact same margin, but flipped, as the 2020 election. But today, with the announcement that ousted, former GOP House Speaker Kevin McCarthy is not only not running for re-election but is quitting Congress at the end off the year, Republicans have a big majority crisis — because of their now tiny majority.
It's no longer 222 to 213.
After McCarthy's exit, and with the recent expulsion of now-former Congressman George Santos (R-NY) Republican Speaker Mike Johnson will have a very slim majority.
"The party's margin in the House fell to three seats from four with the expulsion of Representative George Santos of New York last week," The New York Times explains. "That leaves almost no wiggle room for Mr. Johnson, who is already dealing with a revolt from the far right for working with Democrats to keep the government funded and faces another pair of shutdown deadlines in mid-January and early February."
"When the House returns in January," The Washington Post adds, "Republicans can lose only two votes from their ranks to pass any legislation at a time when the chamber faces major decisions on government spending and foreign aid. That dynamic could force Speaker Mike Johnson (R-La.), who assumed the post after a tumultuous three weeks following McCarthy's ouster, to work with Democrats to avert a partial government shutdown as soon as mid-January."
Rep. Bill Johnson (R-OH) has announced he will retire and exit Congress early next year.
But possibly even before that, Speaker Johnson's tiny majority could at some point become an opening for Democrats, according to a top political scientist and scholar, Dr. Norman Ornstein.
"Democrats need to be prepared to act swiftly and decisively if the numbers drop below 218– even if only for a day. Quick motion to vacate, [Minority Leader Hakeem] Jeffries as Speaker, immediate agenda," writes Dr. Ornstein, a senior fellow emeritus at the American Enterprise Institute (AEI), "where he has been studying politics, elections, and the US Congress for more than four decades."
Ornstein offers more opportunities should Democrats be able to take the majority back soon.
"Reconciliation bill to secure robust spending, eliminate debt limit permanently, taxes on rich to pay for permanent child tax credit."
He adds, the number of Republican members "would need to get down to 213. But any set of problems– a Covid outbreak, for example– could bring those numbers down, if only for a day or two. Have a plan ready! Hardball? You bet."
David Rothkopf, the noted foreign policy, national security and political affairs analyst and commentator, responding to Ornstein's remarks appeared to urge Republicans to join with Democrats to elect a Democratic Speaker, or even to switch parties:
"This. C'mon you GOPers from purple districts. Trump will have you purged and sent to Siberia. We just need 2 of you. You can be unloved by the GOP or heroes to the rest of America! Make your move now."
Of course, special elections will be held to replace both Santos (scheduled for February 13, 2024) and McCarthy (likely summer, according to the Post), and at some point Ohio's Johnson.
But with the extremely large number of members of Congress who have exited or will be, as Ornstein says, Democrats need to be ready.
Reprinted with permission from Alternet.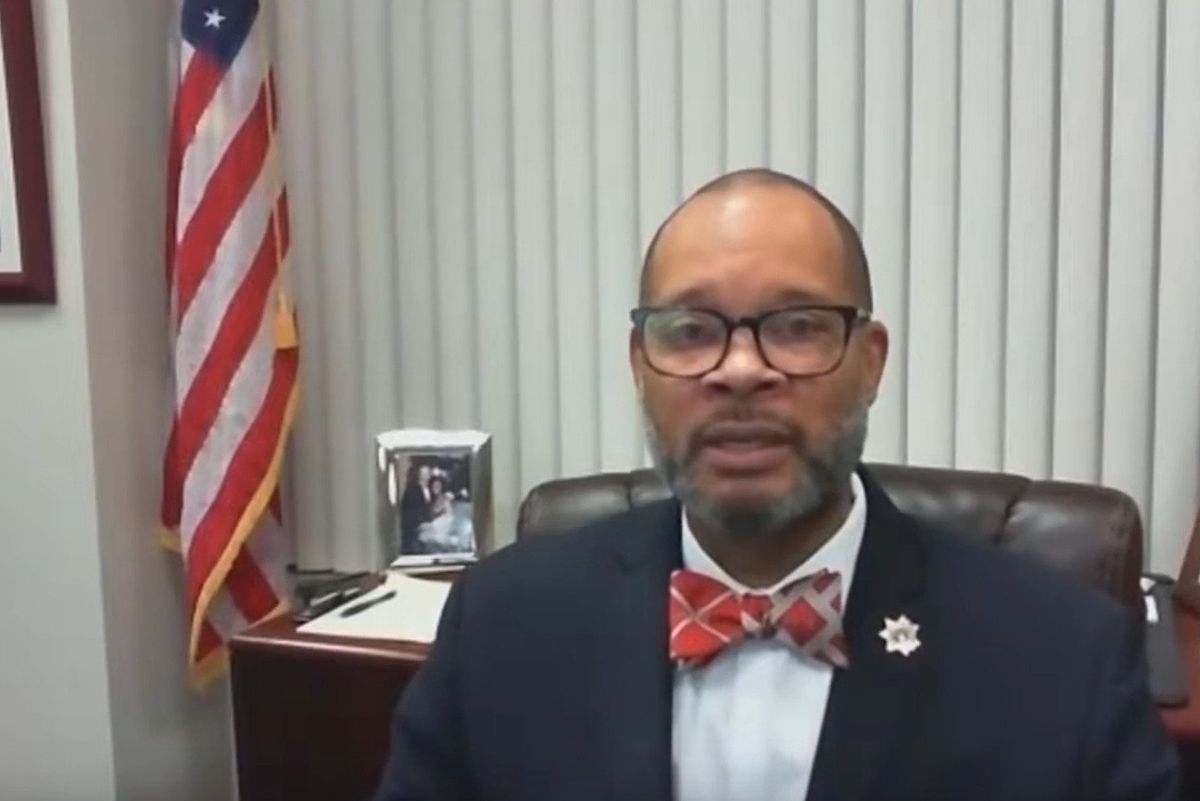 Nevada Attorney General Aaron Ford (D) has announced criminal indictments against six Republican "fake electors" who attempted to overturn the 2020 presidential election.
On Wednesday, the Washington Post reported that Ford charged six Republicans — including Nevada Republican Party chairman Michael McDonald and national committeeman Jim DeGraffenreid — with offering a false instrument for filing and uttering a forged instrument by submitting a signed fake elector certificate on December 14, 2020. The indictment alleges that McDonald and DeGraffenreid, along with co-defendants Jesse Law (the chairman of the Clark County Republican Party who recently announced a campaign for the state legislature), Nevada GOP vice chair Jim Hindle III, Shawn Meehan, and Eileen Rice all pretended to be the members of the Electoral College for Nevada, and attempted to give the state's six electoral college votes to Donald Trump, even though a majority of Nevada voters elected Joe Biden.

"When the efforts to undermine faith in our democracy began after the 2020 election, I made it clear that I would do everything in my power to defend the institutions of our nation and our state," Ford said in a public statement. "We cannot allow attacks on democracy to go unchallenged. Today's indictments are the product of a long and thorough investigation, and as we pursue this prosecution, I am confident that our judicial system will see justice done."
According to the Nevada Daily Independent, all six defendants are charged with two felonies apiece, each of which carry punishments of at least one year in state prison, up to a maximum of four and five years. Ford's investigation of the six fake electors had flown under the radar until November, when Politico reported that legal proceedings in the Silver State were underway. Wednesday's indictment comes just over a week before the three-year statute of limitations was due to end on December 14.
The "fake electors" scheme involved Republican activists in multiple swing states Biden narrowly won in 2020 — like Arizona, Georgia, Nevada and Wisconsin — sending slates of alternate electors who would instead give their states electoral vote haul to Trump, thereby constituting an official dispute in the results of the election on January 6, when Congress met to certify the electoral college. John Eastman and Kenneth Chesebro, who helped orchestrate the plot, theorized that these disputes would then give those swing states a window of time to challenge election results in the court and delay or even halt Biden's inauguration.
Ford's announcement of the indictment of fake electors comes on the same day as a civil lawsuit was settled in Wisconsin, where fake electors there all agreed to acknowledge that Biden won the election, and that they would not serve as electors in 2024, or in any other election where Donald Trump would be on the ballot.
Reprinted with permission from Alternet.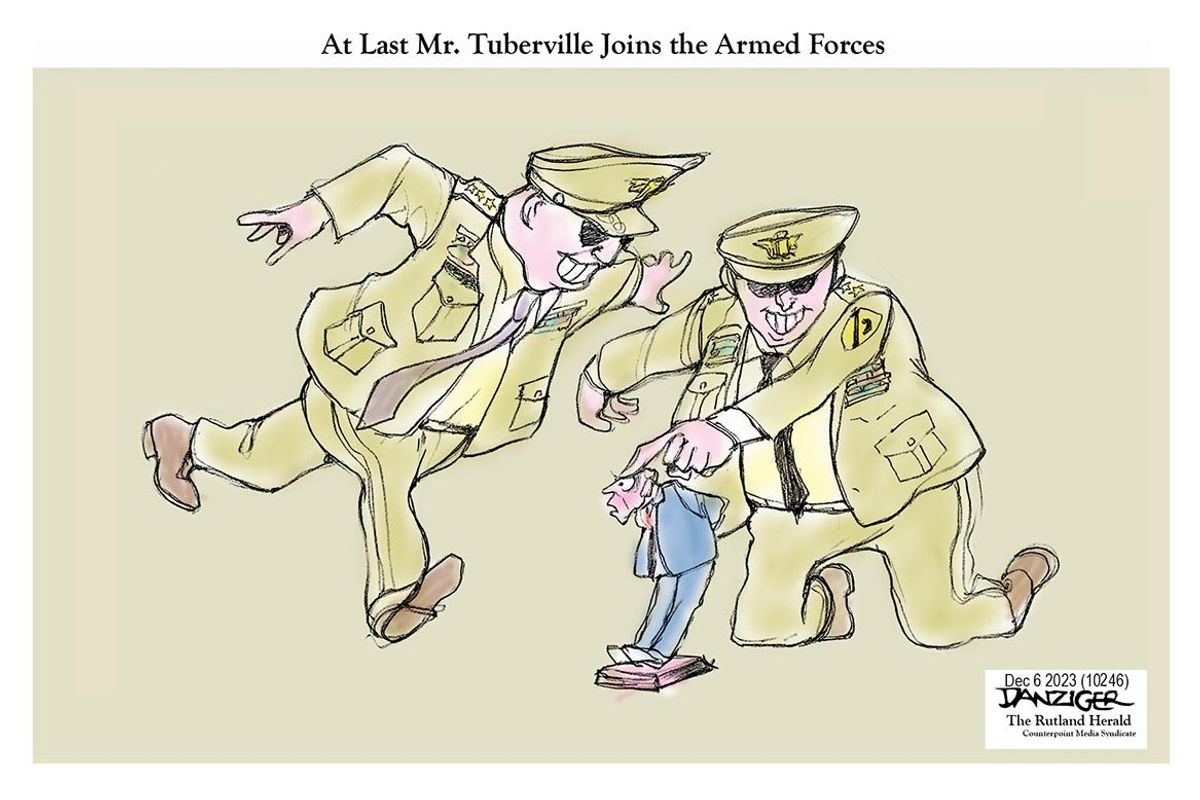 Jeff Danziger lives in New York City and Vermont. He is a long time cartoonist for The Rutland Herald and is represented by Counterpoint Syndicate. He is a recipient of the Herblock Prize and the Thomas Nast (Landau) Prize. He served in the US Army in Vietnam and was awarded the Bronze Star and the Air Medal. He has published eleven books of cartoons, a novel and a memoir. Visit him at DanzigerCartoons.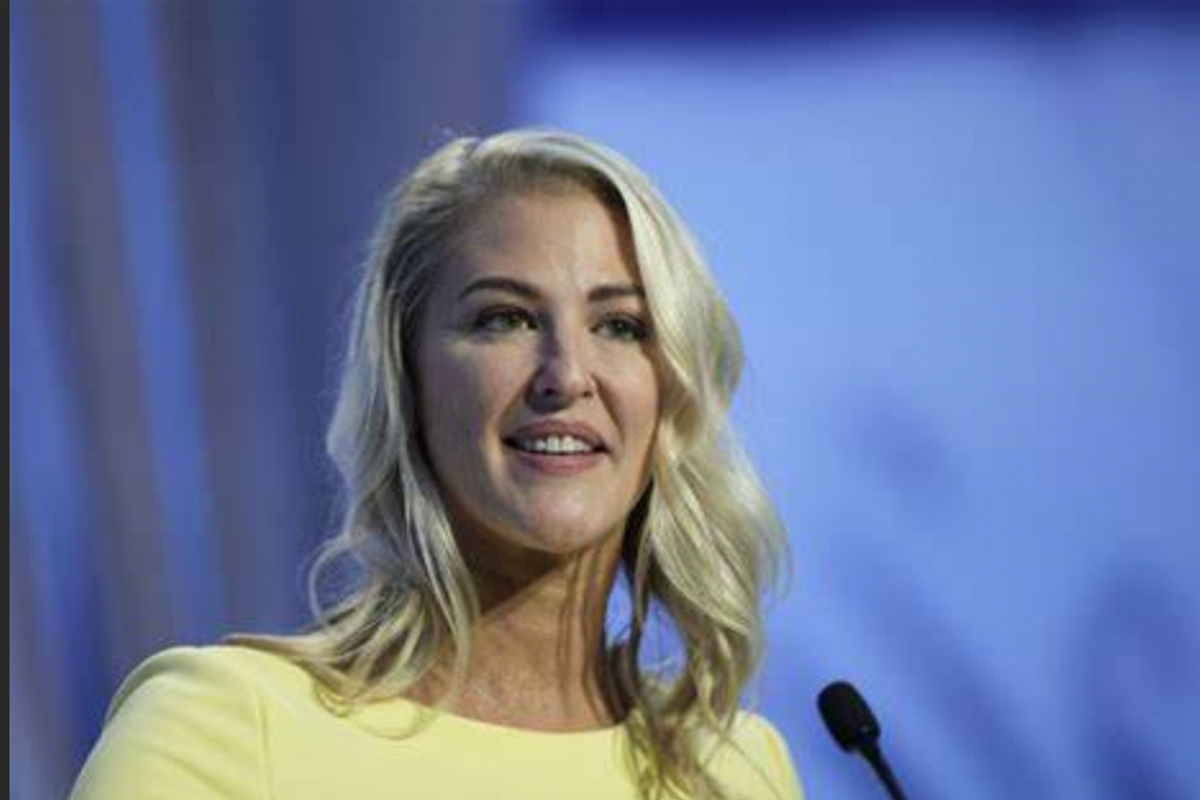 It's gotten to where it's almost axiomatic in American politics: Show me somebody who gets TV face-time railing against others' sexual sins, and I'll show you somebody hiding naughty secrets. The latest example is an amusing scandal involving "Moms for Liberty," the Florida-based right-wing organization that made its name by publicizing what this column described as "queers under the bed and the preposterous idea that the nation's public-school librarians and grade-school teachers are plotting the sexual subversion of small children."
One correspondent framed it this way: "Newest children's title approved for Florida school libraries: Bridget'sTotallyNon-Gay Three-Way." Cruel, but funny. The Bridget in question being Bridget Ziegler, the Sarasota spokes-model and co-founder of Moms for Liberty and her husband Christian Ziegler. Among other things, the lovely Mrs. Ziegler is credited with helping inspire Gov. Ron DeSantis's "Don't Say Gay" law forbidding teachers from mentioning the existence of homosexuality.
See, it turns out that husband Christian stands accused of raping the woman with whom he and Bridget had been sharing sexual liaisons of the two-women, one-man variety so popular with porn movie producers. Sarasota police released a heavily-redacted investigative report containing the words "raped" and "sexually-battered." The allegation is that Christian Ziegler, the elected chairman of Florida's Republican Party, showed up at the alleged victim's place seeking a more traditional two-way adulterous encounter.
According to an affidavit obtained by the Florida Center for Government Accountability, and reported by Lucian K. Truscott IV, the woman demurred, explaining "sorry, I was mostly in it for her."She says Ziegler proceeded to take her by force. His lawyer told the Washington Post that when all the evidence comes out, Ziegler will be "totally exonerated."
Criminally, perhaps. Politically, not a chance. You see, Ziegler told Sarasota police that the encounter was consensual, and offered as evidence a video he'd made. I expect that's one selfie you won't be seeing on Facebook. The cops have also taken possession of all Ziegler's electronic devices. The accused also argues that he's being persecuted for his political views.
Meanwhile, Ron DeSantis has said Ziegler should resign from the GOP chairmanship. The governor hasn't said anything about Bridget's position on the Sarasota County school board or the special taxing district he created to punish the Disney Corporation, in which capacity the fair Bridget has in the past accused the company of making cartoons corrupting children.
Almost needless to say, the Zieglers are also big Trump allies. Because nothing enhances one's credibility with right-wing Christians like being strong with the old pussy-grabber.
Bridget Ziegler has also admitted a sexual encounter involving her, her husband, and his accuser, but says it only happened the one time. A cynic might suspect she knows that the woman can prove it. It would appear unlikely that there's just the one video.
Politically, Moms for Liberty has done the Republicans more harm than good anyway. Banning books, attacking teachers and librarians, and picking on vulnerable LGBTQ students has turned out to be less popular among voters than many imagined it would. Recent school board and state legislative elections in Pennsylvania and Virginia in particular resulted in candidates associated with the group losing pretty much across the board. It appears that voters aren't happy about being told their local schools are run by perverts and subversives.
Perhaps in consequence, pious frauds in general are a little more cautious about accusing everybody else of sexual libertinism of late. Erin Burnett had a fascinating segment on her CNN program last week about a book called The Revivalist Manifesto for which GOP House Speaker wrote a laudatory foreword in 2022.
Basically, it was one of those deals where a political crony back home in Shreveport produced an extreme-right screed that played very differently in the nation's capital. The author, one Scott McKay, a Louisiana blogger, is all about the so-called Gay Agenda. He's particularly exercised by Biden administration Transportation Secretary Pete Buttigieg, variously described as "openly and obnoxiously gay," and as displaying what the author calls "queer sanctimony," whatever that is. He describes him as a complete nonentity with no qualifications for public office apart from his sexual identity.
Never mind that Buttigieg is a former Rhodes Scholar, an Afghanistan war veteran and former mayor of South Bend, Indiana. The insinuation is that no sanctimonious queer could possibly know anything about harbors, railroads, and trucks. In the real world, the secretary is widely credited with solving the post-Covid supply-chain problems that contributed so much to monetary inflation.
McKay also spends a lot of time on the QAnon-endorsed "Pizzagate" fantasy, accusing name-brand Democrats of child sexual abuse orgies conducted in the basement of a Washington pizza restaurant that has no basement.
But why go on? Speaker Johnson, who has an extensive history of denouncing the "homosexual agenda," now says he never actually read the manifesto he promoted, and disagrees with its slurs.
I wonder who's next.
Gene Lyons is a former columnist for the Arkansas Democrat-Gazette, a winner of the National Magazine Award, and co-author of The Hunting of the President.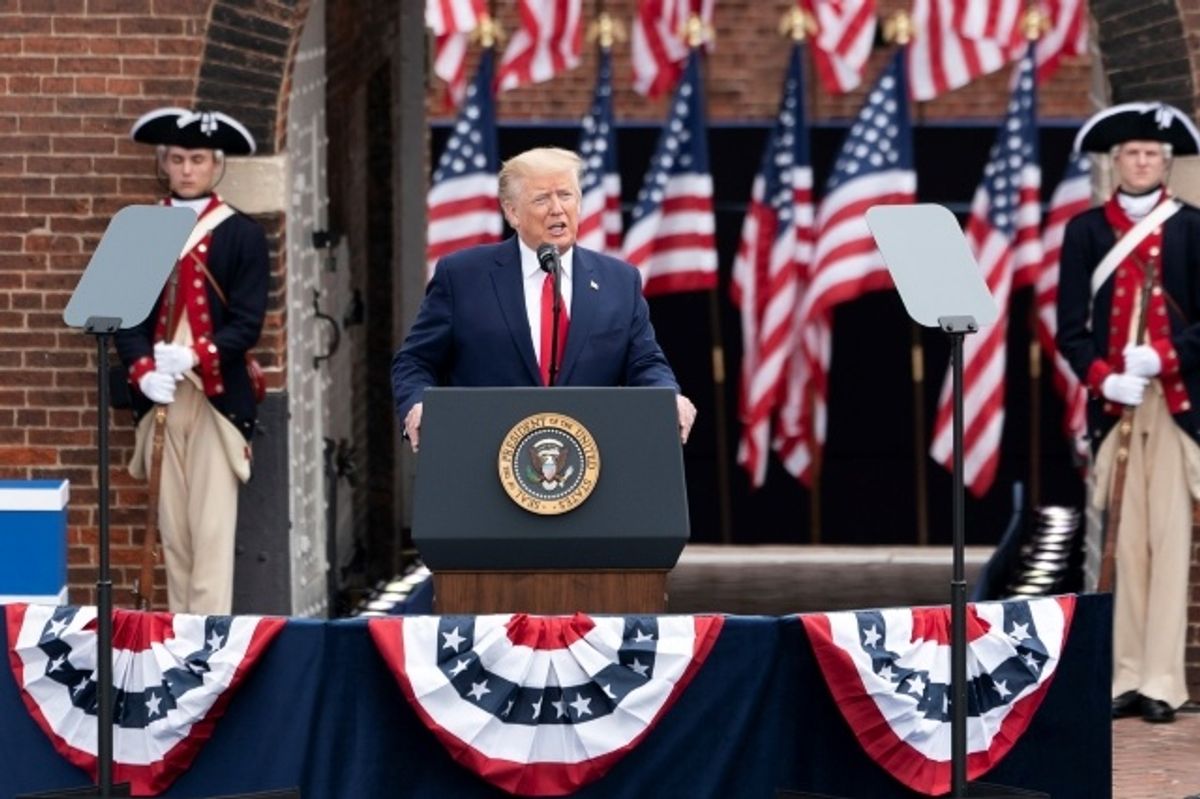 Photo by The White House
The latest ad from The Lincoln Project is titled "Feeble," and it strings together a collection of Donald Trump's "greatest hits" when it comes to stumbling over words, lurching around the podium, and repeatedly forgetting that Barack Obama is no longer president. While showcasing Trump's two-handed efforts to sip from a water bottle and his running into the backdrop of a rally stage, the narrator asks questions like "Are you sure you don't have dementia?" She also whispers that "[i]t runs in the family."
The anti-Trump group's newest ad follows another one named "Impaired" showing a different series of Trump misstatements—including the threat of the U.S. being sucked into "World War Two." Both are themed around the idea that it's Trump, not President Joe Biden, who shows the signs of advanced age. Even for those who don't like Trump, it would be easy to see the ads as being mean or taking some cheap shots. But when Trump spoke out about them on Monday night, it wasn't to address any of the content or complain about the snarky voice-over.
Instead, Trump complained that, "The perverts and losers at the failed and once disbanded Lincoln Project, and others, are using A.I.(Artificial Intelligence) in their Fake television commercials…" But after reviewing the contents of these ads, it seems the only artificial thing in them is Trump's skin color. These clips are certified natural Trump.
Trump's complaint is that the Lincoln Project is using artificial intelligence to make him seem "as bad and pathetic" as President Biden.
But the truth is, no one had to shift so much as a pixel. The ads show nothing but authentic clips from Trump's recent interviews and rally appearances, highlighting only a few of the ways in which he turns the simplest statement into word salad—along with that bizarre fixation on Obama.
Here's "Feeble":
And here's "Impaired":
Trump's New York apartment may only be one-third the size he claims, but it's certain the space Obama rents inside Trump's skull is larger than anyone can measure. The ads also make clear that when it comes to making Donald Trump look bad, no one does that as well as Donald Trump.
Of course, it's not as if no one is making ads featuring AI images. Earlier this week, we focused on how the Republican National Congressional Committee has created an old-timey propaganda newsreel featuring completely AI-generated images in which undocumented immigrants somehow overrun national parks.
That followed a much more elaborate ad created by the Republican National Committee in April where AI was used to generate images of the dystopian future that would result if Americans didn't put Trump in charge of everything. That ad not only featured a Taiwan invasion and the border collapsing under a zombie horde, it also included scenes like the one below in which "officials close the city of San Francisco" because it's been overrun by crime.
In response to this ad, Daily Kos put together our own AI-generated response—one which, unlike the RNC ad, is based entirely on things Trump has actually promised to do should he regain the White House.
In this election, AI-generated ads remain a threat to democracy. However, no one would say they represent as great a threat as the sadly real Trump.
Reprinted with permission from Daily Kos.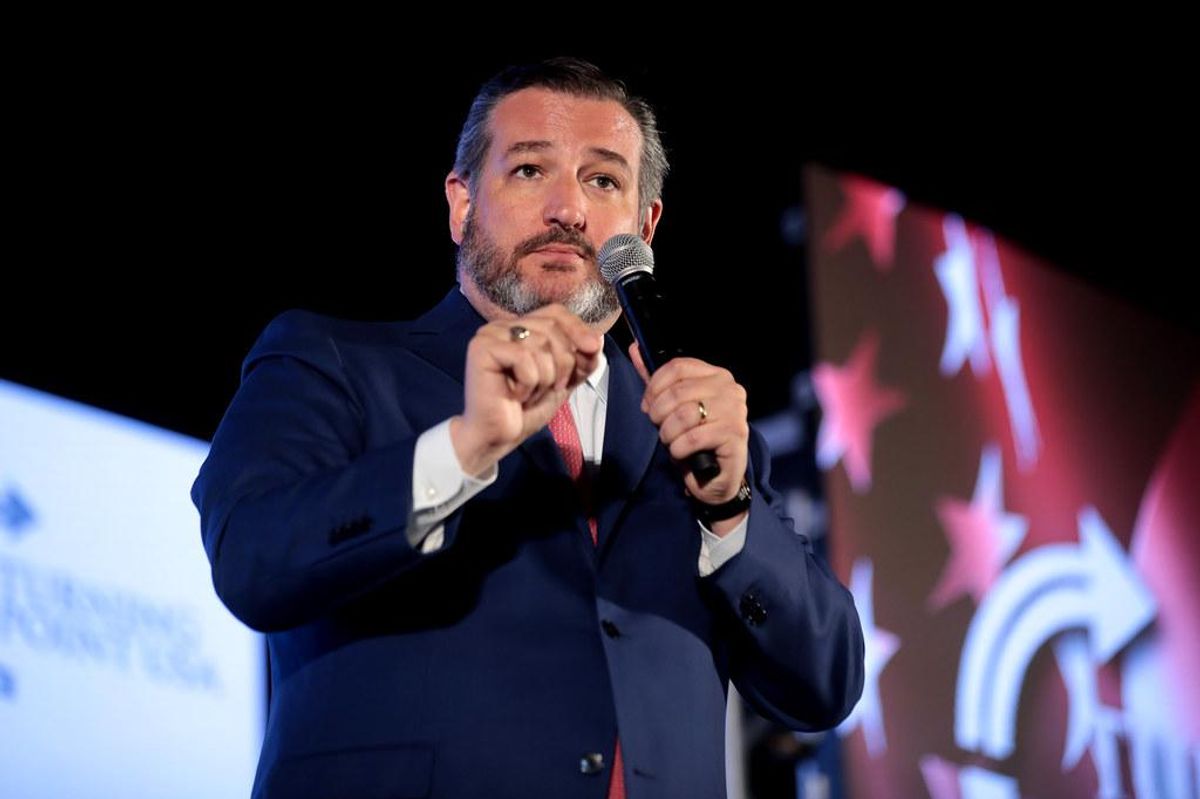 Ted Cruz
In 2013, Sen. Ted Cruz (R-TX) spoke on the Senate floor for 21 hours and forced a government shutdown in a failed gambit to kill the Affordable Care Act, also known as Obamacare. Ten years later, he's still waging that war.
On Nov. 25, when former President Donald Trump suggested he will repeal Obamacare if he returns to the White House, Cruz was one of the first prominent Republicans to endorse that effort.
"I would love to see us revisit it," Cruz, who is running for a third term, told NBC News on November 29. "Lowering premiums is critically important to Texans."
This isn't the first time Trump and Cruz have been allied on an Obamacare repeal push. In 2017, Cruz authored portions of the American Health Care Act, the Trump-endorsed bill that would have eliminated Obamacare. The Congressional Budget Office estimated that 23 million Americans would have lost their health insurance had the AHCA become law. When Sen. John McCain (R-AZ) cast the single vote that blocked that effort, Cruz was incensed.
"Mark my words, this journey is not yet done," Cruz told reporters after the bill's failure.
In the ensuing years, Cruz has routinely lambasted the program on social media. In a February 2018 Twitter post he said, "Few things have been more frustrating than seeing Republicans come short on repealing Obamacare." In October 2020 he wrote, "I think Obamacare is a trainwreck." On his current campaign website, he continues to advocate for full repeal.
"Since his first day in office, Sen. Cruz has been a leading voice for repealing Obamacare," the site says. "He authored legislation repealing Obamacare's individual mandate that was signed into law and remains committed to a full repeal of Obamacare."
Texas has the second-highest number of Obamacare enrollees of all the states. The Centers for Medicare and Medicaid Services reports that 2.8 million Texans are insured through the program.
Texas has not expanded Medicaid, which Cruz also opposes. If it did, more than 1.4 million Texans would become eligible for Medicaid.
Cruz's and Trump's push is also out of step with public opinion. According to KFF tracking polls, nearly 60 percent of Americans had a favorable view of Obamacare as of May 2023. Another KFF poll found that 59 percent of voters trust Democrats, more than Republicans, to handle the program's future.
A spokesperson for Cruz did not immediately respond to a request for comment for this story.
Rep. Colin Allred (R-TX), one of the Democrats challenging Cruz in 2024, tweeted on December 1 that it was unconscionable to talk about repealing the Affordable Care Act.
"I want to make sure that every Texan has access to affordable health insurance and affordable prescription drugs," Allred told Spectrum News 1. "That should be the bare minimum that we can provide in our country."
Reprinted with permission from AJ News.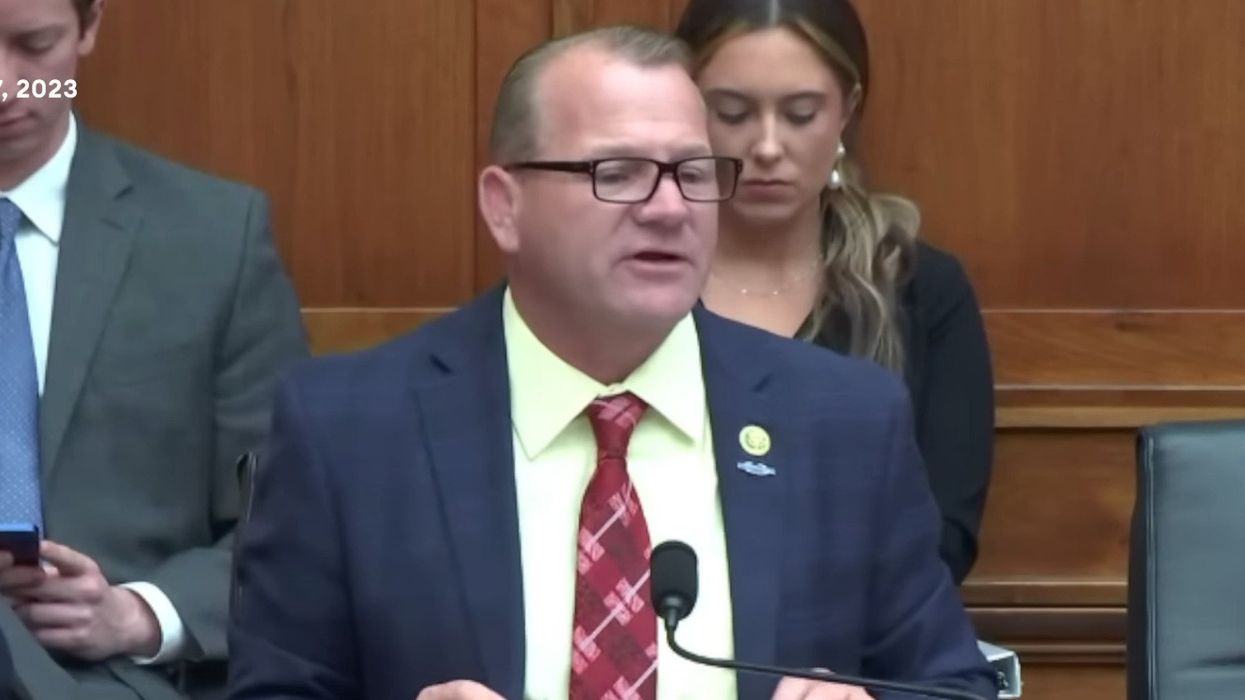 Troy Nehls
Most House Republicans keep pretending that there's some noble basis for their drive to impeach President Joe Biden. He's corrupt, they say, even as their bombshell evidence of that is that Biden's son repaid him for a car loan. They're just following the evidence, they say, glossing over the lack of evidence to follow. Not Rep. Troy Nehls (R-TX). He's being honest.
Nehls told USA Todaythat his reason for impeachment would be to give Trump "a little bit of ammo to fire back" at Biden in the 2024 presidential race. The ammo being "So what if I was impeached twice and face 91 felony counts. You were impeached, too!" It doesn't get any more partisan than that.
After all of the protestations to the contrary from the 18 House Republicans in Biden districts pontificating, as Rep. Marc Molinaro (D-NY) recently did, about the House's "fundamental responsibility of provide accountability to the executive branch" and tut-tutting about being "troubled by some of the behavior" from the White House, Nehls is telling the truth.
Republicans were gearing up to impeach Biden before they ever took control of the House, and they started hearings with that end in mind as soon as they could get their act together to do so. You can bet that if they'd found any real evidence of wrongdoing by the president, he'd have been impeached immediately.
Instead, they're heading into a vote for a formal impeachment inquiry armed with some loan repayments from Joe Biden's son and his brother, repayments made when he wasn't even in office. In the absence of any evidence of wrongdoing, they may try to impeach him for obstructing their investigation—presumably by not coughing up the nonexistent evidence they imagine he's hiding.
And why are they so determined to get this done? It's like Nehls said: to give Trump "a little bit of ammo to fire back."
Reprinted with permission from Daily Kos.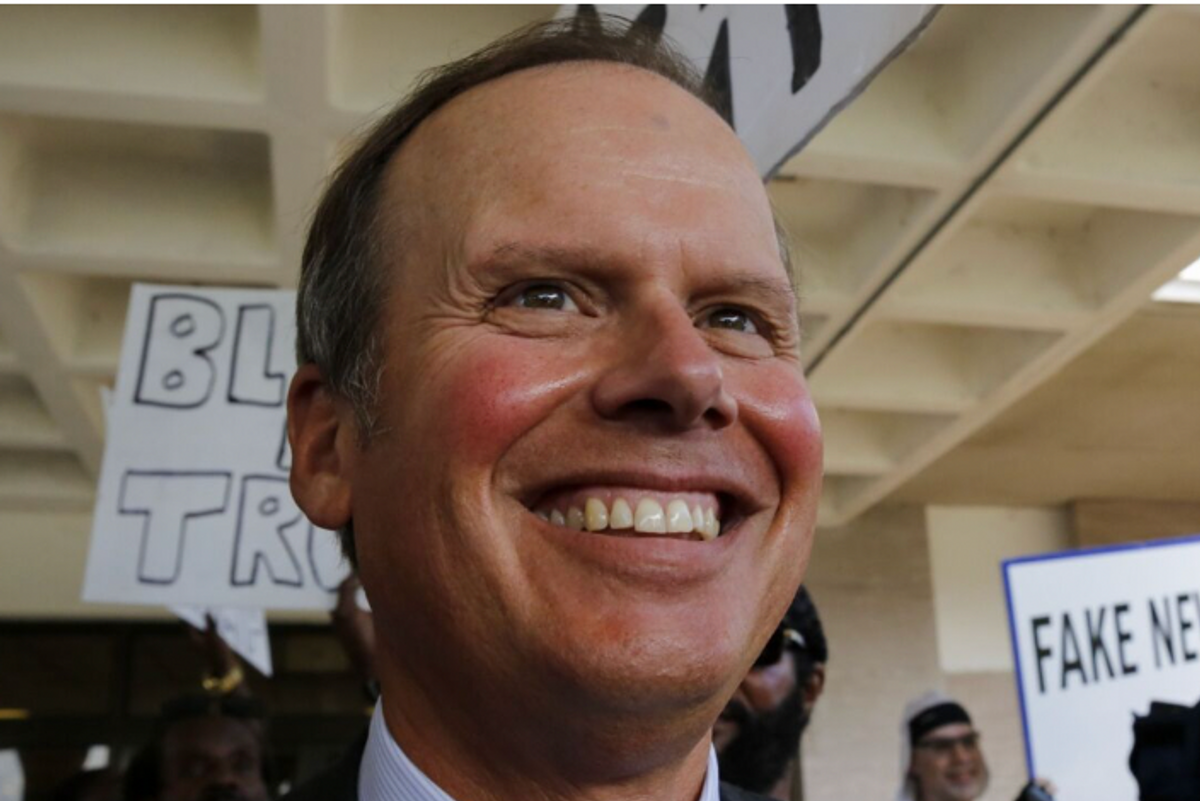 Donald Trump
Christopher Kise — the attorney representing former President Donald Trump in the ongoing New York civil fraud case — tried to throw another wrench in the works of the justice system currently ensnaring his client. However, the judge overseeing the case appeared to reject his argument outright.
MSNBC legal analyst Lisa Rubin tweeted on Tuesday that Kise did a 180 on a statement yesterday in which he said he wouldn't play to file a motion attempting to delay Trump's upcoming testimony in the case until the appeals challenging Judge Arthur Engoron's gag order had been exhausted. Rubin tweeted an exchange she had with Kise in which she asked if Kise planned to "ask Judge Engereon[sic] to pause the trial so that President Trump's appellate rights can be vindicated." Kise indicated he didn't plan to do so, telling the reporter she was "probably smart enough to know where that would land," and that he tried "not to engage in futile efforts."
But on Tuesday, Rubin tweeted that "[Kise] still asked, and got a 'nice try' from Engoron."
Trump is still appealing Judge Engoron's gag order, which he imposed in response to the former president's constant flurry of attacks against law clerk Allison Greenfield. Trump's posts about Greenfield reportedly resulted in the clerk getting a deluge of death threats from Trump supporters — many of them anti-Semitic in nature.
"Ms. Greenfield's personal information, including her personal cell phone number and personal email addresses also have been compromised resulting in daily doxing. She has been subjected to, on a daily basis, harassing, disparaging comments and antisemitic tropes," a court document detailing the threats read. "I have been informed by Ms. Greenfield that she has been receiving approximately 20-30 calls per day to her personal cell phone and approximately 30-50 messages per day on combined sites of social media, Linkedln and two (2) personal email addresses."
Engoron, who is overseeing the bench trial and will decide its verdict, already ruled that Trump was liable for fraud. The verdict will ultimately decide how much in financial penalties Trump should have to pay. New York Attorney General Letitia James is seeking $250 million in damages, alleging that Trump knowingly and deliberately submitted false financial statements aimed at increasing the value of Trump's real estate portfolio in order to secure more favorable tax and insurance benefits.
Reprinted with permission from Alternet.
House Republicans are moving toward a vote on a formal impeachment inquiry as they continue to allege, without evidence, serious corruption on the part of President Joe Biden. The evidence has not gotten stronger since mid-November, when House Speaker Mike Johnson reportedly told so-called Republican moderates that there was "insufficient evidence" to move forward. The politics, however, have changed. Johnson's move to keep the government from shutting down angered some extremist Republicans, and the expulsion of George Santos just after Johnson declared his opposition to expulsion did not make Johnson look any stronger. Giving the extremists a vote on an impeachment inquiry is an easy way for Johnson to try to shore up support.
The White House is vigorously pointing out the political calculations behind a vote on an impeachment inquiry. "Under fire for expelling George Santos, Speaker Johnson is throwing red meat to Marjorie Taylor Greene and the far right flank of the House GOP by pushing a full House vote on this illegitimate impeachment stunt," White House spokesperson Ian Sams told The Messenger.
"He admitted there is no evidence to justify it three weeks ago, but he's doing it anyway — further proof that this whole exercise is an extreme political stunt, rather than a legitimate pursuit of the truth," Sams told The Messenger, excoriating Johnson and his flock for a "baseless smear campaign" that he said is "solely intended to satisfy their most extreme members."
Johnson has been consistent in publicly claiming that Republicans have a strong case against Biden, even as he admitted to members of his conference that there was "insufficient evidence." Now, House Republicans are preparing to escalate their baseless inquiry and thereby escalate their harassment of Biden—leading into an election year.
The politics of an impeachment inquiry vote are clear, as former Speaker Newt Gingrich acknowledged, saying on Fox & Friends, "If you're a Republican, do you really want to guarantee a primary opponent by voting against it?" Gingrich went on to offer up the regular Republican talking points, claiming that Biden is corrupt, but that sentence right there is going to be the basis for at least a few Republican votes on an impeachment inquiry—and with the razor-thin margin Republicans have in the House, that could be the decisive factor.
Republicans are set to move toward impeachment. But their evidence remains even thinner than their House majority, and many of them know it. Partisanship reigns above everything for them.
Reprinted with permission from Daily Kos.