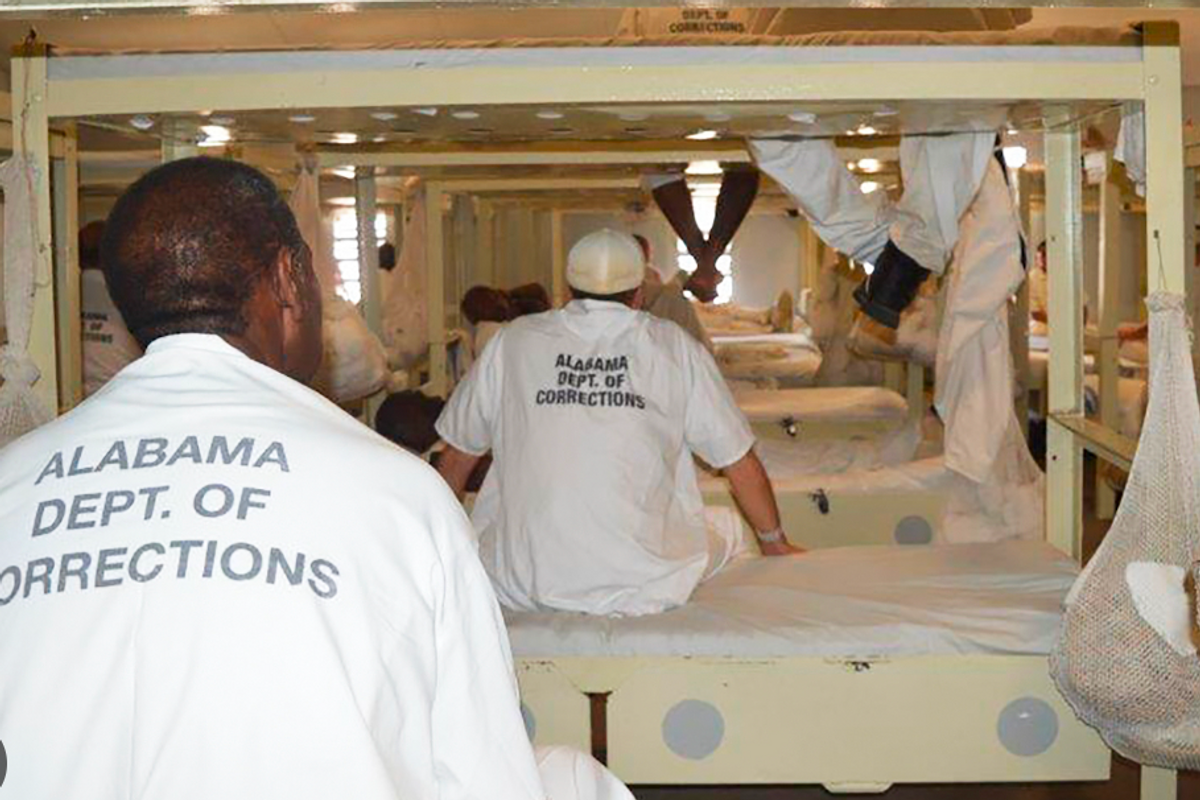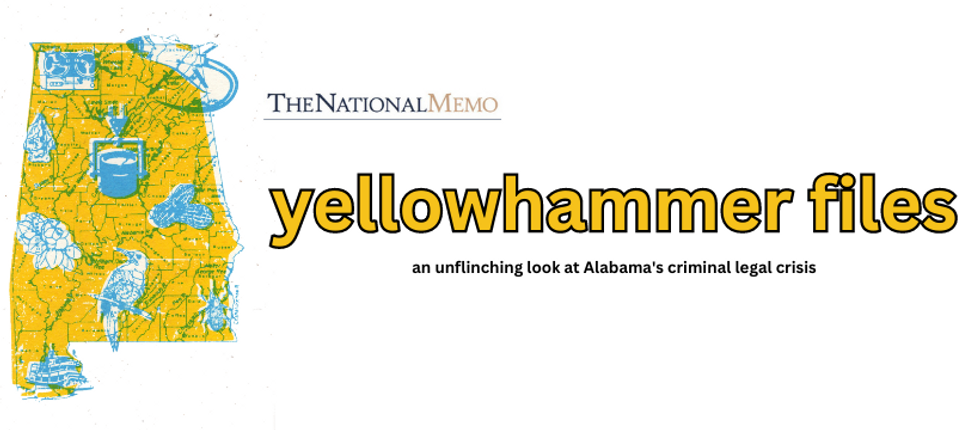 Lice so severe that even kerosene couldn't kill them. Shoeless feet padding aimlessly. Gross malnourishment.
That's how people described the Yellow Hammers, a semi-isolated colony of the ostracized and downtrodden in Illinois that developed during the Reconstruction Era.

The history of the Yellow Hammers is murky. As the legend goes, a Colonel Brodie of the Civil War — it doesn't include a first name — came home to Alabama, the Yellowhammer State, and relocated to Wilmington, Illinois where he purchased several acres of wooded land and invited anyone from his home state to come live on it, creating essentially an encampment people called "Brodie's Woods." Those people who relocated to Wilmington from Alabama were impoverished, almost permanently, and made pariahs in the community as they huddled on Brodie's land.
The pariahs' poverty prevented those among them who were employed from purchasing their own equipment so they used company tools — when they were able to work — whose handles were painted yellow.
These stories, reported by a high school student, can't be confirmed. First, the only nineteenth century colonel named Brodie was about 12 years old when the Civil War started. One William Brodie from Alabama fought in the Civil War but there's no record of his being a colonel. A now defunct local Chicago newspaper, the Surburbanite Economist, reported in 1970 that an area of Wilmington, Illinois was known as Brodie's Woods, but that's one of very few verifiable mentions of the area.
The more likely story of the root of Yellowhammer is that a cavalry of soldiers from Huntsville went to Kentucky during the Civil War to aid Gen. Nathan Bedford Forrest's — history will call him both a Grand Wizard of the Ku Klux Klan and an innovative warrior — Company A of the Confederate Army. They wore new sharp gray uniforms adorned with brilliant yellow trim. A Confederate soldier in tatters said they looked like the bird the yellowhammer, a type of woodpecker, which was made Alabama's state bird in 1927. The Yellowhammers ended up becoming valuable team members; they supported several of Gen. Forrest's victories, one of which frustrated Gen. Ulysses Grant's Vicksburg Campaign.
That the history of the Yellow Hammers is so hard to pin down says quite a bit about the state today; tracing what really happens proves difficult. Even though Alabama media tries to cover events inside the prisons, the state of news in 2023 dictates that coverage isn't as complete as anyone would like.
Just as the history of the Yellowhammers is unclear, the view into Alabama's prisons is muddied by the Alabama Department of Corrections (ADOC) and its commitment to opacity. The officials who run that system do not like looksies. Early this year, ADOC stopped releasing the number of in-custody deaths on a monthly basis, ostensibly because there were so many that they either couldn't keep up or didn't want to be embarrassed by their inability to protect the state's wards.
Nevertheless, the reports of carnage that keep dripping out — two men were murdered on May 15, 2023, an additional pair added to a list of over 60 since January 1, 2023 — have contributed to a narrative that men and women in Alabama prison are incorrigible, even feral, when all they're doing is adapting to the environment that the state has established for them.
The truth is that a good number of them are quite high-minded. When they staged a strike last fall, they didn't even protest the squalid conditions they live in, which happen to be deplorable. Instead they sought policy reform on sentencing and parole which will ultimately benefit people beyond them.
Their strike demands were imminently reasonable, despite Gov. Kay Ivey's disagreement. But the demands were really only part of the story of the strike. My sources tell me that — under the guidance of some dedicated leaders who I won't name now — rival gangs and sworn enemies convened in good faith to hammer out what they needed to ask for. In that respect, they're behaving better than many of us on the outside if they can display that type of comity. They came together despite the fact that they worry every day — along with family and friends — that they'll be killed or starved. They're fighting back non-violently. Bravely.
And even effectively. Because of the strike demands, lawmakers introduced two bills poised to pass the Alabama legislature. First is a bill that would mandate the right to attend one's own parole hearings by video (they can't attend these crucial proceedings now) and second is a bill that would allow people serving life sentences to petition to have their punishment reduced. Most prison work stoppages achieve nothing. This group of men and women convinced people to listen and act. Do not count these people out.
That doesn't mean the wind is under their yellowhammer wings. Gov. Ivey just signed a bill into law that reforms the so-called "good time" statute by making it harder to earn time off one's sentence because ADOC failed to take the good time of someone who attempted escape. Their resilience doesn't mean they're safe now or being treated justly. It's just the opposite.
Alabama's prison population reflects a lot of their yellowhammer history. Like woodpeckers, they're tenacious fighters. Much like the Yellowhammer Cavalry in 1862, they're nimble, capable of putting up a few wins, but then ultimately forgotten.
And they aren't living much differently than Brodie's Yellow Hammers. Some aren't supplied shoes and therefore aren't allowed in the chow hall. As I have reported before, the ADOC intentionally starves them when they assert their rights. They wander, often squatting in dorms where they're not assigned because they want to avoid being raped. The violence doesn't cease; I hear reports of outright beatings that all too often result in lost "good time" but no medical treatment. And they huddle, displaced and ostracized, in one of Alabama's 15 state-sanctioned colonies of fear and panic.
But unlike the legend of Brodie's Woods, these tales are true and verifiable. There's no fiction here. It's traceable. It tracks, all too well.
That's why today The National Memo announces an unflinching series that goes inside Alabama's criminal legal crisis: the Yellowhammer Files. We're going to trace and track data and stories until something changes. Check these files as they are published and you will be stunned by what you read.
Chandra Bozelko served more than six years in a maximum-security facility in Connecticut. While inside she became the first incarcerated person with a regular byline in a publication outside of the facility. Her "Prison Diaries" column ran in The New Haven Independent. Her work has earned several professional awards from the Society of Professional Journalists, the Los Angeles Press Club, The National Federation of Press Women and more.Her columns now appear regularly in The National Memo.
Advertising
Start your day with National Memo Newsletter
Know first.
The opinions that matter. Delivered to your inbox every morning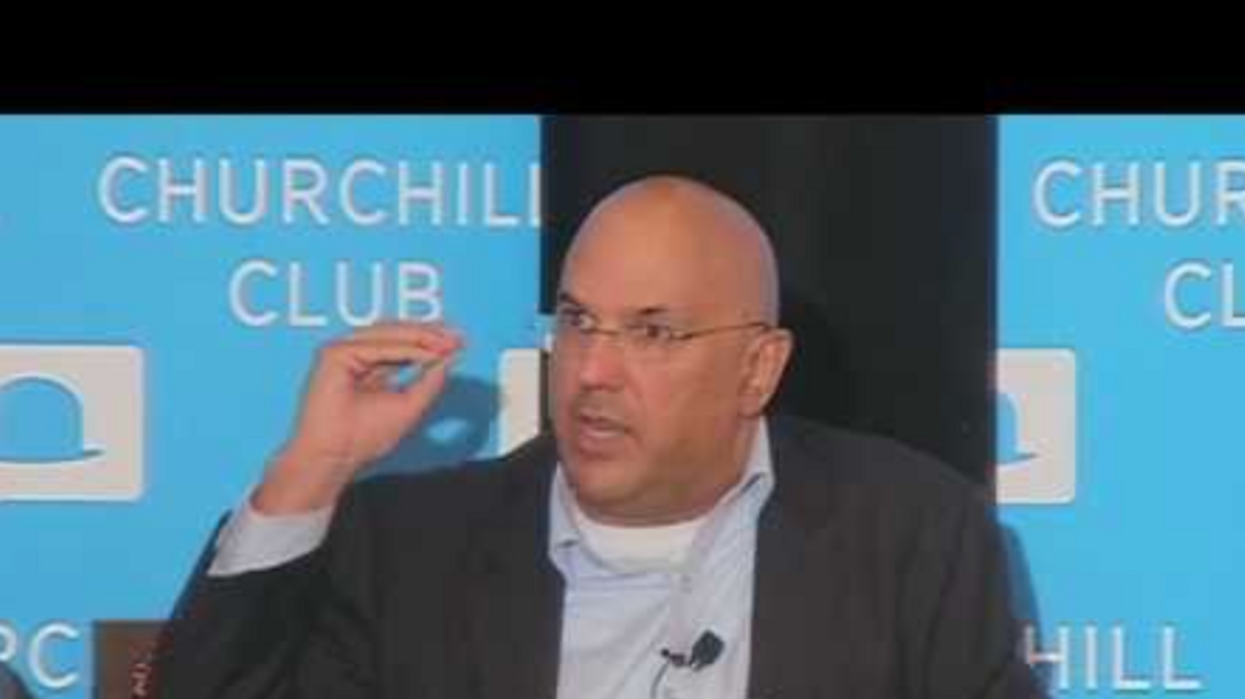 During the Cold War, Reagan and Goldwater Republicans were known for being scathing critics of the Soviet Union. And it wasn't uncommon for Democrats to bash the Kremlin in order to avoid being attacked by their GOP rivals as soft on Moscow.
But the rise of former President Donald Trump's MAGA movement has seen an abundance of Republicans expressing sympathy for President Vladimir Putin. "War Room" host Steve Bannon has praised Putin's anti-gay and "anti-woke" policies; Sen. Ted Cruz (R-TX) slammed the U.S. military as "woke" and "emasculated" while exalting Russia's military as a symbol of manliness. And critics of former Fox News host Tucker Carlson have lambasted him for repeatedly echoing Kremlin talking points during the invasion of Ukraine.
In a report published on May 29, the Daily Beast's William Bredderman examines the pro-Putin sympathies of BreakThrough News — an online media outlet associated with U.S.-based tech entrepreneur Neville Roy Singham. Unlike the many MAGA pundits sympathetic to the Kremlin, BreakThrough has welcomed participation from the left.
"Since it started posting to Instagram and YouTube in early 2020," Bredderman notes, "nearly all BreakThrough News' camera-facing personalities have been veterans of Kremlin-backed outfits."
Examples that Bredderman cites include Eugene Puryear (ex-Radio Sputnik) and Brian Becker, formerly of the now-defunct RT America. BreakThrough News has attracted both right-wing and left-wing critics of the Biden Administration's support of Ukraine during the conflict with Russia.
Singham is married to Code Pink co-founder Jodi Evans, whose organization has often criticized U.S. foreign policy from the left. Singham is also known for his left-of-center politics.
"Beginning in January 2022, amid the build-up to Russia's unprovoked assault on Ukraine," Bredderman notes, "the channel began sharing videos with titles like 'Risking World War III with Russia: Why?' and 'If NATO Goes to War, U.S. & European Soldiers Will Be Called On to Kill & Die.' More recent clips have carried such headlines as 'Leaked Pentagon Docs Show U.S. Elites Want Never-Ending Ukraine War' and 'G7 Sends F-16 Jets to Ukraine: Flirting with Disaster, Direct War on Russia.'"
Reprinted with permission from Alternet.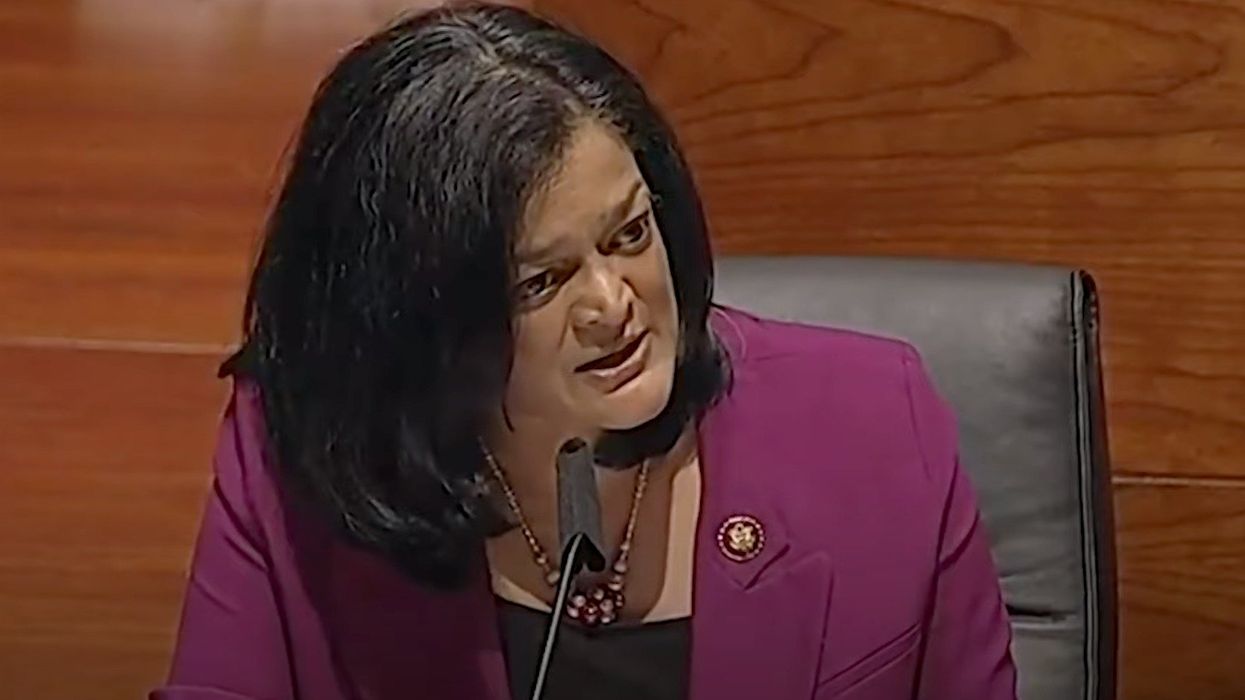 As the full text of the debt limit deal is released, reactions are streaming in.

Let's start with the Democrats, who had been pretty quiet as the early details leaked. Rep. Pramila Jayapal (D-WA), who chairs the House Progressive Caucus, told CNN that she is waiting on the legislative text to make a final voting decision: "That's always, you know, a problem, if you can't see the exact legislative text. And we're all trying to wade through spin right now." That said, she mocked Republicans for not getting what they claimed to want: a reduction in the deficit. Hard to do that when they increased Pentagon spending and removed IRS funding designed to collect unpaid tax revenue.
\u201cHouse Progressive Caucus Chair Pramila Jayapal (D-WA) on the GOP and the debt limit deal, "You've got to ask yourself, what was all of the drama for? Because they didn't get what they said they wanted. We knew that was never actually what was on the table."\u201d

— Sarah Reese Jones (@Sarah Reese Jones) 1685282555
With the legislative text out, House Democratic leaders sounded optimistic late in the day about Progressive Caucus support.
\u201cSenior House Dem tells @Axios that if the Progressive Caucus doesn\u2019t whip against the debt ceiling deal, \u201cI expect the vast majority (and perhaps 100%) of Democrats to support it.\u201d\n\n\u201cContingent on final text, most are surprised by how modest the concessions appear to be.\u201d\u201d

— Andrew Solender (@Andrew Solender) 1685298901
That is the standard reaction after expecting the worst (relief, mixed with surprise, like new food-stamp access for the homeless and veterans): a huge progressive win. I can't believe that food-stamp access wasn't already a thing.
Aside from question marks about the Progressive Caucus membership, the bulk of the party remained supportive. Insofar as I'm seeing any reaction, it's simply parroting the White House's talking points. If anything, any celebrations are muted, lest they add fuel to conservative efforts to scuttle the deal.
But as the Semafor headline noted, "The Democrats (mostly) won the debt ceiling fight." Or as progressive journalist Josh Marshall put it, Republicans walked into a Denny's to hold it at gunpoint, demanded money, and walked out with nothing more than breakfast. It's okay to be disappointed at some of the concessions while also celebrating Biden's major negotiating victory in a government in which Republicans, with the House, unfortunately do have a say.
Many conservatives remain furious.
Rep. Chip Roy (R-TX) continues his tirade against the deal, tweeting at one point that "it's worse than I thought every minute that goes by."
\u201cI wish that were true. $4 Trillion for keeping (effectively) bloated 2023 spending levels & maintenance of the Democrats\u2019 wish list - crony IRA unreliable energy subsidies stay, IRS expansion 98% stays, work requirements weak and don\u2019t apply to Medicaid\u2026\u201d

— Chip Roy (@Chip Roy) 1685280757
And Roy understands the leverage Republicans are losing in the regular budget appropriations process, tweeting that "If you want the border to be secure - no member of the @HouseGOP can vote for this #debtceiling 'deal' because it will remove all leverage we have to force action on the border."
In further conservative ire, Roy tweeted that the deal threw out the $131 billion House Republicans cut in their debt limit show bill, designed to get spending back to pre-COVID levels, and replaced them with "what appears to be effectively flat spending [...] at the bloated 2023 Omnibus spending level, jammed through in a rush in December…"
In response, Utah Republican Sen. Mike Lee tweeted, "With Republicans like these, who needs Democrats?"
Of particular interest is former Trump budget director Russ Vought, who is currently rallying opposition to the deal:
While we wait on text, let's take the numbers as the GOP is claiming w/o knowing the gimmicks (Dems are claiming higher spending). Deal provides $1.59 trillion in FY24 v. $1.602 in FY23. You gave Biden $4 trillion for $12 billion in cuts largely coming from unspent COVID$?
Or take "It cuts nondefense spending to 2022!" No it doesn't. FY22 nondefense spending was $689 billion. GOP numbers claim FY24 will be $704 billion. You don't get a dog biscuit for that.

Reviewing the text now. Confirms that there only 2 years of actual caps and then 4 years of meaningless language that binds only Congress & easily waived.
The "administrative PAYGO" is totally worthless. It's not just that it can be gamed with plans for fake offsets in exchange for real spending. Its that the OMB Director has complete waiver authority in Section 265 if "necessary for program delivery"

So I'm not a budget expert, but what that tells me is that whatever budgetary restrictions exist in the deal can easily be waived.
Furthermore, responding to a seemingly sensible conservative noting that McCarthy's leverage was limited given that Democrats control the White House and the Senate, Vought furiously responded, "What exactly did [McCarthy] deliver on? You can't build on it because he gave every leverage point away for the remainder of Biden's tenure. The bill is worse than a clean debt limit."
Savor that.
The bill is worse than a clean debt limit.
I actually don't know if that's true, to be sure. But I desperately hope it is.
Markos (Kos) Moulitsas is the founder and publisher of Daily Kos.
Reprinted with permission from Daily Kos.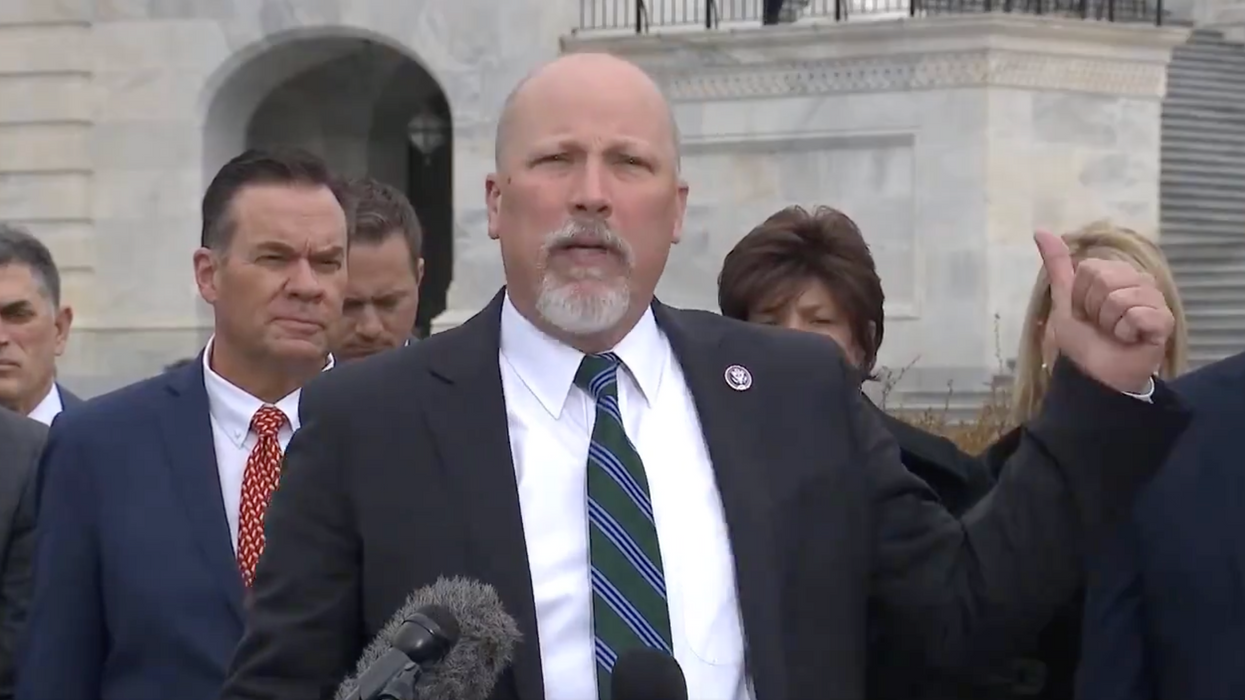 The House of Representatives will vote on Wednesday on the deal that President Joe Biden and House Speaker Kevin McCarthy (R-California) struck over the weekend to raise the debt ceiling. But first, the proposal must make it through the Republican-dominated Rules Committee.
Despite the urgency, House Republicans are apparently squabbling over procedural matters.
Rules Committee member Chip Roy (R-TX) — who opposes the Biden-McCarthy agreement — tweeted on Monday afternoon that "during Speaker negotiations to build the coalition, that it was explicit both that nothing would pass Rules Committee without AT LEAST 7 GOP votes - AND that the Committee would not allow reporting out rules without unanimous Republican votes."
But one of Roy's colleagues disputed his recollection of events in a statement to CNN producer Morgan Rimmer.
According to Rimmer, Rep. Dusty Johnson (R-SD) told her that "if those conversations took place, the rest of the conference was unaware of them. And frankly, I doubt them. I haven't talked to the speaker about them yet today, but I would be a little surprised if that was a kind of a commitment."
CBS News reported on Monday that "the House Rules Committee will hold a hearing at 3 p.m. Tuesday, which will determine the rules and length of time for debating the bill and any amendments that would be allowed."
According to Reuters, "The agreement would suspend the debt limit through Jan. 1 of 2025, cap spending in the 2024 and 2025 budgets, claw back unused COVID funds, speed up the permitting process for some energy projects, and include extra work requirements for food aid programs for poor Americans. The 99-page bill would authorize more than $886 billion for security spending in fiscal year 2024 and over $703 billion in non-security spending for the same year, not including some adjustments. It would also authorize a 1% increase for security spending in fiscal year 2025."
Although CBS noted that the measure is likely to pass with bipartisan support, dissent within the GOP may hamper McCarthy's pledge to send the legislation to the Senate this week.
Any unforeseen snags increase the risks of the Treasury Department running out of money, which Secretary Janet Yellen has repeatedly warned could occur in early June.
"Once the bill reaches the Senate, where Democrats have the majority, the pace of action will largely depend on whether any senators try to hold up the bill, possibly with amendment votes. That could tie up the legislation for a few days," CBS explained.
Reprinted with permission from Alternet.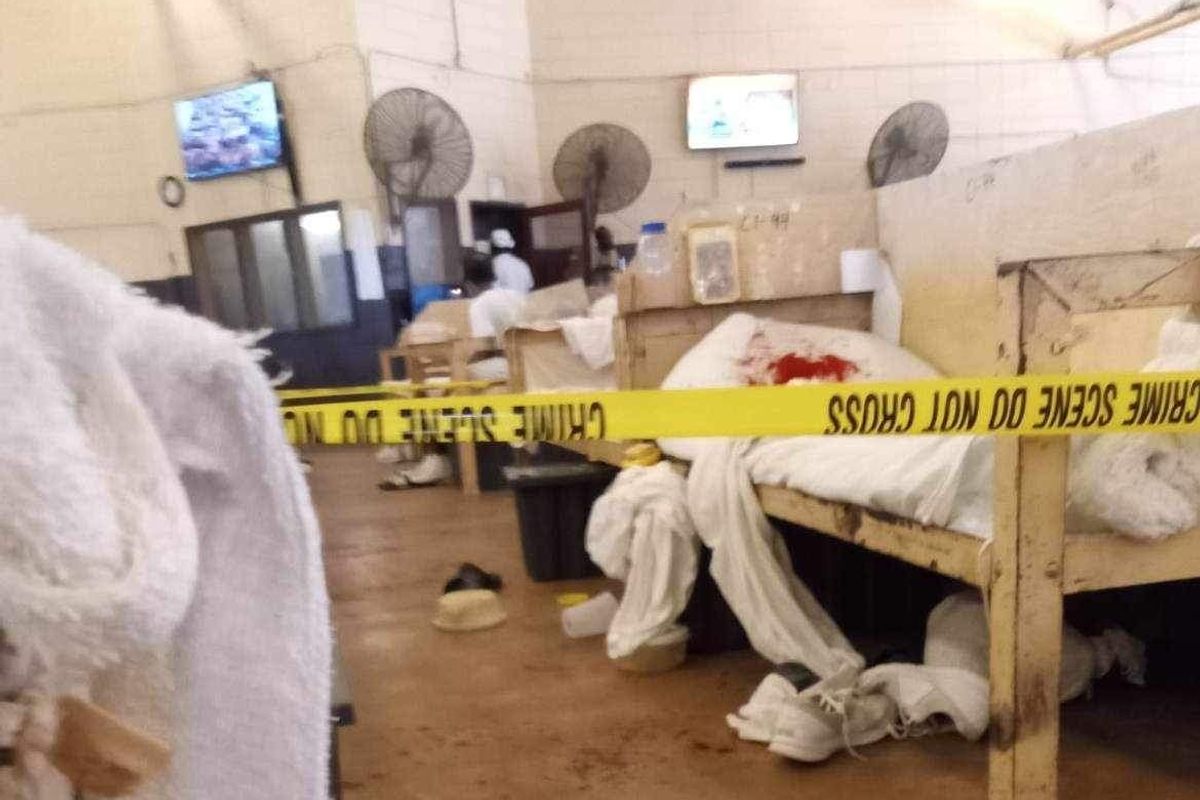 Stephone Lvon Marshall died on May 16, 2023 at Elmore Correctional Facility in Elmore, Alabama. He was killed, stabbed in the neck. Marshall's murder might have been prevented. It's unclear whether anyone will ever know since the Alabama Department of Corrections (ADOC) isn't being truthful about his death.
According to eyewitness Eddie Ward, Marshall and his aggressor engaged in four to five separate standoffs, one lasting about 30 minutes, the day before the murder. Marshall was armed with a broken mop stick and the other man held a knife. The guard on duty witnessed these conflicts and did nothing to break them up or separate them.
"If an officer had stepped in on any of these occasions, the circumstances would have been different. The outcome would have been different," Ward said.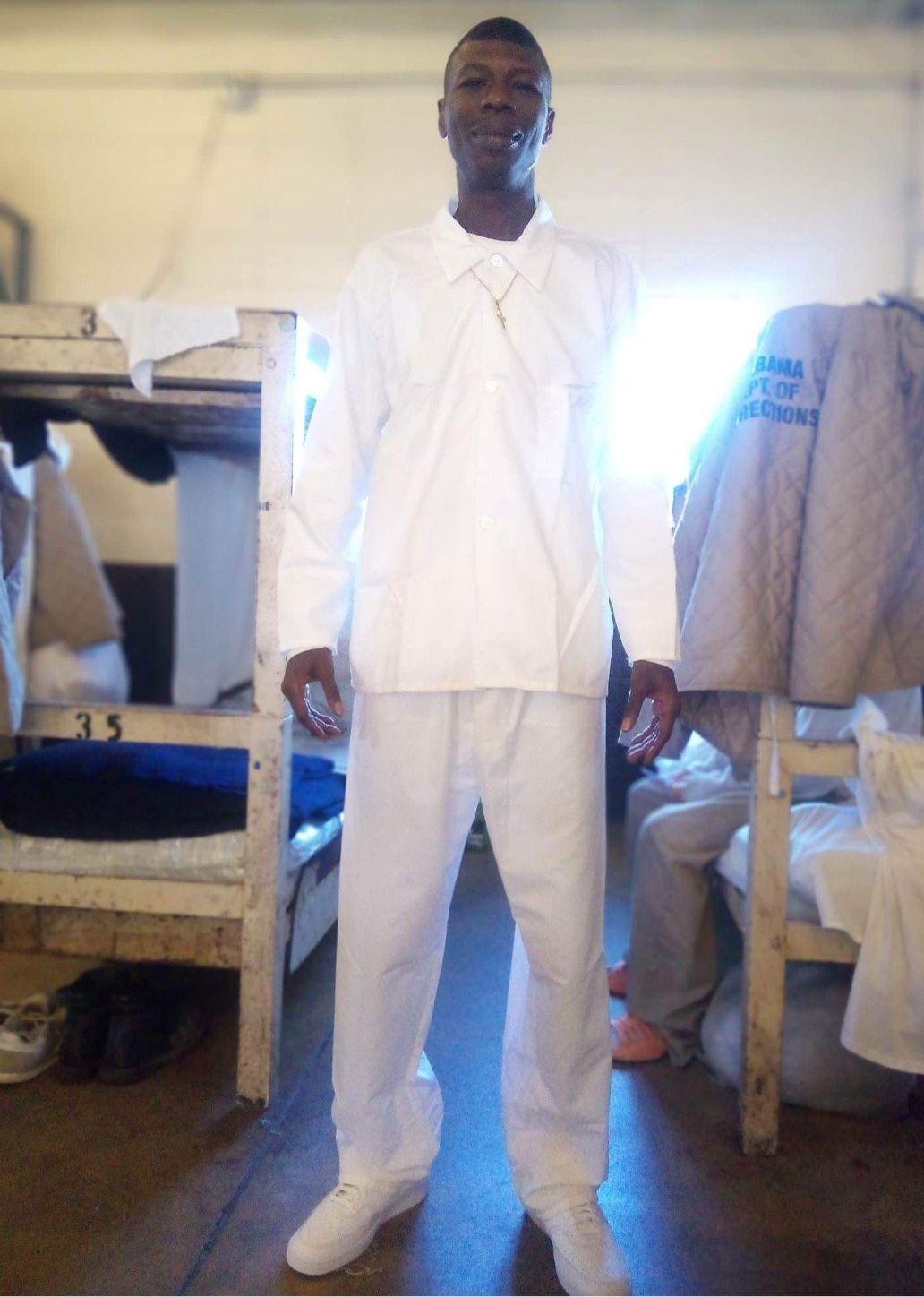 Eddie Ward
ADOC told the Montgomery Advertiser that Marshall "was found by corrections officers with injuries" and "was taken to the prison's health care unit for emergency treatment."
Those statements are not entirely true.
According to Ward, Marshall wasn't found. After Marshall was stabbed, he went to a door to try to get out of the unit to get help. But no officer was on that side of the dorm at that point. Instead, said Ward, he was chatting with a female officer on the other side of the dorm.
The men in the dorm beat on "the cube" (it's like a station with a window within a prison housing unit) until a guard came back. That officer opened the door for Marshall who stumbled out to another area, where nurses had been summoned by radio. One of the nurses fell trying to address his wounds.
Ward says there was a delay in getting Marshall substantive medical attention because keys to a transport van couldn't be found.
When questioned about the missing van keys, the Alabama Department of Corrections issued a standard reply:
"The ADOC Law Enforcement Services Division is thoroughly investigating the death of inmate Stephone Lvon Marshall. The agency cannot comment about ongoing investigations."
But the department continued:
"However, we can confirm that an officer was present in the dorm at the time of the incident and there was no issue with finding van keys."
There was in fact such an issue with keys that Marshall was loaded into a guard's personal vehicle and driven to a helicopter which took off and then landed in the same spot because Marshall had already died.
It bears pointing out that the department did, in fact, comment on an ongoing investigation by saying that there was no issue with van keys. But that official comment is suspect; Ward and other witnesses did tell investigators about the missing keyring. This evidence should appear in reports. As the investigation closes, it will be important to note what's included, if anyone ever gets to see a final report.
Moreover, in its statement, ADOC admitted that the unit was understaffed. Having one officer in C-1 Dorm at Elmore is patently inadequate, even when he's in the dorm. That building houses 198 men.
For comparison, the Department of Justice's Bureau of Justice Statistics found that the average ratio of inmates to guards in state prisons was 4.9 to 1. In 2020, the federal Bureau of Prisons considered a ratio higher than 15 to 1 to be a staffing crisis. The ratio in that dorm on May 16, was thirteen times higher than numbers that alarm federal officials.
A number of sources who are confined at Elmore have told me there's no medical office or resources at the prison, not even an infirmary. The ADOC has declined to comment on the existence of medical resources at that particular facility. Because Elmore Correctional Facility was once known as the Staton Annex, it uses the Staton Correctional Facility's medical resources which are approximately a mile down the road.
The problem is that four people have died at Elmore in 2023 alone. That's why the transport van's availability is key here. Providing medical care for anyone in Elmore requires a car or van trip.
Ward himself was stabbed on April 12, 2023. A female officer witnessed the attack and shouted "stop it!" several times but didn't use her pepper spray until Ward successfully fought off his attacker and then she sprayed both Ward and the man who cut him. He waited 20 minutes before they transported him to Jackson Hospital in Montgomery.
No word on where the car keys were that day.
Chandra Bozelko served more than six years in a maximum-security facility in Connecticut. While inside she became the first incarcerated person with a regular byline in a publication outside of the facility. Her "Prison Diaries" column ran in The New Haven Independent. Her work has earned several professional awards from the Society of Professional Journalists, the Los Angeles Press Club, The National Federation of Press Women and more.Her columns now appear regularly in The National Memo.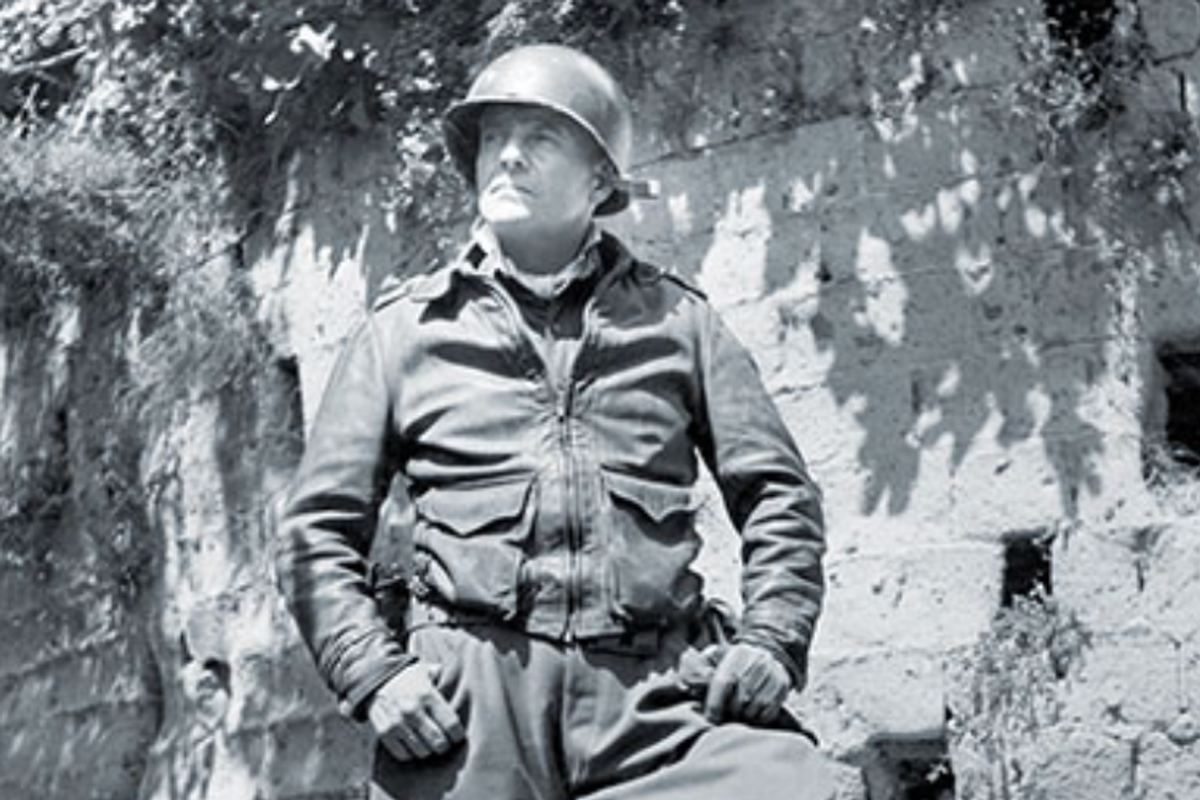 This is the way CNN commemorated Memorial Day in 2015, with a story they called, "The General Who Apologized to the Dead Soldiers on Memorial Day."
"At the Sicily-Rome American Cemetery at Nettuno, Italy, Memorial Day 1945 was an elegiac occasion. Lt. Gen. Lucian Truscott Jr., who had led the U. S. Sixth Corps through some of the heaviest fighting in Italy and now commanded the Fifth Army, gave a speech that is particularly relevant for today when the trauma of our long wars in Iraq and Afghanistan continues to haunt so many vets.
"No recording or transcript of Truscott's Memorial Day speech exists, even among his papers at the George C. Marshall Research Library in Virginia.
"In Stars and Stripes, the military's newspaper, we have only excerpts of Truscott's remarks. "All over the world our soldiers sleep beneath the crosses," Stars and Stripes reported Truscott observing. 'It is a challenge to us – all allied nations– to ensure that they do not and have not died in vain.'
"Missing from the Stars and Stripes story is what Truscott did in delivering his speech. For that account we are indebted to Bill Mauldin, best known for his World War II cartoons featuring the unshaven infantrymen, Willie and Joe. Mauldin was in the audience when Truscott spoke at Nettuno, and he never forgot the day.
"There were about twenty thousand American graves. Families hadn't started digging up the bodies and bringing them home," Mauldin recalled years later in his 1971 memoir, The Brass Ring.
'Before the stand were spectator benches, with a number of camp chairs down front for VIPs, including several members of the Senate Armed Services Committee. When Truscott spoke he turned away from the visitors and addressed himself to the corpses he had commanded here. It was the most moving gesture I ever saw. It came from a hard-boiled old man who was incapable of planned dramatics,' Mauldin wrote.
"The general's remarks were brief and extemporaneous. He apologized to the dead men for their presence here. He said everybody tells leaders it is not their fault that men get killed in war, but that every leader knows in his heart this is not altogether true.
"He said he hoped anybody here through any mistake of his would forgive him, but he realized that was asking a hell of a lot under the circumstances. . . . he would not speak about the glorious dead because he didn't see much glory in getting killed if you were in your late teens or early twenties. He promised that if in the future he ran into anybody, especially old men, who thought death in battle was glorious, he would straighten them out. He said he thought that was the least he could do."
Grandpa was a hard man. He was born in Chatfield, Texas, in 1895 and never completed the 10th grade, and at age 16 took over the teaching duties in a one-room schoolhouse in Enid, Oklahoma when the teacher died, completing the instruction of the students two years later. He enlisted in the Army and joined the Cavalry, serving at several Cavalry outposts along the borders of Texas and Arizona. He became an officer, a second lieutenant, because of his skill at playing polo. One of his commanders wanted Grandpa on his polo team, and he sent him to Officer Candidate School because only officers played polo in the Army in those days. He rose quickly to the rank of captain at Fort Bliss, Texas, because the post commander wanted Grandpa to captain his polo team in a championship match against a rival general at Fort Riley, Kansas, and you had to have the rank of captain to lead an Army polo team.
Grandpa was hand-picked by the Chief of Staff of the Army, General George C. Marshall, to go to England before the U.S. became formally involved in the war. He also sent Grandpa there to get to know the British military commanders and report back to him about their personalities, competence as leaders, and anything else he could pick up in the way of intelligence on the allies Marshall knew the U.S. Army would soon be fighting alongside. While in Great Britain, Grandpa formed and was responsible for naming the Army Rangers, and arranged with Lord Louis Mountbatten, chief of combined operations for the British Commandos, to have the Rangers trained alongside British commandos at a base in Northern Ireland. Major William O. Darby, who became famous as the commander of "Darby's Rangers," was his deputy.
Marshall gave Grandpa his first combat command, of the Sixth Infantry Regiment, at the landing of U.S. forces on the continent of Africa at Port Lyautey, French Morocco. He went on from there to command the Third Infantry Division in the battles for Sicily and Southern Italy. He took over command of the Sixth Corps at Anzio, and was in command when the U.S. Army took Rome. He took command of the Seventh Army and led the invasion of Southwest France with the landing in Marseille and took that army all the way to Strasbourg before being sent back to Italy to command the Fifth Army. He took the surrender of the Nazi army commanded by Field Marshal Albert Kesselring on April 29, 1945, the first unconditional surrender of enemy forces in World War II.
At the end of war, after several antisemitic outbursts by General George S. Patton were reported in U.S. newspapers, General Dwight D. Eisenhower relieved Patton of command of the Third Army and turned that command over to Grandpa, appointing him Military Governor of Bavaria and putting him in charge of all the displaced person camps in southern Germany. Under Patton, Jewish survivors of the Holocaust were being kept in camps in conditions not much better than they suffered in the Nazi concentration camps. Grandpa moved the Jewish survivors into housing at German army posts he seized, and arranged for a dozen Army rabbis to be sent to Bavaria to serve the survivors. Grandpa ordered that the first Passover seder in over a decade be held in Munich in April of 1946, and ordered that A Survivors Haggadah be printed by the Third Army for the occasion. This is its cover: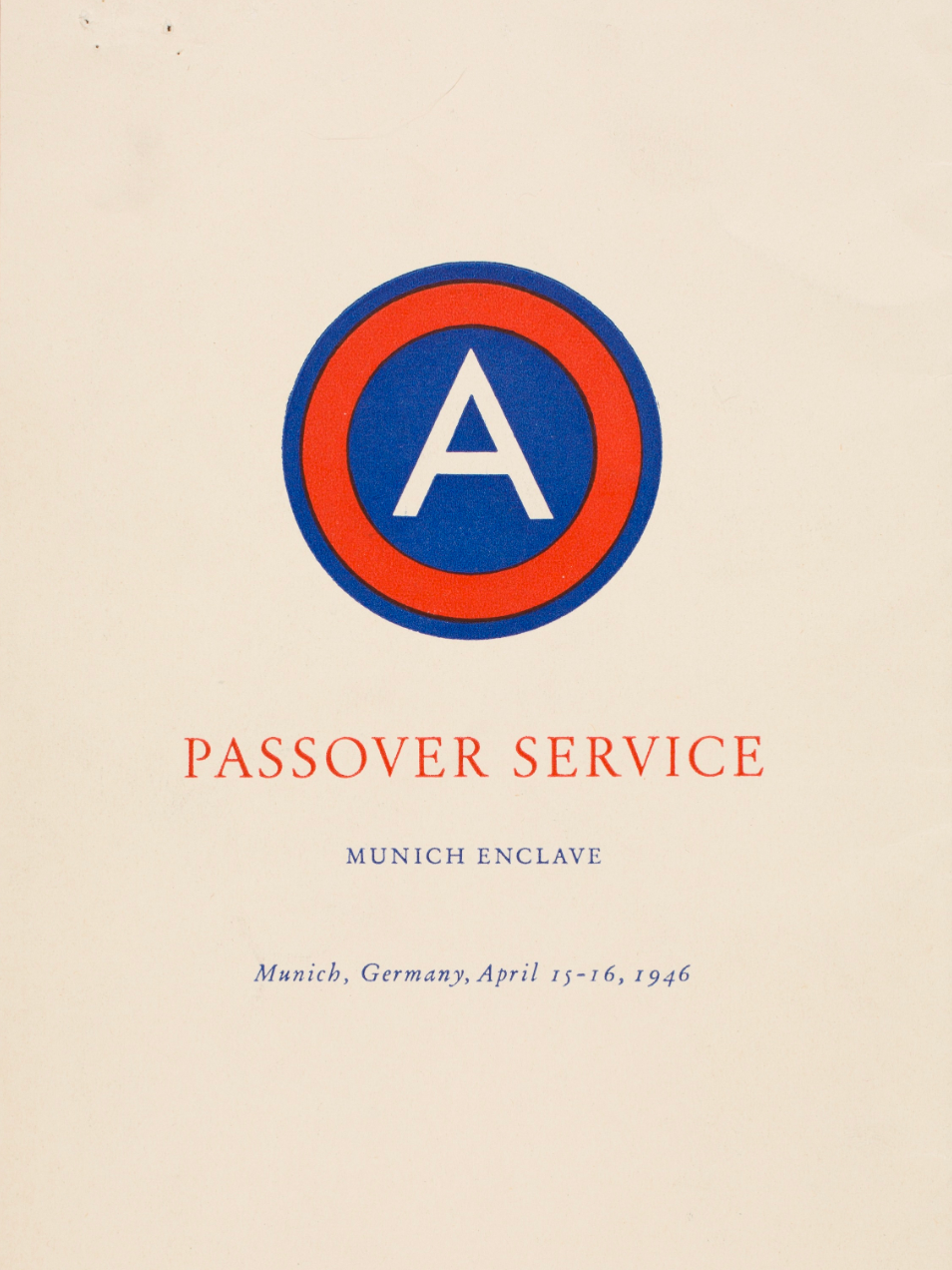 This is the first page of The Survivors Haggadah, another kind of memorial to the dead of another kind of war that was waged by the Nazis against Jews before and during World War II: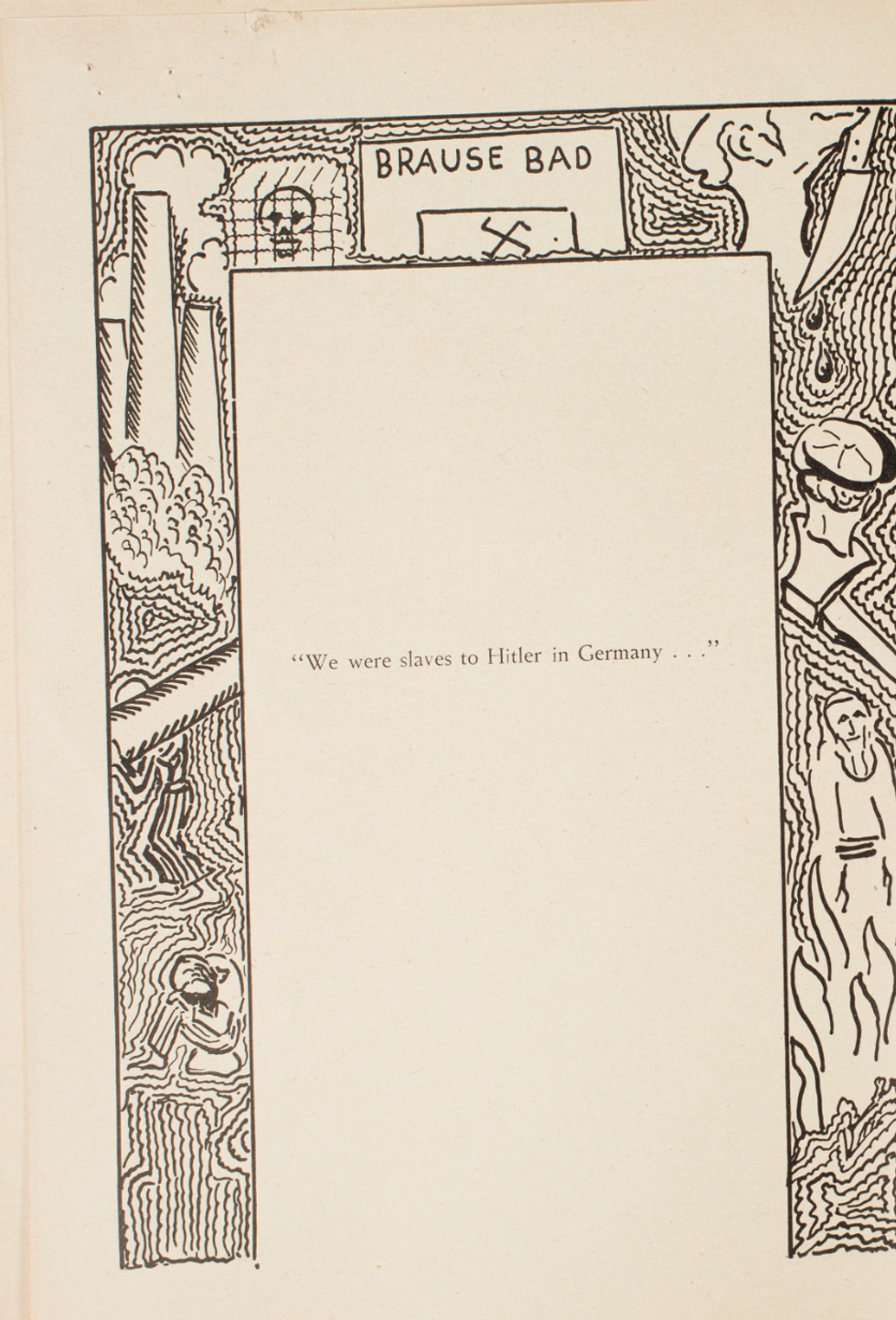 The Survivors Haggadah was illustrated by woodcuts made by a survivor of the Dachau concentration camp outside of Munich. As commander of the Third Army, Grandpa held the war crimes trails in Munich for the guards and commanders of Dachau and executed many of them.

I knew Grandpa growing up as a boy and spent several summers with him and Grandma, Sara Randolph Truscott, at their home in Northern Virginia. I don't recall seeing Grandpa smile much when I was a boy. The war, and what he did as a commander of U.S. soldiers, and what he saw during and after the war, left him a broken man. The only time he ever said anything about the war was to my father on the night before he shipped out to serve in the Korean War. They were standing at night after supper along a fence behind a farmhouse Grandpa had bought for his retirement in Loudon County, Virginia. Dad asked Grandpa what advice he could give him before he went to war. Dad told me it was the only time in his life he ever saw his father cry. Dad said that Grandpa began sobbing so hard, he had to lean with his arms over the fence in order to remain standing. Every Memorial Day, I remember his words to my father that night: "The bodies, the bodies, all those dead boys, the bodies…"
Lucian K. Truscott IV, a graduate of West Point, has had a 50-year career as a journalist, novelist, and screenwriter. He has covered Watergate, the Stonewall riots, and wars in Lebanon, Iraq, and Afghanistan. He is also the author of five bestselling novels. You can subscribe to his daily columns at luciantruscott.substack.com and follow him on Twitter @LucianKTruscott and on Facebook at Lucian K. Truscott IV.
Please consider subscribing to Lucian Truscott Newsletter, from which this is reprinted with permission.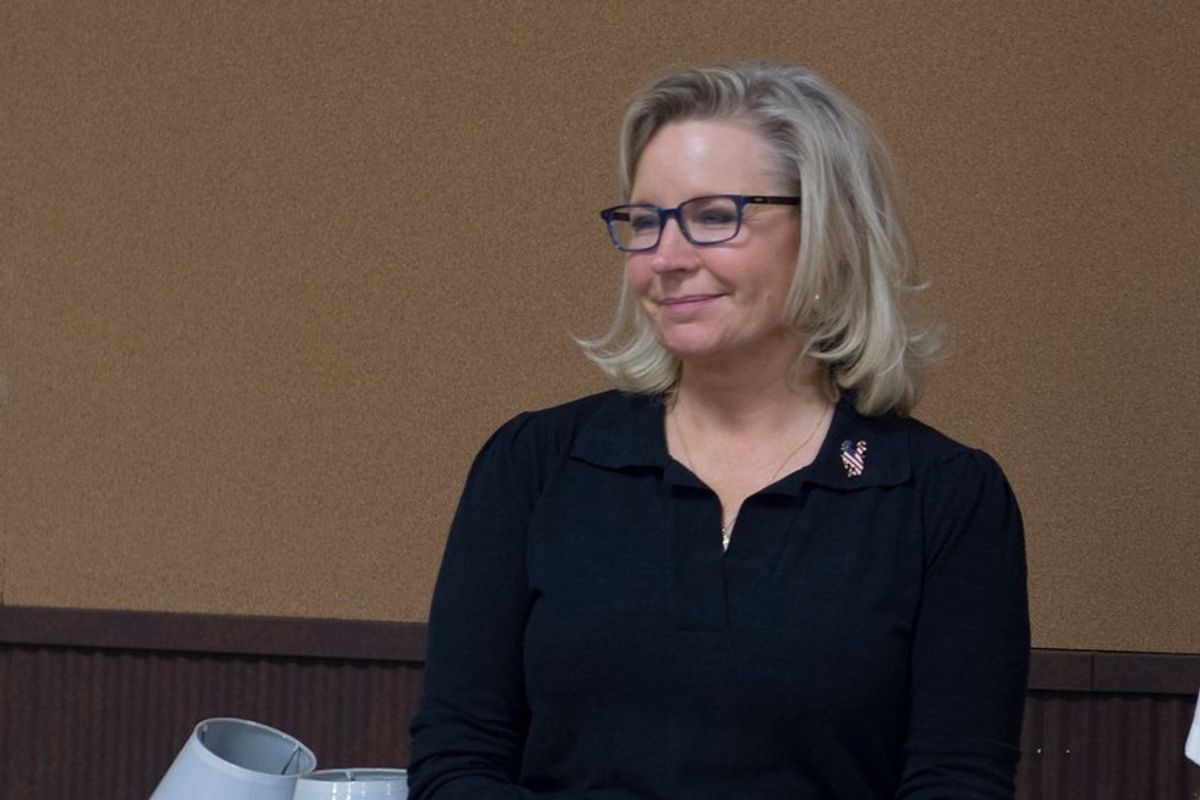 Former Rep. Liz Cheney (R-WY) made a point Sunday to be transparent with graduates of her alma mater, Colorado College, Politicoreports.
As the school's 2023 commencement speaker, the daughter of former Vice President Dick Cheney shared details of her experience standing up to former President Donald Trump following the January 6 insurrection.
Cheney told the graduates, "After the 2020 election and the attack of January 6th, my fellow Republicans wanted me to lie. They wanted me to say the 2020 election was stolen, the attack of January 6th wasn't a big deal, and Donald Trump wasn't dangerous. I had to choose between lying and losing my position in House leadership."
The former GOP lawmaker continued, "No party, no nation, no people can defend and perpetuate a constitutional republic if they accept leaders who have gone to war with the rule of law, with the democratic process, with the peaceful transfer of power, with the Constitution itself."
Cheney emphasized, "This country needs more of you in office. You may have noticed that men are pretty much running things these days, and it's not really going all that well," emphasizing, "You can change that."

Additionally, Cheney highlighted the fact that GOP lawyer Cleta Mitchell recently "urged fellow GOP members to join together in an effort to 'limit voting on college campuses, same-day voter registration and automatic mailing of ballots to registered voters.'"
Cheney said, "Cleta Mitchell, a political operative and an election denier, told a gathering of Republicans recently that it's crucially important that they make sure that college students don't vote. Those who are trying to unravel the foundations of our republic, who are threatening the rule of law and the sanctity of elections know they cannot succeed if you vote. So, Class of 2023, get out and vote."
Reprinted with permission from Alternet.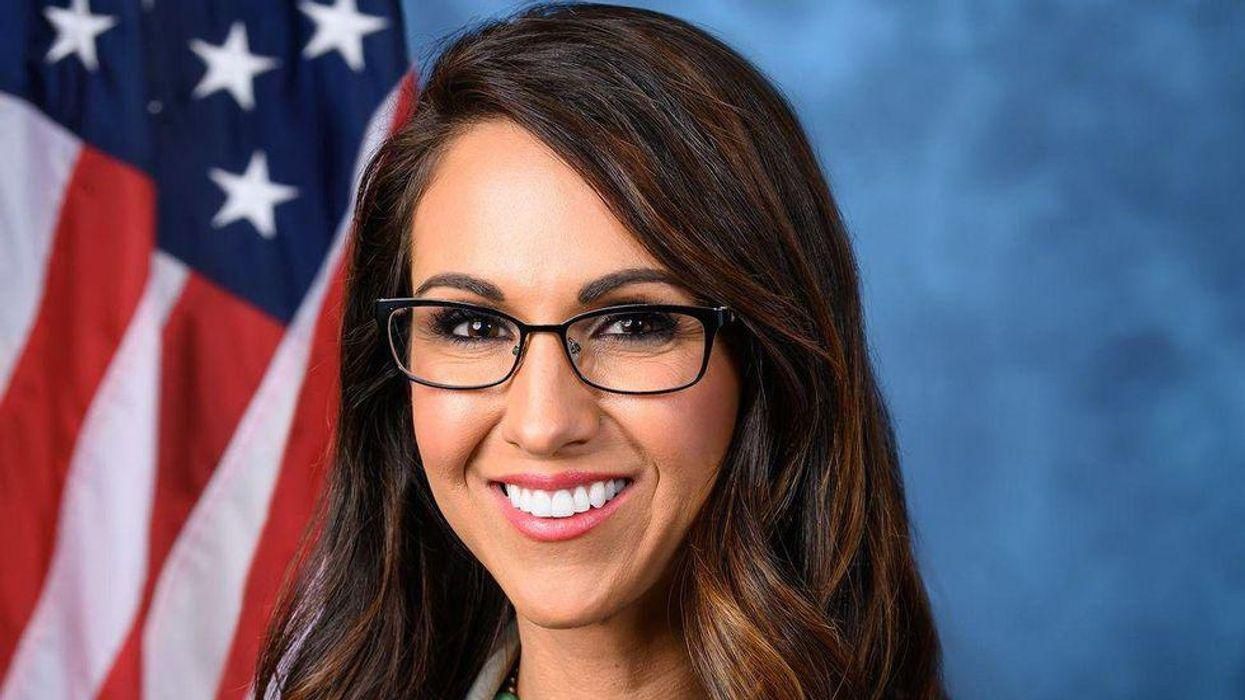 Rep. Lauren Boebert (R-CO) praised a town hall event where expletives were shouted at Rep. Alexandria Ocasio-Cortez (D-NY).
At an event in New York last week, Ocasio-Cortez was confronted by an angry man waving American flags.
"Where are you on the migrant issue?" the man said as he tried to rush the stage. "You're a piece of s--t!"
"OK," Ocasio-Cortez replied.
On Sunday, Boebert tweeted a link to the confrontation.
"It's nice to see that some sanity still lives on in New York's 14th District," Boebert wrote. "In case you've yet to see Sandy get absolutely destroyed by her own constituents, just take a look."
\u201cIt\u2019s nice to see that some sanity still lives on in New York\u2019s 14th District.\n\nIn case you\u2019ve yet to see Sandy get absolutely destroyed by her own constituents, just take a look.\n\nhttps://t.co/SzQVtZvVDS\u201d

— Lauren Boebert (@Lauren Boebert) 1685289802
Reprinted with permission from Alternet.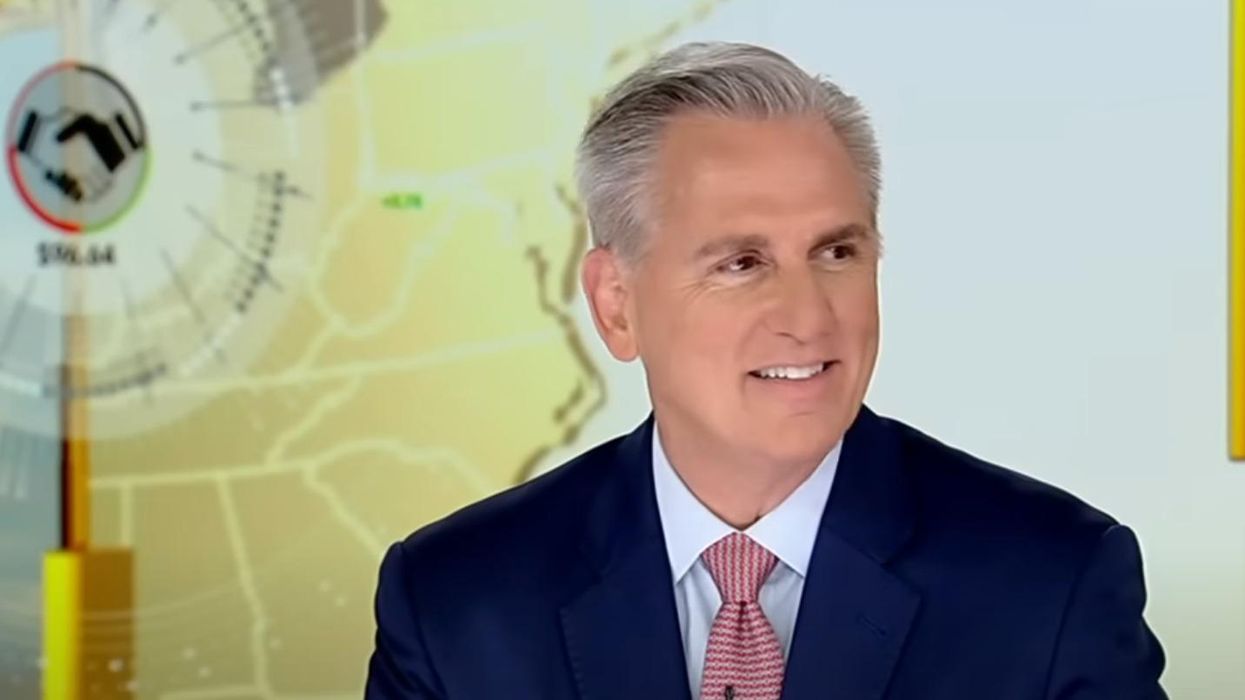 "He's got dementia," claims radio host Joe Rogan about President Joe Biden.
Donald Trump joined in the attacks, crafting a whole new conspiracy theory: "Joe Biden's second bout of Covid, sometimes referred to as the China Virus, was sadly misdiagnosed by his doctors. He instead has Dementia, but is happily recovering well," Trump wrote. "Joe is thinking of moving, part time, to one of those beautiful Wisconsin Nursing Homes, where almost 100% of the residents miraculously, and for the first time in history, had the strength and energy to vote — even if those votes were cast illegally."
For years, Trump called Biden "sleepy Joe."
Trump aide Stephen Miller said Biden should be in "assisted living" and "is not cognitively present."
But it seems Speaker Kevin McCarthy (R-CA) isn't on message.
Asked about Biden, McCarthy said: "I thought his team was very professional, very smart, very tough, at the same time, so...." The fact that McCarthy said "team" threw reporters off. They asked again, specifically about Biden. "What I was referring to was the president. I was talking about President Biden, yes."
Listening to a few Biden speeches, namely his big Warsaw speech in February 2023, Desert News columnist Jacob Hess, said that there's evidence of Biden's stutter and some slurred words. Folks are forgetting Biden's decades of gaffes. It became an ongoing joke during Barack Obama's administration, where Biden would tell a crowd "The problem isn't I mean what I say, it's that sometimes I say what I mean." It's a joke about politicians holding back their thoughts or being calculated. Biden, Hess explained, could never be that guy.
"Often catches himself and turns it into a joke, like when he said'saloon' instead of salon, or offered $100K for citizens to get vaccinated. You might have also missed how the president handled hecklers with notable grace and patience at the recent State of the Union," Hess said.

See the McCarthy comments in the video below or at the link here.
Reprinted with permission from Alternet.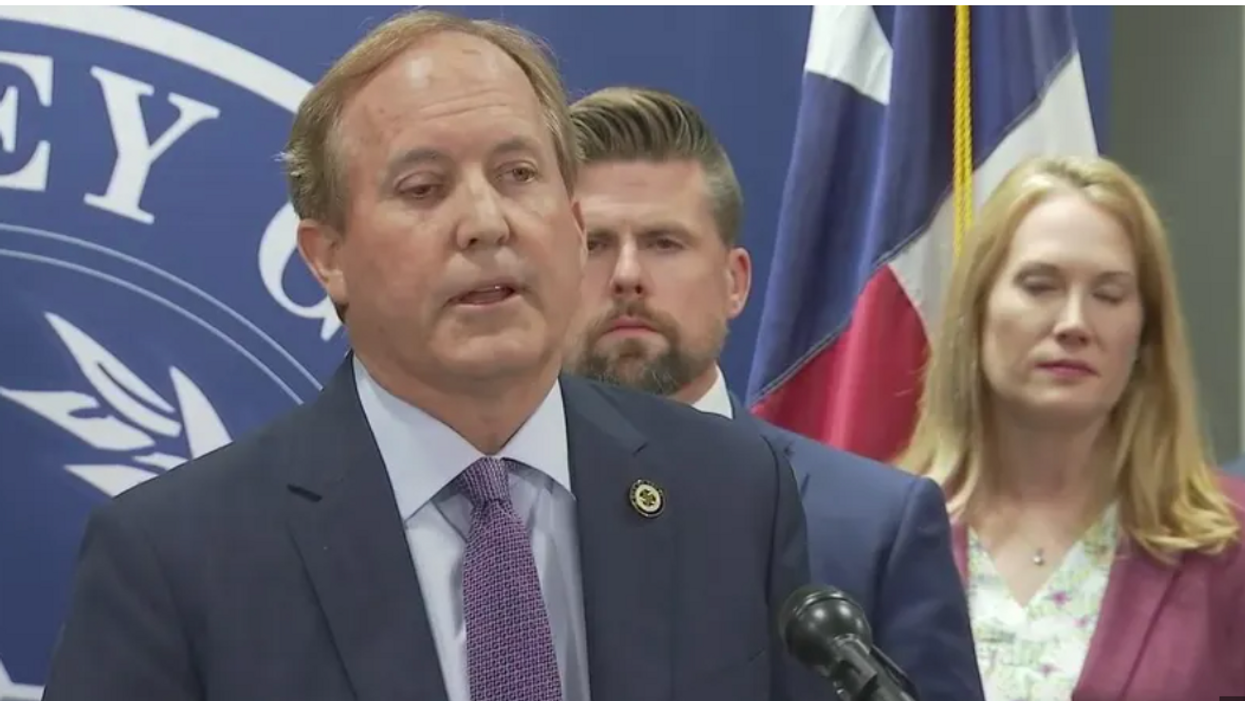 Suspended Texas Attorney General Ken Paxton, impeached by the Texas House yesterday and currently awaiting trial in the Senate, has been awaiting trial on another charge for felony securities fraud since 2015. Paxton, who was elected as Attorney General in 2014, was charged the following year with conning people into investing in a technology company called Severgy without telling them that he had an interest in the company and would profit from their investments.
The charges allege that while Paxton was serving in the Texas House of Representatives in 2011, he sold $840,000 worth of stock in the company to a Florida businessman and a fellow state representative with whom he roomed while the two men served in the House in Austin. In return, Paxton received 100,000 shares in the technology company. It wasn't a small amount of money, and the complainants in the case were upstanding members of their communities.
So, it wasn't a case like the hundreds that would doubtlessly churn through the justice system over the eight years Paxton has been able to keep his felony charges bouncing around from court to court, county to county. You know the kind of cases I'm talking about – kids charged with stealing beer from a 7-11, or adults charged with holding up a 7-11 with a firearm; or the thousands of multiple-offender felony DWI's that would send the perpetrators to jail during the time Paxton was under indictment.
Of course, none of those charged in 7-11 robberies or with felony DWI's who ended up in jail were former members of the Texas legislature or the state Attorney General like Paxton was. Which is the point. There were two systems of justice in operation in Texas between 2015 and 2023: one for the ordinary citizens of the state and one for Ken Paxton, and I'll give you one guess which justice system produced trials and convictions and jail time.
The Texas Tribune has done an excellent job over the years explaining how the Ken Paxton system of justice worked. In a 2019 story, the Tribune spent more than 15 paragraphs describing the steps the Paxton felony case went through during just the first four years of the delays Paxton and his lawyers engineered to keep the Attorney General out of court as a defendant, and Paxton himself in office.
According to the Tribune, in August of 2015, Paxton was indicted by a grand jury in Collin County. Because the case involves the state Attorney General, special prosecutors are assigned to handle the charges.
In December of that year, a Paxton friend and campaign donor sued Collin County alleging that the special prosecutors were being overpaid. That case began to make its way through the courts.
In the early months of 2016, Paxton was barred by the Texas Ethics Commission – yes, they have one of those in the Lone Star State – from raising money out of state and from using campaign funds for his defense.
Also in 2016, the Securities and Exchange Commission got involved, filing civil charges against Paxton in federal court charging him with misleading investors. Paxton immediately tried to get those charges dismissed, but by mid-summer, he lost the case in an appeals court.
Paxton also filed a motion to get the felony charges dismissed. He was unsuccessful. But he was successful in raising money for his defense, more than $300,000 from political donors and "family friends," according to financial statements seen by the Tribune.
After SEC federal civil charges were dismissed in early 2017, somehow the Collin County Commissioners voted to stop paying the special prosecutors in the Paxton case. Withholding money from the prosecution became a refrain. Later that year, a Dallas appeals court upheld not paying the special prosecutors. By the fall of 2017, not one, not two, but three delays were granted in the Paxton case, the latest one because the special prosecutors told a judge they couldn't go to court and work for free.
The state court case filed by the special prosecutors to get paid went to the Texas Court of Criminal Appeals, effectively speaking, the state's supreme court, and the Paxton trial was put off until that court could decide the special prosecutor's case on payments.
By then it was 2018, and with all the felony charges still standing, Paxton won reelection, because Texas.
Meanwhile, the state's highest court had ruled against the special prosecutors, who had now not been paid for more than a year. The prosecutors asked the high court to reconsider. The court took nearly a year to make up their minds to deny the prosecutor's motion.
In 2019 Paxton filed a motion in Dallas to have the case moved back to his home county, Collin, where the county commissioners first refused to pay the special prosecutors the county had appointed to oversee the Paxton prosecution. The special prosecutors had now gone two years without being paid.
By 2020, in a complicated bouncing-around of judges and counties, the Paxton case was first sent back to Collin County, then a Houston judge sent it back to Harris County, but the case got put on hold because the judge, a guy named Robert Johnson, had to recuse himself because Paxton's own office of the Attorney General was representing him and twenty other Harris County judges in a case against the county's bail policies.
Later in 2020, seven employees in the office of the Attorney General reported Paxton to the FBI for conspiring with his pal, Nate Paul, to use state funds and other materials to assist Paul in real estate deals. They became whistleblowers and were fired by Paxton, setting the stage for the charges that got Paxton impeached.
But…but…but…it was only 2020! It couldn't be over yet! In 2020 and 2021, the U.S. Attorney in West Texas where Paxton was charged and where the whistleblower charges were being investigated is an appointee of Donald Trump and William Barr, the former puppet-Attorney General. The Biden U.S. Attorney wasn't confirmed until December of 2022, and then…wait for it…NBC News reported that the West Texas U.S. Attorney's office recused itself, and the Department of Justice in Washington, D.C. took over the case.
So the case went from Paxton's home county, to Houston, to Dallas, back to Paxton's home county, to the feds in West Texas to the Justice Department in Washington D.C.
Did it end there? It's Texas, right? Of course not. The very next month, Paxton attempted to "settle" with the whistleblowers from his own office, offering them $3 million to drop their case. Then Paxton tried to get the state of Texas to pick up the bill for the entire mess he had created. He wanted the Texas taxpayers to pay off the people accusing him of running a corrupt office with a hostile environment.
Suddenly, the Texas House committee on investigations convened itself and announced this past week that it had heard "stunning testimony" about "a years long pattern of misconduct" by Paxton and voted to recommend that Paxton be impeached.
On Saturday, the Texas House took up the recommendation and voted overwhelmingly to impeach Paxton.
And so eight years and many judges and several unpaid special prosecutors later, Paxton will stand in the dock of the Texas Senate and face trial for impeachment on no less than 20 charges, many of which he had been moving around the state like chips on a checkerboard, jumping over one legal hurdle after another until even his own party, the Texas Republican Party, got tired of getting beat.
Last week, Paxton is said to have personally called members of the Texas House and threatened them with political retribution if they voted against him, and his friend Donald Trump joined him, calling those who are attempting to oust his favorite state Attorney General "liberals."
Paxton's own wife Angela is a state Senator and will sit in judgement at the trial of her husband. Paxton may be having second thoughts about the day he convinced his pal Nate Paul to give his mistress a job while Paul did the renovations on the house Paxton and his state Senator wife lived in.
Or maybe not. It's Texas, folks, where anything goes unless you hold up a 7-11. In that case, you will go to court where the prosecutors will be paid to prosecute you, and you will go to jail.
Lucian K. Truscott IV, a graduate of West Point, has had a 50-year career as a journalist, novelist, and screenwriter. He has covered Watergate, the Stonewall riots, and wars in Lebanon, Iraq, and Afghanistan. He is also the author of five bestselling novels. You can subscribe to his daily columns at luciantruscott.substack.com and follow him on Twitter @LucianKTruscott and on Facebook at Lucian K. Truscott IV.
Please consider subscribing to Lucian Truscott Newsletter, from which this is reprinted with permission.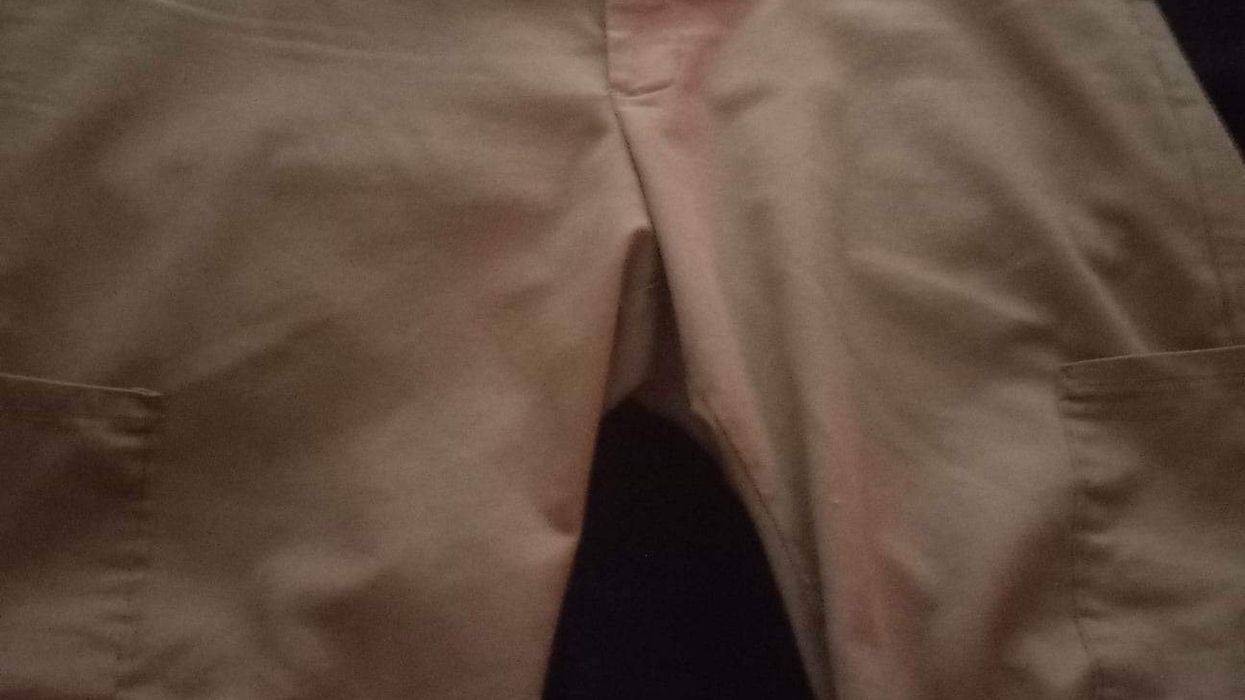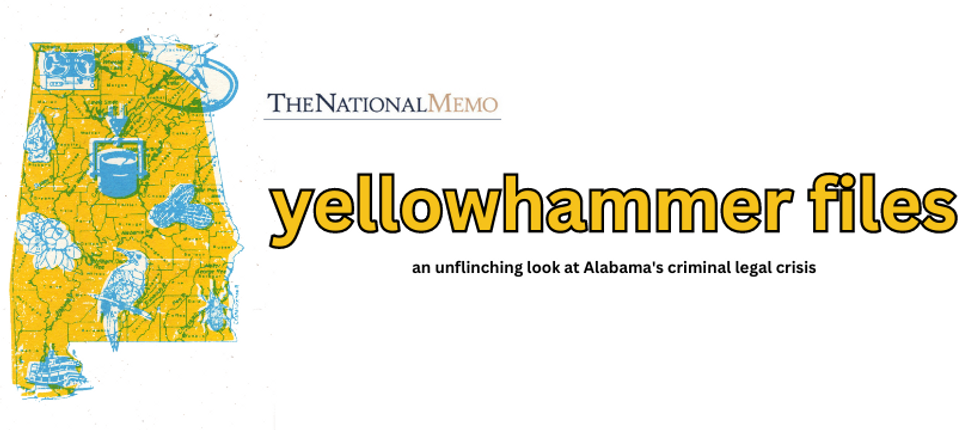 William Phelps has done everything right since he was incarcerated in 2019. He's a GED tutor. He's taught multiple classes in prison like personal finance.
"It's not like I've just been in here marking time, doing drugs. That's not my scene and I don't do that," Phelps said.

Trouble arose when Phelps wore khaki shorts. He's allowed to wear them. Indeed they're part of the uniform. But these shorts were from the outside. "Free world clothing" is what authorities called it, shorts that any one else might have worn to garden or conduct a Zoom meeting. Even though they matched what the state of Alabama issues to men, these weren't actually issued to him by the state.
Other men around him wear black shorts, blue shorts, clothing that doesn't even attempt to match the state uniform. Still, an officer issued him a disciplinary report for low-level contraband for the shorts and some medication that belonged to him — Vitamin B — that someone had pulled the name label from.
On May 4, 2023, a hearing officer revoked 1080 days or 2.95 years of Phelps' earned good time — Alabama calls it Correctional Incentive Time but it's time earned off his sentence for good behavior — for the shorts.
"It's like receiving an entirely new prison sentence," Phelps said.
Phelps' disciplinary dustup happened during a sea change in how Alabama handles misconduct. Last year, a man named Austin Hall allegedly shot and killed a Bibb County, Alabama sheriff's deputy after he had been released from custody. Because Alabama Department of Corrections (ADOC) had failed to claw back 2000 days of Hall's earned good time for an escape attempt from a work release program, state officials blamed the incentive program for Hall's alleged mistake — Alabama Attorney General Steve Marshall issued a statement assailing Alabama's good time law, rather than the state's own failure to rehabilitate him.
After that, changes came to the disciplinary system within Alabama prisons. First, just this January, ADOC updated its disciplinary Administrative Regulation for the first time in 20 years. To give the new rules special force and gild the disciplinary lily, Gov. Kay Ivey signed Executive Order 725 for the regulations' implementation.
Then good time policies underwent legislative change.
Good time isn't for everyone in Alabama's prisons. In fact, it's for very few — about 10 percent of Alabama's approximately 26,000 confined souls are eligible — and even then the state is pretty picky about who gets it. The state divides eligible inmates into three classes. At one time, Class I inmates (the lowest risk calculation) could reduce their sentences by 75 days for every 30 days served. Class II inmates could shave 40 days for 30 days served and, for Class III, 20 days for 30 days served.
Now, because of the new law, prisoners earn less than half of what they would have before this year. For Phelps to earn back the 1080 days, it will take him 36 months rather than 14 months.
According to the updated regulation, it's clear that Phelps could have lost "at least one day" of his good time for the disciplinary report; his maximum penalty should have been 30 days lost. The rules are also explicit about losing 1080 days; it's reserved for high level violations and Phelps wasn't even accused of that level of misconduct. And, because of the new law, now it's even harder for Phelps to earn that back.
It looks like a case of picayune punitivity but lasting consequences await people who aren't even incarcerated.
"You're literally dramatically changing not only my life but my family's life. I have a family, a daughter [who's] waiting on me." Phelps could be home as soon as November if his good time were restored.
Phelps' story is important for two reasons. First, the way prison discipline is wielded impacts the length of someone's sentence; that means the gross mismanagement of these facilities becomes a de facto adjudication of criminal penalties. A system as dysfunctional as the ADOC should have no say over how long a person remains in custody.
Not only can a person lose years of earned good time for a disciplinary action, but these reports affect parole decisions, which rarely go in favor of the person seeking release in Alabama regardless of their rehabilitative status. Besides, discipline is applied unevenly and illegally anyway. Considering that between 40-50 percent of all disciplinary reports are bogus, according to Daniel E. Manville, Clinical Professor of Law and Director of the Civil Rights Clinic at Michigan State University College of Law, it's a scene fraught with unfairness.
Second, Phelps' shorts expose the tension between policy and action in the Yellowhammer State. Lawmaking is little more than performance; it doesn't even matter what the law requires because officials ignore it. Even if a member of the Alabama legislature supports the new good time law, it and the Administrative Regulation are clear that Phelps should have lost no more than 30 days for this minor — some might even say inconsequential — offense. Instead an official imposed 36 times that penalty.
And ADOC is doing nothing to bring this penalty into line with its own regulation and has declined to comment on the record.
The way officials are unbound by law and rules in the Yellowhammer State isn't limited to what people are wearing. I'm hearing reports of illegal detention (holding people past their end of sentence date), imposing sentences that aren't authorized by law, wrongly convicting defendants under an incorrect statute.
The law is designed to be a shield not a sword, but that's exactly how Alabama officials use it. They swing the blade however they want, indifferent to where and how it lands.
Chandra Bozelko served more than six years in a maximum-security facility in Connecticut. While inside she became the first incarcerated person with a regular byline in a publication outside of the facility. Her "Prison Diaries" column ran in The New Haven Independent. Her work has earned several professional awards from the Society of Professional Journalists, the Los Angeles Press Club, The National Federation of Press Women and more.Her columns now appear regularly in The National Memo.