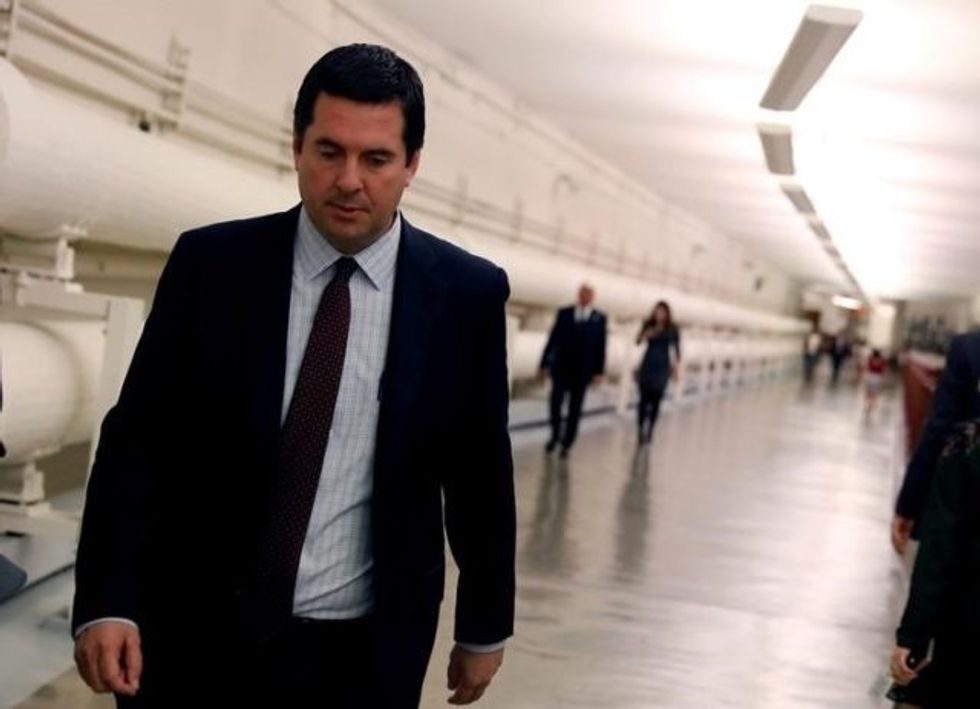 Nobody on Capitol Hill rants more fervently about imaginary conspiracies than Rep. Devin Nunes, R-Calif., ranking member of the House Intelligence Committee and devoted congressional promoter of Trumpian nonsense. For years, Nunes has regaled America with ideological tall tales, from former President Barack Obama's mythical "spying" on Donald Trump to Ukraine's fictitious hacking of the Democratic Party.
It's all "fake news," designed to distract voters from the real impeachable offenses of this president and his minions. And much of it emanates from the same Kremlin entities that actually intervene in our domestic politics.
But the fact that Nunes — and the entire Republican leadership — fabricates one phony conspiracy after another shouldn't be taken to mean that conspiracies never occur. Indeed, the House Intelligence Committee's impeachment report outlines a nasty plot that continues in real time and appears to implicate the daffy Nunes himself. It is the same scheme to abuse presidential power, hijack congressional-appropriated military aid, extort the government of Ukraine and frame Democrat Joe Biden that has led to the impeachment of President Trump.
Although the Trump White House stonewalled the impeachment inquiry by refusing to provide most documents requested by the Intelligence Committee, AT&T turned over phone records of a certain Lev Parnas. Famously featured in a twin mug shot with his former buddy Igor Fruman, who was indicted along with him for laundering Russian money into U.S. elections, Parnas is also a "business associate" of Trump attorney Rudolph Giuliani. He served as an intermediary and translator for Giuliani, which brought him into the center of the president's Ukraine scheme.
What the Parnas phone records show is a flurry of calls, back when the scheme got underway last spring, involving him and various other participants including Giuliani, Republican lawyer Victoria Toensing, right-wing columnist John Solomon, somebody in the White House Office of Management and Budget and, of course, Nunes. (The records also show at least one call during that same brief period between Giuliani and a White House number identified as "-1," widely presumed to be Trump.)
What did this little group discuss in those phone conversations — and the meetings they convened regularly at the Trump International Hotel, just steps away from the White House? That remains to be revealed — perhaps in testimony by Parnas, who has agreed to testify before the House Intelligence Committee and may yet seek a plea deal from prosecutors in the Southern District of New York. At the time those calls occurred, they were seeking to oust Marie Yovanovitch, then the U.S. ambassador to Ukraine, whose professionalism and honesty posed an obstacle to their plans.
While the investigation to date has uncovered sufficient evidence to prove Trump's abuses of power, there is much more to discover. It is now clear, for instance, that Giuliani has approached powerful allies of the Kremlin in Ukraine to help him smear Biden. Perhaps the most notable of those figures is billionaire energy monopolist Dimitry Firtash, a Putin ally currently wanted in the United States on racketeering charges.
As a former U.S. attorney with a reputation for battling organized crime, Giuliani may wonder how he wound up in an alliance with a crooked fugitive like Firtash, whose FBI file identifies him as a close associate of top Russian Mafia bosses. Evidently, Giuliani set Firtash up with Toensing and her spouse, Joseph diGenova, who have since met with Attorney General William Barr to plead the Ukrainian oligarch's case. There appears to be no figure too crooked for Giuliani to enlist in this mission, including the discredited former Ukrainian prosecutors Viktor Shokin and Yuri Lutsenko.
None of these embarrassing revelations, nor the impeachment of his client, have discouraged Giuliani at all. Even as the House Judiciary Committee moves to draft articles of impeachment, the president's lawyer is back in Ukraine — where he met with the son of that unfortunate country's former secret police chief, another Kremlin stooge. He is reportedly preparing a "documentary" that will vindicate Trump.
Now Nunes is complaining that the exposure of his phone conversations with Parnas somehow violated his "civil rights." If there is any justice in Congress, he should be looking forward to an ethics investigation shortly.
Like Trump himself, all of these dubious characters insist that they are determined to root out corruption and restore integrity. Why don't you believe them?
To find out more about Joe Conason and read features by other Creators Syndicate writers and cartoonists, visit the Creators Syndicate website at www.creators.com.