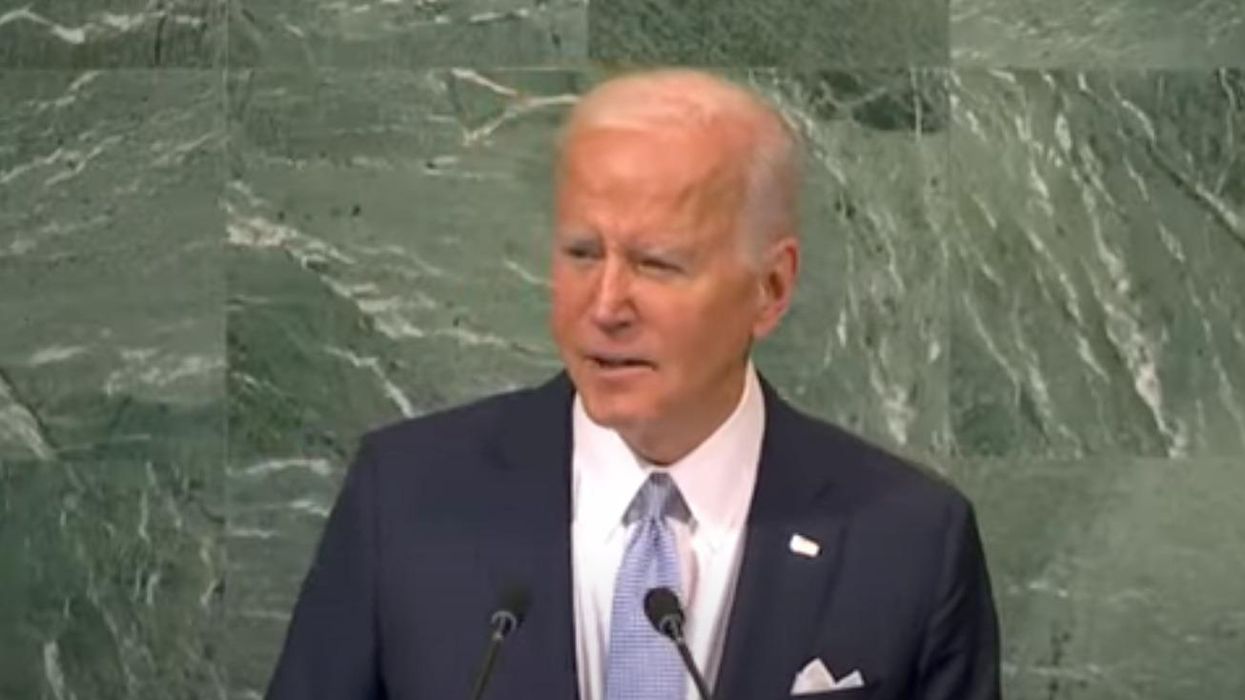 Youtube Screenshot
Right-wing media are expressing outrage that President Joe Biden mentioned climate change during his September 21 speech at the United Nations General Assembly.
Biden's nearly-30 minute speech, which focused mainly on the Russian invasion of Ukraine, also included calls for global cooperation on important issues including food insecurity, human rights, and climate change. The climate part of his speech lasted roughly 3 minutes and included celebrating the passage of the Inflation Reduction Act. He also touched on recent climate disasters and the need for global emissions reductions, as well as promising billions of dollars in international climate finance.
Despite the relatively modest amount of time he spent on climate change, many in right-wing media were outraged that he even mentioned climate at all. Their comments included climate denial and falsehoods about the importance of climate change to the global community.
Right-wing media falsely claimed that the global population doesn't care about climate change
Climate change is a serious concern around the world. For example, a January 2021 survey found that a majority of people around the globe want greater climate action. And a September 2021 Pew poll found that the world's population increasingly views climate change as a personal threat. In August of this year, another Pew survey found that a "median of 75% across 19 countries in North America, Europe and the Asia-Pacific region label global climate change as a major threat."
Additionally, people from the global south — those who have contributed the least to the climate crisis but disproportionately suffer its effects — are often some of the loudest voices for climate action. Around the same time that Biden gave his UN speech, indigenous peoples from around the world were protesting in New York for climate justice. The president of Kenya made climate change a key part of his UN speech, and the prime minister of Pakistan, a country that has seen over 30 million displaced due to climate-fueled monsoon flooding, thanked Biden for "highlighting the plight of the flood victims."
Climate change and poverty, meanwhile, are inextricably linked, as are climate change and global hunger. These facts, however, were still not enough to convince right-wing commentators in the U.S. that climate change is a significant threat to the global population.
For example, on the September 22 edition of Newsmax's Wake Up America, host Rob Finnerty stated that "there's 193 sovereign nations in that room right there. … And nobody cared about that part of the speech. They needed a lot more from the American president, with everything going on in the world right now, and they get climate change."
On Fox News' Fox & Friends, co-host Steve Doocy insinuated that people living in poverty don't care about climate change, stating, "Suddenly he's talking about climate change. And, you know, there are 675 million people living in poverty around the world. And for the president of the United States to be talking about climate change rather than trying to figure out a way to feed them."
Doocy also entirely missed the fact that Biden did discuss food in his speech; he mentioned the term "food insecurity" 6 times, while also mentioning "feeding the world."
The editorial board of the right-wing New York Postalso claimed that the world's poor don't care about climate change. They referred to climate change as part of a "laundry list of left-liberal shout-outs," before writing that the speech focused "on climate change, which Biden claimed lists first among the 'challenges that matter most to people's lives.' The planet's 674 million people living in abject poverty don't agree, Joe."
Right-wing media also dipped into one of their favorite overused talking points when it comes to climate change: U.S. action is worthless because China is the biggest polluter
There were also criticisms claiming China does not care about climate change. Fox & Friends co-host Brian Kilmeade remarked about Biden's climate comments that "climate change is unbelievable. The fact is that China could not care less." On Wake Up America, The Daily Caller's Briana Lyman took this China criticism a step further, stating that if "you want to talk about climate change, then you need to talk about China because China is responsible for more than double the emissions of the United States. … I think it's a dereliction of duty when he doesn't tie China and climate change together."
Kilmeade's comments ignore the fact that China is by far the largest market for clean energy in the world, and that its pledge to become carbon neutral by 2060 came about a year before the U.S. passed major climate legislation. Yes, its coal plants (and emissions) are a huge problem, but to say that the country doesn't care about climate change (especially when an unprecedented heat wave just hit the country) is absurd.
Regarding Lyman's comments, Biden did mention that the United States "will work with every nation, including our competitors, to solve global problems like climate change." Immediately after this, he referenced China and said the U.S. will not seek out conflict with them.
Lyman also touched on a longtime right-wing trope about climate change: that countries like China are the problem because they currently emit the most carbon, and because of this, it's foolish to think that the U.S. should act on climate change. But the United States is the largest historical emitter; per capita emissions in the U.S. vastly outweigh those of China; and many of our products are manufactured in China.
Solely blaming China while absolving the U.S. for its own pollution problems and its outsized role in spreading climate denial does nothing for solving climate change in the long run.
Right-wing media also exaggerated the time Biden spent talking about climate change, and they threw in some good-old-fashioned climate denial
Three minutes out of 30 is arguably not enough time to devote to a problem that has led to a summer of destructive extreme weather across the globe. But it was still enough to annoy right-wing media figures.
Again on Wake Up America, host Rob Finnerty stated that "the president spent a lot of time talking about climate change during his speech. … This, of course, coming at a crucially important time. We're seven months into the worst war in Europe that we've seen since World War II, and the president took the opportunity to campaign for Democrats and talk about climate change." On the September 21 edition of Kudlow, guest Steve Moore falsely claimed that "he spent half the time talking about climate change."
Perhaps the worst reaction came from Newsmax host Eric Bolling, who went on a climate denial rant on the September 21 edition of Eric Bolling The Balance. He called climate change "another made-up crisis lurking just around the corner," adding, "Never let a good crisis go to waste." He then blamed Al Gore for supposedly inaccurate predictions about climate change and chastised former President Barack Obama for buying a house near the sea despite being concerned about rising sea levels.
The right-wing blow-up over Biden's climate comments is not surprising. To these figures and outlets, any action on climate, big or small, is akin to a radical socialist takeover of the U.S. economy. In particular, the right has increased its climate denial and criticism of climate policies in recent months. As climate change worsens and global citizens come together to clamor for climate action, right-wing media will continue to double down on denial and lies to protect their polluting interests.
Reprinted with permission from Media Matters.