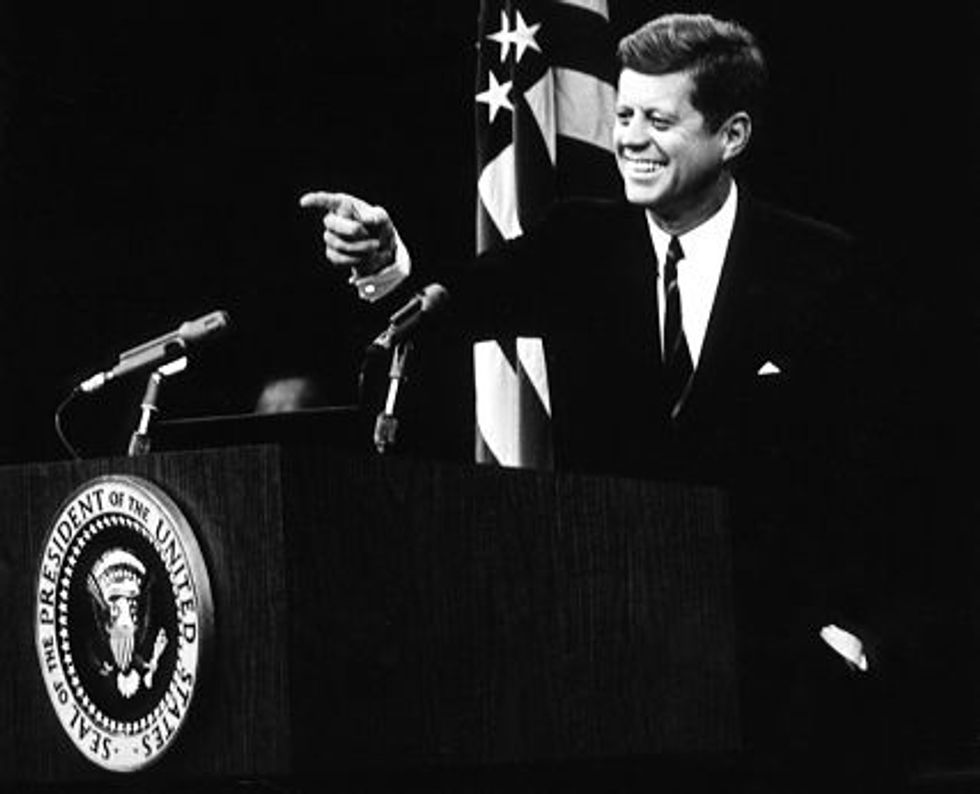 In these churning days of American politics, under scrutiny is the very essence of our nation's exceptionalism: freedom to escape inhumane conditions and reinvent oneself on America's soil. President Trump's order to ban visitors from seven Muslim-majority countries undercuts this historical guarantee and by extension U.S. leadership in the world today.
While there are precedents of such drastic actions—Chinese exclusion in the nineteenth century, Japanese American internment in the 1940s—the legacy of these policies have not fared well in history books. Indeed, such exclusionary measures betray America's promise as a safe haven for the persecuted.
In the current climate, one would do well to dwell on the words and actions of John F. Kennedy regarding refugees. Kennedy won the 1960 election, in part, because he ably portrayed himself the more muscular and hawkish anticommunist. The Massachusetts senator had to convince America that he could prevent the spread of communism and ensure the nation's superiority over the Soviet Union better than his opponent, Vice President Richard Nixon, the man who had served eight years alongside the inestimable Dwight Eisenhower, Supreme Allied Commander during World War II.
But when he entered office, Kennedy showed an additional side to the world's desperate populations. In 1961, he wrote a letter to the president of the senate, Vice President Lyndon Johnson, and Speaker of the House Sam Rayburn, urging them to pass legislation appropriating more financial assistance to refugees. In its entirety, the letter is another illustration of Kennedy's eloquent and pragmatic compassion. One excerpt follows thusly:
"From the earliest days of our history, this land has been a refuge for the oppressed and it is proper that we now, as descendants of refugees and immigrants, continue our long humanitarian tradition of helping those who are forced to flee to maintain their lives as individual, self-sufficient human beings in freedom, self-respect, dignity and health. It is, moreover, decidedly in the political interests of the United States that we maintain and continue to enhance our prestige and leadership in this respect."
Kennedy's vision led to the Migration and Refugee Assistance Act of 1962, which drastically expanded resources and assistances for refugees. The chief beneficiaries of this measure were Cubans fleeing Castro, whose numbers grew to 250,000 between 1959 and 1962. At a time when McCarthyism, though its namesake by now dead and largely discredited, still held sway, this group could easily have been turned away for fear of possible "bad ones." The vetting process in those days was nothing like it is today.
But Kennedy's America estimated that the country derived more benefit domestically and internationally by keeping faithful to its long-held promises of liberty and prosperity rather than give into isolationist forces of exclusion. In many respects, yesterday's communism is today's terrorism with respect to the fear each has bred in the American psyche. But that fear need not drive the country to abandon its valuable and enviable commitment to freedom and sanctuary.
IMAGE: President Kennedy at a news conference. State Department Auditorium, Washington, D. C. Please credit "Abbie Rowe, National Park Service/John Fitzgerald Kennedy Library, Boston" for the image.