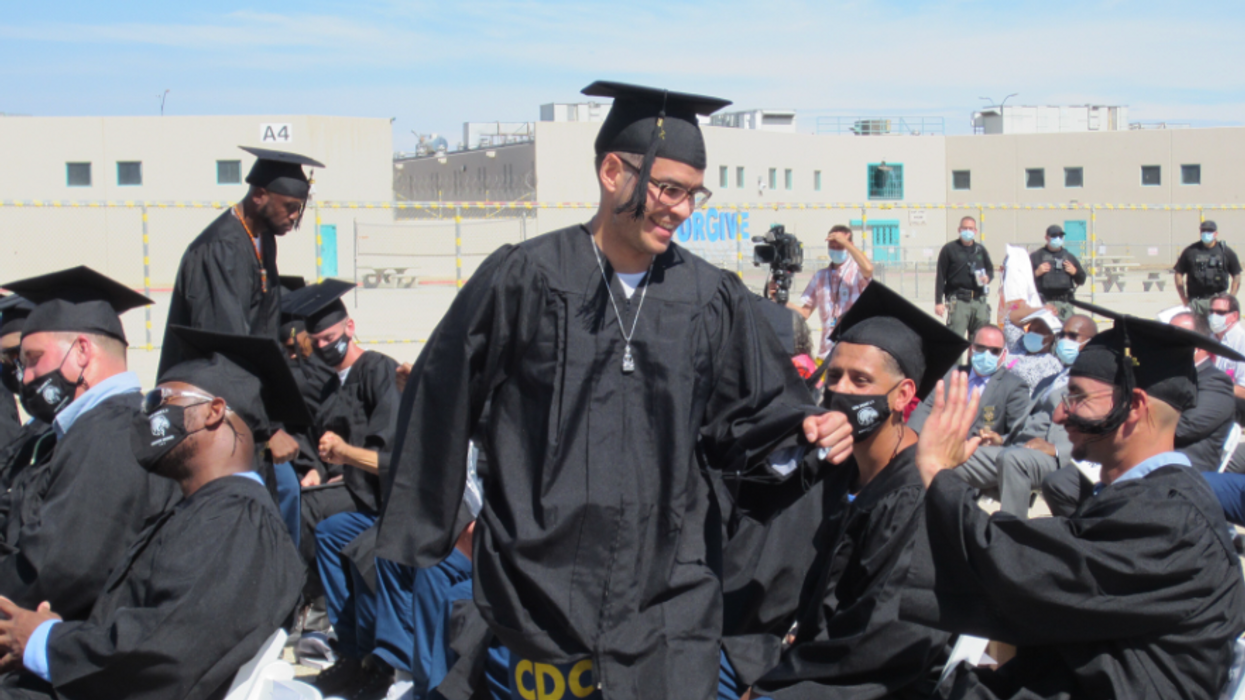 This is the first in a series of five articles on Pell Grant access for incarcerated students funded by a reporting fellowship from the Education Writers Association. Read the second, third, fourth and fifth in the series.
Almost two years ago, the Free Application for Federal Student Aid (FAFSA) Simplification Act -- the largest revision to the 1965 Higher Education Act in 50 years and part of the Consolidated Appropriations Act of 2021 -- was signed into law. It repealed the portion of the Violent Crime Control and Law Enforcement Act of 1994 that made incarcerated students ineligible for federal Pell Grants to pay for college programs.
The law is set to take effect, complete with a new set of regulations, in about six months, on July 1, 2023. On that day, a forgotten and maligned subset of low-income higher education students -- namely hundreds of thousands of prisoners -- can become college contenders. They'll become eligible to apply for these grants again after a 28-year hiatus.
The Numbers of Potential Applicants Are Large
The number of prisoners who will become eligible is probably well over 700,000. According to Dr. Sarah Tahamont, assistant professor of criminology and criminal justice at the University of Maryland, close to 75 percent of prisoners may be eligible. Dr. Tahamont used a representative sample of Pennsylvania inmates to extrapolate that estimate.
Leaving out the entire population in local jails, because they have fewer higher education offerings (although Pell Grants will continue to be available to students in jails; the Pell grant ban applied to people in state and federal prisons only), there are approximately 1,250,000 prisoners in state and federal prisons -- according to the 2022 "Whole Pie" report from the Prison Policy Initiative, their annual count of prison populations. Seventy-five percent of them amounts to at least 937,500 potential Pell Grant applicants. If Dr. Tahamont is correct that as many as 937,500 inmates will become eligible next summer, that's a 42-fold increase in applicants that will happen instantly on July 1, 2023.
Pell Grants Address Poverty
Aside from denying them transformative experiences and knowledge, the ban on this need-based form of financial aid focused the discussion of higher education in prison on merit, whether these students forfeited their education through criminal acts or mere criminal allegations. The discussion glossed over what prisoners are and always have been: poor people who couldn't afford college and were therefore excluded from it.
In 2016, the last date for which data was available, 39 percent of dependent (under age 24) students and 67 percent of independent (over age 24) students lived in or near poverty. These percentages didn't include any incarcerated students. This particular population has been left out of any analysis of low-income students for decades.
As much as poverty is an outcome of incarceration, it's also a predictor of it. According to data from the Bureau of Justice Statistics' 2016 Survey of Prison Inmates, about 42 percent of state inmates received public assistance before the age of 18. Nineteen percent of them lived in subsidized or public housing and 11 percent experienced homelessness as children. Unsurprisingly, about 62 percent of them never completed high school.
The proscription on Pell Grants for prisoners was just a way to reinforce that poverty, although it's not clear that the lawmakers who supported the Violent Crime Control and Law Enforcement Act in 1994 fully understood that; even the late Rhode Island Senator Claiborne Pell, the namesake of the financial aid for lower-income students, voted yes on the bill that would snatch educational opportunities from prisoners. Senator Pell wouldn't survive to weigh in on restoring eligibility.
Now that the ban is over, the conversation should shift from what these students don't deserve to what they can't afford — and the ways to remedy that deficit.
Pell Grants can be a fix here, but the question of whether the system will be ready for expanded eligibility is unavoidable.
Experimental So Far -- And Focused On Preventing Crime
Since prisoners' access to Pell Grants has been prohibited since 1994, any recent use of that funding for inmates' college courses has been an experiment that provided considerable leeway to those who undertook it.Under the Higher Education Act, the U.S. Secretary of Education has the authority to offer experiments according to the Experimental Sites Initiative, sometimes referred to as ESI, which allows the department to test the efficiency of statutory and regulatory flexibility for participating institutions disbursing Title IV student aid.
And that's precisely what then-Secretary of Education Arne Duncan did. He used the fiat power provided to him by the Higher Education Act to start the pilot Pell Grant program, and invited higher education institutions to apply to participate in it.
Since 2016, the Department of Education has been test-running Pell Grants for prisoners. The Second Chance Experimental Site Initiative, colloquially called the Second Chance Pell Grant program, grew from 63 participant colleges to 130 colleges in 2000 and then to 200 by 2021. According to the Vera Institute of Justice, those 200 schools, which enroll different numbers of students ranging from served 22,117 students through 2020.
The goal of the Second Chance Pell program wasn't to test how this type of financial aid would be distributed if the program were scaled. it was to determine whether this money should be distributed to incarcerated learners at all.
"The Second Chance Pell Program was designed by the department to evaluate what happens when incarcerated students receive Pell grants and pursue postsecondary education and training with the goal of helping them get jobs, support their families, and turn their lives around." said Dr. Benedict A. Dorsey, a federal official involved in preparing for the program's launch, at the 2022 Virtual Federal Student Aid Training Conference on December 2, 2022.
"The goal was to enhance public safety by breaking the cycle of recidivism and improving outcomes for people returning from prison, jail and juvenile facilities through grant funding for education programs in prison," Dorsey continued.
Experiment Offered Lessons
While the Pell Grant pilot program chiefly examined whether incarcerated students would benefit from grants, the pilot program didn't fail to provide insight into best practices for implementing full-scale Pell grant access. Advocates and Department of Education officials gleaned important insights into the best ways to implement these grants on an even larger scale, if and when such eligibility was authorized by Congress.
For instance, the earlier requirement that men under age 26 register with the Selective Service limited eligibility and therefore opportunities for male students. So the FAFSA Simplification Act removed this requirement. According to Professor Tahamont,, removing the Selective Service requirement expanded the percentage of students who would be eligible from about four to 15 percent under the Second Chance Pell program eligibility rules.
Education officials also discovered that all potential students had struggled to complete the FAFSA form. It was especially challenging for incarcerated applicants because it asked for information that wasn't readily available to many inmates, like parents' tax returns.
The statute reduced the number of questions on the FAFSA overall, removed the question about past convictions for drug-related crimes, and revised the formula used to means-test applicants. A new Student Aid Index (SAI) will replace the Expected Family Contribution (EFC) calculation, a key development for low-to no income prisoners because it eliminates the question of the number of family members in college – usually minimal or unknown for a carceral population – and the allows the SAI – the amount that the student may be expected to pay – to run into negative territory, an accurate representation for people who earn anywhere from $0.14 to $1.41 per hour if their prison jobs pay at all.
In these respects, the revisions will benefit incarcerated applicants alongside everyone else using the form.
But a few changes will help an incarcerated student more than others. The new law made incarceration or parental incarceration an "unusual circumstance" that allows financial aid administrators to grant "dependency overrides" which basically lets applicants escape certain requirements on the application. It used to be that an unanswered question could strip a student of their aid package.
Internet access is not universal in correctional facilities and where it exists, it's limited. It's not clear how many students will be allowed to access technology to complete the form online. The Department of Education anticipates that most incarcerated applicants will complete a paper form, which led the agency to develop an entirely separate form for prisoners and a different address to receive them, proving that the committees that oversaw the rules for implementation are attuned to the unusual needs and challenges of people in prisons and jails.
Just The Start
But other lessons that should have stuck didn't. And other questions have emerged, particularly about the regulations and rules that govern how the law will work and whether they may actually backfire and keep this old form of financial aid that's been made new again from bringing postsecondary education – and the degrees it will lead to – within indigent prisoners' reach.
The prison education system, writ large – the educational institutions, the correctional facilities, and sundry administrators – can only be considered ready for "Pell for All" by next summer if it's understood that making incarcerated students eligible is just the first, small step to giving them access to college and the credentials they need to succeed.
Many more steps and considerations require attention before all inmates who want to seek higher education will be able to do so.
Chandra Bozelko did time in a maximum-security facility in Connecticut. While inside she became the first incarcerated person with a regular byline in a publication outside of the facility. Her "Prison Diaries" column ran in The New Haven Independent, and she later established a blog under the same name that earned several professional awards. Her columns now appear regularly in The National Memo.