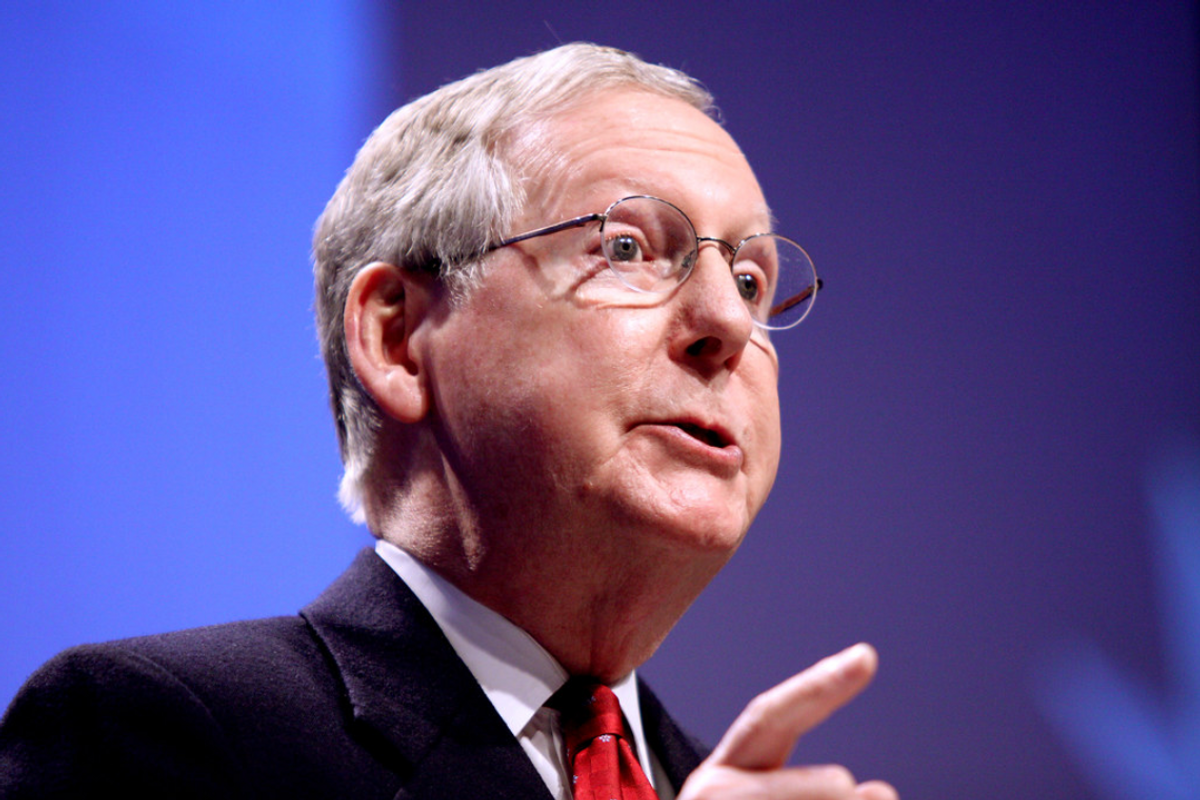 Photo by Gage Skidmore is licensed under CC BY-SA 2.0
Whatever Senate Minority Leader Mitch McConnell would have you believe about his recovery following a concussion, Sen. Tommy Tuberville of Alabama ain't buying it.
"The last freeze-up, it puts a question in everybody's mind whether he can do it or not," Tuberville told The Wall Street Journal regarding McConnell's latest freezing episode, adding that "if he freezes up again, he obviously knows that everybody else is going to have to get involved in this."
McConnell, who has had two such episodes during press conferences in the past month, reportedly plans to address the topic of his health with Senate colleagues at a Republican conference meeting on Wednesday.
But the caucus is already breaking into factions, pitting pro-McConnell establishment types against McConnell detractors mostly aligned with former President Donald Trump.
"[W]e're gonna know more after lunch," Sen. John Barrasso of Wyoming told Politico's Burgess Everett, adding that McConnell "has my full support."
Tuberville, who has been at odds with McConnell over his radical blockade of military promotions, has been particularly outspoken.
On Tuesday evening, Tuberville told CNN's Manu Raju that, as a college football coach, he's seen players "really struggle" for a long period after suffering concussions on the field. McConnell's recent freeze-ups are likely related to a concussion he suffered in the spring after falling at a private event.
"That's the reason you don't play them after that," Tuberville explained, referring to concussed players. "They don't go back in the game until you're completely well. And … obviously, he's not completely well."
Tuberville is joined by populist pro-Trumpers like Sen. Josh Hawley of Missouri and even McConnell's fellow senator from Kentucky, Rand Paul, who suggested McConnell should "be more forthcoming" about the health challenges he's facing.
"I don't think it's been particularly helpful to have the Senate doctor describe it as dehydration," said Paul, an ophthalmologist, referring to the Capitol attending physician's initial explanation of McConnell's freezing episodes. "What's occurring from what I've seen, it's a neurological event."
"That doesn't mean it's incapacitating, doesn't mean he can't serve," Paul told Capitol Hill reporters. "But it means that somebody ought to wake up and say, 'Wow, this looks like a seizure.'"
On Tuesday, McConnell's office released another note from Capitol physician Dr. Brian Monahan, who suggested the GOP leader was not experiencing seizures.
"There is no evidence that you have a seizure disorder or that you experienced a stroke, TIA, or movement disorder such as Parkinson's disease," Monahan wrote, using the acronym for transient ischemic attack, which is a stroke lasting several minutes.
Hawley used the swirling questions about McConnell, 81, to take a whack at President Joe Biden, who's 80 but hasn't exhibited any neurologic episodes.
"I'm concerned about his health, just like I'm concerned about the president's health," Hawley told Politico, acknowledging that he hadn't voted for McConnell as leader. "So my views on this are kind of well-known."
Following the 2022 midterms, McConnell handily crushed a leadership challenge mounted by Sen. Rick Scott of Florida. Still, Scott's effort represented the first challenge to McConnell's grip on the Senate Republican conference since he first assumed the leadership role in 2007.
In short, some of McConnell's troops are restless and he's in a more precarious position than at any point in his 16-year leadership of the caucus. But the establishment types seem very wary of wading into a leadership battle amid an already politically fraught landscape for the Republican Party.
As Sen. Mitt Romney of Utah told ABC News, he still "firmly" backs McConnell, even with the occasional freezing episode.
"We may expect that Mitch McConnell will check out for 20 seconds a day. But the other 86,380 seconds in the day, he does a pretty darn good job," Romney said. "I'm firmly behind his remaining as our leader."
Reprinted with permission from Daily Kos.