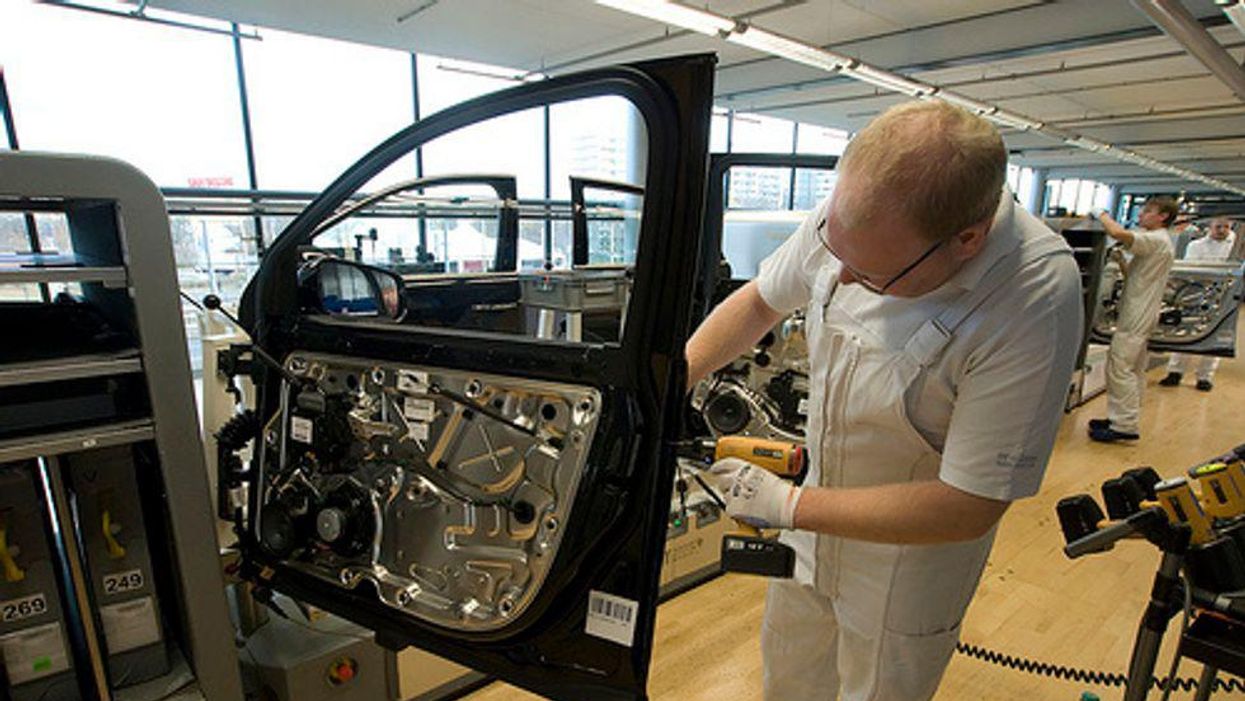 Reprinted with permission from PressRun
Want an unvarnished, unfiltered view of the U.S. economy, the kind that you're not seeing from the Beltway press today, as they push panicked inflation updates?
It's simple. Worker wages are up this year as employees enjoy unmatched leverage in the marketplace. Job gains are soaring. And companies are printing profits thanks to sky-high consumer demand —Target's sales spiked 13 percent in the last quarter and the retail giant expects double-digit gains over the holiday shopping season. That's crucial because consumer spending accounts for two-thirds of the economy. All the while, mortgage interest rates hover around 2.5 percent.
The specifics:
• The government dramatically undercounted the number of new jobs from June through September, so we now know an additional 626,000 jobs were created those months, blowing away the idea of a stymied hiring pattern nationwide. Remember the "disappointing" jobs report from August, with 235,000 jobs? It was actually 483,000 new positions. It turns out there's been a jobs explosion this entire year, and all indications are the trend will continue into 2022.
• Goldman Sachs predicts by the end of next year the U.S. unemployment rate will drop to a 50-year low, thanks to a "red-hot demand for workers." Under Trump, the rate peaked at nearly 15 percent.
• Retail sales surged 1.7 percent in the month of October, as consumers flocked online and into stores, splurging on electronics and home-improvement projects. American consumers spent $638 billion in October, a 16 percent increase from last year.
• JP Morgan upgraded its growth expectations for the economy, raising its forecast for the U.S. gross domestic product to climb five percent in the fourth quarter.
• Biden's pandemic stimulus plan has worked: "Households are sitting on a collective $2.5 trillion in savings built up during the pandemic," the New York Timesreports.
It's a royal flush of economic good news.
Yes, inflation is up and it's a problem. Nobody likes spending $90 to fill up their SUV at the pump. That's why consumers say their confidence is down, even as they spend at robust rates. Inflation today is a global phenomenon, created by a once-in-a-lifetime pandemic, not Democratic fiscal policy. (It's also being driven by companies taking advantage of a chance to raise prices again and again in 2021.)
The reason inflation has sprouted in the U.S. is because consumer demand is booming as the economy has recovered from Covid faster and stronger under Biden than most people ever thought possible.
What's revealing is how the Beltway media remain overly fixated on inflation, while often turning a blind eye to all the signs of a surging economy. In other words, if it's bad news for Biden, then it's treated as Big News.
By constantly doling out sour economic updates in the form of breathless inflation coverage, the press does the GOP's handiwork. The Washington Post this week announced inflation is the "defining" challenge of Biden's presidency. Why inflation? Because the press decided.
CNN insists inflation remains a "political nightmare for Biden" and claims persistent inflation "could make historically difficult midterm elections next November even harder for Democrats by overshadowing their legislative wins." CNN doesn't think that the millions of new jobs likely created next year and a plummeting unemployment rate will have any impact on the midterm election cycle — only inflation.
Here's what's happened: For weeks this fall, the Beltway press joined forces with the GOP to tell an hysterical tale about the state of the U.S. economy. It was an alternate version of reality, where the stagnant, faltering economy was being driven to the precipice by runaway inflation, which stood poised to demolish middle-class savings across the board. All while an ineffective president stood by and watched cash-strapped households suffer.
It was doomsday nonsense actively pushed by Republicans, who are gleefully rooting against America's interests. Sen. Rick Scott (R-FL) this week told the Wall Street Journal that if inflation pushes up interest rates next year, that would be "a gold mine for us."
The press wasn't holding up a mirror to the U.S. economy. The press painted its own picture. Desperate for a dramatic angle to lure consumers back to TV news and websites, and weirdly anxious to bury Biden, the Beltway media have gone all in on the Doomsday narrative. Remember that corporate media owners benefit from tax breaks when Republicans are in office.
The panicked tale was never true. In recent days, the new data points paint a clearer picture of the economy — it's a surging one that's powering through a stunning pandemic recovery and stands poised to blast off in 2022. An unemployment rate all the way down to 3.5 percent? A stock market sitting at the once-unthinkable 45,000 mark? Both are entirely possible in the next calendar year.
Today's press coverage suggests the economy is an albatross around Biden's political neck. In reality, it's booming.