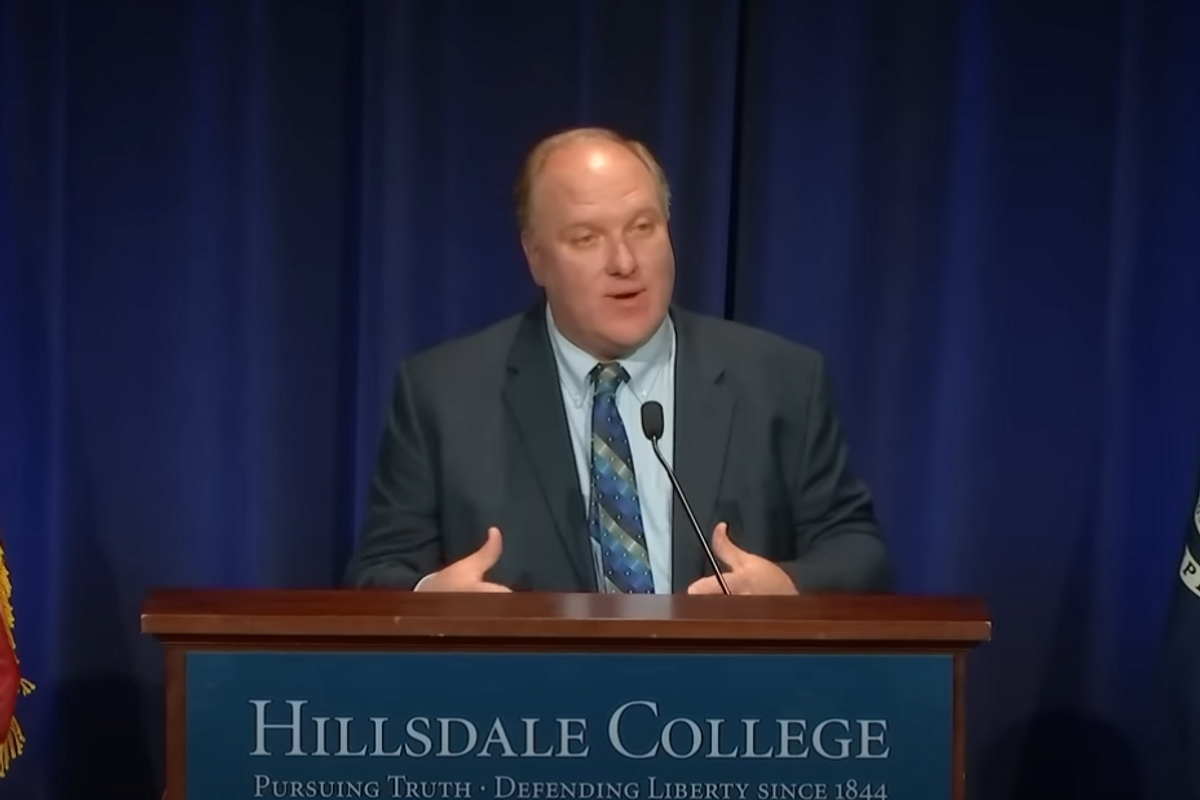 The right-wing scandal machine relies on confusing the public with references to an obscure cast of characters and a plethora of minute details which they claim prove their political foes engaged in nefarious deeds. But when you dig through the labyrinthine particulars they rail about, you often find that the core of their story is total nonsense. Here is one such case.
The right-wing conspiracy theory that Joe Biden, as vice president, pushed for Ukraine to fire its top prosecutor in order to aid his son Hunter's business dealings is a pillar of House Republicans' push to impeach him. Even some GOP members of Congress have pointed out there is "no evidence" to support this long-debunked narrative. But the hypothesis is further demolished by a document published last month by — of all people — the fabulist John Solomon, which indisputably confirms that at the time of that meeting, it was the policy of the U.S. government to seek that prosecutor's removal.
The right has baselessly claimed for years that when Biden told Ukraine's leaders during a December 2015 visit that the U.S. would not release $1 billion in loan guarantees unless they fired Viktor Shokin, the country's prosecutor general, he was acting to benefit Hunter by halting Shokin's purported probe of Burisma Holdings, on whose board Hunter served. Solomon, a former Fox News contributor and Washington Times editor, played a key role in concocting this pseudoscandal, alongside Trump lawyer Rudy Giuliani, Fox News host Sean Hannity, and others, as they sought to damage Biden's 2020 presidential run.
Their allegations were nonsense: Biden was carrying out U.S. policy, Shokin had been widely faulted by Western governments for failing to prosecute corruption, and his Burisma probe had stalled, as detailed in contemporaneous news reports and sworn testimony during then-President Donald Trump's first impeachment. But House Republicans have revived the conspiracy theory as the core of their Biden impeachment plan.
The GOP's narrative has now taken another hit: A briefing memo published by Solomon last month documents that it was U.S. policy to seek Shokin's removal at that time. The memo, generated by the State Department for Biden in preparation for his meeting with then-Ukrainian president Petro Poroshenko during a December 7-8, 2015, Ukraine trip reads in part under the heading "Background" (emphasis added):
Unity and Reforms: With local elections in the rear-view mirror and an economy that while still in difficulty, seems to have moved back from the precipice, the time is ripe for President Poroshenko to reanimate his reform agenda. You should recommend that he give a state of the nation speech to the Rada in which he reenergizes that effort and rolls out new proposed reforms. There is wide agreement that anti-corruption must be at the top of this list, and that reforms must include an overhaul of the Prosecutor General's Office including removal of Prosecutor General Shokin, who is widely regarded as an obstacle to fighting corruption, if not a source of the problem.
Under "Talking Points," the document states that "anti-corruption efforts … will also require changing the Prosecutor General who is damaging your credibility and obstructing the fight against corruption." Similar language appears in a separate memo for Biden's meeting with then-Ukrainian Prime Minister Arseniy Yatsenyuk, which Solomon also published.
Solomon, naturally, is unwilling to accept that these documents blow a hole in the narrative he and his allies have pushed for years. He stressed in an August 22 article for his Just The News site and on Fox that night that the same memos call for Biden to sign the $1 billion loan guarantee rather than using it as leverage to force Shokin's firing.
"The Biden White House knew that this Shokin investigation posed a political threat to the family, a personal threat to Joe Biden's son's company, the company paying him a million dollars a year," Solomon told Hannity. "And it's in that moment when all this is happening that Joe Biden flips the switch and goes from the recommendation giving the billion dollars to you're not getting the billion dollars until you fire Shokin and son of a b, they fire Shokin."
The reason for Biden's divergence from the plan described in the memos is unclear. The Washington Post's Glenn Kessler reported Friday that a source told him Biden had "called an audible" during the plane trip to Ukraine, but that "by the time Biden landed in Kyiv, four people with direct knowledge told The Fact Checker, the Obama White House was firmly on board with the plan."
"Others," Kessler wrote, "recall a more disciplined policy process preceding the trip that led to consensus on linking the firing to the loan."
Geoffrey Pyatt, the U.S. ambassador to Ukraine in 2015, and Victoria Nuland, who oversaw European affairs at the State Department at the time, both testified in 2020 congressional depositions that they recalled that conditioning the assistance on firing Shokin had been "U.S. government policy" developed through an interagency process. Pyatt further testified that the policy had already been conveyed to Ukrainian officials at the time of the trip.
Pyatt also downplayed the importance of the memos' recommendations, saying they had been "written by a desk officer" and that in his experience, high-ranking officials would never "take a State Department product like this and sort of use that as their script."
Nuland, meanwhile, stated that the interagency community had at the time been "dissatisfied that past investigations of Burisma had not been brought to conclusion" and thought that Shokin's removal "would be counter to Burisma's interests."
That's consistent with last month's testimony from Devon Archer, Hunter Biden's former business partner and fellow Burisma board member, who told congressional investigators he had not been aware of any Shokin investigation into the company and that Shokin's firing "was bad for Burisma because he was under control."
But ultimately, the tick-tock of how Biden came to use the particular strategy of leveraging the loan guarantee is fundamentally irrelevant: The memos show that Biden, in seeking Shokin's firing, was acting consistent with U.S. policy rather than freelancing to help his son.
Reprinted with permission from Media Matters.