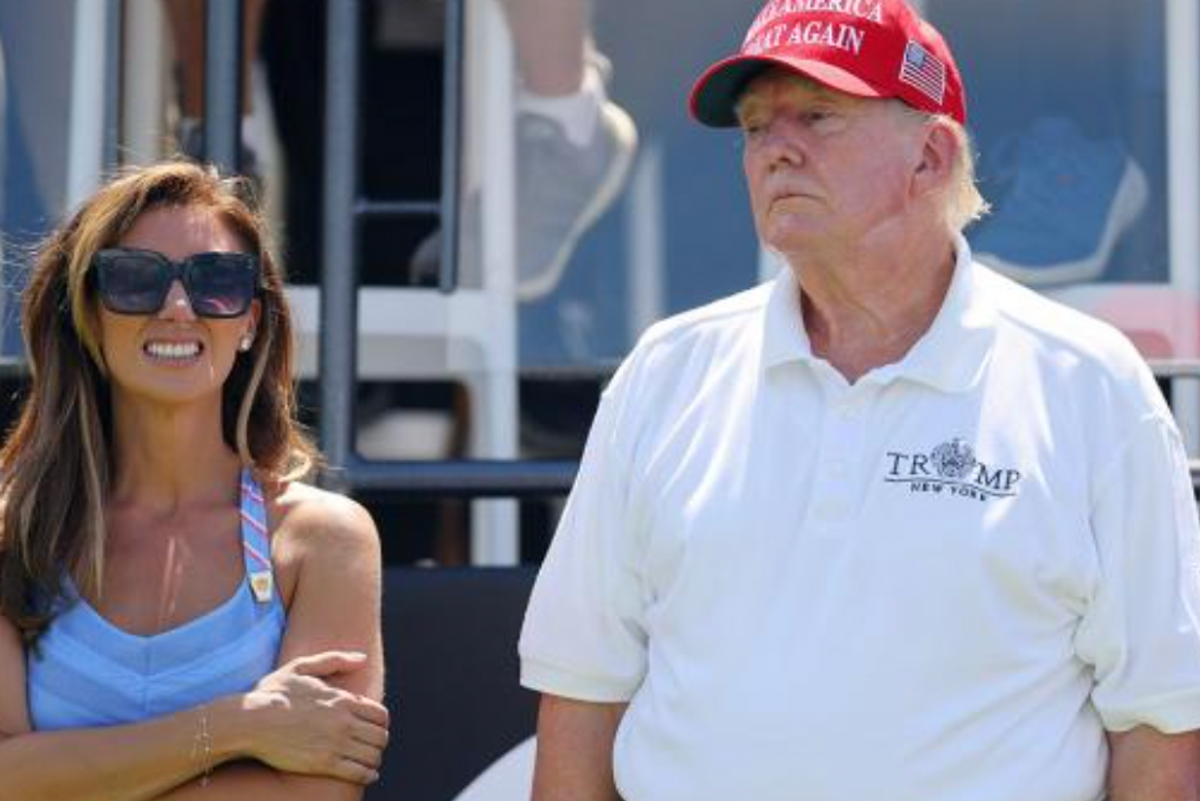 Photo by quapan licensed under CC BY 2.0
Alice Bianco, who worked as a server at former President Donald Trump's golf club in Bedminster, New Jersey, is accusing her former boss of sexual assault, and the ex-president's attorney of making her sign an illegal non-disclosure agreement in an attempt to silence her.
Politico reports the lawsuit, which does not name Trump as a defendant, pertains to alleged sexual assault between May and July of 2021 from Bedminster Golf Club food and beverage manager Pavel Melichar. Bianco's lawsuit says Melichar at first kissed her without her consent, then forced her "to engage in sex as a quid pro quo for continued employment and 'protection.'" After an attempted assault in July of that year, Bianco said she refused Melichar's advances, which led to him "retaliating against her," giving her "unfair job assignments and allowing his henchmen to abuse her and steal her tips."

Bianco, who was just 21 years old at the time, hired an attorney after she was contacted by the club's human resources department. That was when, according to the lawsuit, Trump attorney Alina Habba reached out to Bianco.

First, the lawsuit alleges that Habba "groomed" Bianco, "pretending to be a friend." This allegedly involved Habba sending Bianco a negative article about the attorney she hired, telling the former server to "be careful" and reminding her that she could fire her attorney at any time. This eventually resulted in Bianco dismissing her lawyer and having no legal representation. At that point, the lawsuit alleges Habba asked Bianco to sign a non-disclosure agreement (NDA), which prevented Bianco from talking about the alleged sexual assault that took place at Bedminster. She then offered what Bianco referred to as a "paltry sum" of money in exchange for signing the NDA.
"Alina Habba used the unethical silencing of my client, Ali Bianco, as a way to propel herself into Trump's inner circle," Nancy Erika Smith, who is currently representing Bianco, said in a public statement. "Her behavior was predatory. Pretending to be 'neutral' when acting on behalf of one party is clearly unethical."
When contacted for comment by Politico, Habba said, "I always conduct myself ethically and acted no differently in this circumstance."
Bianco isn't asking for additional monetary damages in the lawsuit, but is only asking to keep the initial settlement proceeds, for Habba's "unethical behavior" to be referred to the New Jersey Office of Attorney Ethics and for her legal costs to be reimbursed.
Reprinted with permission from Alternet.