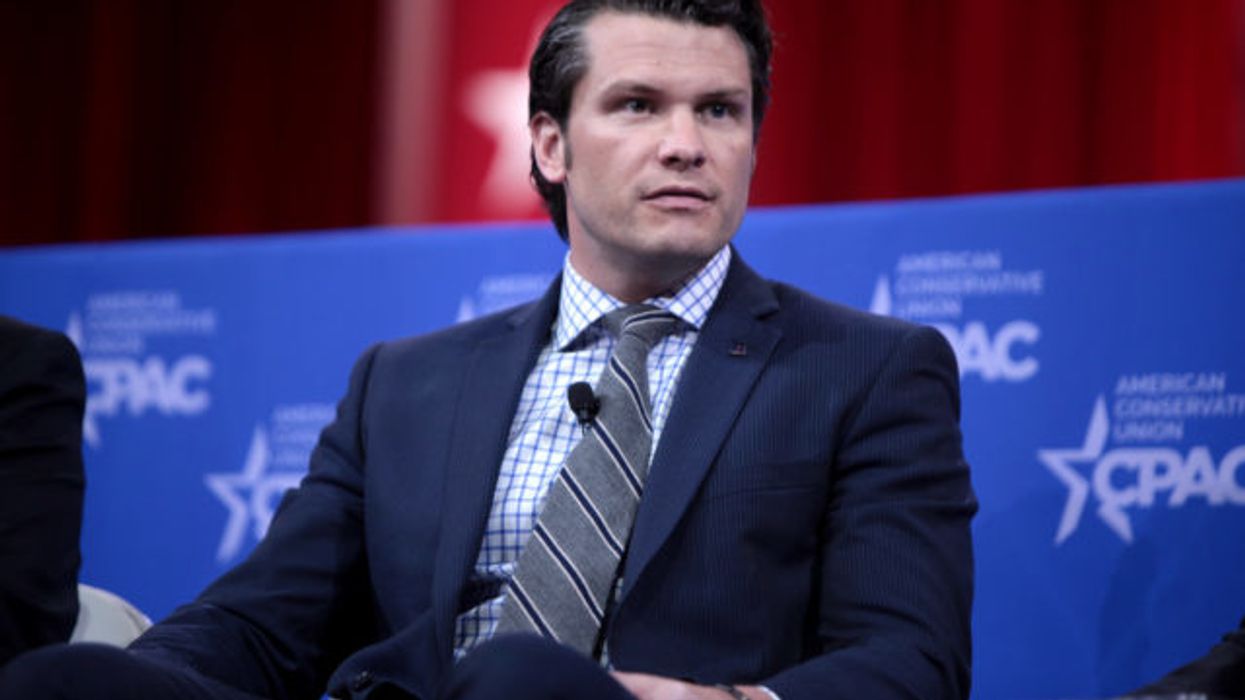 Fox News and Fox Business relentlessly promoted a false New York Post story claiming that homeless veterans were displaced from hotels to make room for newly-arrived migrants for several days last week, devoting more than an hour of airtime to claims that seemed tailor-made for Fox's anti-immigrant hysteria. The networks' coverage even included interviews with local government officials who said they had met with the displaced veterans.
But the story told by the Post, and promoted by Fox, unraveled less than a week later, when local news outlets investigated the claims and determined that it was a hoax.
The Mid Hudson News was the first outlet to debunk the story. According to their reporting, there were never any veterans at the main hotel in question, the Crossroads Hotel, and nobody was kicked out to make room for migrants. The Mid Hudson Newsalso reported that the veterans that local politicians claimed to have met to verify the story were actually homeless men who were recruited from a shelter and paid "to act as veterans that had been displaced from a Newburgh hotel in order for a non-profit organization to perpetrate a fraud on the public."
Another local newspaper, the Times Union, reported that an attorney for the Crossroads Hotel stated that staff at the hotel "are receiving serious threats — including death threats — from all over the county as a result of" the false accusation, and that staff one day "were forced to call 911 to seek protection against someone who was menacing the staff at the hotel, claiming he was looking for the veterans."
Once this story was debunked by local news outlets, and nearly two weeks after Fox began promoting the story, Fox News and Fox Business began airing extremely short "updates," which admitted that the entire story was false. On May 24, Fox rolled out an obviously scripted statement on several programs specifically mentioning the Crossroads Hotel, which had featured prominently in Fox's coverage, possibly to avoid yet another defamation lawsuit similar to those brought by Dominion Voting Systems and Smartmatic in response to Fox's political smear campaigns against them.
Key events in Fox's promotion of this hoax:
May 12

Rupert Murdoch's New York Post published an "exclusive" evening report headlined: "Homeless vets are being booted from NY hotels to make room for migrants: advocates." The report cited Sharon Toney-Finch, CEO of a nonprofit organization that the Post claimed "works with the vets." According to the article, "Nearly two dozen struggling homeless veterans … were told by the hotels at the beginning of the week that their temporary housing was getting pulled out from under them at the establishments and that they'd have to move on to another spot." The Post claimed that the Crossroads Hotel in Newburgh, New York, booted the majority of the veterans, and that they were relocated to another hotel "about 20 minutes away."
May 13

Fox & Friends Weekend kicked off Fox News' coverage of this fake story the day after it was published by introducing it in the context of the expiration of Title 42 and prominently displaying the Post's front page, with the cover stating: "Vets kicked out for migrants: Outrage as upstate hotels tell 20 homeless veterans to leave." The co-hosts quoted from the Post as Pete Hegseth held up the front page to the camera.Later, Neil Cavuto interviewed Orange County (New York) Executive Steven Neuhaus, whom the Post reported had filed a lawsuit against the hotels, which supposedly kicked out the veterans. Neuhaus would be the first of several New York state government officials Fox would interview about the story. During the interview, Neuhaus attacked the owners of these hotels and urged the New York Civil Liberties Union to sue them, and claimed he talked to one of the displaced veterans, saying: "The girl I talked to today, she's got three Purple Hearts, and a Bronze Star with valor. She was in tears." (It's unclear which woman Neuhaus claims to have spoken to; the homeless people recruited by Toney-Finch for this hoax were all men. However, Toney-Finch herself now faces scrutiny for potentially lying about her service in the Army, including her receipt of a Purple Heart.)
May 14

A day after Fox began promoting the fake story, Fox News weekend anchor Arthel Neville explicitly claimed, "Fox News confirms 20 homeless vets just got kicked out of several hotels in the suburbs north of Manhattan to make room for those migrants getting bussed in from the city." Fox correspondent CB Cotton then quoted Toney-Finch's nonprofit organization (which had fabricated the entire thing) to substantiate the false claim.
May 15

After the weekend, Fox News and Fox Business began promoting the hoax in earnest. Fox & Friends co-host Ainsley Earhardt said it was "astonishing that some of these hotels are getting migrants" and canceling other reservations, adding, "There are two couples that booked rooms for their wedding … and 20 vets also were in that hotel, they all had to move out because these migrants moved in." Later on Fox & Friends, guest co-host Will Cain claimed that a "flood of illegal immigrants" are taking up hotel rooms and other resources in New York. Cain went on to remind viewers "about homeless veterans booted from a hotel so that rooms could be given to illegal immigrants," with Earhardt adding, "Eric Adams says they're gonna stay there for four months, so 20 veterans had to move to another hotel."Fox anchor Harris Faulkner claimed the story showed "the disgraceful treatment of our military veterans played out in Orange County, New York," as the nonexistent group of "at least 20 homeless veterans, some reportedly suffering from PTSD, had to give up their hotel rooms for illegals." Fox contributor Johnny "Joey" Jones added a jab at the Biden administration, stating, "A president that would leave Americans stranded in Afghanistan probably doesn't see the onus to take care of 20 veterans in a hotel. And I hate to say it, but that's just the absolute truth of it."


Outnumbered co-hosts Emily Compagno and Kayleigh McEnany expressed outrage over the Post story, with Compagno claiming "America's heroes are now paying the price" for the "Southern border crisis." McEnany lamented, "I can't help but notice the contrast when you have a 24-year-old — a veteran, had been in Afghanistan — kicked out of his hotel room as an Afghan national on the terror watchlist is crossing the border in San Diego."Fox anchor Martha MacCallum complained, "You've got the hotels in New York that are having to take folks in. You had one in Newburgh, New York, where they had to cancel a wedding and kick out some homeless veterans to make room for incoming migrants." (Unlike the homeless veterans hoax, other outlets have confirmed the reported wedding cancellations.) Fox host Sean Hannity said, "Let's get some facts out so Joe Biden can understand what is really going on," before proclaiming: "This is pretty infuriating, homeless vets who served our great country, they're being put out on the street and replaced by illegal immigrants." As he said this, Hannity displayed the headline of a FoxNews.com article which stated: "Biden admin, NY officials slammed after homeless veterans booted from migrant hotels: 'Slap in the face.'" (After local news outlets debunked the false story, this FoxNews.com article was completely changed to reflect the debunk, with an editor's note added to the bottom).Fox Business anchor and noted election conspiracy theorist Maria Bartiromo introduced this fake story to Fox's sister network during an interview with Rep. Claudia Tenney (R-NY). During the segment, Bartiromo slipped and said: "It's incredible that the vets are being killed — kicked out, so that there's room for illegals."
May 16

On May 16, another Fox correspondent, this time Nate Foy, said that Fox had "confirmed" that the fake story was true: "I can confirm those 20 veterans are staying at a different hotel, and a handful of them are on their way to permanent housing."Later on The Ingraham Angle, David Riley, an American Legion representative in New York, joined host Laura Ingraham in expressing outrage over the fake Post story. Ingraham claimed homeless veterans were being treated as "second-class citizens" by supposedly being kicked out of hotels. During Riley's angry ranting about the fake story, Fox aired b-roll video prominently showing the front of the Crossroads Hotel.Cavuto also continued to feature the fake story on his Fox Business program, where on-air graphics claimed, "Homeless vets booted from hotels to house migrants," and, "Nearly two dozen homeless vets removed from hotels."
May 17

The hoax story continued to be told on several Fox programs on May 17, including for the first time on the network's flagship "news" show, Special Report. On the program, Foy said that the office of New York City Mayor Eric Adams "denies removing homeless U.S. veterans from an Orange County hotel to accommodate migrants."That night, the Mid Hudson Newspublished its first report debunking the New York Post's story. Toney-Finch, who was the Post's source for its story, had provided a credit card receipt for room charges at the Crossroads Hotel as proof that her organization paid for homeless veterans to stay there before they were supposedly displaced. But the Mid Hudson News determined that the receipt was a forgery, and a manager at the hotel said there was no record of that transaction. The newspaper further reported that "the manager said there were no veterans at the hotel, none were kicked out and no other guests were told to vacate. The hotel does have a group of asylum seekers there, but the seven-year general manager noted that the hotel is not even booked to capacity and rooms are available."
May 18

The day after the Mid Hudson News debunked this story, and hours after the newspaper published follow-up reporting on the hoax, Fox continued to air the fake story as if it was true. On Fox News Tonight, Riverhead, New York, Town Supervisor Yvette Aguiar said: "In particular, what's really, really disturbing … was that in the Crossroads Hotel in Orange County, he [Mayor Eric Adams] made a deal with the hotel. They took 25 local area residents who were homeless, who needed this shelter, put them out on the street to house people that have come in over our borders." Cain, who was hosting the show, did not correct her.
The woman at the center of the maelstrom is Sharon Toney-Finch, who was inducted last July into the New York State Senate Veterans' Hall of Fame after a special salute by lawmakers for her service. She is listed in the National Purple Heart Hall of Honor, has been the subject of glowing profiles about her heroism under fire, and once appeared on Fox & Friends to unveil a set of Purple Heart commemorative coins. On May 16, New York State Sen. Rob Rolison, a former police officer, honored Toney-Finch as a "woman of distinction," making special note of her Purple Heart.[...]However, U.S. Army spokesman Bryce Dubee told The Daily Beast on Friday that the Department of Defense does not know anything about Toney-Finch and a Purple Heart.[...]Officials with the Army's Human Resources Command told the Times-Union on Friday that they, too, were "unable to verify (from our records) that Sharon Toney received a Purple Heart."

May 20

On May 20, one week after Fox & Friends Weekend co-host Pete Hegseth, who is himself a decorated U.S. Army veteran, kicked off Fox's promotion of this hoax by holding up the front page of the New York Post, he made a seemingly sincere apology and used the word "correction": "We do have a quick correction on a story we brought you last weekend. The source who told the New York Post, get this one, that the homeless veterans in New York were displaced to make room for illegals at another New York hotel, made the story up. It was a made-up story. And our apologies for reporting it as such."
May 21

New York Mayor Eric Adams called out the hoax during an appearance on CBS' Face The Nation on May 21, saying: "We have witnessed in some municipalities where they lied and stated that veterans were being forced out of hotels, which was untrue and found out to be fabricated. So, these types of tactics are just anti-American and anti-New York City."And on CNN, anchor Jim Acosta and national correspondent Gloria Pazmino highlighted the "very disturbing story" of the homeless men hired to pose as displaced veterans, describing the allegations as "a complete scam."
May 22

On May 22, MSNBC host Chris Hayes ran a comprehensive segment calling out Fox News for claiming it had "confirmed" the false story, in the context of its recent $787.5 million defamation settlement in the Dominion case, as well as the long line of Republican politicians ranging from the local to national levels who pushed the hoax. He ended by mocking Ingraham's contention that "we have no clue as to why anyone would do such a thing" like making up a story."Why would anyone want to make up a story that's too good to check, but plays directly into the most deranged bias of your conservative audience?" Hayes opined. "I can't imagine Fox News airing those kinds of lies, but I guess there's a first time for everything."
May 24

Multiple Fox News anchors and other on-air personalities, including Cavuto, Bartiromo, Faulkner, and others read a nearly-identical script, again described as an "update" rather than a correction or retraction, specifically naming the Crossroads Hotel and acknowledging that the story was false. They also gave a disingenuous promise to provide viewers more information "as we get it," ignoring the extensive information already uncovered in the last week by both local and national news outlets. This script also ignored that they smeared migrants by pushing this fake story in the previous week.
TODD PIRO (CO-HOST): We want to update you on reports last week claiming that upstate hotels in Orange and Rockland counties, including the Crossroads Hotel, evicted a group of homeless veterans. We've since learned that veterans advocates misled local officials, and it now turns out those eviction claims were false. We wanted to update you on this story and make sure the record was set straight. More as we get it.
It turns out that the Crossroads Hotel that Fox repeatedly attacked in its promotion of this hoax, and which is prominently mentioned in the weirdly scripted corrections on May 24, is owned by Choice Hotels, which is an advertiser on Fox.
Fox News was effectively smearing one of its own advertisers by promoting a hoax that was reportedly followed by death threats.
Reprinted with permission from Media Matters.