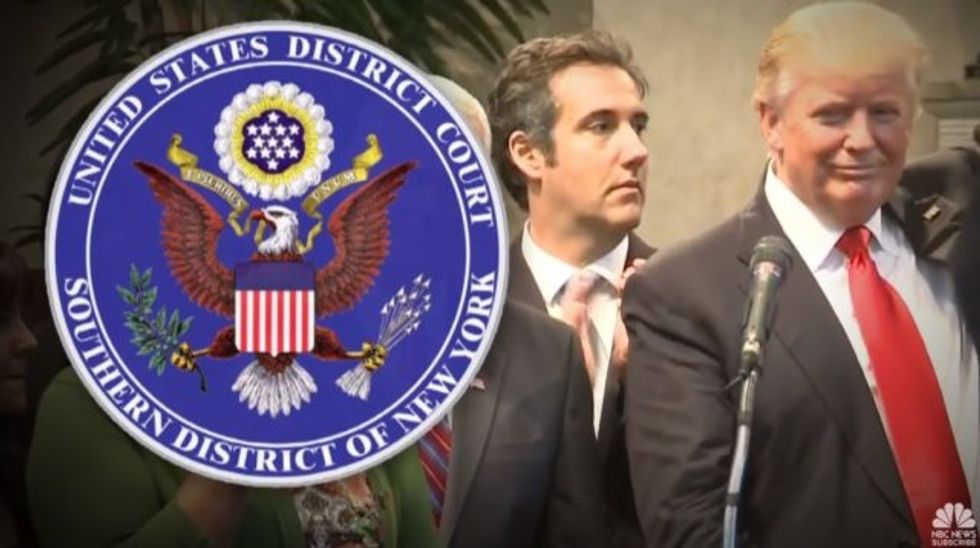 President Donald Trump's former attorney Michael Cohen shared information about 'possible irregularities' in his former boss's family business with federal prosecutors last month, according to a new report in the New York Times.
The report is not specific about what they discussed, and it is not clear what exactly the information may be used for. It also noted that Cohen discussed a donor to Trump's inaugural committee, Imaad Zuberi, who was previously named in a subpoena for the committee's records. Previous reports have suggested investigators are interested in the committee for potential crimes regarding the donation of foreign money or influence peddling.
The report also noted:
[The] meeting suggests that they are interested in broader aspects of the Trump Organization, beyond their investigation into 

the company's role in the hush money payments

 made before the 2016 election to women claiming to have had affairs with Mr. Trump. Mr. Cohen pleaded guilty last summer to arranging those payments.
Cohen pleaded guilty to campaign finance violations related to the hush money payments as well as tax and bank fraud crimes. Separately, Cohen pleaded guilty to Special Counsel Robert Mueller's charge that he lied to Congress about negotiating a deal for a Trump Tower Moscow during the 2016 election. He has been sentenced to three years in prison for those crimes. While he was initially scheduled to go to prison at the beginning of March, a judge agreed this week to delay that date by two months while Cohen continues to arrange plans to testify before Congress.