This Week In Crazy: Ron Paul Is Ready For Secession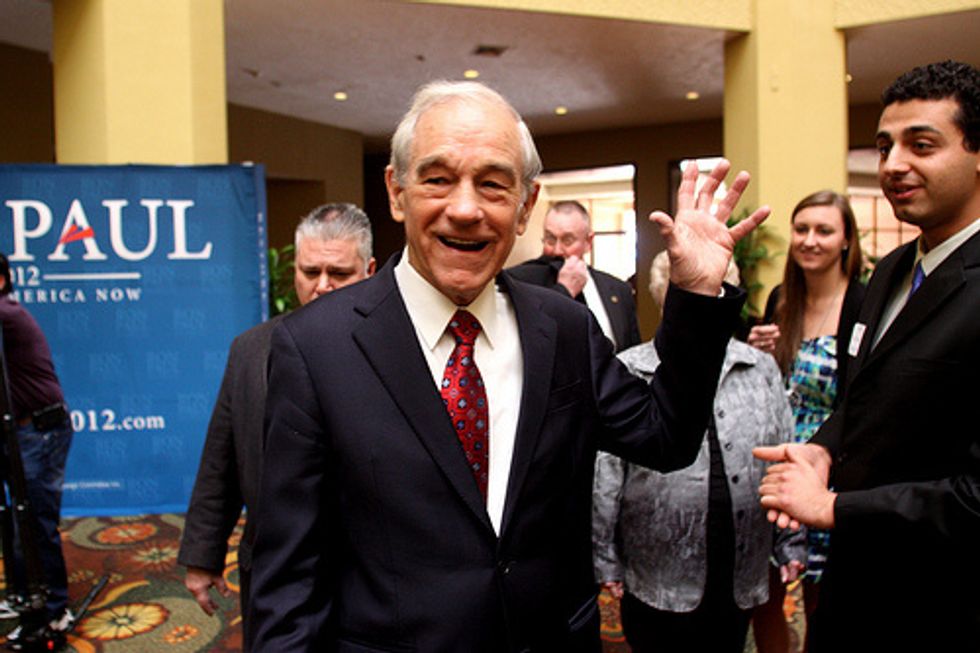 Welcome to "This Week In Crazy," The National Memo's weekly update on the wildest attacks, conspiracy theories, and other loony behavior from the increasingly unhinged right wing. Starting with number five:
5. Ralph Peters
Only 9 percent of Republicans believe that Barack Obama is a Christian, but that doesn't stop the far right from describing the president in Biblical terms.
The latest Republican to dip into the New Testament for an anti-Obama attack is Fox News strategic analyst and Vladimir Putin fanboy Ralph Peters. Appearing on America's Newsroom Wednesday, Peters broke down President Obama's efforts to fight ISIS. You could say that he disapproves.
"Christian women are kidnapped and raped and raped again, our president does nothing! Christians are driven from their homes in the Middle East by the hundreds of thousands, slaughtered by the tens of thousands, and our president does nothing!" Peters raged. "He is the reincarnation of Pontius Pilate washing his hands, but this blood's not coming off."
Shockingly, Peters is not even the first conservative to compare President Obama to the guy who killed Jesus.
But on the plus side, the next season of The History Channel's The Bible promises to be just as controversial as the first.
4. Barry Loudermilk
Weeks after an unfortunate case of vaccine trutherism struck the Republican Party, certain politicians are still having trouble getting the junk science out of their systems.
The latest official to stick his foot in his mouth on the subject is freshman U.S. Rep. Barry Loudermilk (R-GA). Asked about the entirely fictional link between vaccines and autism at a town hall meeting, Loudermilk cited his own personal experience.
"I believe it's the parents' decision whether to immunize or not. And so I'm looking at [my] wife – most of our children, we didn't immunize. They're healthy," he explained. "Of course, home schooling, we didn't have to get the mandatory immunization."
Right Wing Watch has the video:

The fun didn't stop there. At the same meeting, Loudermilk told a different constituent that we should not line the southern border with improvised explosive devices, "because there's a lot of Americans who work [there] and kids around the border as well." (The morality of blowing non-citizens to smithereens was not discussed.)
The race to be Senator Rand Paul's (R-KY) running mate is already underway, and Rep. Loudermilk is lapping the field.
3. Michele Fiore
Nevada assemblywoman Michele Fiore (R), who was last seen trying to arm the "hot little girls on campus" with guns, checks in at number three for a bit of medical misinformation that makes Rep. Loudermilk look like Jonas Salk.
On her radio show last weekend, Fiore explained how her new "terminally ill bill" could revolutionize the health care system.
"If you have cancer, which I believe is a fungus, and we can put a pic line into your body, and we're flushing — let's say salt-water, sodium cardonate [sic] — through that line, and flushing out the fungus," she said, as reported by Jon Ralston. "These are some procedures that are not FDA approved in America that are very inexpensive, cost-effective."
In case this was not already clear, cancer is not a fungus, and it cannot be cured with sodium bicarbonate (the compound that Fiore was presumably trying to name, and better known as baking soda).
And in case this was also not clear: Do not get your treatment from Fiore's home health care company.
2. Vito Barbieri
Add Idaho Rep. Vito Barbieri (R) to the list of politicians who struggled with basic biology this week.
The Idaho legislature is currently considering a bill that would ban doctors from prescribing abortion-inducing medication via a video chat. During a Monday hearing, Barbieri resolved to leave no stone unturned.
The Associated Pressreports:
Dr. Julie Madsen, a physician who said she has provided various telemedicine services in Idaho, was testifying in opposition to the bill. She said some colonoscopy patients may swallow a small device to give doctors a closer look at parts of their colon.

"Can this same procedure then be done in a pregnancy? Swallowing a camera and helping the doctor determine what the situation is?" Barbieri asked.

Madsen replied that would be impossible because swallowed pills do not end up in the vagina.

"Fascinating. That makes sense," Barbieri said, amid the crowd's laughter.
The bill passed the House State Affairs Committee 13-4 — Barbieri voted in favor of it — meaning that a new barrier will soon be erected to women's health in Idaho. But at least Barbieri — who sits on the board of a right-wing "crisis pregnancy center" — got a valuable lesson in basic anatomy.
1. Ron Paul
None of this week's fake physicians could top this week's "winner," Dr. Ron Paul.
In audio uncovered by BuzzFeed News this week, the former congressman and presidential candidate discussed the anti-war contingent in Congress with longtime associate Lew Rockwell.
"I was always annoyed with it in Congress because we had an anti-war unofficial group, a few libertarian Republicans and generally the Black Caucus and others did not — they are really against war because they want all of that money to go to food stamps for people here," Paul explained.
Rockwell, of course, is amenable to Paul's "peace for food stamps" theory; he was intimately involved with Paul's infamous newsletters, which suggested renaming New York City "Welfaria," among other racist attacks.
There is good news for Paul, though. If he's really that offended by the Congressional Black Caucus' attempt to fund food security for the nation's poor, he could always join the apparently thriving secession movement (a phenomenon that Paul believes is already taking place, and is "good news").
Meanwhile, George W. Bush can breathe a sigh of relief; there's no chance that he'll be the most embarrassing family member of a presidential candidate in 2016.
Check out previous editions of This Week In Crazy here. Think we missed something? Let us know in the comments!
Get This Week In Crazy delivered to your inbox every Friday, by signing up for our daily email newsletter.