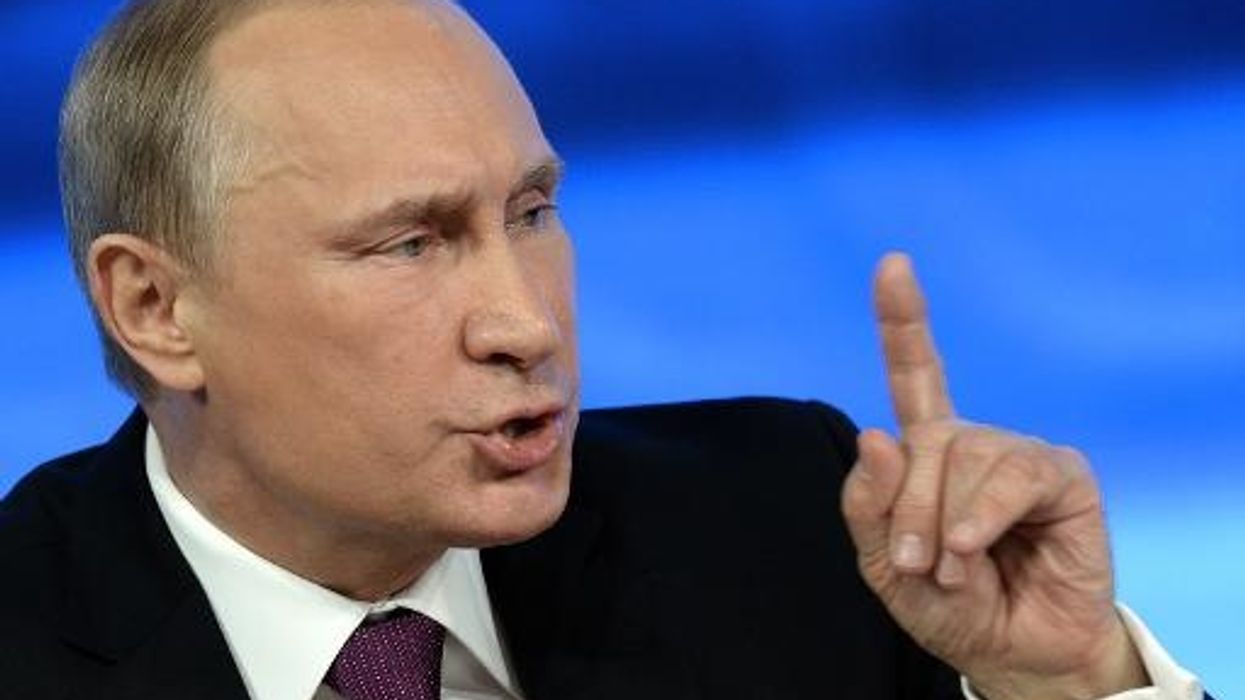 First came the phony referendums; then came the phony annexation; then came the very real re-taking by Ukraine of the strategic hub Lyman, lying within the "annexed" territories; then came a prominent Russian leader threatening the use of tactical nuclear weapons; then came another Ukrainian victory in an area held by Russian military forces near Kherson in the South; and then came a new Ukrainian push, taking the village of Torske on the main road leading east out of Lyman.
It's been a busy few days in Ukraine, and reports from the front indicate it's going to get even busier. The Ukrainian offensive in Kherson has taken more land in the area "annexed" by Russia last week, ignoring Vladimir Putin's threat that he won't stand for what he calls "New Russia" being attacked by Ukraine.
Putin's threats are pure bullshit and contrast with the facts on the ground in Ukraine, where his army is in retreat, and his own political standing in Russia, where his back is against the wall from both left and right.
Ramzan Kadyrov, the leader of Russia's southern Chechnya region and a close ally of Putin's, hasn't been happy with the performance of the Russian army in Ukraine for quite a while. Just before Ukrainian President Volodymyr Zelensky addressed his country by video announcing the gains in the east and south, Kadyrov went on Telegram to proclaim, "In my personal opinion, more drastic measures should be taken, right up to the declaration of martial law in the border areas and the use of low-yield nuclear weapons."
Putin is facing increased opposition from arch-conservative supporters of his war as well as continued, if quieter, opposition from the left. Right-wing so-called "war bloggers," some of whom are embedded with Russian units in Ukraine, have complained steadily of late about their troops on the front lines, shortage of ammunition, food, medical supplies, and their lack of discipline and morale. Their complaints were shown to be accurate in Ukraine's rout of Lyman. Russian forces abandoned tanks, armored personnel carriers, mobile howitzers, and ammunition stores as they fled from the Ukrainian advance to the east of Kharkiv.
Reuters reported that Kadyrov called the commander of Russian forces in Lyman a "mediocrity who should be stripped of his medals and sent to the front." He claimed to have warned the Russian army chief Valery Gerasimov of "a looming disaster" in Lyman, according to Reuters. Russia had used Lyman, a major rail hub in the region, as the central location of its resupply efforts in the Luhansk province of the north Donbas region.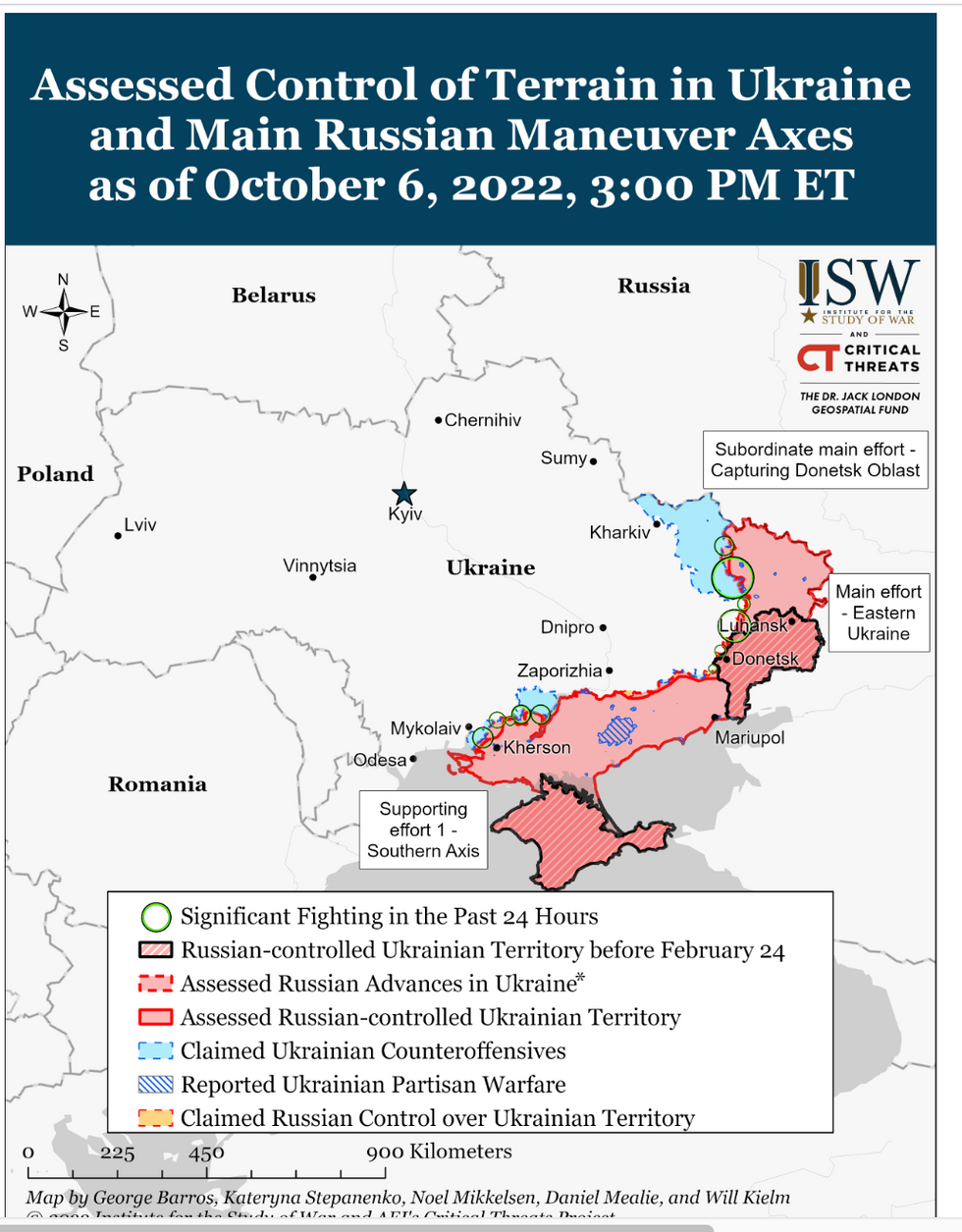 Map by George Barros, Kateryna Stepanenko, Noel Mikkelsen, Daniel Mealie, and Will Kielm2022 by Institute for the Study of War and AEI's Critical Threats Project
Re-taking Lyman is an important psychological boost for Ukraine and a strategic victory in its campaign to re-take the Luhansk and Donetsk provinces of the Donbas, which Russia has held since early in the war.
In the south, Ukrainian media have shown troops raising Ukrainian flags over the village of Khreshchenivka, west and a little north of Kherson itself, according to the Associated Press. Ukraine's army has been using American-supplied HIMARS rocket systems to hit a bridge over the Dnipro River in Kherson and has been attacking pontoon bridges used by Russian forces to resupply their troops on the west bank of the Dnipro, the AP reported.
Russia used a suicide drone to strike Zelensky's hometown of Krivyi Rih, destroying two floors of a school on Sunday. The Ukrainian Air Force said that it had shot down five Iranian-made drones. Two others made it through Ukrainian air defenses, according to the AP, which reported that not all accounts of Ukrainian military activity could be verified.
The Ukrainian victory in Lyman came just one day after Putin held a rally in Moscow to celebrate his fake annexation of four regions of eastern Ukraine. In an unhinged speech on Friday, Putin had described Lyman as part of "Novorossiya." He was talking about a sliver of Ukraine he claimed as part of Russia's "historic heartland." Russia is the world's largest country, spanning 11 time zones, not including Ukraine, although Putin has asserted control of eastern Ukraine's time of day as well, including it within the westernmost time zone of Russia.
The New York Times reported that "Yevgeny Primakov, the head of a government agency managing ties with Russians abroad, wrote on Telegram that 'we have given a Russian city to the enemy' for the first time since World War II."
Boo-fucking-hoo, Yevgeny.
Lucian K. Truscott IV, a graduate of West Point, has had a 50-year career as a journalist, novelist, and screenwriter. He has covered Watergate, the Stonewall riots, and wars in Lebanon, Iraq, and Afghanistan. He is also the author of five bestselling novels. You can subscribe to his daily columns at luciantruscott.substack.com and follow him on Twitter @LucianKTruscott and on Facebook at Lucian K. Truscott IV.
Reprinted with permission from Lucian Truscott Newsletter