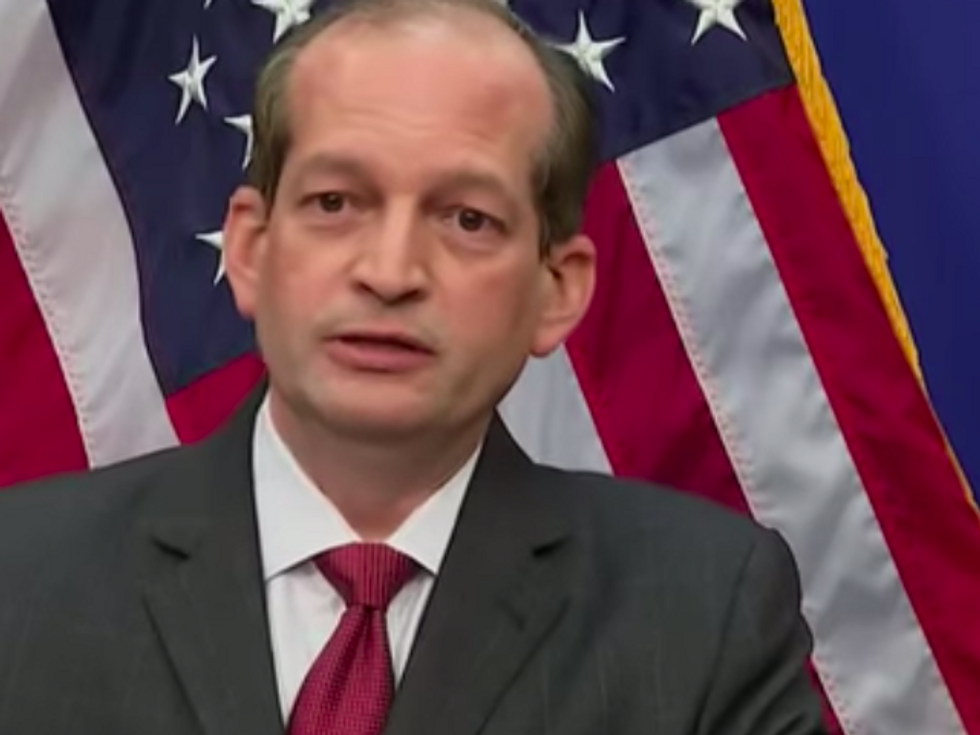 Reprinted with permission from Alternet.
Fighting fierce criticism over his handling of a high-profile sex trafficking case from 2008, Labor Secretary Alex Acosta took to a lectern before cameras Wednesday to field questions from the press.
He has come under scrutiny for the extraordinary non-prosecution deal given to Jeffrey Epstein, a financier accused of trafficking dozens of underage girls and sexually abusing them. In 2008, rather than pressing federal sex trafficking charges as a U.S. attorney in Florida, Acosta oversaw an agreement with Epstein that resulted in his pleading guilty to a lesser state charge. He served only 13 months in a local jail and scored a work release program that allowed him to go to his office 12 hours a day, six days a week. A judge has since ruled that the prosecutors violated the law in the agreement by not informing the victims about the deal.
During the press conference on Wednesday, Acosta defended his actions and refused to apologize to the victims despite multiple opportunities. Acosta placed the blame for the light sentence on state prosecutors and suggested that he only care about putting Epstein in jail. He said he was only concerned with avoiding letting a sex offender walk free.
But while he spoke forcefully in his own defense, he remained light on the details of the case at crucial points. And he didn't explain why the state prosecutor's inclination to go easy on Epstein would have prevented him from bringing more serious federal charges and or forced him to accept such a lax plea deal.
Ken White, a former federal prosecutor and current defense attorney, said Epstein's non-prosecution agreement was "the deal of the millennium, one utterly unlike anything else I've seen in 25 years of practicing federal criminal law."
In perhaps the most revealing moment of the press conference, a reporter asked about one particular charge — which is now part of the case being brought by the Southern District of New York against Epstein — that Acosta didn't bring: obstruction of justice.
"Are you aware of alleged obstruction of justice by Jeffrey Epstein?" a Daily Mail reporter asked. "It seemed to be mentioned in a bail memo by New York prosecutors. Did he take efforts to intimidate prosecutors, and if he did — or harass witnesses, tamper with witnesses — why would he get what's been called a sweetheart deal?"
"I can't comment on the New York case, that would not be appropriate," Acosta said.
"But were you aware of that in Florida?" the reporter asked. "I'm talking about in Florida — "
"Sir, there's a pending case in New York, I can't talk about that," Acosta shot back.
It was an odd response since he spent the whole hour-long press conference talking about charges against Epstein. It suggested that this was a line of inquiry Acosta is not inclined to go down, even while he talked extensively about other aspects of the case. So why won't he address the potential obstruction of justice that went uncharged?
He also offered similarly obfuscatory answers when pressed on why Epstein's agreement included a provision that said prosecutors would not pursue charges against any potential "co-conspirators." Acosta gave vague references suggesting this was necessary to get Epstein in jail, but it's far from clear why this would be the case. He also indicated that there wasn't evidence of co-conspirators who were themselves abusing girls, but that doesn't mean there weren't others involved in the trafficking itself.
And if there weren't any other people involved in the trafficking, why would it have been necessary to include this provision in the non-prosecution agreement?
Acosta's press conference did little to allay doubts about his credibility or answer these remaining questions about the case.