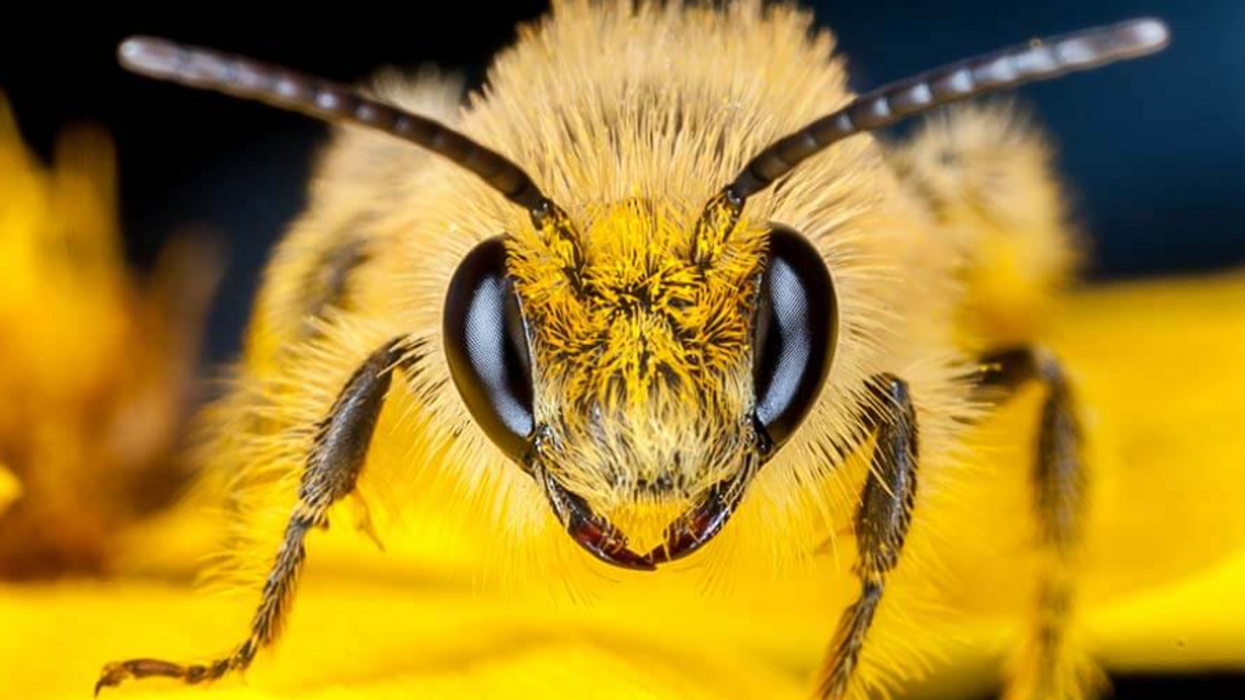 If we were to lose the bees, as now seems increasingly likely, humanity would collapse after four years. They pollinate about a third of our food. But if the insects were to disappear altogether, then even more than our food supply and quality of life would be affected. Entire ecosystems and inevitably civilization itself would collapse. Even now an enormous proportion of world insect species are endangered. Without them half of all birds would disappear and our world would become unrecognizable, a world we would not want to inhabit.
We have visited the Monarch butterfly sanctuary in Michoacan, Mexico, where the butterflies arrive after a 3000-mile journey from Canada through the United States in the longest insect migration on earth. To see the butterflies engaged in their aerial acrobatic flights is one of the world's great spectacles. Everyone in North America should be concerned that the population of this unique iconic species has dropped by 80 percent in the last generation due to habitat destruction – and to genetically engineered crops which have been modified to resist Monsanto's Roundup herbicide which destroys the Monarch species' main food supply.
Spellbound by the numbers and huddled masses of the Monarchs we beheld in the oyamel forests over 16 years ago, we left the refuge very slowly. Local rangers made sure no-one drove more than five miles an hour so that not a single monarch would be hurt or hit by our vehicle. Yet all the while, in the United States our agricultural policies are committing mass murder of one of nature's most exquisite species .
But it is not just the Monarch Butterfly that is threatened. Many bee species and nearly half of all insects have seen their numbers drop worldwide. As climate change exacerbates the destruction of their habitat, insects and fauna of all kinds face a very uncertain future. The United States still permits the use of 72 pesticides that are outright banned or will soon be in Europe, Brazil, and even China. More than 300 million pounds of pesticides banned in other countries are used in this country annually, in a military-type assault on agricultural lands. The banning of these pesticides will be largely up to the very industries that use them, but the people need to make their voices known. Until these chemicals are outlawed, we are committing ecocide on our own lands.
These chemical can also kill human beings, of course. The glyphosate-based weedkiller in Roundup has finally been brought to justice in the first cancer trial exposing that pesticide's effect. After using the Monsanto insecticide, a farmer named DeWayne Johnson got non-Hodgkins lymphoma, a deadly form of cancer. Now Monsanto will have to pay $289 million in damages to Johnson. The only hitch is that he will probably not survive much longer.
Monsanto has allegedly concealed the facts about Roundup ever since its introduction on the market in 1974. Since then over 1.6 billion kilograms of glyphosate have been distributed over the American food supply – and over the past 20 years, the average amount of glyphosate assimilated into humans has increased by 1000 percent. The Johnson lawsuit only begins to reflect the damage done to the environment and people, with 8000 additional plaintiffs awaiting trial.
Anyone who believes they can escape the ill effects of pesticides should realize that breakfast cereals also contain glyphosate – and the average American consumes 10 pounds of cereal every year. The Lucky Charms leprechaun and that jolly Quaker fellow on the oatmeal box should be replaced with a death's head. Too little and too late, the Environmental Protection Agency is reconsidering the impact of glyphosate and Roundup on human health and the environment, including the Monarch butterfly habitats. But the World Health Organization has determined already that glyphosphate is a deadly carcinogen.
Farmers have been using glyphosphate on crops at the time of harvest, incuding peas, carrots, soy products, sweet potatoes, corn, almonds, quinoa, and others. The impact on the body's biochemistry, especially as it pertains to inflammation and the gut is substantial. We are all being affected.
Critically endangered species are being harmed by pesticides and herbicides daily, as is our vulnerable topsoil. Retailers such as Home Depot need to be persuaded to stop supplying Roundup before our food system crashes. In this time of extreme climate change, the last thing we need is to lose the insects, those very beings we have taken granted for millennia.
In Europe, regulators have taken a far tougher position on pesticides. France has been careful to ban five neonicotinoid chemicals from agricultural use because they are known to wreak havoc on pollinating bees. Europe's top court ruled that the chemicals posed a "serious risk to human or animal health or to the environment."
The United Nations has issued an alert that half of pollinators, bees and butterflies included, are at immediate risk of disappearing forever. Worsening floods, drought, and serious climate disruption are occurring already. If we don't reverse course, we will have poisoned the very foundation of this country, its soil. Without the soil there can be no civilization. In the corn belt, America has already lost half of its topsoil. By 2050, as much as 75 percent of the world will be suffering from drought.
Global famine is just around the corner if we don't save the insects by adopting sustainable farming methods. The industrial use of pesticides is eliminating the insects we depend on and will eventually undermine the viability of our species. The insects, those tiny creatures that uphold the world, have warned us.