3 Major Fires Burn Out Of Control In California; Governor Warns 'There Is More To Come'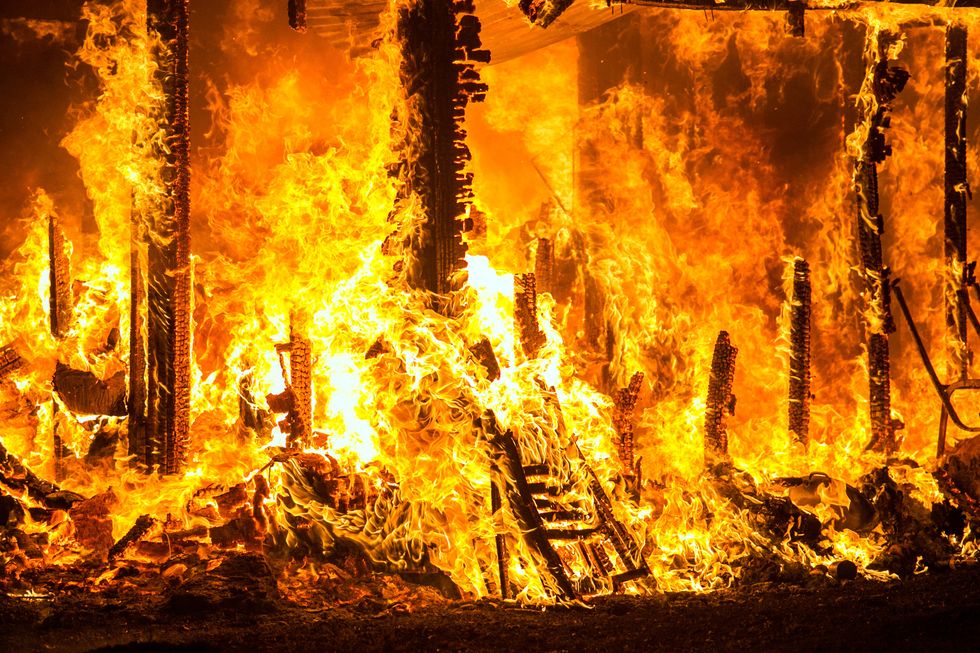 By Lee Romney, Paige St. John, Louis Sahagun and Peter H. King, Los Angeles Times (TNS)
MIDDLETOWN, Calif. — There was little good news Monday on the California fire front. Three major wildfires were burning out of control, and Gov. Jerry Brown warned that, given the ravages of drought and the growing influence of climate change, "there is more to come."
In hilly and rural Lake County, a short drive north of the state's storied wine country, the ferocity and breakaway speed of the Valley fire stunned veteran firefighters, hampered strategic planning and gave rise to worries that it could be a harbinger of an extended, and unpredictable, fire season in the months ahead.
By Monday evening the still-raging fire had grown to 62,000 acres and was just 10 percent contained. Smoke had thinned just enough during the day to provide a clearer assessment of the scope of the devastation. The picture was a tragic one.
The death of a woman was confirmed Monday; sheriff's deputies had found her remains in a charred residence on Cobb Mountain the night before. Officials said there were other individuals unaccounted for.
A seven-mile stretch of Highway 175 connecting Cobb, where the fire originated, to the devastated town of Middletown was a corridor of destruction: blackened abandoned cars, denuded pine groves, dead animals, gutted houses.
"An extraordinarily hostile fire" said veteran firefighter Kevin Rosado, who was working near the highway Monday.
Two hundred miles to the east, in Sierra foothill Gold Country, the Butte fire by midday Monday had destroyed 135 homes in Amador and Calaveras counties. Crews had managed to carve out containment lines around a third of the fire, which has placed thousands of residences in peril.
To the south, the Rough fire burning in the Sequoia National Forest was reported to be 40 percent contained, but it already has devoured 211 square miles and filled the San Joaquin Valley with stifling smoke.
"These are serious fires," Brown said Monday at the State Office of Emergency Services. "People have been killed. Hundreds of structures have been destroyed. There is more to come."
Ken Pimlott, director of the California Department of Forestry and Fire Protection, who joined Brown at a news conference, said the state already has experienced 6,000 fires this year — 1,500 more than last year. And, he added, "we don't see an end to fire season for months to come."
As he has previously done this fire season, Brown anecdotally drew a link between the volatility and frequency of recent wildfires to climate change.
"The fires are acting more aggressively, more unpredictably," he said. "It's scary stuff. … We are really in a battle with Mother Nature, and nature is more powerful than we are."
Though researchers generally applaud the governor's efforts to raise public awareness about climate change, not all are convinced the hard evidence is in yet to scientifically link a summer of intense wildfires with global warming.
"It's great that he's using fire to raise that awareness," said Max Moritz, co-director of the University of California Center for Fire Research and Outreach, "but there are still open questions over how much you can make those links. It's a tightrope."
Later in the day, the governor authorized $12.4 million in additional spending to help fight the Lake County and Gold Country fires — and the additional blazes he said were sure to come.
Part of the money will pay and equip 100 to 150 more firefighters through December. The bulk of it will provide additional helicopters and new buckets for scooping out water for aerial assaults.
By Monday, a light rain began to fall in the mountains where the Rough fire burned and across the San Joaquin Valley, raising hopes that the precipitation might help knock down the smoke and slow the fire.
In Lake County, it was the blaze's rapid eruption that caught firefighters off-guard. Within three hours Saturday it grew from a small fire of unknown origin burning near an outbuilding to a wall of flame that by Sunday evening had plowed through a number of small communities including Middletown, a 19th-century stagecoach stop midway between Clear Lake and Calistoga.
Responding crews were forced to turn their focus from fighting a wind-blown inferno that was spitting spot fires out ahead of itself to helping residents frantically evacuate from homes clustered on rural roads or scattered through the flaming brush and conifers.
Scott L. Stephens, a professor of fire sciences at the University of California, Berkeley, said the Valley fire's rapid spread was caused by its ability to throw off embers and kindle fallen timber, leaves and other vegetation dried by drought, creating additional spot fires in its path.
This, he said, "allows it to keep jumping and jumping at rates that are just horrendous. It's doing that giant hopscotch, and the drought has — no doubt — had to enhance that ability."
Throughout Sunday and into Monday, smoke and heavy turbulence prevented any aerial attacks — or even surveillance — adding to the difficulty of formulating a consistent plan of attack.
Fatally trapped in the fire was 72-year-old Barbara McWilliams, a former special education teacher who suffered from advanced multiple sclerosis.
The Sheriff's Department issued a statement Monday saying that deputies responded 22 minutes after receiving a 7:12 p.m. call about McWilliams on Saturday. But they were unable to reach the residence on Hot Springs Road because the subdivision "had already been engulfed by flames."
A friend of the victim told a Los Angeles Times reporter that she had tried unsuccessfully with a 6:30 p.m. call to alert officials to McWilliams' predicament.
On Monday, most of the 1,800 firefighters assigned to the effort were concentrated on protecting individual homes, said Mike Smith, a Cal Fire spokesman. A total of 9,000 structures remained threatened.
The fire team did manage to dispatch a dozen helicopters to assist with those efforts and to gain a better perspective on the fire's pathways.
Those fighting it said they no longer see their work as battling an individual blaze. Rather, they regard it in terms of waging a two-month "campaign," one in which they have struggled to contain a string of notably intense and unusually fast-moving wildfires.
"Because this fire season has been so severe, especially in the north state," said Smith, "the resources on all of these fires are the same people, so you move from one incident to the next to the next, because there are only so many of us.
"Fatigue is becoming a factor."
At the fire's northern edge near Loch Lomond, a crew from Humboldt Bay parked its fire truck on a ridge and snaked a long hose down the steep hillside, working to douse smaller spot fires as they sparked up on the already scorched terrain.
A faint drizzle fell, yielding only pockets of steam. Firefighter Tad Sundquist said he was well aware the work could be undone in a flash, with a shift in the wind or a reemergence of hot, sunny conditions.
"Right now," he said, the fire "is on the ground. But next it could be over our heads."
Photo: A home is destroyed in the path of the Valley Fire wildfire on Sept. 13, 2015 near Seigler Springs, Calif. (Marcus Yam/Los Angeles Times/TNS)