5 Biggest Bombshells In Don Jr. Transcript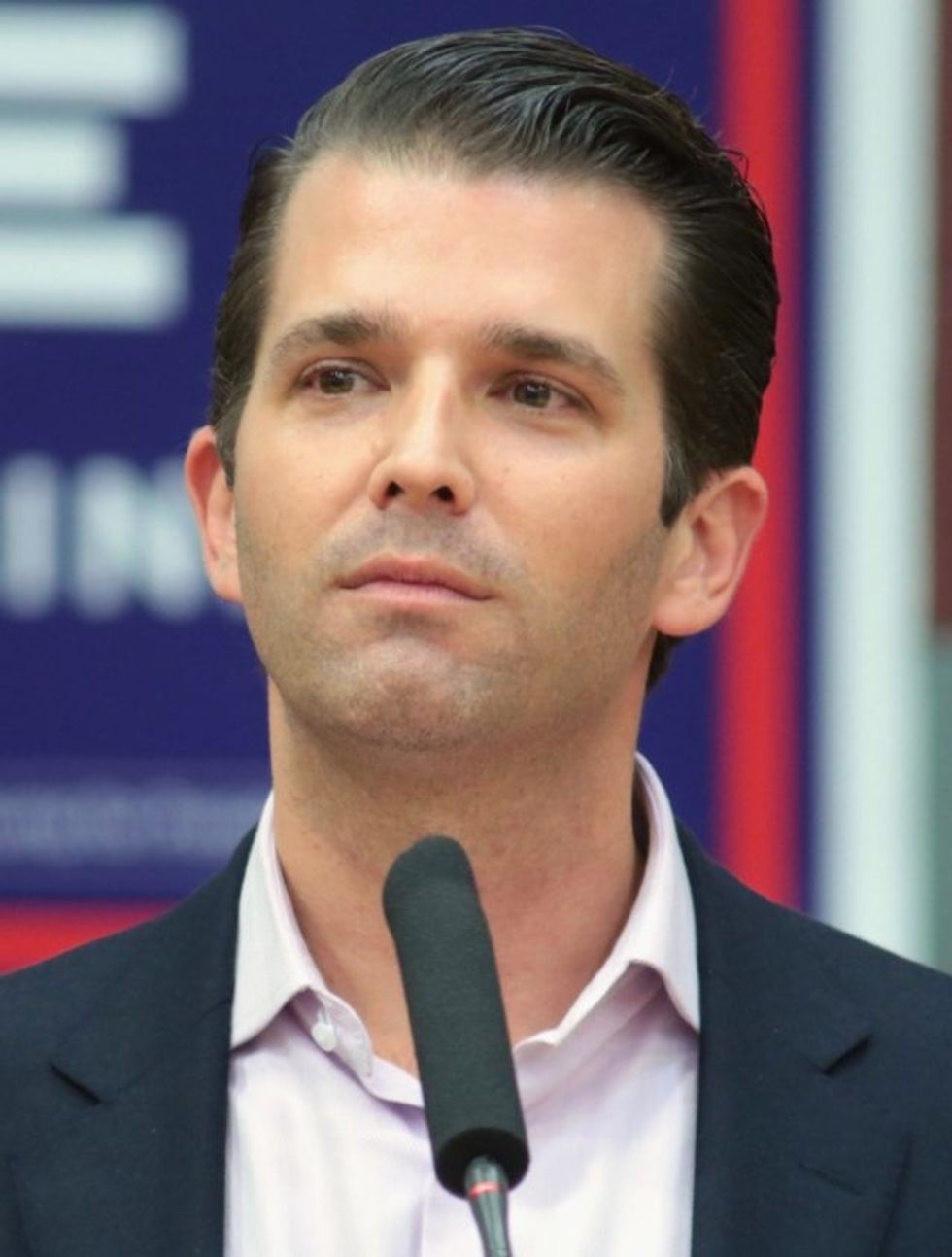 Reprinted with permission from AlterNet.
The Senate Judiciary Committee on Wednesday released transcripts and hundreds of pages of related materials from interviews with Donald Trump Jr. and other key players in the June 2016 Trump Tower meeting.
Here are the 5 biggest bombshells from that release.
1. A Mysterious Blocked Caller
After speaking with Emin Agalarov, who set up the June 2016 Trump Tower meeting, Donald Trump Jr. made an 11-minute phone call to a blocked number—and told the Senate Judiciary Committee he can't remember who he spoke with.
As CNN's Jim Sciutto highlights, Democrats have noted that former Trump campaign manager Corey Lewandowski testified that then-candidate Donald Trump's "primary residence has a blocked number."
2. 'Admitting' Collusion
After news of the June 2016 meeting at Trump Tower meeting became public, participant "Ike" Kaveladze received an email from an "unknown person" asking why Donald Trump Jr. "[released] this e-mail admitting to collusion."
As Kyle Cheney of Politico reports, Kaveladze told the Senate Judiciary Committee said he believes the "unknown person" was talking about news reports he'd seen on TV.
Kaveladze expanded on this in his testimony — said he believes the sender was referring to something he saw on TV. pic.twitter.com/qAwUuhxtej

— Kyle Cheney (@kyledcheney) May 16, 2018
3. Feeding Statements to Russians
As the Guardian reports, a lawyer for the Trump Organization asked representatives for Russians involved in the Trump Tower meeting to refrain from telling the press what occurred.
In an email released Wednesday by the Senate Judiciary Committee, the Trump Organization lawyer sent a proposed statement, along with a note saying "would be our preference" for the representatives to say no more on the topic.
"Please consider the following as a statement," Trump Organization lawyer Alan Futerfas said to Rob Goldstone, the publicist who helped arrange the meeting. "Please note that there will always be potential follow-up questions to any statement but if you feel comfortable with this statement and are comfortable saying nothing more, at least for the time being, that would be our preference. Again, any statement should be accurate as to your very best recollection.
4. The Definition of "It"
Lest there be any doubt about what Donald Trump Jr. was soliciting during the 2016 Trump Tower meeting, in his Senate testimony, the president's eldest son explicitly stated that he spoke with the Russians to obtain "potential information about an opponent."
Trump Jr. was asked directly about an email he sent to Goldstone prior to the meeting, after he was informed that Russians were offering "dirt" on Democratic candidate Hillary Clinton.
"If it's what you say I love it especially later in the summer," Trump Jr. told Goldstone.
Question: "What was the 'it' that you loved in that e-mail?"
Trump Jr: "Potential information about an opponent." pic.twitter.com/495f2Xnm49

— Natasha Bertrand (@NatashaBertrand) May 16, 2018
5. Trump Jr. Does Not Recall
Donald Trump Jr. told Senate investigators he could not remember whether he discussed the meeting with his father.
"I mean, obviously he's aware of it now because he's read it, it's been in the papers, but that's the extent of my knowledge of his knowledge about it," Trump Jr. said.
Trump Jr. also said he did not speak with Trump about the misleading statement originally sent in defense of the meeting. The Washington Post reports that the president "personally dictated" that response.
"[Trump] may have commented through Hope Hicks," Trump Jr. told the panel.
"I believe some may have been, but this was an effort through lots of people, mostly counsel," Trump Jr. said. "She asked if I wanted to actually speak to him, and I chose not to because I didn't want to bring him into some thing that he had nothing to do with."
Special counsel Robert Mueller is reportedly investigating that misleading statement as part of a broader probe into possible obstruction of justice.
Elizabeth Preza is the Managing Editor of AlterNet. Follow her on Twitter @lizacisms.