5 Revelations From The Senate Intelligence Committee's First Public Hearing On Russia And The 2016 Elections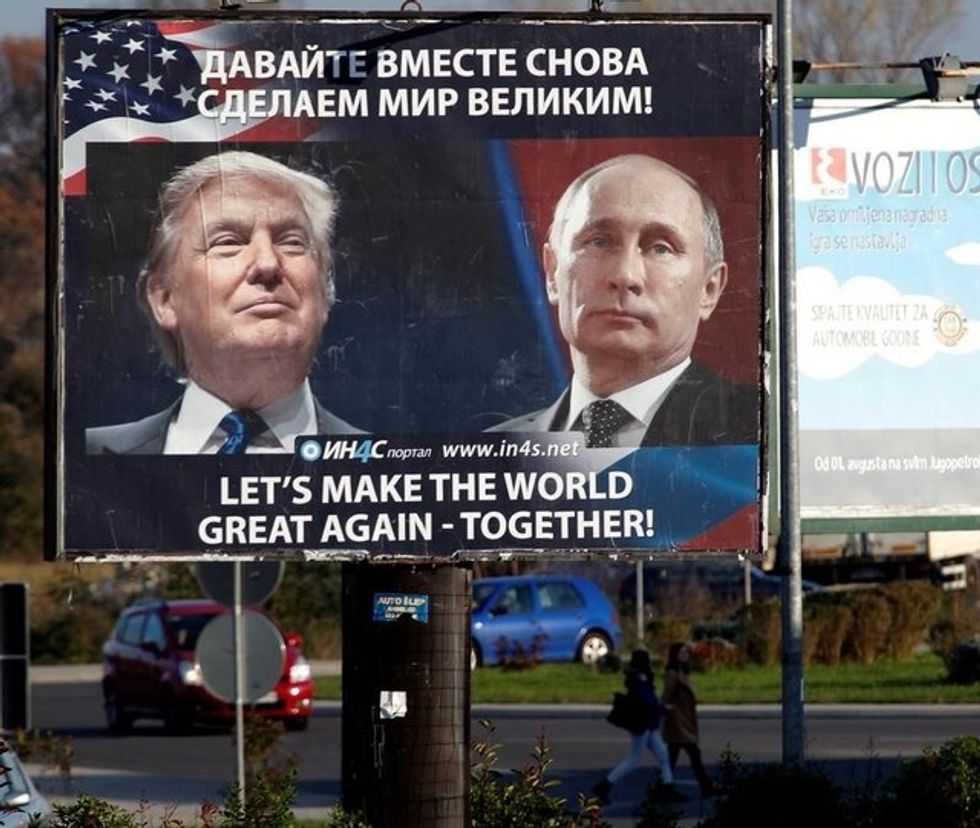 Reprinted with permission from Alternet.
Led by chairman Sen. Richard Burr (R-NC) and vice chairman Sen. Mark R. Warner (D-VA), the Senate Intelligence Committee held its first public hearing Thursday on Russia's interference in the 2016 elections. Equal parts illuminating and harrowing, it offered fresh insight into the Kremlin's spy games and raised new questions about the Trump administration's possible collusion with Putin.
Here are five of the more revelatory moments.
1. Trump appears to parrot Putin's 'fake news.'
"Part of the reason active measures have worked in this U.S. election is because the commander-in-chief has used Russian active measures at time against his opponents," noted Clinton Watts, Robert A. Fox Fellow in the Foreign Policy Research Institute.
Trump's claims that the election was rigged appeared to parallel Russian propaganda: "The number-one theme pushed by RT, Sputnik News… all the way up until the election."
2. Russian 'active measures' have been in play for nearly a century.
Roy Godson, professor emeritus at Georgetown University, spoke of the overt and covert methods used by Russian officials since the 1920s and '30s. "[They] created an enormous apparatus in the world," he said. "They used this apparatus to be able to influence the politics of Europe after the war."
The methods were used to "help Europe and sometimes [the U.S.] in fighting the Nazis and the Italian fascists," Godson noted. "But they were also preparing for being able… to undermine democratic and liberal parties, including in the United States."
"The Russians employed thousands of paid internet trolls and botnets to push out disinformation and fake news at high volume, flooding our social media," Sen. Mark Warner confirmed.
"This fake news and disinformation was then hyped by the American media echo chamber and our own social media networks to reach and potentially influence millions of Americans," he added.
"This is not innuendo or false allegations," Warner hammered. "This is not fake news. This is actually what happened to us."
4. Russian operatives sought to undermine American politics long after the election.
"This past week, we observed social media campaigns targeting Speaker of the House Paul Ryan hoping to foment further unrest amongst U.S. democratic institutions," Watts told senators. He claims one of its targets was Sen. Marco Rubio (R-FL), a vocal critic of Russia.
5. The money trail is littered with bodies.
"There's been more dead Russians in the past three months that are tied to this investigation who have assets in banks all over the world. They are dropping dead, even in western countries," Watts concluded. "These are all huge openings to understand how they are funded by the Russian government. I don't have the capability to do that from where I sit, but I think that's a huge angle."
This article was made possible by the readers and supporters of AlterNet.