The 5 Worst GOP Plans To Fight Obama's Immigration Action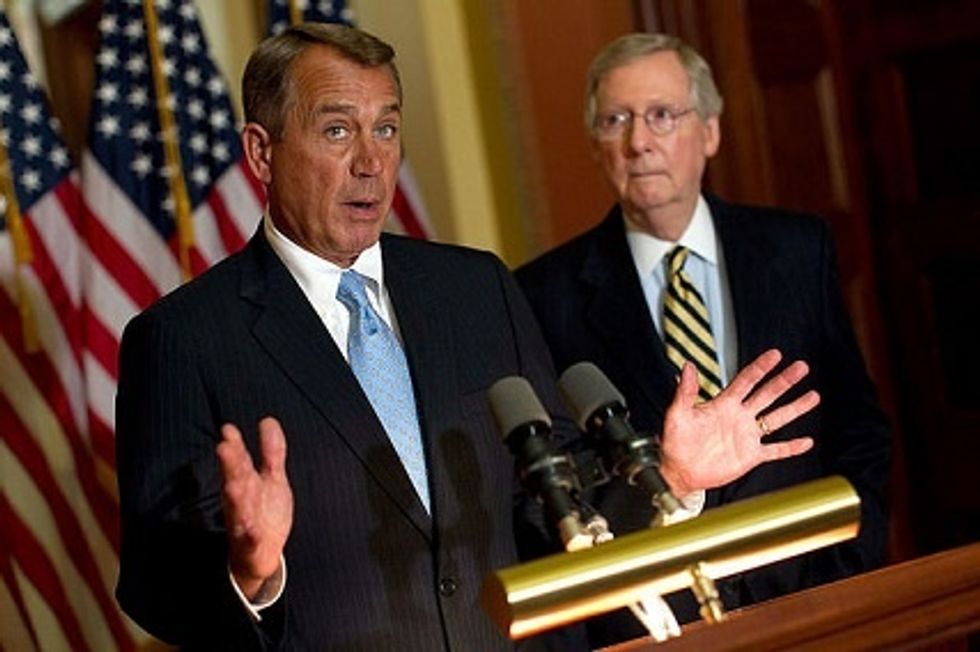 Two weeks after President Obama moved unilaterally to protect some 5 million undocumented immigrants from deportation, Republicans still aren't sure how to respond. They know that the president's action must be a lawless power grab to give everyone amnesty (whatever that means), but they are divided on how they should fight back.
That's not to say that they're short on ideas. Here are five of the most outlandish ways that Republicans have considered stopping, or merely seeking revenge against, the "imperial president:"
Shut Down the Government
The most popular response among right-wing Republicans is to blackmail President Obama into reversing his executive action via a government shutdown. Republicans could refuse to pass legislation funding the government after December 11 unless it includes language blocking the President's immigration move.
"I don't think anything is off the table," Rep. Raúl Labrador said on Tuesday. "I don't think anybody is thinking about a shutdown, but, in negotiations, you never take anything off the table. That's the first rule of negotiating, and apparently it's not one that's been learned in Washington, D.C."
The plan comes with several drawbacks, however. In addition to being a near-guaranteed political disaster, it would fail to do anything to stop President Obama's deportation plan. It would likely result in shutting down the Department of Homeland Security, however, which isn't a good look for the party whose own immigration plan boils down to little more than "secure the border!"
Censure the President
Some Republicans, such as influential anti-immigrant hardliner Rep. Steve King (R-IA), have suggested censuring President Obama as a method of voicing their disapproval.
"That's not happened in more than a century, and that would be at least a direct message to the president," King said in late November. The only American president to be censured was Andrew Jackson in 1834 (Congress expunged the measure three years later).
The idea has some benefits for the GOP: It would allow Republicans to formally rebuke the president, while avoiding the negative effects of the more extreme potential responses.
But it's far from perfect. For starters, it wouldn't actually stop President Obama's executive action. Furthermore, while Republicans could pass a censure resolution through the House with ease, they likely couldn't round up the 60 votes they need to overcome an inevitable filibuster in the Senate. And, as Sahil Kapur has reported in Talking Points Memo, censuring the president may very well violate the Constitution that so many Republicans in Congress carry in their suit pockets.
Impeach the President
Of course, in a recurring theme of the past six years, many Republicans would like to impeach President Obama and remove him from office.
"Well impeachment is indicting in the House and that's a possibility. But you still have to convict in the Senate and that takes a two-thirds vote," Rep. Joe Barton (R-TX) said in response to the president's immigration plan. "But impeachment would be a consideration, yes sir."
As usual, this would be the worst possible response; Republicans have no legal justification for impeachment, they have no hope of rounding up the two-thirds of the Senate that they'd need to remove Obama from office, and — by their own admission — it would be a political nightmare for the GOP.
Then again, none of that stopped them during the last Democratic administration. And, if nothing else, it would make Sarah Palin happy.
Cancel the State of the Union Address
Arguably the most creative idea for striking back at Obama is blocking the president from delivering the State of the Union address to a joint session of Congress, as has been customary for the past 100 years. The plan first entered the public consciousness around Thanksgiving, when National Review editor Rich Lowry urged Speaker Boehner to tell President Obama, "Send us your State of the Union in writing. You're not welcome in our chamber."
The plan has since been echoed by Breitbart News, Heritage Action, and Congressmen Paul Broun (R-GA) and Tim Huelskamp (R-KS).
(Huelskamp, for good measure, also suggested cutting the budget for Air Force One out of spite.)
Like the other plans, this would do nothing to undo President Obama's executive action. And while it would give congressional Republicans an impressively petty schoolyard victory, it would also reinforce the notion that they are too immature and irresponsible to govern. Furthermore, it wouldn't stop President Obama from delivering his address from the White House — but it would virtually guarantee that his speech would be the most-watched State of the Union in memory.
And that's not even touching the optics of telling the first black president that he's "not welcome" at the Captiol.
Pass An Immigration Bill
Of course, congressional Republicans do have one option at their disposal that could not only override President Obama's immigration move, but also allow them to score a major political victory and solve one of the nation's most pressing policy crises: Pass an immigration bill of their own.
Then again, given Republicans' previous efforts to pull together a united front on the issue, this response is probably even less realistic than banning Obama from Air Force One.