U.S. Health Chiefs In Hot Seat Over Flawed Ebola Response
@AFP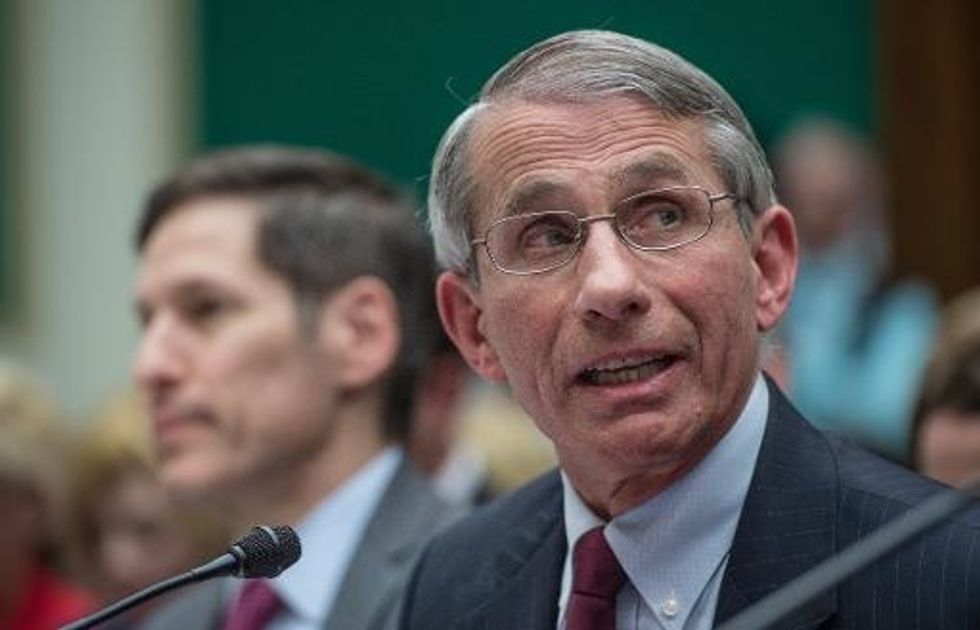 Washington (AFP) – Top U.S. health officials faced a grilling Thursday by lawmakers infuriated over the nation's fumbling response to the Ebola outbreak, as the Obama administration scrambles to contain the disease's spread.
Centers for Disease Control (CDC) director Thomas Frieden has become the most prominent target of the criticism, which has mounted as it emerged that a second Texas health care worker infected with the deadly disease was allowed to board a commercial flight despite reporting a low-grade fever.
Some lawmakers have demanded Frieden's resignation and others have accused President Barack Obama of a lack of leadership.
Congressional leaders meanwhile are urging a travel ban to the United States on all citizens of the three West African nations hardest hit by the epidemic: Guinea, Liberia and Sierra Leone.
"The stakes in this battle couldn't be any higher," Tim Murphy, who chairs the House Energy and Commerce Subcommittee on Oversight, told a packed hearing with Frieden and other health experts.
"The trust and credibility of the administration and government are waning as the American public loses confidence each day with demonstrated failures of the current strategy," he added.
Murphy, echoing other senior lawmakers like House Speaker John Boehner and Senator Marco Rubio, said he had "ongoing concern that administration officials still refuse to consider any travel restrictions" on people from West Africa entering the United States.
Some experts and lawmakers warned that isolating West Africa could further strain its health care resources.
Frieden and other officials acknowledged they still did not know how two Dallas nurses who treated a sick man contracted the virus, highlighting concerns about the government's ability to prevent its spread.
But Frieden insisted authorities could keep the hemorrhagic virus at bay in America.
"We remain confident that Ebola is not a significant public health threat to the United States," he told the panel.
"It is not transmitted easily, and it does not spread from people who are not ill."
That statement offered little consolation to worried lawmakers.
"People are scared. We need all hands on deck. We need a strategy," House Energy and Commerce Committee chairman Fred Upton warned.
"People's lives are at stake, and the response so far has been unacceptable."
But some warned of the dangers of sparking hysteria among the public.
"We need to put all of this in perspective, and not panic," House Democrat Henry Waxman told the panel.
The White House stressed that Obama, who cancelled political events Wednesday and Thursday in order to coordinate the U.S. Ebola response, maintained confidence in Frieden.
Nearly 4,500 people are known to have died from Ebola — mainly in West Africa — although Frieden cautioned the toll "may be substantially under-reported."
While legislators insist there is no margin for error, mistakes in handling Ebola continued to crop up in the United States after a Liberian Ebola victim, Thomas Eric Duncan, was cared for in Texas.
"Unfortunately, in our initial treatment of Mr Duncan, despite our best intentions and a highly skilled medical team, we made mistakes," said Daniel Varga, chief clinical officer of Texas Health Resources which runs the hospital where Duncan was treated.
A nurse who treated one of the sick caregivers accused Texas Health Presbyterian Hospital of failing to adequately prepare staff for handling Ebola cases prior to Duncan's arrival.
"We never talked about Ebola and we probably should have," nurse Brianna Aguirre told NBC's Today show.
"They gave us an optional seminar to go to. Just informational, not hands on," she added. "We were never told what to look for."
Compounding concerns, the CDC allowed a health care worker who had been exposed to an Ebola patient to fly by commercial plane after she reported a low-grade fever.
Officials are now considering a travel ban in such cases, a source told AFP.
U.S. authorities began screening for Ebola on Thursday at the Washington area Dulles airport, Chicago's O'Hare, Newark and Atlanta airports, after New York's JFK began screening last week.
Together, the airports receive 94 percent of travelers from the Ebola-affected countries.
Frieden said the two U.S. transmissions showed the need "to strengthen the procedures for infection-control protocols."
"It's like fighting a forest fire: leave behind one burning ember, one case undetected, and the epidemic could re-ignite," he said.
Anthony Fauci, director of the National Institute of Allergy and Infectious Diseases, said the first person to contract Ebola in the United States, Nina Pham, was "stable" and being transferred to the National Institutes of Health in Maryland for treatment.
AFP Photo/Nicholas Kamm