A 2012 EPA Opinion Exposed Kavanaugh's Partisan Extremism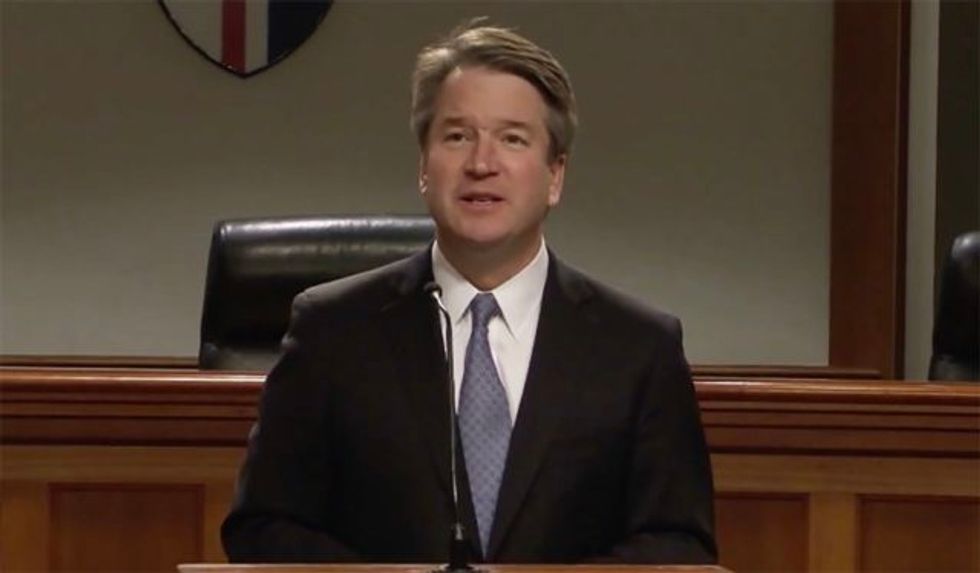 Reprinted with permission from AlterNet.
If there's one thing that's clear about Judge Brett Kavanaugh — President Donald Trump's pick to be the next Supreme Court justice — it's that he's a deeply committed Republican partisan.
And his deep commitment to Republican ideology, as shown in a 2012 court ruling against the Environmental Protection Agency, would pose a serious danger to the American people if he sits on the highest court in the country.
The ruling is somewhat obscure, but it reemerged on Twitter in the aftermath of Kavanaugh's nomination. In a compelling takedown of Kavanaugh's findings, columnist Steven Pearlstein contemporaneously wrote a succinct demolition of the judge's argument and corrupt judicial philosophy underlying Kavanaugh's views.
The case involved an EPA rule that regulated pollution that crosses state lines — a rule that Kavanaugh's court jettisoned, despite the agency's finding that it "would prevent between 13,000 and 34,000 premature deaths, 15,000 non-fatal heart attacks, 19,000 hospital and emergency room visits and 1.8 million days of missed work or school for each year."
In knocking down the rule, Pearlstein argues Kavanaugh was "so dismissive of the most fundamental rules of judicial restraint that he dares to throw out regulations on the basis of concerns never raised during the rule-making process or in the initial court appeal."
Pearlstein argues that the two reasons Kavanaugh provides for revoking the rule are essentially pointless quibbles. He objects to the EPA not taking account of possibilities that it considered extremely unlikely and for taking pragmatic steps to accommodate the states' levels of compliance.
The ruling is, Pearlstein writes, "60 pages of legal sophistry, procedural hair-splitting and scientific conjecture."
"This is precisely the kind of "judicial engagement" that we have come to expect from Kavanaugh," he continues. "For all his intelligence, Kavanaugh is nothing more than a partisan shock trooper in a black robe waging an ideological battle against government regulation."
The world is a complex place, and the government is often the best tool to solve serious and emerging problems — such as thousands of deaths caused by pollution crossing state lines. But people like Kavanaugh, devoted to conservative jurisprudence that pretends to offer "restraint" only when it is convenient, the government's attempts to solve problems like pollution or the excesses of industry are always suspect.
With Kavanaugh on the court, joined by four other deeply conservative justices, the third branch of government will serve for years as a bulwark against serious efforts to use regulation to fight real problems — even when those problems are deadly.
Cody Fenwick is a reporter and editor. Follow him on Twitter @codytfenwick.