A Year On, No News Of U.S. Journalist Captured In Syria
@AFP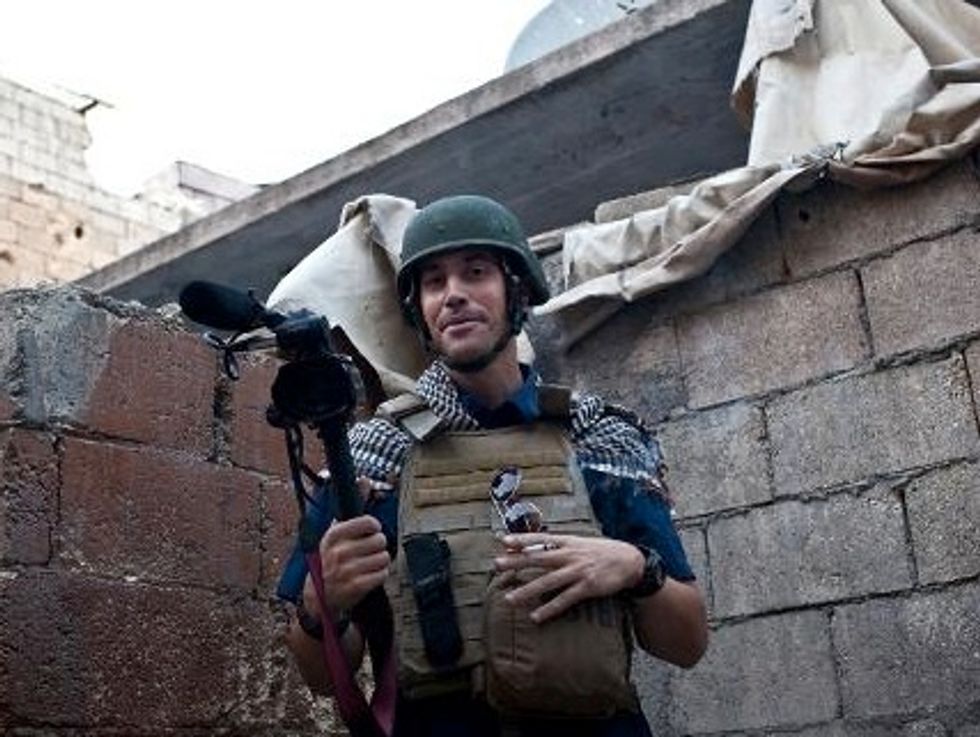 Washington (AFP) – U.S. journalist James Foley turns 40 this week but his family will not be able to celebrate with him. Foley was kidnapped almost a year ago while covering Syria's civil war.
Foley, an experienced freelance reporter, was seized by armed men in the northern Syrian province of Idlib on November 22, according to witnesses, and he has not been heard from since.
U.S. news organization GlobalPost, one of Foley's employers, has a team of investigators seeking information on his whereabouts, and his family have made multiple appeals for information.
Syrian President Bashar al-Assad's government has denied it is holding him, and more than 11 months on his family is anxious for news.
"We have so many good people trying to help us but we're not making a terrible amount of progress," Foley's mother Diane told Agence France-Presse, another of his clients.
"It's very, very difficult to figure out even where Jim is. We still have very limited information."
Media watchdog Reporters Without Borders reports that at least 16 foreign journalists are missing in Syria, including Foley and fellow American Austin Tice, who disappeared on August 13 last year.
The exact number of international reporters being held captive is difficult to estimate, as some victims' families and governments have asked the media not to report their cases.
The situation inside Syria has also become more complicated and dangerous for journalists since the war began, with multiple rebel factions on one side and diverse militias fighting for the government.
Where once reporters could work in areas held by anti-Assad fighters keen for international exposure of their cause, now many rebels are loyal to anti-Western jihadi Islamist groups.
Foley's family, who have mounted a vigorous campaign to plead for news of their missing son, have long insisted he is professional, independent reporter who was covering the conflict fairly.
There have been moments of hope, but some trails have run cold, and as the one year anniversary of the kidnap approaches his parents John and Diane are living through tough times.
"We're really trusting in God and Jim's resilience to get through this," Diane said, as she and her husband prepared for another round of media interviews to keep the case in the public eye.
In an article to mark Foley's birthday, GlobalPost chief executive Philip Balboni said investigators were seeking news from contacts in Lebanon, Jordan and on the Syria-Turkish border.
"In the light of recently obtained information, and in the best interests of Foley's security, the Foley family and GlobalPost have decided that no further details about his likely captors of the location where Foley is being held an be released at this time," he wrote.
AFP's chairman, Emmanuel Hoog, also reiterated his call for Foley's immediate release.
"More than ever we are hoping for some positive news about James, who along with all the journalists kidnapped in Syria should be released as soon as possible," said Hoog.
"We expect all actors on the ground to do everything possible to secure the freedom of James and the others. Holding independent journalists in captivity does not serve the interests of anybody involved in this terrible conflict."
A spokeswoman for the State Department said the United States, which has cut ties with Syria, was working through the Czech mission in Damascus to find news of Foley and Tice.
"And we have long expressed, of course, our great concern about the safety of journalists, and certainly, the well-being of both of them on the ground," Jen Psaki said.
Since Foley was taken, the world's relationship with Syria has evolved dramatically.
In August, after Assad's forces were accused of launching a huge chemical weapons attack on pro-rebel suburbs of Damascus, U.S. President Barack Obama threatened air strikes.
Assad's ally Russia objected, and Washington has now agreed to a joint U.S.-Russian plan for international arms inspectors peacefully destroy Syria's chemical arsenal.
This may only represent a slight decrease in tensions, but U.S. Secretary of State John Kerry and his Russian counterpart Sergei Lavrov are pushing ahead with plans for a peace conference.
"We found it hopeful that Kerry is speaking through the Russians. We're very thankful that the bombing was averted. We're hoping that some of those captured will be found and released," Diane said.
Assad said in May that his forces had no news about the fate of international journalists who had "illegally entered Syria … into areas that have a known presence of terrorists."
In September, freed Italian journalist Domenico Quirico and Belgian teacher Pierre Piccinin said they were beaten, starved and subjected to mock executions during a five-month kidnap ordeal.
Quirico said they had been sold out by the rebel Free Syrian Army to jihadists with ties to Al-Qaeda.
AFP Photo/Nicole Tung