Affirmative Action Thrives At Most Selective Colleges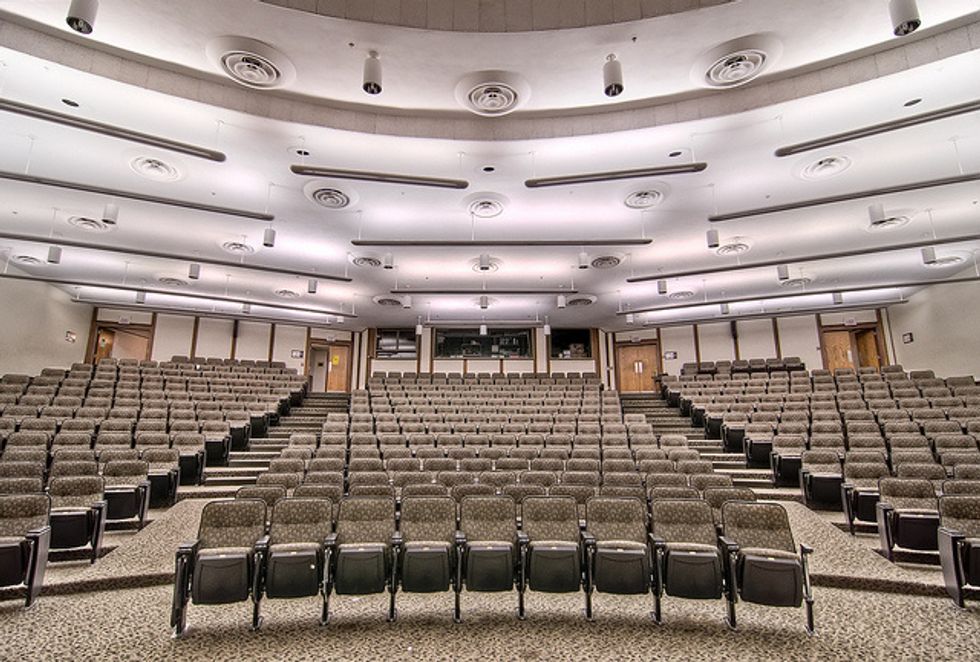 By Carolyn Phenicie, CQ-Roll Call (TNS)
WASHINGTON — Colleges across the country are trying to diversify their freshman classes, but are doing so on an ever-changing legal terrain about whether, and to what extent, they may consider race in admissions policy.
Higher education groups have new research that says the most selective private colleges are most likely to use race-conscious admissions, but colleges across the selectivity spectrum, both public and private, have similar measures.
"The practice of race-conscious admissions is not the sole domain of the most selective institutions," said Lorelle Espinosa, assistant vice president of the Center for Policy Research and Strategy at the American Council on Education, a higher education advocacy group.
The ACE conducted the survey of practices with the Civil Rights Project at the University of California, Los Angeles, and Pearson Research.
Preliminary results showed about 80 percent of the most selective private schools — those that admit less than 40 percent of applicants — have a race-conscious admissions policy, a proportion that decreases as schools get less selective.
The most common practices, according to the survey of 338 schools, include articulation agreements that allow students to transfer easily from community colleges, targeted recruitment at high-minority high schools, and the use of what is known as holistic application reviews.
Holistic reviews allow schools to consider all facets of an application, including history of overcoming hardship or ability to contribute to diversity on campus, instead of harder data such as test scores or grade point averages that might eliminate qualified minority applicants.
The study also asked colleges which policies were the most effective.
The Effectiveness Test Holistic review was the only policy to rank among schools' most commonly used policies as well as the ones that proved most effective, according to Matt Gaertner, a senior researcher with Pearson.
Schools also successfully diversified by setting yield targets to ensure a high number of accepted minority students enrolled or by removing requirements that applicants submit test scores, Gaertner said.
More survey information, including how schools have responded to major court decisions, will be included in final results in July.
But education experts don't see a one-size-fits-all solution. Federal regulations are changing and eight states limit or ban affirmative action at public institutions.
Richard McCormick, former president of the University of Washington, said voters' rejection of race-conscious admissions in 1998 led to a dramatic decline in the share of minorities in the next freshman class.
Washington's admissions officers used surrogates for race to work around the ban and ensure diversity. The school set up privately funded scholarships for minority applicants, required applicants to detail experience with adversity and diversity, and targeted recruiting at high-minority schools. It took five years to return to pre-ban diversity, McCormick said.
The same efforts don't work elsewhere.
McCormick was president of Rutgers University in New Jersey until 2012. Officials there established the Rutgers Scholars program to target high-achieving middle school students in high-minority districts and provide them with mentors and academic support through high school. Those participants accepted at Rutgers can attend tuition-free. The program has been a "huge success," he said.
Santa Ono, a provost at Emory University in Atlanta before taking the helm of the University of Cincinnati, said Emory created a grant program that issued aid based on family income with the goal of enrolling more low-income, minority students.
At Cincinnati, the school had more success in easing the transfer between local two-year programs and the university.
Overhanging all of the schools' decisions is a legal landscape that has changed over more than 35 years.
The case attracting the most attention is the one of Abigail Noel Fisher, a white student who alleges the University of Texas-Austin denied her admission based on race.
Texas guarantees admission to the top ten percent of each high school class. For the rest, it considers race among a variety of factors.
The Texas Legislature created the top ten percent standard after a federal court overruled the broad affirmative action policy at the state's law school.
The new plan diversified the section of the class admitted under the ten-percent plan, but not the rest, said Kedra Ishop, an admissions officer at the University of Michigan who previously worked at Texas.
"We expected to be sued once we added race and ethnicity back to the process," she said.
Fisher and her attorneys argue the ten percent standard provided sufficient diversity and left no need to consider race to fill the class.
Colleges didn't get the landmark decision they expected when the Supreme Court heard the case in 2013. The justices "reaffirmed the value of diversity" in a seven to one decision, but said lower court judges "had to be much more rigorous in judging whether or not there was any alternative that was non-racial," said Gary Orfield, co-director of the Civil Rights Project at UCLA. "What exactly that standard is…we're all left uncertain."
Meanwhile, the nonprofit group Students for Fair Admissions has filed suit in district courts against race-conscious admissions at Harvard and the University of North Carolina-Chapel Hill that, if they get to the Supreme Court, could force the justices to finally rule on the legality of race in admissions.
"Given what is occurring at UNC-Chapel Hill and other schools, the proper response is the outright prohibition of racial preferences in university admissions — period," the UNC lawsuit alleges. "UNC-Chapel Hill and other institutions cannot be trusted with the awesome and historically dangerous tool of racial classification."
Photo: winmintin via Flickr