After Caving On Sanctions, Trump Says He's 'Tough' On Russia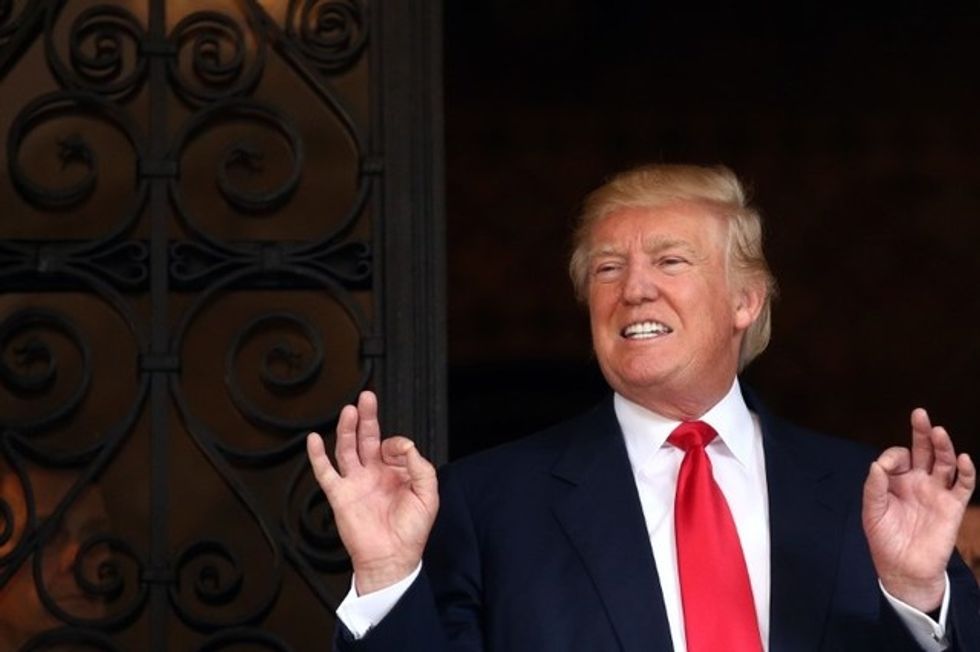 Reprinted with permission from Shareblue.com
Trump reiterated his claim on Wednesday that "there has been nobody tougher than me" on Russia, just days after he publicly undermined his own administration's plan to impose additional sanctions on Russia.
Trump made the remarks at the end of a joint press conference with Japanese Prime Minister Shinzo Abe on Wednesday evening.
After walking away from the microphone, Trump returned to answer a question about whether he would go through with his administration's plan to impose new sanctions on Russia as punishment for its role in supporting Syrian dictator Bashar al-Assad.
"We'll do sanctions on Russia as soon as they very much deserve it," Trump said, implying that providing assistance to a dictator who gasses his own people is not worthy of punishment.
After refusing to commit to new sanctions on Moscow, Trump proceeded to brag about how "tough" he has been on Russia.
"There has been nobody tougher on Russia than Donald Trump," he said, listing off a series of actions he has taken — like strengthening our military — that have no direct impact on Russia.
Before stepping off the stage, Trump repeated himself, saying, "There has been nobody tougher on Russia than me."
On Sunday, U.S. Ambassador to the United Nations Nikki Haley said that additional sanctions would be announced Monday. The next day, the White House reversed course, saying that Trump had decided not to approve new sanctions.
Far from being tough on Russia, Trump has resisted taking action against Russia at every turn.
As The Washington Post reported last week, Trump adamantly insisted that the U.S. response to the poisoning of a former Russian spy and his daughter in Britain be limited. This was after he refused to condemn the poisoning, against the recommendations of his own national security advisers.
Trump was reportedly furious when he found out that the U.S. was expelling 60 Russian diplomats from the country — a move that Trump viewed as far too tough on Russia. According to the Post, Trump flew into a rage and screamed expletives at other White House officials upon hearing the news that the U.S. was taking retaliatory action against Russia.
"There were curse words," one official told the Post. "A lot of curse words."
Despite Trump's repeated capitulations to Russia and frequent praise of Russian President Vladimir Putin, Trump has repeatedly boasted of his "tough" stance towards Moscow.
Last month, Trump declared that "nobody has been tougher on Russia" than he has. Moments later, Trump restated his desire to forge a good relationship with Putin.
During Wednesday's press conference, Trump once again reiterated his frequent claim that "no collusion" had taken place between his campaign and Russia — even as evidence of collusion seemed to be pouring out of his mouth.