Al-Qaeda Says Deadly Yemen Attack Targeted U.S. Drone War
@AFP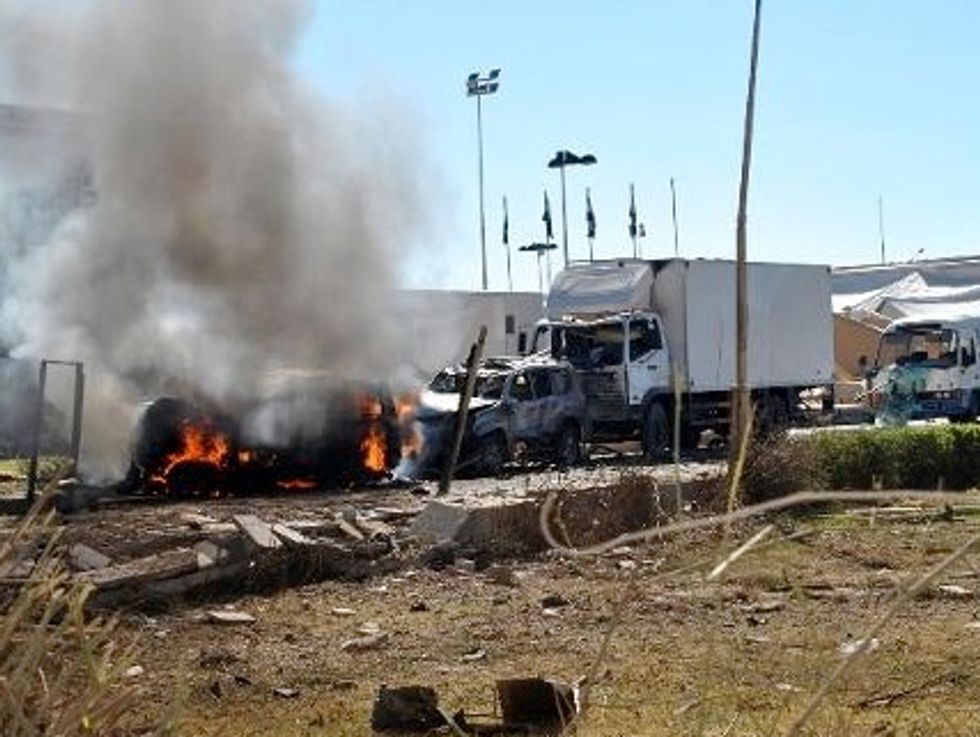 Sanaa (AFP) – Al-Qaeda claimed responsibility Friday for a brazen attack on the Yemeni defence ministry that killed 52 people, saying the complex hosted U.S. personnel behind drone strikes against its militants.
Al-Qaeda in the Arabian Peninsula (AQAP), regarded by Washington as the jihadist network's most dangerous affiliate, has been hit by intensified U.S. drone strikes in Yemen this year.
There was no immediate evidence to support its allegation that the Sanaa complex attacked on Thursday played any role in the drone war or housed any U.S. personnel.
The 52 were killed in a hospital inside the sprawling facility. It bore the brunt of an armed assault after a suicide bomber rammed a vehicle packed with explosives into the main gate.
The city center compound was "stormed… after the mujahedeen (holy warriors) proved that it accommodates drone control rooms and American experts," AQAP said in a statement published by its media arm on Twitter.
"As part of a policy to target drone control rooms, the mujahedeen have dealt a heavy blow to one," it said.
"Such security headquarters in partnership with the Americans in their war on these Muslim people are a justified target wherever they may be."
Washington condemned the attack which came as Yemeni Defence Minister Mohammed Nasser headed a military delegation on a visit to the United States.
Deputy State Department spokeswoman Marie Harf said she had no information about any U.S. casualties.
Among the dead were medics from the Philippines, Germany, Vietnam and India.
The others were all hospital patients, some of them soldiers and some civilians, Yemen's supreme security committee said.
Huge search operation
Residents said they heard gunfire and explosions throughout the night from the area which was still cordoned off on Friday morning by armoured vehicles.
Reports that the militants had readied two more car bombs prompted a massive search operation, security officials said.
Up to 25 militants took part in the assault, the officials added. The state Saba news agency said 11 of them were killed.

President Abdrabuh Mansur Hadi said none of the attackers escaped and several were captured.
Thursday's broad daylight attack followed a spate of hit-and-run strikes on military personnel and officials, as Yemen struggles to complete a thorny political transition.
Yemeni analyst Saeed al-Jamhi, who specialises in Al-Qaeda affairs, said the attack reflects "the level of the network's penetration into security and military services" and shows it has access to "high-level information".
U.N. special envoy Jamal Benomar arrived in Sanaa on Friday to lend his support to a stalled national dialogue.
He said the attack should not be allowed to disrupt the transition from the 33-year rule of strongman Ali Abdullah Saleh, ousted early last year after 11 months of deadly protests.
"This criminal act aims at terrorising Yemenis but will only make them more determined to move forward with peaceful change," Benomar said.
Jamhi told AFP Saleh and his aides could have provided "ancient members within the network… with needed logistic information" and pushed military personnel who still support him "to turn a blind eye to revealing information that could help thwart any upcoming assault".
Three months after Saleh's ouster, 86 soldiers were killed in a massive Sanaa suicide bombing.
Hadi has since sacked many Saleh appointees from top security and military posts, using his powers to restructure the security forces under a U.N.-backed transition deal.
Formed in 2009, AQAP has been linked to several attempted attacks on the United States, including a botched bid to blow up a Detroit-bound airliner on Christmas Day in 2009.
It has become a major target of the U.S. "war on terror", but the number of dead from such strikes in Yemen remains unclear.
The Washington-based think tank New America Foundation says there have been 93 strikes since 2002, killing between 684 and 891 people, among them between 64 and 66 civilians.
U.S. President Barack Obama has defended the drone campaign but promised to introduce stricter rules and oversight.
While U.S. officers and agents cooperate with their Yemeni counterparts, the drones are believed to be flown from bases elsewhere.
Washington has access to bases in Djibouti, the United Arab Emirates and elsewhere for the drones.
AFP Photo