Allies Hit IS Oil Targets In Syria To Choke 'Network Of Death'
@AFP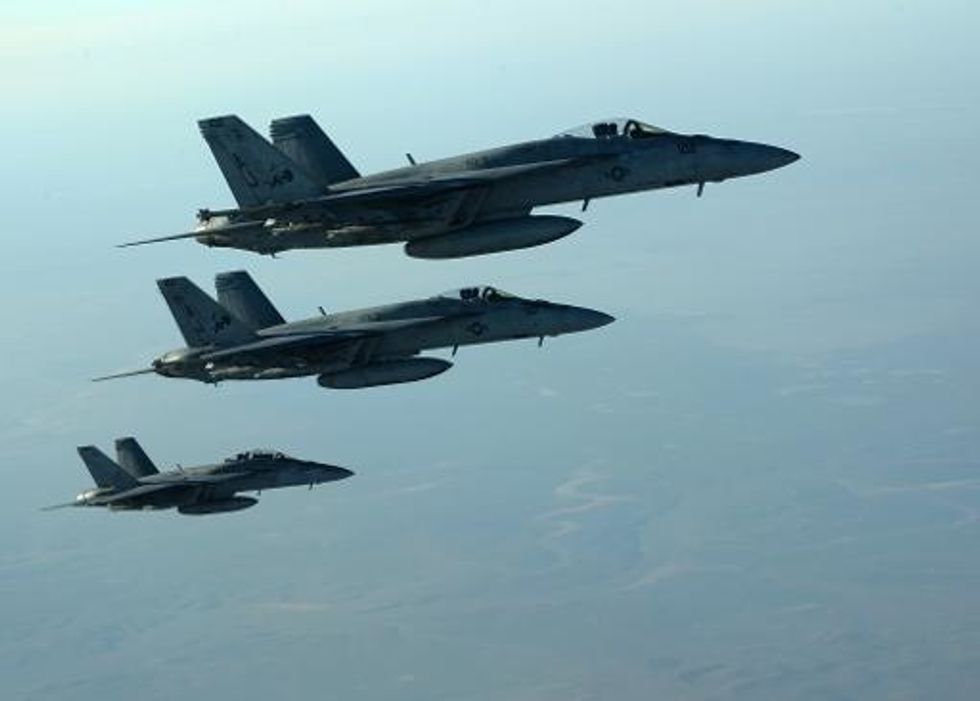 Damascus (AFP) – The U.S.-led coalition has bombed oil facilities used by Islamic State jihadists in Syria, as the world moves to choke off funding for what President Barack Obama branded a "network of death".
American, Saudi and Emirati warplanes hit oil installations in eastern Syria controlled by IS, broadening the campaign they launched this week beyond military targets to economic assets.
IS, which has imposed its brutal rule over swathes of Syria and Iraq, has been using such small-scale mobile refineries to generate up to $2 million in revenues per day, Washington said.
The strikes against the refineries killed 14 jihadists but also left five civilians dead, including a child, said the Syrian Observatory for Human Rights, a Britain-based monitoring group.
The raids came as Obama urged leaders gathered at the UN General Assembly to join the coalition and convinced the Security Council to back a resolution aimed at stemming the flow of foreign fighters joining IS.
Belgium and The Netherlands committed warplanes to Iraq and Britain said its parliament would vote Friday on following suit.
"The United States of America will work with a broad coalition to dismantle this network of death," Obama told the UN.
"Today I ask the world to join in this effort."
The Islamic State group seized large parts of Iraq in June, declaring a Muslim "caliphate" straddling Iraq and Syria and imposing its harsh interpretation of Islamic law.
It has committed widespread atrocities including mass executions of captured Iraqi soldiers, forced conversions of non-Muslims and the on-camera beheadings of Western hostages including two U.S. journalists and a British aid worker.
Late on Wednesday an IS-linked group in Algeria which had demanded France halt its participation in strikes in Iraq posted video footage of the execution of an abducted Frenchman.
President Francois Hollande condemned the "cruel and cowardly" murder of Herve Gourdel, a 55-year-old hiker who was kidnapped in an Algerian national park, and was to convene an emergency meeting of his defense council on Thursday.
The latest round of air raids focused on a dozen targets in eastern Syria.
"These 12 targets were what we call modular oil refineries," Pentagon spokesman Rear Admiral John Kirby told CNN.
"They were struck with precision-guided missiles by coalition aircraft. In fact, there were more coalition aircraft in the skies on these particular missions than U.S. (planes)," he said.
Alongside U.S. aviation and cruise missiles, Saudi Arabia, Bahrain, the United Arab Emirates and Jordan have hit targets in Syria. Qatar is providing logistical support.
Previous strikes in Syria have hit IS positions, command centers, training compounds and vehicles, in their regional stronghold of Raqa and near the Syria-Iraq border.
The coalition has carried out some 20 strikes in Syria since the start of the week and Washington nearly 200 in Iraq since launching air raids there in early August.
In New York, Obama chaired a UN Security Council meeting that unanimously adopted a binding resolution to turn back the flow of foreign fighters heading to Iraq and Syria.
It requires all countries to adopt laws that would make it a serious crime for their nationals to join jihadist groups such as Islamic State and Al-Qaeda affiliate the Al-Nusra Front, or risk economic sanctions or military action.
More than 50 nations have joined the U.S.-led coalition against IS, including key Arab states, and in recent days more countries have promised concrete military support.
Joining France, Belgium and The Netherlands said they would each send six F-16 fighter bombers to take part in the air campaign in Iraq.
The Netherlands will also deploy 250 military personnel and 130 trainers for the Iraqi military, and Greece said Thursday it would send arms to Kurdish forces battling the jihadists.
Britain has yet to join the strikes but on the sidelines of the UN General Assembly Prime Minister David Cameron said the British parliament would hold an extraordinary session on Friday to vote joining the military campaign.
There had been fears the strikes could inadvertently help Syrian President Bashar al-Assad's regime, which is locked in a three-and-a-half-year civil war with rebels that the UN says has left more than 190,000 dead.
The jihadists have posed the most serious threat to his regime, though Washington has vowed to arm and equip moderate rebels as part of the anti-IS campaign.
On Thursday, a Syrian security source said regime troops had managed to recapture the key rebel-held town of Adra near the capital.
The rebels had captured Adra — one of the country's biggest industrial zones located strategically northeast of Damascus — in December last year.
AFP Photo/Staff Sgt. Shawn Nickel