Amazon Launches New Device For Streaming Video
@AFP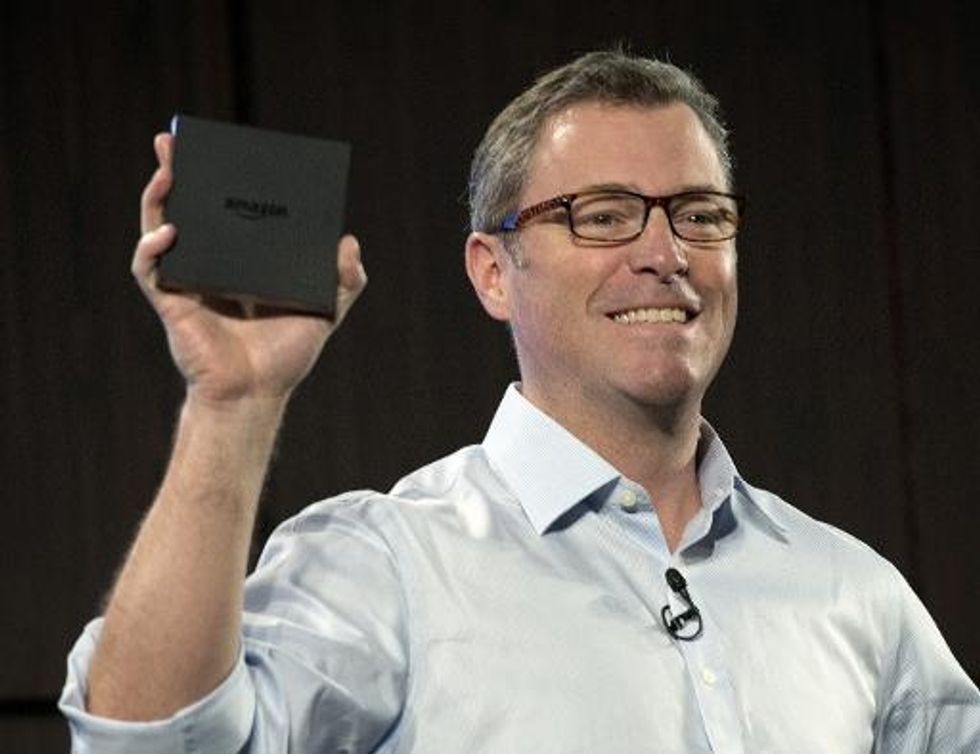 New York (AFP) – Amazon on Wednesday unveiled a new media streaming device, ramping up its challenge for the living room against rivals such as Netflix.
The Amazon Fire TV device, which fits in one's hand and connects to television sets, aims to boost the U.S. online giant's efforts to capture viewers for its Prime Video service.
"It's a tiny box with huge specs," said Amazon Kindle vice president Peter Larsen at a New York event unveiling the device.
The box along with a remote control device also allows users to listen to music or to play games with a separate controller device.
Larsen said that existing devices "make streaming today too frustrating" and that Fire TV would simplify the experience.
One of the features highlighted by Amazon is voice search, allowing consumers to avoid the tedious task of searching for films or videos by punching letters into a remote control device.
The Fire TV box goes on sale to U.S. consumers for $99, with the game controller sold at $39.99.
The device puts Amazon on track to challenge Google's Chromecast stick and the streaming media boxes from other groups such as Roku or Apple.
Amazon said the processors and graphics engine gives the device "three times the processing power" of rivals such as Apple TV, Chromecast, or Roku 3 "so content loads faster and games run smoother."
Because it is an "open ecosystem," the device will allow consumers to watch video from rivals including Netflix and Hulu, Amazon said.
Amazon founder Jeff Bezos said in a statement that Fire TV had "tons of content" at an "incredible price."
"Voice search that actually works means no more typing on an alphabet grid. Our exclusive new ASAP feature predicts the shows you'll want to watch and gets them ready to stream instantly," he said.
The new device is part of Amazon's strategy to expand from retail to multimedia, by leveraging its Kindle tablets and streaming video.
The news comes days after Amazon unveiled a boost to its original offerings with six new programs to be produced in its studios.
The online streaming service is available to members of Amazon Prime, a subscription service which also offers benefits for retail shopping.
Amazon also said this week it had secured the online streaming rights for U.S. action hit "24" starring Kiefer Sutherland, which ran for eight seasons and is coming back with a 12-episode event in May.
Consumers can rent or purchase over 200,000 movies and TV episodes from Amazon Instant Video.
According to the research firm eMarketer, there were 186.2 million digital video viewers in the U.S. in 2013, an 8.5 percent increase from 2012. That figure represented just more than three-quarters of all Internet users.
Amazon said it has worked with game developers including Electronic Arts, Disney, Gameloft, Ubisoft, Telltale, Mojang, 2K, and Sega to bring their games to Fire TV.
"Over 100 games are available starting today and optimized for Fire TV, with thousands of additional games coming next month with the Fire TV app, which brings controls for touch-enabled games," the company said in a statement. "These are great games for such a small box and at such surprisingly low prices — the average price of paid games is $1.85."
AFP Photo/Don Emmert