Amid Conflict, A Time To Give Thanks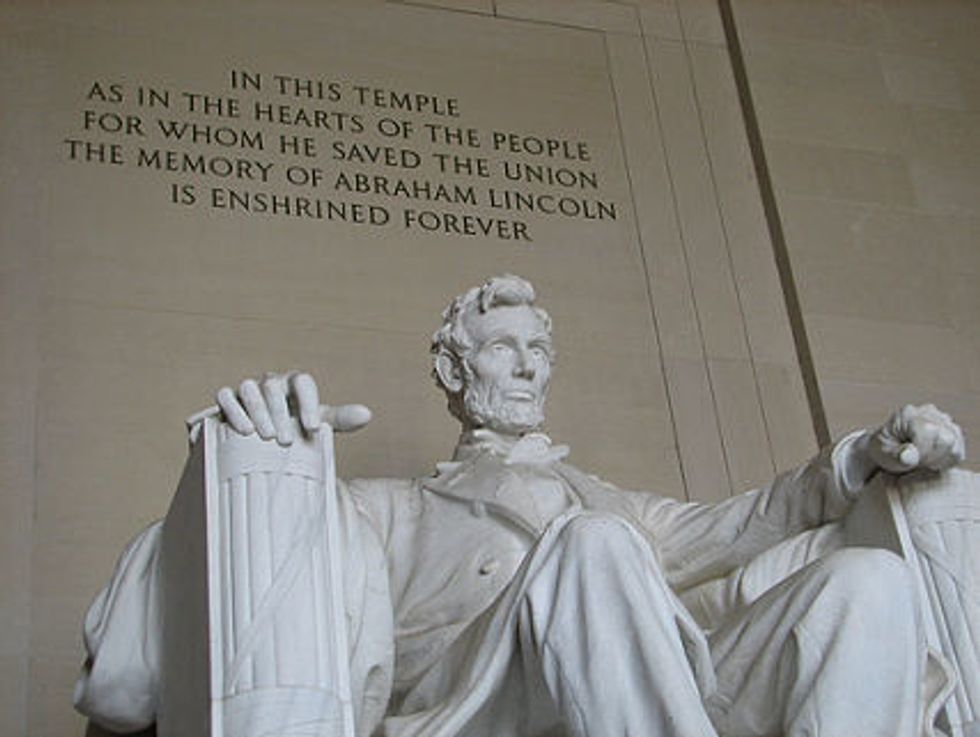 He had lost a son many years before, the boy barely more than a toddler when he died. Now another son was dead and grief sat on him like the shawl that draped his shoulders as he rattled around the big, cold house. His wife was emotionally troubled and spent money they did not have. His subordinates were insubordinate, convinced he was out of his depth and that they could do a better job. And his country had split along a ragged seam of geography and race, boys from Maine and Vermont fighting it out against boys from Georgia and Tennessee, their bodies left broken, bloated, bloody and fly-swarmed, dead by the profligate thousands.
It was against that backdrop that Abraham Lincoln decided to say thank you.
He issued a proclamation making the fourth Thursday in November a day of national gratitude. Almost 150 years later, it still is.
This year, the commemoration follows a bitter election, with secession being bruited about like some distasteful joke, and the atmosphere so acrimonious it calls to mind the years before the Civil War itself. It also comes as we are rediscovering our 16th president yet again, this time through Lincoln, a new film directed by Steven Spielberg and starring Daniel Day-Lewis.
The movie has drawn rave reviews — and deservedly so. It frees Abraham Lincoln from the sarcophagus of marble in which great men are inevitably encased. Day-Lewis' Lincoln steps down from the memorial to rail, scheme, despair, fret and, when all else fails, tell a folksy story as he attempts to shove the 13th Amendment — the one that ended slavery — through a balky Congress.
Amid all the renewed interest in Lincoln, one hopes we don't miss the lessons inherent in the simple fact that a man of such profound grief made a statement of such profound gratitude. There is contradiction there — and the resolution thereof. Contradiction was the story of Lincoln's presidency, his epic struggle to put North and South back together. It was also the story of his life.
He was, after all, a religiously ambivalent man who believed himself a tool in the hands of God, an unschooled man who was often the smartest one in the room, a melancholy man who found salvation in humor, a white supremacist who abhorred African slavery. So perhaps we ought not be surprised that, with every good reason to shake an angry fist at heaven, he asked his nation to give heaven thanks instead.
It is an example worth remembering in a nation fiercely divided by its own contradictions of ideology, demography, geography, sexual orientation, religion and race. It is worth remembering not simply because giving thanks is always a good idea, but also because this specific example reminds us that there is in us a need — and an ability — to reconcile disparate pieces, draw them together, as he did, into a greater whole.
We tend to think of people — and nations — as being all of a piece, either this thing or that. But people and nations are complex things. They are made of contradiction, and maybe that's a necessary thing, maybe that tension is the seed of human achievement. It takes a spark to make a fire.
Fires warm us. And yes, fires burn things down.
There is defiance — you might call it faith — to Lincoln's decision to speak gratitude when he did. But he navigated by the pole star of compassion large enough to encompass the whole of America's contradictions. "With malice toward none," he said. "With charity for all…" A month later, he would die with an assassin's bullet in his brain.
We live in a time of louder, if not more substantive contradiction, an angry, polarized, ominous time, sparks building fires that may yet warm — or destroy. But that is the singular challenge of our existence, isn't it? To resolve the contradictions into grace and a spirit of thanksgiving, defiant.
(Leonard Pitts is a columnist for the Miami Herald, 1 Herald Plaza, Miami, Fla., 33132. Readers may contact him via email at lpitts@miamiherald.com.)
(c) 2012 The Miami Herald Distributed by Tribune Media Services, Inc.
Photo by "williamhartz" via Flickr.com