An Uncensored Peek At Governor Rick Scott's Email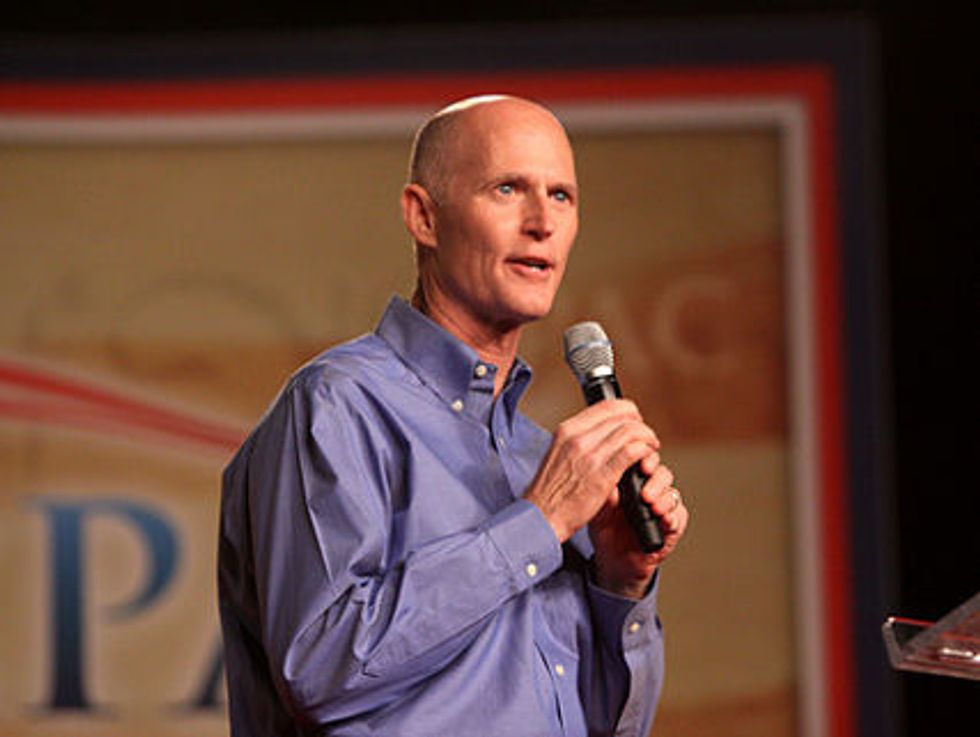 An absolutely true news item: To erase the perception that it was censoring public records, the office of Gov. Rick Scott has announced it will no longer delete unflattering correspondence from the governor's official email account.
Dear Rick,
We received your inquiry about a possible stage appearance with Gov. Romney during his upcoming campaign swing through Florida. Unfortunately, Mitt has a very tight schedule and it's unlikely he'll have time to be seen with you.
Perhaps after the election you can come visit him at the White House, or at least take the tour. Meanwhile, keep up your good work in the Sunshine State, and try not to get discouraged by those scary low poll numbers!
Warmest regards,
r.hogshaw@mittforprez.net
Dear Gov. Scott,
I'm a huge supporter of your plan to drug-test state workers and welfare recipients. Wouldn't it be a neat idea to do the same thing to all the delegates at the Republican National convention this month in Tampa?
What a golden opportunity for the GOP to set a moral example for the whole country, while also showcasing your own unique priorities as governor.
I just happen to own a company that sells urine-sampling kits online for $24.95, but for you we'll make it an even 20 bucks apiece. What do you say?
j.hosebright@peeforamerica.com
Dear Governor,
I was really upset to read that elections officials in Florida aren't finding as many illegal voters as everybody expected, and by everybody I mean all red-blooded American patriots such as myself.
What kind of a lame purge are you running, anyway?
The fact that Obama won Florida in 2008 means there must be hundreds of thousands of illegals registered, maybe even some white ones. Just start with a list of whoever voted for that Muslim-loving, basketball-playing socialist, and work your way down.
Get on the stick, man! Time's running out.
h.dipthong@paranoidsfordemocracy.org
Dear Rick,
I received your latest note asking about Gov. Romney's appearance schedule while he's in Florida. It's very kind of you to offer to fly wherever he is, anytime, and it's also helpful to know that your private jet needs only 3,200 feet of runway.
However, Gov. Romney's itinerary remains undecided, and we won't know anything definite until, oh, four minutes or so before he actually arrives.
It might be Bradenton, might be Sarasota, maybe even St. Pete. That's our Mitt!
In any case, I'm sure your paths will cross some day. Thanks again for not mentioning him in your recent media interviews.
Sincerely,
r.hogshaw@mittforprez.net

Dear Gov. Scott,
I am writing on behalf of many here who support your plans to privatize Florida's prisons. We think this would be awesome, because right now the food sucks and the library is, like, a joke. Just try to find a copy of Hustler, or even Maxim.
You're probably catching some heat after all the bad s— that went down at those privately run prisons and halfway houses in New Jersey. We just wanted you to know that we'd never escape like all those inmates up there — and, if we did, we'd never rob or kill anybody.
Like you, Mr. Scott, we are strong believers in smaller government. Talk in the yard is that you'll keep on pushing for private lockups, and we've got your back.
Peace out,
#2764432@raiford.gov
Dear Gov. Scott,
Thanks for flipping off the Supreme Court and saying no way to Obamacare. My mother-in-law was one of the million additional patients in Florida who would have been eligible for Medicaid payments, if you hadn't spurned that terrible law.
Trust me when I tell you this woman is a major pain. I've been waiting years for the old shrew to kick the bucket. Finally she's running out of money for doctors, and I was scared that the federal government was going to butt in and help her out. But you singlehandedly stopped that from happening, governor. All I can say is: Whew!
I give her another 18 months, maybe a year. Then we'll finally have room for that pool table!
Gratefully yours,
a.goiter@fogbound.com
Dear Rick,
I'm sorry to hear that your tickets and floor passes to the Republican Convention were apparently lost in the mail. Be certain it was not Gov. Romney's intention to discourage you from attending this important and exhaustively scrutinized event.
On the contrary, we're proud to have you in our great political party at such a critical crossroads in history!
Unfortunately, after the host committee didn't hear back from you, your seats were given to Sen. Rubio's plumber and his date. Also, your name was put on the Secret Service watch list.
Please accept Gov. Romney's most sincere apologies. We've made special arrangements for you to watch his acceptance speech at a special high-def screening in room 307 at the Embassy Suites near Busch Gardens.
Mitt personally told me that he's looking forward to working with you as he steers America back to prosperity, but he'd appreciate it if you kept this to yourself.
Yours in unity,
r.hogshaw@mittforprez.net.
(Carl Hiaasen is a columnist for the Miami Herald. Readers may write to him at: 1 Herald Plaza, Miami, Fla., 33132.)