Anti-Vax Doctor Whines Over Jail Sentence For January 6 Riot
@CynicalBrandon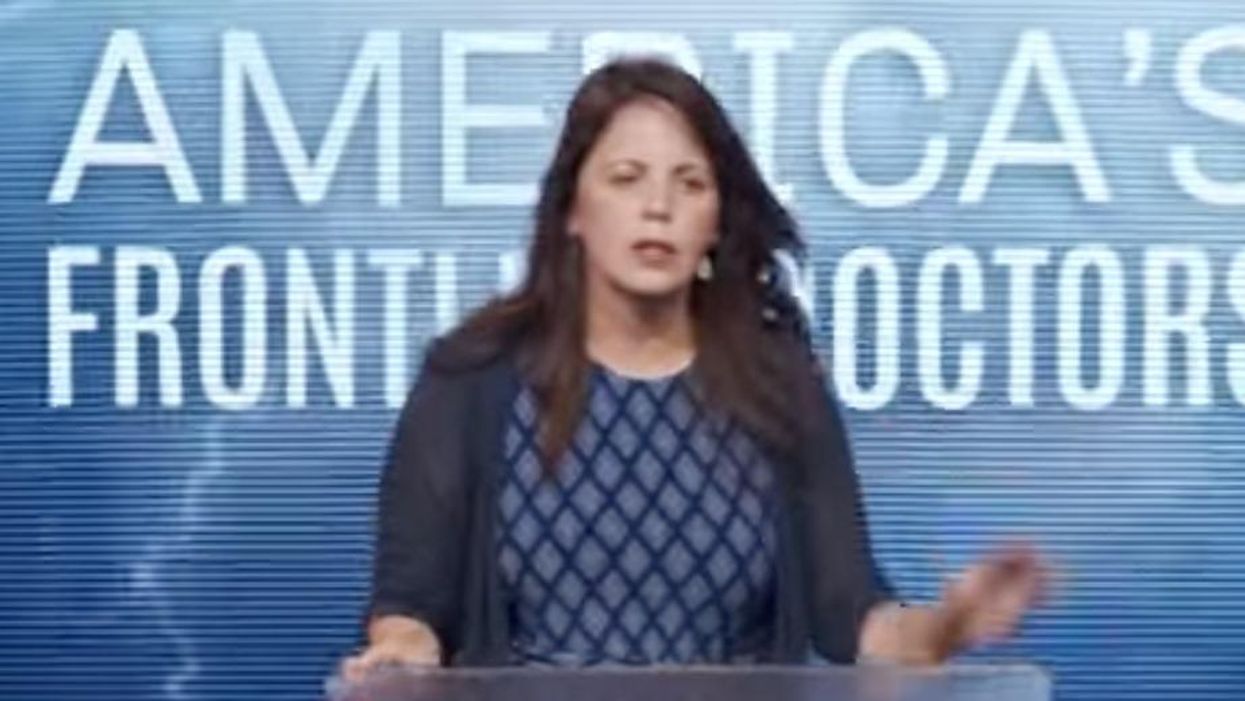 Youtube Screenshot
On June 16th, 2022, America's Frontline Doctors founder Simone Gold was sentenced to 60 days in prison and one year of probation for her role in the January 6th, 2021 insurrection at the United States Capitol.
Gold was among the armed horde of former President Donald Trump's supporters that besieged the seat of American democracy while Congress was certifying President Joe Biden's Electoral College victory over Trump in the 2020 election.
Gold, an outspoken peddler of misinformation and conspiracy theories about COVID-19, was also ordered to pay a $9,500 fine "and another $500 to the Capitol architect to compensate for damage the rioters did to the building," according to MedPage Today.
District of Columbia District Court Judge Christoper Cooper sternly reprimanded Gold over her lack of contrition.
"Sitting here today, I don't think you have truly accepted responsibility," he told her. "Your organization has used your notoriety to raise money to garner support for you in connection with the sentencing and for its general operations by mischaracterizing what this proceeding is all about ... telling your supporters that this is a political prosecution of a law-abiding physician that's designed to threaten and intimidate any American who dares to exercise their First Amendment rights."
Cooper also smacked down Gold's insistence that she was merely a proverbial fly on the wall.
"It is obvious from the video that we watched today that you were part of an angry and aggressive, I would say mob, crowd of people intent on getting past law enforcement and entering the East Rotunda through those doors," Cooper said. "Regardless of how the door got opened, the police were obviously trying to keep people out."
Nevertheless, Gold recently released a video in which she complained about having to face the consequences of her actions.
"As you probably have heard by now, I was sentenced for a misdemeanor trespass with a shocking 60 days in federal prison. It's unheard of. I don't know anyone who's ever gone to prison for a misdemeanor, let alone misdemeanor trespassing for a nonviolent mid-career female. It's unconscionable," Gold griped.

"I'm here to say this tyranny is coming to our nation and that we need to have every person, first of all, be aware of it and to speak up about it. I do feel as though conservative voices have been, have allowed themselves to be completely silenced on the matter of January 6th defendants," Gold continued. "It is not right when one person loses their civil liberties illegally then it threatens all of us."

The premise of Gold's argument – that she was merely exercising their right to free speech and seeking a redressing of her grievances – is familiar among suspected and convicted participants in Trump's coordinated attack on the federal government.
The first major problem with what Gold said, however, is that her remarks about misdemeanors not landing people in jail are untrue.

According to a 2022 report published by the Prison Policy Initiative, "nonviolent" offenders make up a substantial portion of incarcerated Americans – to the tune of hundreds of thousands – regardless of whether they have been convicted or are still awaiting trial.

"It's true that police, prosecutors, and judges continue to punish people harshly for nothing more than drug possession. Drug offenses still account for the incarceration of almost 400,000 people, and drug convictions remain a defining feature of the federal prison system. Police still make over 1 million drug possession arrests each year, many of which lead to prison sentences. Drug arrests continue to give residents of over-policed communities criminal records, hurting their employment prospects and increasing the likelihood of longer sentences for any future offenses," the analysis explains.
"Nevertheless, 4 out of 5 people in prison or jail are locked up for something other than a drug offense — either a more serious offense or an even less serious one. To end mass incarceration, we will have to change how our society and our criminal legal system responds to crimes more serious than drug possession. We must also stop incarcerating people for behaviors that are even more benign," it states.

Furthermore, PPI adds, "the distinction between 'violent' and 'nonviolent' crime means less than you might think; in fact, these terms are so widely misused that they are generally unhelpful in a policy context. In the public discourse about crime, people typically use 'violent' and 'nonviolent' as substitutes for serious versus nonserious criminal acts. That alone is a fallacy, but worse, these terms are also used as coded (often racialized) language to label individuals as inherently dangerous versus non-dangerous."

The other glaring issue with Gold's defense is that the failed January 6 coup was, in fact, violent.
Reprinted with permission from Alternet.