AOL CEO: Obamacare Or 'Distressed Babies' To Blame For Cuts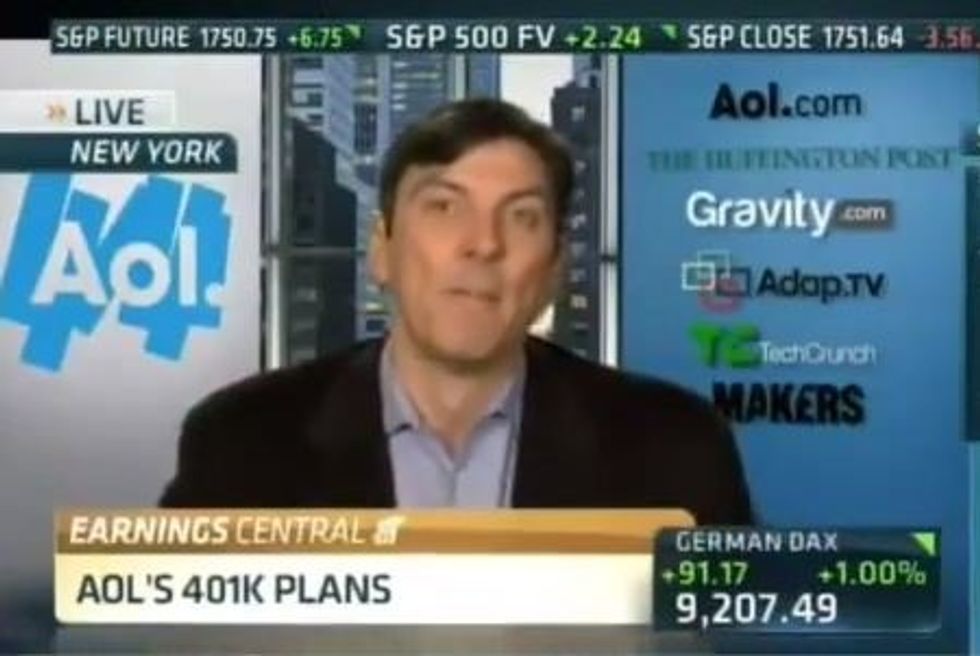 AOL chief executive Tim Armstrong can't seem to decide why his company cut employees' retirement benefits on Thursday.
The media giant will no longer contribute money to employees' 401(k) accounts during each pay period; instead, AOL will offer employees a lump sum at the end of each year. The change will end benefits for employees who leave the company mid-year. It will also limit employees' ability to invest money throughout the year.
Just don't ask Armstrong why the change was made.
"As a CEO and as a management team, we have to decide: Do we pass the $7.1 million of Obamacare cost to our employees? Or do we try to eat as much of that as possible and cut benefits?" he said on CNBC. "For employees leaving to go to other employers, not matching those programs was probably the last thing on the list for us in terms of employee benefits that we wanted to keep."
But in a conference call with employees later that day, Armstrong pointed to how much capital it takes to provide health care for its employees. According to a transcript of the conference call obtained by Capital New York, Armstrong singled out, but did not name, two specific employees.
"We had two AOL-ers that had distressed babies that were born that we paid a million dollars each to make sure those babies were OK in general. And those are the things that add up into our benefits cost. So when we had the final decision about what benefits to cut because of the increased healthcare costs, we made the decision, and I made the decision, to basically change the 401(k) plan."
His reasoning came off as unprofessional to at least one employee. An AOL worker who was on the conference call told Capital New York: "people were just shocked that two particular women would be singled out on a company-wide call."
Armstrong hasn't yet offered AOL's net income loss of 91 percent last year as evidence the company's retirement plan needed to be amended. AOL's net income is now $91 million, down from over a billion dollars last year, according to TheNew York Times.