Armed Militias Head Toward Border, Endangering Troops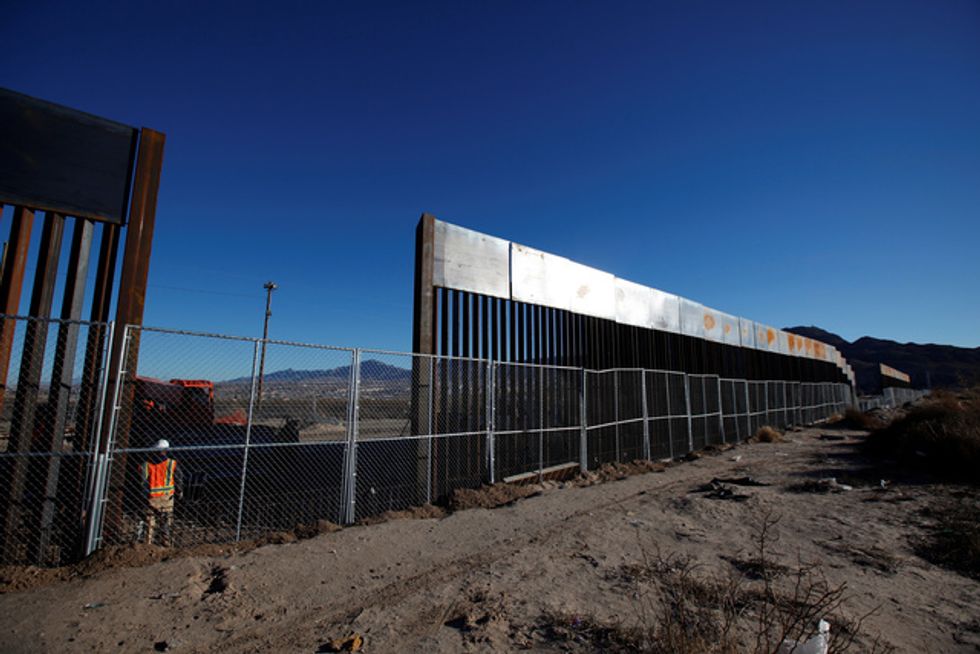 Reprinted with permission from Shareblue.
Gun-toting far-right militia members and other vigilantes are interpreting Trump's apocalyptic fear-mongering about the so-called migrant "caravan" as a call to arms — and they're answering that call, with potentially disastrous results.
According to the Associated Press, members of multiple armed militia groups are headed to the U.S.-Mexico border, where they plan to converge with other "patriot" groups, set up patrols, and wait for the "caravan" of Central American migrants who are still more than a month away from reaching the border.
Several of these groups have put up calls on social media for members around the country to take up arms and travel to the border region.
Military and law enforcement officials are alarmed enough by the prospect of armed vigilantes gathering alongside thousands of U.S. troops at the border that they have issued warnings to Army commanders and local communities.
According to planning documents and intelligence reports obtained by Newsweek, the military is concerned about the arrival of "unregulated militia members self-deploying to the border in alleged support" of border patrol agents already stationed along the border with Mexico.
"Preliminary intelligence assessments are preparing for encounters with a litany of groups from unregulated militias to transcontinental criminal organizations," the report warns. "They operate under the guise of citizen patrols."
The report went on to warn of "incidents of unregulated militias stealing National Guard equipment during deployments."
Meanwhile, Customs and Border Patrol sent out an advisory last week telling landowners in Texas to expect "possible armed civilians" on their property.
In some areas, they're already there. The Albuquerque Journal reported on Friday that militia members had started to show up in border towns in New Mexico:
At a hotel in town Wednesday, a few members of the militia rested and waited for nightfall to patrol the border. One of their trucks in the parking lot had an "ISIS hunting" decal on the bottom of the windshield.

As one of the militiamen paced in front of the hotel, smoking and talking on his phone, another sat in a chair on the second-floor balcony holding binoculars.

They were spurred to action by news of thousands of Central American migrants in a caravan headed for the border, said Jim Peyton, a 71-year-old retired Detroit police officer.
And these aren't just any armed civilians.
The so-called "Patriot movement" is an umbrella term used to describe a loosely connected web of radical right-wing groups "characterized by armed militias, wild conspiracy theories, a hatred of the Federal Government and government regulation, an overarching love for guns, and occasionally a strong component of racism," according to the Southern Poverty Law Center, which researches hate groups and extremist movements.
An estimated 689 anti-government patriot and militia groups are active in the U.S. today, many of which are considered domestic terror groups.
Despite their penchant for violence and anti-government ideology, some of these groups have formed alliances with mainstream Republicans — like in Oregon, where the state Republican party moved to have militias provide security at its events.
In a particularly disturbing development, the past few years have seen the emergence of hybrid militia groups that combine the anti-government, pro-gun insurrectionist spirit of the Patriot movement with the violent and racist ideology of the white supremacist movement.
The Southern Poverty Law Center describes this movement as a "white nationalist army working to create 'the new American nation state.'"
Already emboldened by Trump, these groups now hear his anti-immigrant rhetoric and fear-mongering as a legitimate call to arms.
Some of them are even mimicking Trump's language in their own calls to action, urging other armed militia members to join them in securing the border from "a Mob of Migrating Immigrants."
The militia members who have gathered at the border have parroted Trump's campaign rants by describing the group of asylum-seeking migrants as a "Trojan horse" or a "decoy" hiding ISIS, MS-13, and cartel gang members.
Based on no evidence whatsoever, Trump continues to claim that "unknown Middle Easterners," "very tough men," and large numbers of gang members and violent criminals are traveling among the women, children and families.
Now, he's sending our troops to go defend against a threat that he manufactured for political purposes.
But in a twisted turn of events, it looks like our troops really will have dangerous people to contend with — the radical right-wing militia members who were inspired by Trump.
Published with permission of The American Independent.