At Last, 'Pharoah' Rules As 12th Triple Crown Winner
@AFP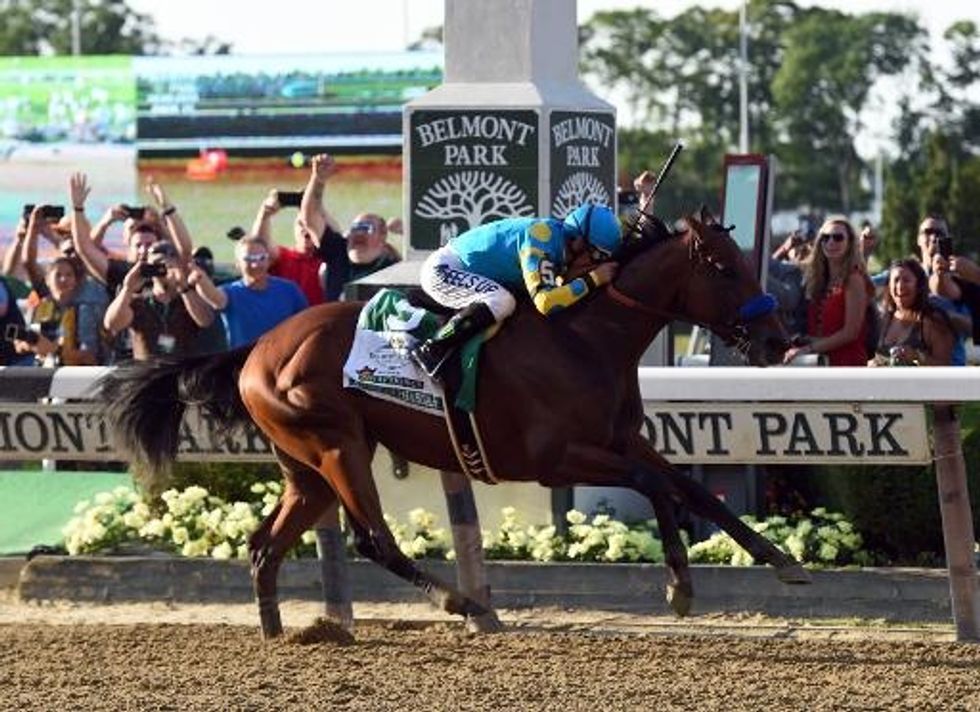 New York (AFP) – American Pharoah ended American racing's 37-year Triple Crown drought, romping to victory in the Belmont Stakes.
The sweet-striding bay colt, ridden by Victor Espinoza and trained by Bob Baffert, added the 1 1/2-mile Belmont to his Kentucky Derby and Preakness wins to become the 12th horse to sweep all three — and the first since Affirmed in 1978.
Since then 13 horses had claimed the first two jewels of the Triple Crown only to be undone by the Belmont.
That list of near-misses included three horses trained by Baffert and two ridden by Espinoza.
"Thirty-seven years," Baffert said. "I'm part of this but you know what, that little horse, he deserved it. He's a great horse."
Espinoza could hardly believe it as he cantered his mount toward the winner's circle to delirious cheers from a crowd of 90,000.
"Wow! Wow!" Espinoza said. "It's just an amazing thing. He's just an amazing horse!"
His mount broke slowly from the gate, but responded quickly as Espinoza took him straight to the lead.
He stayed in front the rest of the way, the first favorite to win the Belmont since Afleet Alex in 2005.
"I'm thinking about my parents," an emotional Baffert said as he made his way to the winner's circle, surrounded by his family. "I wish they were alive to see this."
The 62-year-old trainer has known Triple Crown heartbreak, having saddled Silver Charm (1997), Real Quiet (1998) and War Emblem (2002) for Kentucky Derby and Preakness wins, only to see them fall short in the Belmont.
"I was really getting to dislike this trophy. It's caused me a lot of misery," Baffert said as he accepted it.
Espinoza was aboard War Emblem for that failed Triple try in 2002, and he had another Triple Crown chance go awry at the Belmont on California Chrome last year.
This time, Espinoza said, he knew at the first turn that Pharoah wouldn't let him down.
"He broke a step slow, but in two jumps I was in the lead," said Espinoza, who was in full control of the pace.
"Steady, steady all the way round, it was the best feeling ever across the first turn," he said.
Godolphin-owned Frosted, trained by Kiaran McLaughlin and ridden by Joel Rosario, made a move heading into the final straight, but American Pharoah pulled away remorselessly to beat him by 5 1/2-lengths.
Keen Ice, trained by Dale Romans and ridden by Kent Desormeaux, was third.
It was a seventh straight win in eight career starts for American Pharoah, who captured his three Triple Crown victories in varying style.
He ground down the opposition in the Kentucky Derby to win by a length, while in the Preakness he shrugged off a driving rainstorm and muddy track to go wire to wire and win by seven lengths.
While the field of eight was the smallest in the Belmont since 2007, over the course of the three Triple Crown races American Pharoah defeated a total of 31 challengers — second most behind the 32 beaten by War Admiral in 1937.
The son of Pioneerof the Nile, known for his short tail and kind demeanor, inscribed his mis-spelled name among the Thoroughbred greats.
American Pharoah ended a record Triple Crown drought. The previous record gap was 25 years, from Citation in 1948 to Secretariat in 1973.
The 70s proved a golden age for the elusive feat, with Secretariat followed by Seattle Slew in 1977 and Affirmed in '78.
Then the long winter set in and the difficulty of winning three races at three different circuits in just five weeks began to seem insurmountable.
An increasing focus by breeders on speed over stamina had the 1 1/2-mile Belmont looking an ever more daunting task for modern Thoroughbreds.
Some wondered if the feat first achieved by Sir Barton in 1919 would ever be seen again.
"I was here in town, I was listening to every news station and people were saying, 'Well, you know, it never happens,'" Baffert said.
"But there's something about this horse. He just brought it every time, and he's just enjoyment to be around."
Ahmed Zayat, the Egyptian-born entrepreneur who bred and owns American Pharoah, said it was a victory for horse racing fans — a group steadily dwindling in the United States.
But more importantly it was a proof of American Pharoah's quality.
"I can sit here for hours and praise the brilliant job that Bob, Victor, and team have done," he said.
"But at this juncture it's about the defining of the greatness of American Pharoah."
Photo: American Pharoah, ridden by Victor Espinoza, crosses the finish line to win the 147th Belmont Stakes at Belmont Park on June 6, 2015 in Elmont, New York. (AFP / Timothy A. Clary)