Bannon Attacks Pope Francis For Defending Immigrant Children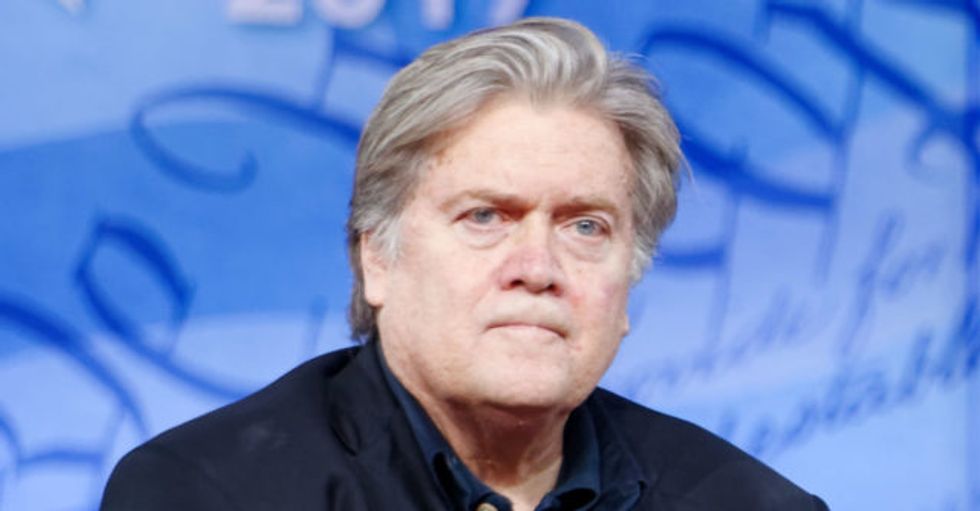 Reprinted with permission from Shareblue.
This weekend, current white supremacist and former Trump senior adviser Steve Bannon attacked Pope Francis for speaking out on behalf of children.
On Sunday morning's edition of ABC's "This Week," Bannon was trying to defend Trump's family separation policy when host Jonathan Karl questioned the morality of the policy.
"So what about the religious leaders?" Karl asked. "What about — you have the evangelicals, people like Franklin Graham calling it disgraceful, Cardinal Dolan called it unjust, unbiblical, un-American. And then you had the pope."
"The pope tweeted this," Karl continued. "'Children must be able to play, study and grow in a peaceful environment. Woe to anyone who stifles their joyful impulse to hope.' The pope — "
"By the way, the pope more than anybody else has driven the migrant crisis in Europe, that's why you have a new government in Italy," Bannon interjected.
"The pope?" Karl asked.
"The pope, yes," Bannon said. "I've gone after Cardinal Dolan, Cardinal Dolan's attacked me. The Catholic Church is one of the worst instigators of this open borders policy. Right?"
"And I'm a Catholic," Bannon added. "I'm missing Mass today, or going later with my dad, to be on your show. I'm a Catholic."
"By the way, the pope is not — is not infallible when it comes to public policy, and that's a public policy issue," Bannon continued.
This should go without saying, but the pope isn't responsible for the migrant crisis in Europe; the brutal regimes who forced people to flee their countries are. And the real problem isn't "open borders," but rather Europe's callous response to the plight of these refugees.
Bannon also conveniently ignores the fact that Pope Francis isn't presenting himself as an authority on public policy, but rather on the morality of public policy.
And the pope's assessment seems on point, given that Trump and his mouthpieces are trying like hell to avoid responsibility for their morally repugnant policy.
Conveniently ignoring the moral leadership of their own religious figures is becoming something of a pastime for Republicans.
They should spend more time wondering why their policies put them at odds with these moral leaders, and less time pleasing the likes of Steve Bannon.
Published with permission of The American Independent.